In 2002 Yahoo launches a Web hosting service for small businesses. Yahoo Web Hosting is part of the Yahoo Small Business product suite. They provide several web hosting services, including WordPress hosting, free domains, and more. In this Yahoo Web Hosting review, I'll provide you with all the information and share my experience with a shared hosting plan.

Uptime
For website uptime check I'm using Pingdom. In every minute Pingdom makes an HTTP request and reports it if the host does not respond. It also reports if the host takes longer to respond. Pingdom does this test from  3 or more different servers if most of the servers do not respond then shows an error. This test is necessary if you are worried about the reliability of your web host. In the Uptime Test Yahoo, Small Businesses perform too badly. Its bad uptime result is 82.778 %.
Page Speed Test
This test is how long it takes to load a full page. In the page speed test, I get an average result of 3.84 seconds. It's good but sometimes it takes too long.
Yahoo Small Business
Some people think Yahoo Small Business is bad. Now I share some information that will help you to understand is it too bad or not.  I contact each host's customer support team with a new issue and monitor how long it takes them to respond. This test is vital for all hosts – your web host must respond to your problems in a fast manner, even if you're an experienced webmaster. Who wants to deal with a host who provides bad customer service? Tech is complex, and tech help is essential! 
In the Support Response Time Test, Yahoo Small Business scores poorly, with an average of 50.89 hours. Its best response time was 16.00 h, although it has also been as bad as 124h. Send a support ticket to Yahoo's staff if you want to be ignored. It took almost three days to obtain a response from one of them. What if my website had gone down? I'd suggest a more attentive host.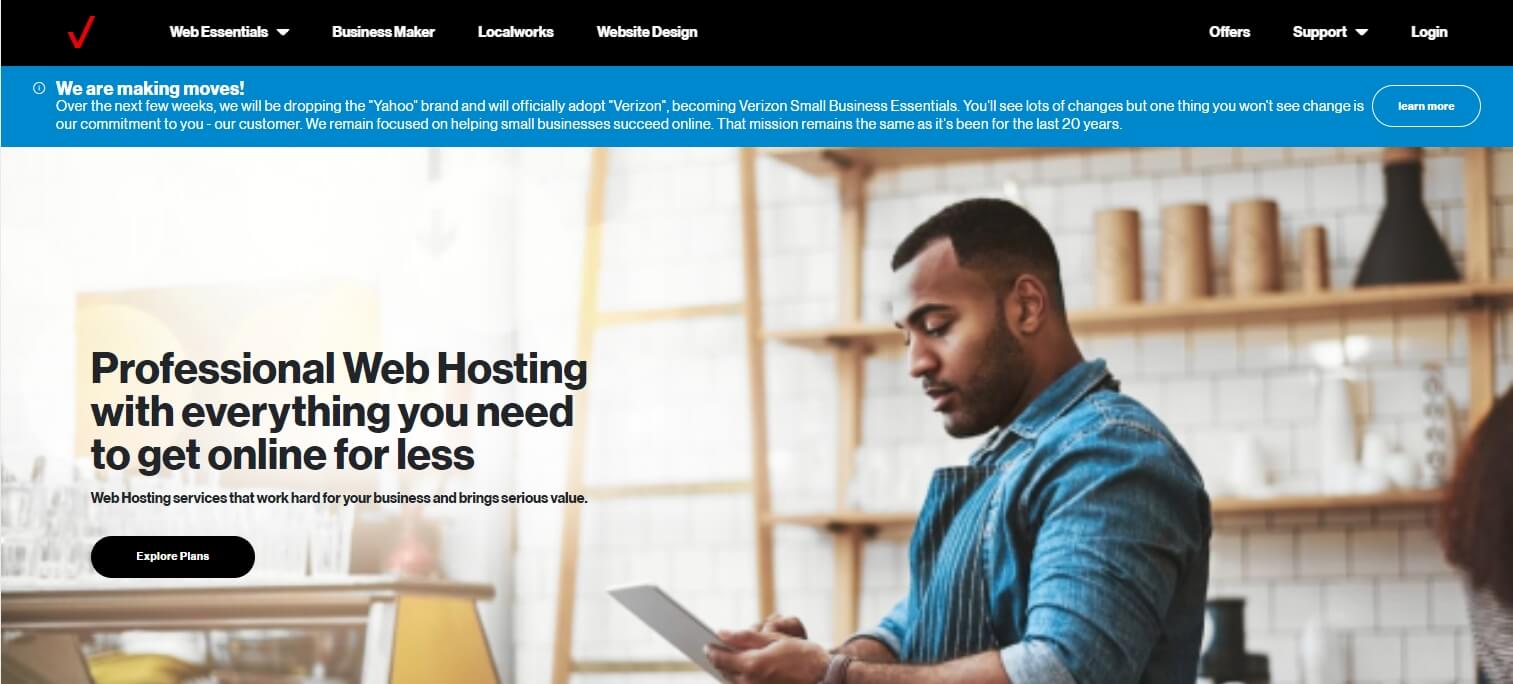 Rebrand To Verizon Small Business Essentials
Yahoo Small Business, a branch of Verizon Business, has announced that it will now be known as Verizon Small Business Essentials. The newly rebranded Verizon Small business Essentials is a vital part of the Verizon Business Group. It will continue to provide small businesses service. It includes personalized solutions to help them establish, run, and grow their business in today's digital world, regardless of where they are in the small business lifecycle.
Chris Wayne, Managing Director at Verizon Small Business Essentials said "We're excited to mark a new chapter for our brand, which has proudly supported entrepreneurs and small businesses online for more than two decades," 
"While our name is changing, our mission and commitment to our customers are not. We are more focused than ever on helping small businesses succeed, especially as we all continue to navigate the dynamic business landscape today."
Pari Baipay, Verizon Vice President said "We are excited for this strategic move for both Verizon and Verizon Small Business Essentials,"
 "Verizon Small Business Essentials provides small businesses owners with the tools they need to launch and scale their ideas and remains an important part of Verizon's overall strategy for supporting small businesses and helping them thrive in the digital economy."  
New Customers Discounts
To highlight the rebranding, Verizon Small Business Essentials is providing new customers discounts on some of its most popular items & services, which are valid until March 31, 2022, including:
Localworks annual plans: With the coupon code LOCALworks10, new clients can save 10% on a new plan.
Web design plans: By using the coupon code DIFMDEAL, new clients can save up to $250 on a web design plan.
Domain Registration: New users can save 21% off business email services, which include 5 email addresses and domain registration.

Verizon Plan & Pricing
Small business essentials hosting provides three plans. there is the basic, advanced, premier. The basic plan costs $2.92 per month. It includes Free Domain, Up to 10 Site pages, 100 GB Disk storage, 100 GB per month Data transfer, 250 Email addresses, 100 Subdomains, Backup, and restores. The advanced plan costs $4.22 per month. It includes Free Domain, Up to 25 Site pages, 500 GB Disk storage, 500 GB per month Data transfer, 550 Email addresses, 500 Subdomains, Backup, and restores. The premier plan costs $5.22 per month. It includes Free Domain, Unlimited Site pages, Unlimited Disk storage, Unlimited Data storage, 1000 Email addresses, 500+ Subdomains, Secure FTP file manager, Password protection, Private domain registration, backup, and restore. 
Customer Reviews
I create a post on Facebook asking my audience how was there experience with yahoo hosting was. here I place three comments among them. there are:  
Brian Kane said, "Poor customer support is reason enough to avoid this hosting".
Florence Lun said, "Yahoo Small Business is the worst host in the history of web hosting".   
Phillip Tacy said "Their customer assistance looks to be completely automated, as they appear to randomly select phrases from your help request and compose a response that has nothing to do with what you asked.  I've just spent months trying to get Yahoo Small Business to complete a website as promised".
12 Alternative Hostings
Dreamhost – Best Month-to-Month Plan
Hostgator – Affordable for Minimal Needs
Nexcess – Best for scaling and growth
Final Thoughts
To be honest, Yahoo fails at almost everything. Yahoo Small Business, which I've used, and am surprised by how poor it is in comparison to the other options on the market. I mean, I understand that they bought it from a small firm. However,  I think other providers' Quick Shopping was the worst, but their performance was great, and excellent customer support over Yahoo's pathetic attempt.
I didn't test the new Verizon small business plan. I have no wish to try Verizon's small business plan. My suggestion is that don't go for it, try other alternatives. If you already purchased their plan lets us know how was your experience in the comment section.
Also, what are your thoughts about the yahoo small business plan? I'd love to hear about your experience in the comments section below! If you like this article please give us a like and share this on social media.