SiteGround excels in performance, uptime, security, and more aspects of web hosting. Furthermore, its hosting services provide numerous features, some of which are not available from other hosting providers.
As a result, whether you're a beginner or a professional, SiteGround is an excellent choice since you can experience efficiency, excellent performance, amazing support, dependable uptime, class-leading security, and more great features regardless of the hosting package you choose.
They provide a money-back guarantee a 30-day free trial to claim a refund, but i always suggest doing your research before committing to any provider.
Features
WordPress

installation

in one click

Site migration

is completely

free.

Unlimited bandwidth

WordPress core software updates

automatically

WordPress-specific

protection

WP-CLI  preinstalled.

WordPress's dedicated special cache

One-click WordPress staging

Datacenters on three different location

WordPress's dedicated special

cache

WordPress staging

with

a

single

click

Isolated hosting

SSD

HTTP/2 

PHP 7 

Support

is available

24/7

Free Let's Encrypt certificates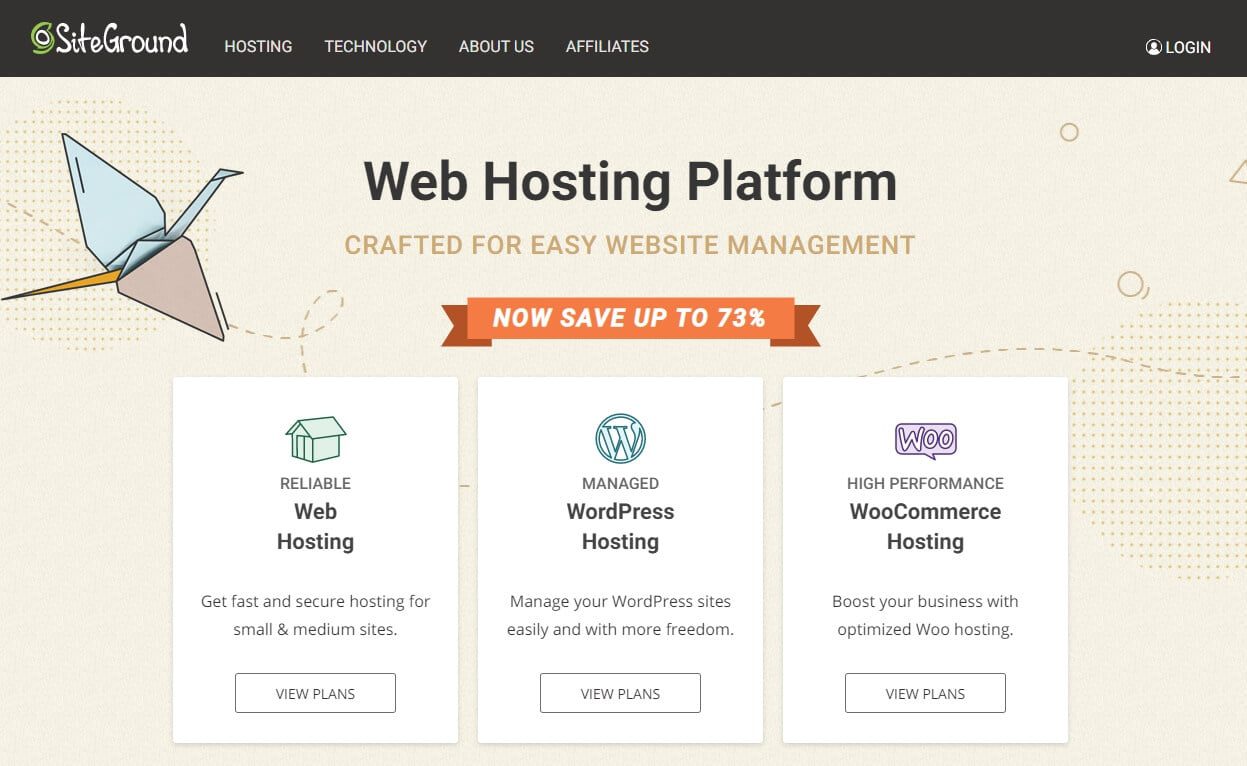 Uptime
When selecting a web hosting provider, one of the most important considerations is uptime. Solid uptime not only demonstrates a web host's dependability but also has a direct impact on your visitor experience and bounce rate. That means you lost profit for your business.
They guarantee "network uptime of 99.9 percent yearly" under their Service Level Agreement. If they ever go below that level, you will be rewarded with free hosting months.
The uptime is calculated under a few conditions. Any  Pre-announced or emergency problems are exempt.
Over the previous year, SiteGround's uptime has been practically flawless. Their 99.99 % average reliability ranks them among the most dependable hosts i've analyzed.
Load Time
when choosing a hosting provider, loading time is another important factor. If a website takes one to three seconds to load, the bounce rate will increase is a 32% chance. In other words, the amount of time it takes for your page to load, the more probable it is that visitors will quit. This is only one example of how website speed can influence your business. 
Fortunately, with SiteGround, you won't have to worry about that. I've observed that their above-average loading time of 651 ms isn't the fastest, but the best part is that SiteGround has consistently produced improved speeds throughout the year, nearly 100 ms faster than in the previous testing phase (741 ms).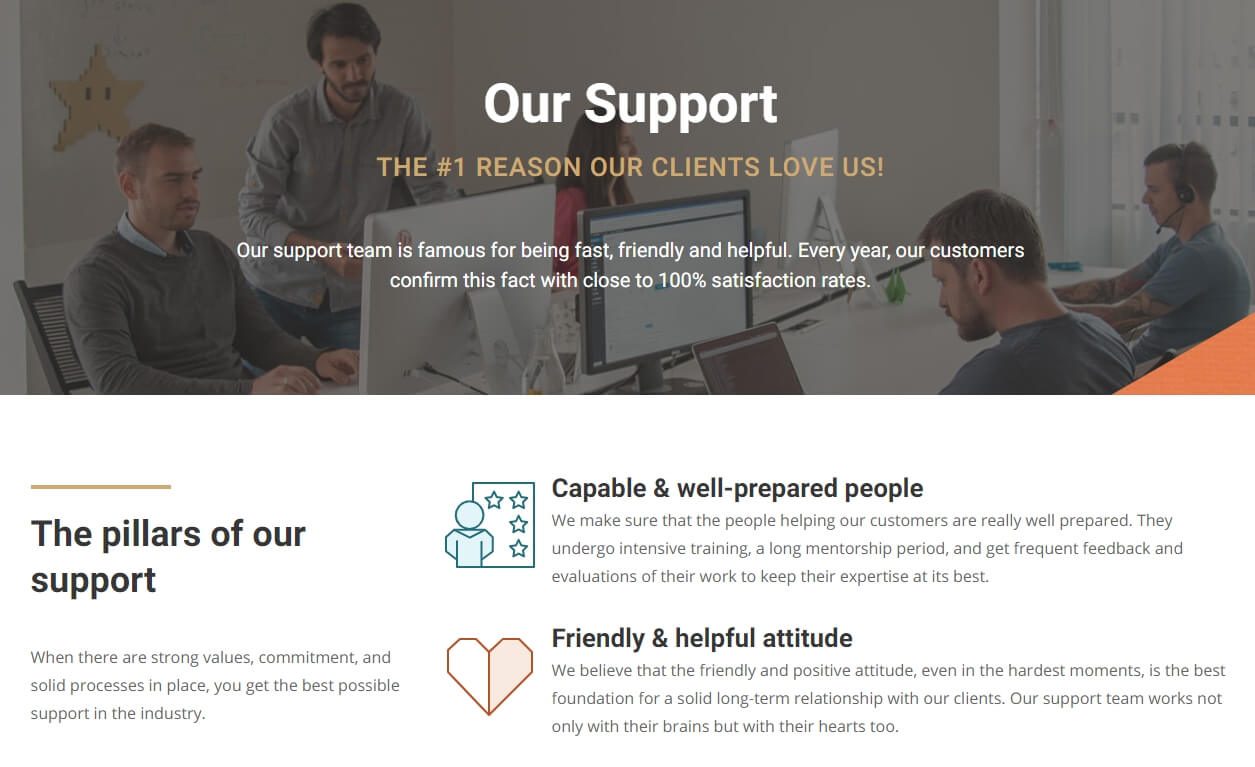 Customer Support
SiteGround offers a knowledge base where clients may get instant answers. Otherwise, you can call in or utilize the live chat service, which is available 24/7. I chose the live chat feature for this latest test and was associated with a customer representative in less than a minute.
Unlike some other hosts, there was no discernible delay in responses. So it appeared that he knew what he was talking about and didn't have to explore answers each time I sent along with a new query. I received a response to our questions in less than five minutes.
Free Migration
I get a little worried whenever I see web hosts offer "DIY migration" features. That's because the majority of them aren't very good, and they end up adding to the customer's burden. However, SiteGround may be an exception to this rule. They've made a free plugin called "WordPress Migration" that you may install on any site.
There are no lengthy and annoying walkthroughs either. Simply produce a token from within your SiteGround hosting account, and the plugin will handle the heavy lifting for you.
Yes, you must still invest in some effort. The best part is that you may use this option to move as many websites as you wish. (By difference, some hosts that offer "free migrations" cap it after a specific number of them, requiring you to pay after a certain point.)
If you'd prefer expert, hands-on assistance, SiteGround's higher-tier services include it for free (GrowBig and up). If you go over your plan's limit, they charge a small price of $30 for each additional site.
SSL Certificate and CDN
Google Chrome has begun actively informing users if the site they are trying to access lacks an SSL certificate. SSL protects any data transferred back and forth between the user's device and the website, including private information such as IP addresses or payment card data. If this information is left unprotected, hackers and others can simply intercept it. So Chrome is looking out for the best interests of online users here.
In other words, SSL certificates are now essentially required on all websites. And, happily, SiteGround includes these for free with all plans.
Money-Back Guarantee
On all shared hosting plans, SiteGround offers a complete 30-day money-back guarantee. Domain name costs and other additional costs are rarely given back.  Furthermore, this refund policy is only applicable to new clients. As a result, refunds on renewal plans are not available.
Renewal Rates
SiteGround has advertised on their website that their cheapest plan costs $3.99 per month. Although it is not the cheapest pricing among other hosts, it is still quite affordable. Almost every web host I've tested so far applies the same technique. They attract you with a low introductory price, only to raise (or even treble) the price when you renew.
When you renew, for example, that $3.99/month charge rises to a stunning $14.99. Other SiteGround plans cost $24.99 and $39.99 per month, respectively. The best strategy is to lock in the lowest rate for the longest period possible in order to take benefit of it for as long as possible.
Hosting Types
SiteGround provides most of the things you'd think from a web server. There are numerous shared and cloud web hosting packages available, as well as managed WordPress hosting services. They also provide customized solutions for resellers, WordPress users, and even enterprise customers. In fact, one of their most popular aspects is their customized solutions.
hosting options:
Shared hosting

Cloud hosting

WordPress hosting

Reseller hosting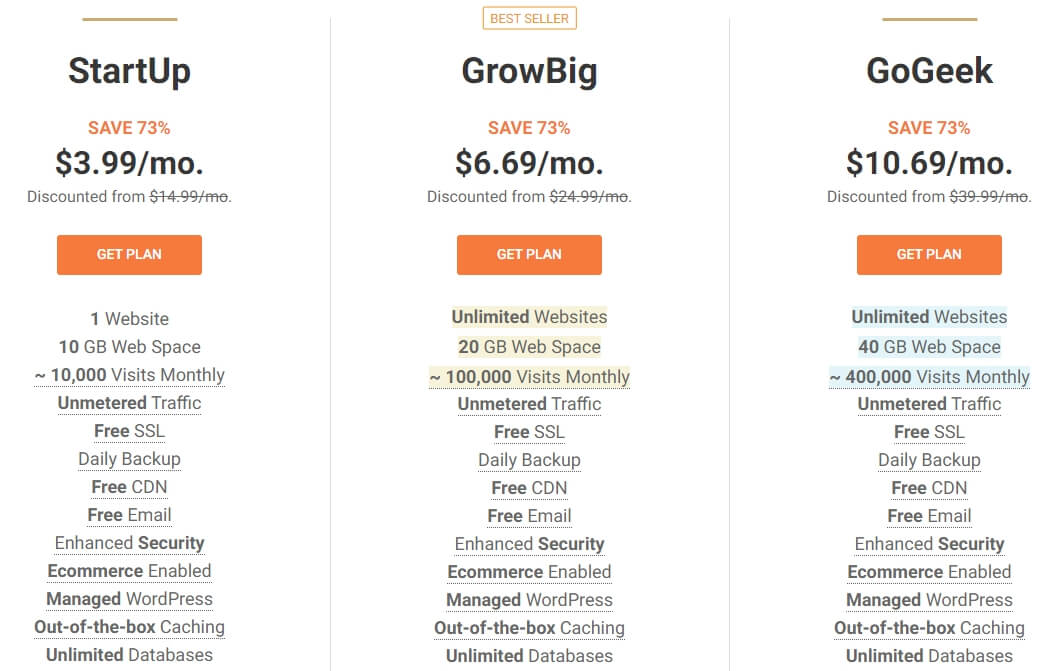 Shared Hosting
Their shared hosting plan includes network traffic of up to 10,000 visitors per month with 10 GB of storage, unlimited emails, one website,  and support for the web performance and security service Cloudflare.
In addition to the StartUp plan, SiteGround provides a variety of other hosting packages, each with its own set of resources and features.
WordPress Hosting
Many people consider WordPress to be only a blogging platform, yet many businesses rely on it for much more. In reality, the WooCommerce WordPress plugin is the most popular e-commerce software application. WordPress allows you to do almost whatever you want.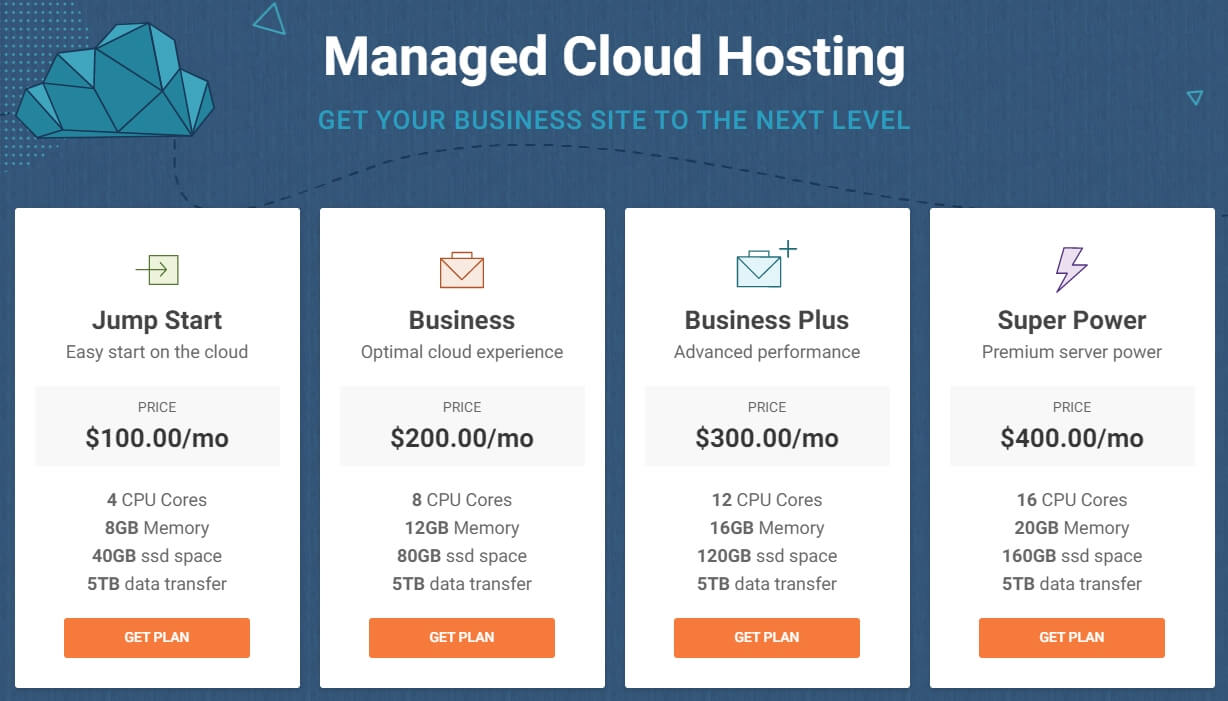 Cloud Hosting
Cloud Hosting options are clearly better from their Shared and WordPress plans. Unless your company is already well-known on the internet, you are unlikely to require them. The Cloud plans, provide a lot if you have a lot of visits to your site, need to do a lot of calculations, or store a lot of data.
The entry plan costs $100 per month and includes 4 CPU cores, 8 GB of RAM, and 40 GB of SSD storage. They also offer a Super Power plan for $400 per month, which has 16 CPU cores, 20 GB of RAM, and 160 GB of SSD storage.
Every cloud plan includes 5 TB of data transfer per month. Cloud hosting is frequently a better option than dedicated hosting. When your company reaches this point, the support agent can be quite useful in making your choice.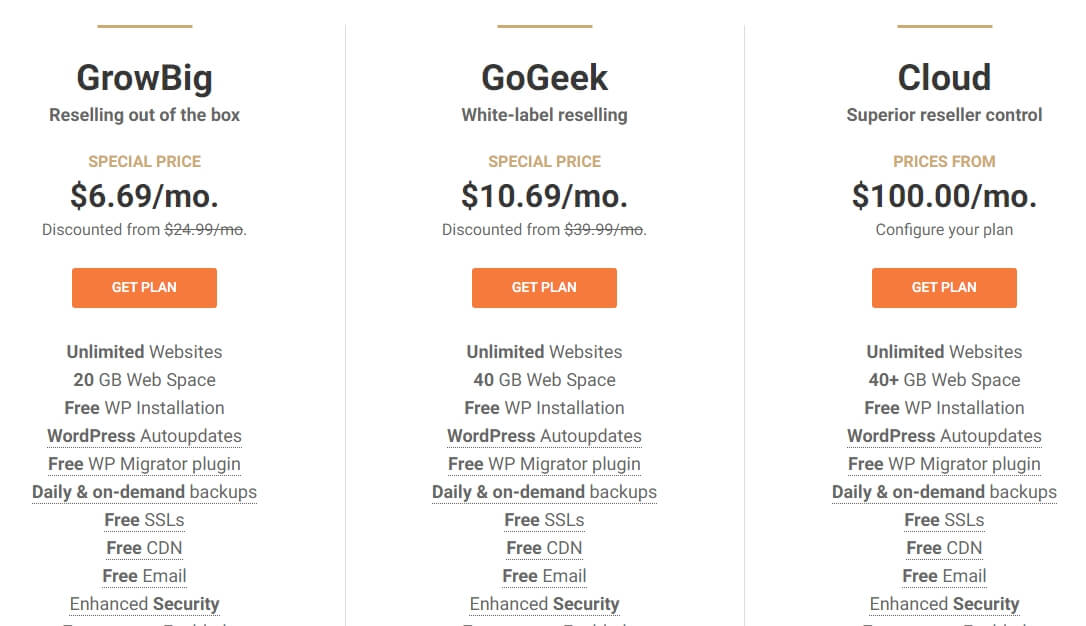 Reseller Hosting
SiteGround provides a reseller package for companies who want to host websites as their core business or as an add-on. For example, web designers may choose to provide hosting to their clients. SiteGround reseller plans begin at $6.69 per month. You can host an unlimited number of clients with any of their reseller plans.
SiteGround Pros & Cons
Pros
Provides the greatest customer service, 

Uptime, security, and speeds.

A generous 30-day money-back guarantee.

99.99% uptime guarantee.

All plans include free daily backups.

WordPress installation is managed by SiteGround.

The services and features are fit for both fresher and experts.

SiteGround places fewer shared hosting accounts on their servers, which means you get more resources than you would with another web host's shared hosting package.

SiteGround services can be scaled to match your requirements.

The web host's interface is stocked with free and one-click installs.

Free Cloudflare.

A staging tool is available.
Cons
SiteGround

exclusively provides

Linux-based servers, making it

unsuitable

for

those looking

for a Windows

solution.

SiteGround is one of the few web

hostings

that does not

offer

advertising credits

to customers.
10 Alternative Hostings
Dreamhost – Best Month-to-Month Plan
Hostgator – Affordable for Minimal Needs
Nexcess – Best for scaling and growth
Final Thought
For web hosting, I highly recommend SiteGround. They offer hosting plans for businesses of all sizes. It makes no difference if you are a startup or an established business. In terms of functionality and performance, SiteGround outperforms its competitors. I'm convinced that it will meet your web hosting requirements.
What are your thoughts about SiteGround? I'd love to hear about it in the comments section below! If you like this article please give us a like and share this on social media.