InMotion is an incredible deal and one of the most reliable web hosting available. In fact, on my list of the best web hosting services, I selected InMotion as the best web hosting for small businesses. This is due to their excellent customer service and dedication to providing a fantastic hosting service.
But what are the best at? And where do they need to improve? This comprehensive overview covers all of InMotion's hosting options, the benefits of choosing InMotion, and some other factors to consider before making this decision.
With two data centers in Los Angeles and Washington, D.C., InMotion Hosting has established a customer base of over 1.2 million domains since 2001. They also boast grandiose claims of being number one in transfers, support, and industry guarantee as one of the most veteran and established names in the hosting market.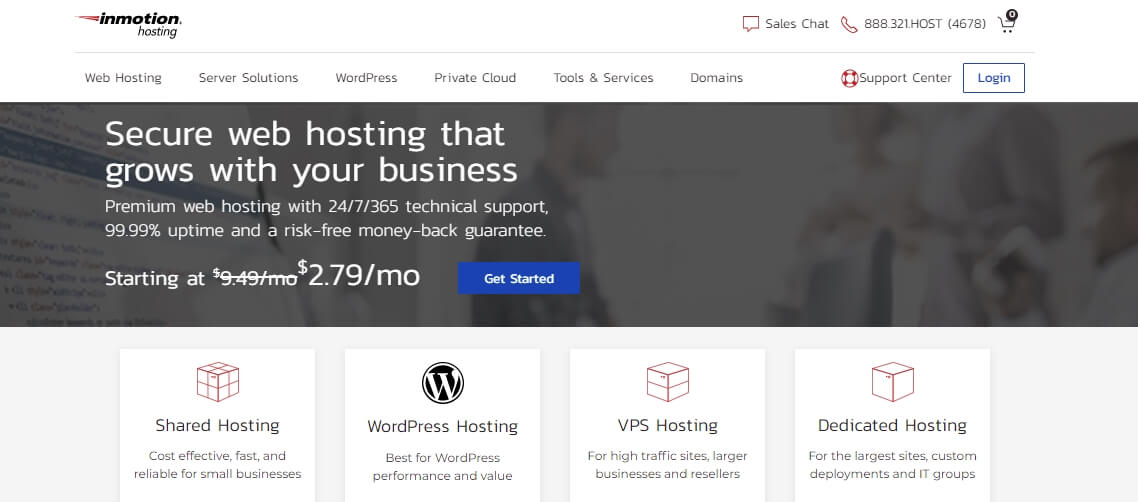 Features
SSD drives

Auto-updates

99.99% Uptime

Flexible Billing

Hack protection

Custom firewall

Security Monitoring

Free SSL certificate

DDoS protection

Regular Backups

Green Data Center

90-Day Money-Back

Business Class Hardware

Free website migrations

BoldGrid website builder

Innovative speed technologies

Community Support Forums

24/7 Live Chat, Phone, and Knowledge Base
Loading Time
User experience isn't the only benefit of quick loading times. Speed is also taken into account by Google's algorithm when determining where you'll appear in the rankings. The speed with which your page loads has a significant impact on your bottom line, with 50% of your traffic leaving if it does not load within two seconds.
Fortunately, the average page loading time of 347 ms was provided by InMotion Hosting. It is fast enough to retain people on your site. Over the last year, InMotion Hosting's speed has steadily increased.
99.93% Uptime
Based on our detailed monitoring over the last year, InMotion Hosting's average uptime was 99.93% with 6 hours of downtime. I know that isn't the best performance I've ever seen, but it is still good enough. This uptime ensures that your website is always available.
Customer Support

InMotion Hosting provides a multitude of support features, there are live chat, phone, email, and also Skype. 24/7 All of these support features are available. However, InMotion Hosting provides a comprehensive knowledge base in case you choose to find solutions on your own.
I tried out their live chat feature. I asked a few simple queries about their WordPress hosting options, and the customer service representative answered us back within a few minutes. The responses were a little slow, but they were good enough to maintain our interest and discourage us from going elsewhere for solutions.
Money-Back Guarantee
The industry standard for money-back guarantees is usually around the 30-day mark. However, not InMotion Hosting. They are so confident in their services that they offer a 90-day money-back guarantee. This thing makes InMotion Hosting stand out from others.
Integrations & Apps
InMotion Hosting also claims to be a leader in Open Source project support on their website. Again, those claims are supported by a portfolio of over 400 applications. Everything from popular CMS such as WordPress and Drupal to shopping carts or eCommerce systems such as Prestashop and Magento is available.
Green Hosting
Since 2010, InMotion Hosting has worked hard to reduce its data center's carbon impact by implementing innovative Outside Air Cooling technology. This new method significantly reduces the amount of energy used by the data center for cooling.
Furthermore, InMotion Hosting has collaborated with a non-profit organization Trees for the Future. It is dedicated to promoting sustainable agroforestry.
Free Site Transfer
If you already hosted your website somewhere InMotion Hosting will transfer for free. Your free transfer includes Transfer of the entire cPanel or up to three websites (up to 10 GB) and Setup for email, FTP, domains, and other services. However, they guarantee that there will be no downtime.
Threat Defense System
The recent Equifax security breaches demonstrate how real and present the threat of cyber terrorism is, and with the increase of brute force, Dos, and DDoS attacks, it is more crucial than ever that all website owner understands the security protocols utilized by their web hosting provider. Fortunately, InMotion Hosting goes to great lengths to protect its users' personal details.
InMotion Hosting Security, in collaboration with Corero Network Security, now provides a one-of-a-kind security solution known as the Smartwall Threat Defense System. TDS detects, mitigates, and eliminates DDoS attacks in real-time.
Free Domain Name
A free domain name for the first year is something that many hosts include with their basic packages. Unfortunately, InMotion Hosting isn't among them. To receive a free domain name, you'd have to sign up for one of their more expensive plans, beginning with the "Launch" plan. Otherwise, domain registration will cost you $15.99 per year.
Hosting Type
Shared Hosting
VPS Hosting
Dedicated Hosting
WordPress Hosting
Reseller Hosting
Shared Hosting

Creating a website does not have to be a long and expensive process. If you want to experiment with low-cost web hosting, look into shared hosting. With shared hosting, your website shares a server with many other websites, so the server expense and available resources are divided. Shared web hosting isn't particularly powerful, but it's a good option if you don't anticipate a lot of website traffic.
InMotion provides four different Linux-based shared web hosting services. The Lite plan is the most basic. it costs 4.99$ per month with a 12-month subscription, renewing costs 8.99$ per month. It allows you to host a single website and includes a single email, 10GB of SSD, and unlimited file transfer. The Launch plan costs $6.99 per month with a 12-month subscription and renewing costs $11.99 per month. Allowing you to build two websites, create ten emails, and 50GB of storage.
The Power plan includes 50 websites, 100GB storage, and 50 email addresses. Its 12-month plan costs 4.99$, but it renews at a monthly rate of $15.99. Power is outclassed by Pro, which includes 100 websites, 200GB storage, and unlimited email. Pro is the only InMotion shared hosting option that does not require a 12-month commitment. It begins at $19.99 per month, with extra discounts available for 12 months commitment costs $15.99 per month, renewing at $24.99 per month. On the plus side, all shared hosting plans from InMotion Hosting offer free SSL, a free domain, and unlimited data transfers.
VPS Web Hosting

In terms of power, VPS hosting outperforms shared hosting. This is because your site is hosted on a server with fewer sites sharing resources than shared hosting. Web hosts guarantee a minimum amount of resources for your site. As a result, VPS costs more than shared, but it is a powerful and stable system. Consider VPS hosting to be like living in your own home; you'll have neighbors, but they won't all be competing for your bandwidth to the same level that shared hosting-style housemates can.
managed hosting and unmanaged cloud VPS web hosting available in InMotion Hosting. Managed VPS plans begin at $56.99 per month, if you contract for 12 months it costs $41.99, while unmanaged, scalable cloud VPS plans begin at $5 per month. The managed options come with excellent top-tier specs, such as 8GB of RAM, 7TB data transfers, a dedicated IP address, and 140GB of storage. There are also domains, websites, unlimited email, and MySQL databases included. For a hefty $160 per month, the scalable cloud VPS has 640GB storage, 32GB of RAM, 8 CPU cores, and 7TB data transfer.
Dedicated Web Hosting
Dedicated hosting places your website on its server, allowing it to take full advantage of the system's capabilities. In other words, you don't share your server with your housemates, you have the entire home to yourself. T his hosting is a highly useful type of hosting. It's something you should think about if you expect a lot of website visitors. Sites that must not go down or slow down should be hosted on dedicated servers.
InMotion Hosting's dedicated and Bare Metal plans are a solid choice for large websites, having just been upgraded to the newest Intel Xeon technology and now with more Linux options. You can customize the dedicated web servers with up to 4TB storage, 25TB data transfers, and an amazing 192GB of RAM, it costs 139.99$ per month. If you require even higher specifications, check out InMotion's custom build services, which allow you to plan, create, and customize the hardware to your exact specifications.
WordPress Web Hosting

WordPress is one of the most well-known names in the hosting market, as the service serves as the CMS for around 30% of the web. If you're searching for WordPress hosting, InMotion has some good options. Your digital footprint will be stored on a server dedicated to hosting only WordPress websites. This is a significant benefit in terms of load times and dependability.
CMS is preinstalled on its Linux-based, WordPress-optimized servers, which also provide website staging and automatic updates. Automatically updates your third-party WordPress plug-ins, which is a good touch. It also adds a custom-configured NGINX stack and an in-house caching system to your WordPress installation.
The WP-1000S with a 12-month contract costs 7.99$ per month, after that 10.99$ per month. It provides 50GB storage, a single website, and unlimited email and data transfers. WP-2000S with a 12-month contract costs 7.99$ per month, after that 15.99$ per month. It includes 100GB storage, Jetpack Personal, and two websites to that base. The WP-3000S and WP-4000S round out the top two plans. WP-3000S with a 12-month contract costs 13.99$ per month and it includes three websites, 150GB storage, and unlimited email. There are no month-to-month subscription alternatives for the first three tiers.
WP-4000S is available for $25.99 per month, If you choose a 12-month contract it costs $22.99 per month and renews at $36.99 per month. It includes six websites, 200GB storage, Jetpack Professional, and a dedicated IP. Finally, there are WordPress VPS plans, which are priced similarly to the managed VPS plans. These are premium solutions that are fully managed by in-house experts and include a dedicated IP address, 140GB storage, unlimited sites, dedicated resources, and 7TB data transfer.
Reseller Web Hosting

Check out InMotion's reseller hosting packages if you want to get into the web hosting market but don't want to set up your own servers or worry about providing the bandwidth for them. The six Linux-based packages include unlimited email, 6TB of monthly bandwidth, and numerous cPanel accounts. It costs 26.59$ per month. InMotion Hosting also offers customer service that is available all the time.
Pros
90-day money-back guarantee.

A wide range of services

Dependable uptime.

All plans include servers with SSD

Unlimited emails.

Secure hosting solutions.

Free site transfers

Free backups.

Impressive customer support.
Cons
Priority support is not available with all plans.

Account activation

takes time.

There is

no support for windows-based servers.
10 Alternative Hostings
Dreamhost – Best Month-to-Month Plan
Hostgator – Affordable for Minimal Needs
Nexcess – Best for scaling and growth
Final Thought
I suggest InMotion for web hosting. I particularly recommend them to small business owners and those looking for VPS hosting. Overall, InMotion is regarded as one of the top web hosting services in the market due to its excellent customer support and dependability.
What are your thoughts about InMotion? I'd love to hear about it in the comments section below! If you like this article please give us a like and share this on social media.