Shopify is one of the most powerful tools for eCommerce websites, and with good reason. It is user-friendly, which is ideal for the inexperienced eCommerce entrepreneur, offers a variety of themes to pick from, and is flexible to numerous business models. Looking at the marketing elements alone, it's simple to see why many users jump right in.
Finding the appropriate eCommerce tool for your requirements is important to your success, but depending only on the marketing of a supplier isn't the best way to get the work done. Objective Shopify reviews provide a realistic view of what to expect. Lots of reviews I've read only give five stars to the highest bidder. 
Why? Because I know how difficult it is to understand the differences from one platform to the next. If you spend time and money on one platform just to find out it isn't right for you, switching to another isn't anyone's idea of fun. So, does Shopify live up to the hype? To learn more, keep reading this Shopify product review.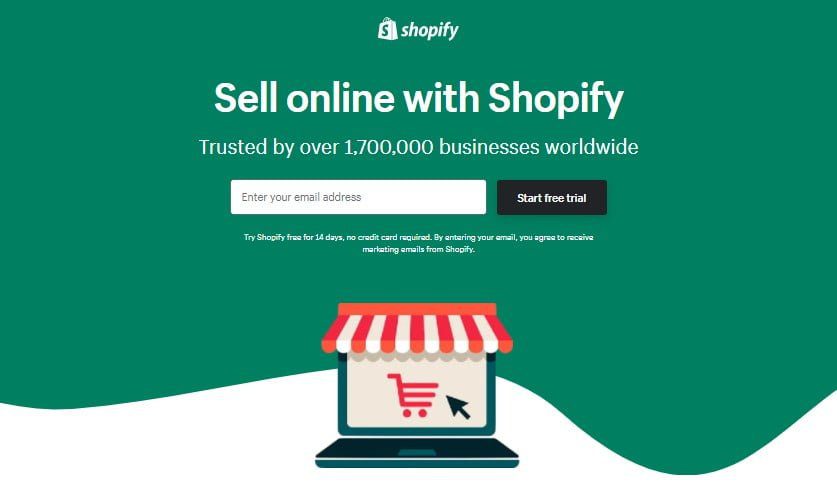 There are plenty of eCommerce carts to select from, but Shopify is consistently listed among the best eCommerce website builders. Questions like "What is Shopify?" and "How does Shopify work?" are typical among those who are unfamiliar with this cart.
Shopify has established itself as one of the most popular hosted eCommerce platforms available today and With good reason. Because it's cloud-based, you may access it from anywhere there's an internet connection – and you won't have to pay for web hosting. It provides all you need to start selling things to clients as an all-in-one online selling platform, including SSL site security. Dropshipping companies and tiny boutiques will benefit the most from it. The more inventory you have to handle, the more difficult and costly it is.
Shopify History
Tobias Lutke, a software programmer, founded Shopify in 2004. he wanted to open an eCommerce store to sell snowboards from third parties. He no longer wanted to be a software programmer, he was dissatisfied with what he found on the market, so he teamed with other programs and established Shopify in 2006. Initially, the platform assisted businesses with customized templates, image uploads, order tracking, categorizing items, and receiving payments via PayPal or a payment processor integration.
They implemented a point-of-sale (POS) system in 2013, which you can use within your physical store if you have one. A Shopify retail bundle is offered,  For an extra cost. It comes with all of the essential hardware as well as a staff management system.
It's now easy to add a Buy button to any website, not only their eCommerce platform. There's no longer a divide among online and offline sales, thanks to this and Shopify QR codes, business owners can handle everything from one location.
Is Shopify Right for You?
Shopify is a good alternative if all you need is a basic store. It is simple to set up and loads rapidly. To create your store, all you have to do is sign up for an account and then follow the on-screen instructions. You can select a style that fits your brand with reasonable simplicity because of the large collection of free and paid themes. If you don't have time to do it yourself, there are lots of certified partners who can assist you. It's simple to get started with the one-click selling and social network selling features.
Are you a business owner looking to boost earnings without getting caught up in administrative tasks? Do you consider yourself to be technologically illiterate? For those who don't want to work with the technical parts of having an online business, Shopify is the greatest choice. It even features a blogging platform, to share news and updates with your customers.
However, several studies suggest that it performs poorly in terms of search engine optimization (SEO). It might be difficult for new companies to establish a presence in search engines to attract potential customers. The fact that Shopify uses URLs like /collections/ in the URL limits your information architecture. Yes, there is always pay-per-click advertising.
Shopify Development and Technology
While there is a large library of apps and integrations to add extra features to your business or make things easier for you to handle, many of them have monthly costs. Using a couple of them at the same time might significantly raise your monthly expenses.
If you need sophisticated customization or functionality for your Shopify store, you'll need to employ a developer. Shogun, a page-building software, can provide you with a little more freedom and flexibility in customizing your business. However, skilled developers are ideal for any long-term site maintenance or custom functionality.
Shopify is built with the Ruby on Rails framework. It is not designed to let users perform a lot of work on their own. The more complicated your shop requirements, the less likely Shopify is the perfect platform for you.
If one of the most important features you're looking for is the flexibility to customize your checkout experience, you should reconsider using Shopify.
Businesses Powered By Shopify
Shopify is still growing, with millions of businesses relying on it to operate their operations. Shopify is used by the following brands:
Black Milk Clothing

Kylie Cosmetics

Deathwish Coffee

Bulletproof Coffee

Hasbro Pulse

GymShark
Shopify's platform is worth the extra investment for many entrepreneurs. It competes with industry leaders like BigCommerce and Volusion, but it remains focused on the business owner and making things simple to use. It gives value if it's good enough for both new and existing brands. However, what works for other businesses might not work for you. Let's see how it differentiates from other principal platforms.
Shopify Comparisons
Any software hosted on the cloud and provided via a subscription model, such as Shopify, BigCommerce, and Wix, is known as Software as a Service (SaaS). Nothing has to be installed on the user's computer. Users pay a monthly fee based on service level, and the provider handles everything for them. This means store owners will have to deal with fewer technical details, but it also limits their ability to customize the source code. With SaaS, you get something ready to use right away. All you have to do now is attach your domain, choose a theme, and start adding content.
Open-source systems like as WooCommerce, on the other hand, allow users to access, edit and share the source code for their own needs. At the end of the day, development is a public and collaborative process. You can either create it yourself or hire someone to do it for you if a feature is missing. You're effectively starting from scratch with open-source. Should you choose a software-as-a-service (SaaS) eCommerce platform or open-source eCommerce software? The quick answer is that it depends.
Software as a service (SaaS) is the best option for:
Those who are new to technology and want something simple to use.

People who don't require any unique features or functions.

Those who need some independence and flexibility in terms of marketing tools, apps, widgets, and extensions.

Startups and businesses in the early stages of development with a low IT budget.
Even if open-source software is free, you'll need more than that to run your business. You'll need to pay for web hosting and SSL, as well as a domain name, which may or may not be free. Only a few companies accept monthly payments, but the majority require annual payments. And it's up to you to correct everything that goes wrong. If you're not skilled with web development, you'll have to hire someone to take care of the issues for you, which might easily cost more than the monthly subscription fees for your SaaS eCommerce solution.
Open-source eCommerce platforms are most useful for:
Customers that, due to many integrations or unique products, require additional control over their development path.

Users who do not want to pay monthly fees.

Those who know the value of owning hosting and customer information.

Those who want the right to select their hosting provider and 24/7 support.

Those who require more control over their client experience for a competitive benefit.
You can list the integrations and features you wish to add to your website using open-source software, and your in-house development team or a partner agency can use the open-source modules as the foundation for the customizations and tools you require. Only the features and integrations you require are used, and they are released on the timetable you set.  You'll be able to publish security updates on your plan, instead of waiting for your provider to do it.
More than 3,400,000+ websites are powered by Shopify, with the majority of them being in the United States. According to statistics, customers are switching from other suppliers such as Volusion, Yahoo Store, Big Cartel, and Wix. In the top 10,000 sites in the hosted solution category, they are the most famous hosted solution.
Pricing And Plans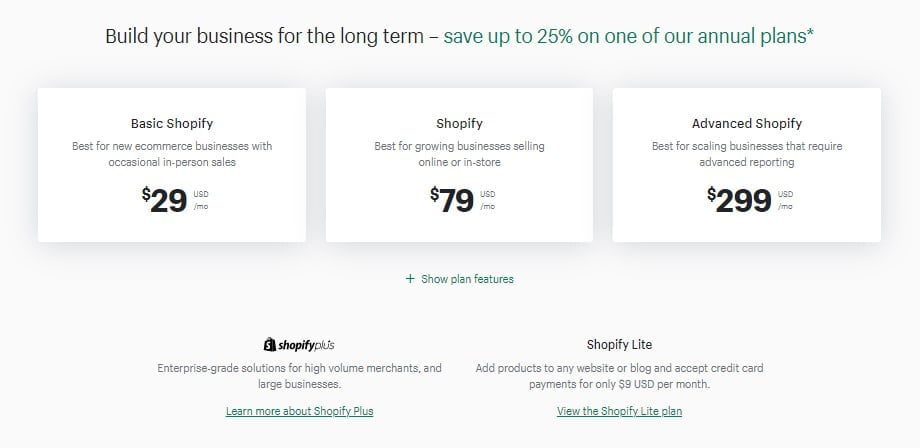 Shopify does not come out on top when it comes to price. You'll spend anywhere between $29 and $299 per month, and that doesn't cover advanced marketing services like recurring billing, smart product search, or eBay integration.  You'll have to pay even more on top of Shopify's monthly costs for it.
Don't fall into the trap of thinking you can run a mini-store with Shopify's "Lite" package. Using this package, you may create a Facebook store, sell offline with your Shopify account, manage inventory, and add Shopify buttons to your website. At $9 per month, this package enables you to add Buy buttons to any website, receive credit card payments in person, and produce invoices for special orders. It's the best option for users who don't want to run a full storefront store but yet want to offer products and services from a website created on another platform, such as WordPress. Consider it similar to the PayPal Buy Now button.
The price of the Shopify website builder depends on several things. The plans appear easy at first glance, but once you consider all of the extra charges related to plugins and marketing tools, you'll see how convoluted they can get.
Translation: Don't select your Shopify package just based on price. The strategy must include features and tools that successfully assist business growth and expansion in order to be worthwhile. Understanding what each tier has to offer not only guarantees that you don't overpay, but also that you know when it's time to upgrade as your business grows.
If you want to save costs, commit to one year for a 10% discount or two years for a 20% discount if you pay in advance. You can use the 14-day free trial to see if it's something you want to commit to.
Don't get me wrong: each Shopify feature is appealing in its own right, but certain alternatives will be more beneficial to your company. Looking at the features that come with each tier and matching them to your business requirements is the easiest approach to narrow it down.
However, you must evaluate your budget to ensure that you can afford the payment – whether monthly or annually. Downgrading is always a possibility, but if it involves losing essential functionality you need to keep things running properly, it may be more harmful than beneficial.
Which Shopify Plan Should You Choose?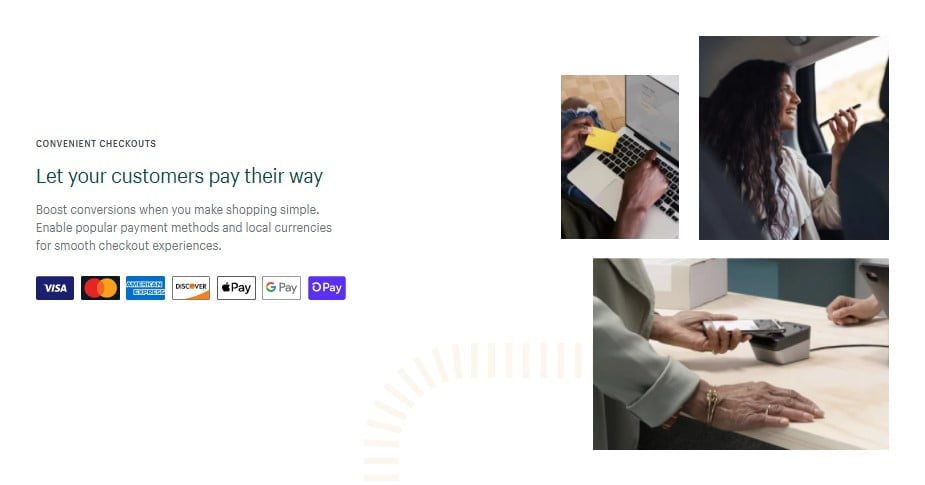 You don't have to conduct any research because I've already done everything for you. All options include an online store and blog, as well as unlimited products, SSL certificates, and 24/7 customer service. All Shopify POS plans include the Shopify POS Lite for free, with the option to upgrade to the Pro version for $89/month/location. There aren't any setup costs. If you refund a purchaser, any credit card processing costs Shopify charges will not be refunded. 
Shopify Basic
You'll get two staff accounts, up to four locations, shipping discounts (up to 64 percent), the ability to print shipping labels, and fraud analysis with the Shopify Basic plan. Each online credit card transaction will cost you 2.9% + 30 cents in transaction fees. For in-person credit card purchases, the fee drops to 2.7 percent.
You'll pay an extra 2.0% in fees if you use another payment gateway. This is the greatest option for people who are just getting their feet wet in the e-commerce world. It's appropriate for both physical and digital items. As a result of COVID-19, Gift Card support is now temporarily offered on all plans.
Shopify
Under this plan, you'll get all features of the basic plan. You'll get five and up to five locations instead of two staff accounts. Professional reports are included, as well as up to 72% off shipping. The main difference between the plans is that you'll obtain USPS Priority Mail Cubic price and a lower transaction cost with the Priority Mail Cubic plan.
For online credit card transactions, you'll pay 2.6% + 3 cents per transaction, 2.5% for in-person sales, and only 1.0% for payment processors other than Shopify Payments. This package is suitable for established eCommerce merchants who need additional staff accounts or retail locations and wish to save a little money on transaction fees. This Shopify package is for you if you desire to report options to keep a closer check on your financial health and customer demographics.
Advanced Shopify
With 15 staff accounts, up to 8 locations, advanced report building, and third-party generated shipping prices, you'll get everything in the middle-tier plan. Your shipping discount has been increased to up to 74% off. For payment gateways other than Shopify Payments, your transaction fees drop to 2.4% + 30 cents per transaction and 0.5% in fees.
This plan is best suited for larger eCommerce businesses with several physical locations. It allows for the creation of advanced reports as well as the display of computed shipping charges during the checkout process.
Shopify Plus
This is the ideal solution for businesses, and it's what companies like Staples and Heinz use. To get a price for the Shopify Plus plan, you'll need to contact Shopify and discuss your requirements. The monthly payments are expected to start at roughly $2,000 per month. What exactly do you receive for an extra $1,700 each month?
A dedicated support team that provides priority help

Two more clone stores have been created for internationalization objectives.

For customization purposes, your development team will have better access to assistance.
Shopify Features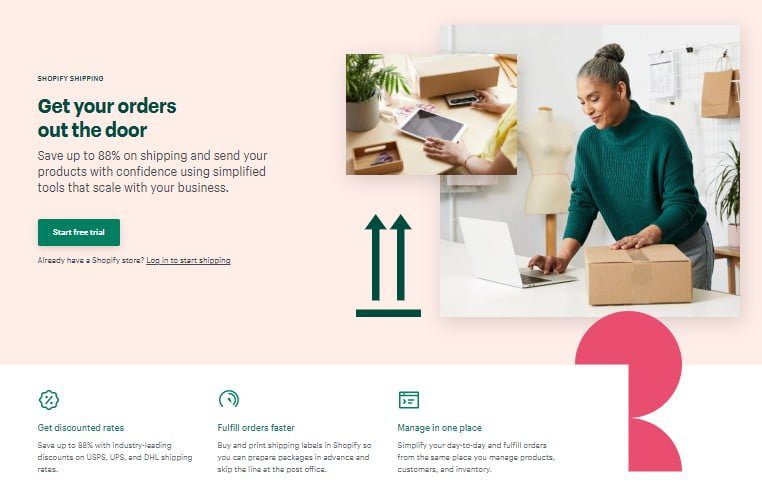 Except for Shopify Lite, all Shopify plans feature limitless products and bandwidth, as well as POS, fraud analysis, and staff accounts. That's fantastic, but you'll need more to be successful. The Shopify dashboard makes it simple to get your website up and running on a weekend, but it pays to spend a bit of time on specific areas of functionality.
Some SEO Tools Are Problematic
Shopify creates an XML sitemap, a robots.txt file, and canonical URL tags for you automatically. You can also include title tags, meta descriptions, and ALT tags in your content. The URL structure option in the e-commerce site builder was just changed, but I still think it's too rigid. I've discovered that Shopify sites' beat ranking performance is lower than I'd want to see.
However, since blogs can be such a significant source of traffic, the fact that Shopify has a built-in content management system is a key selling feature. You may use the blog function to create content that is different from your products, edit author information, categorize posts, and update the meta description. If you're used to using WordPress, you'll notice that the UI isn't as user-friendly.
Are you considering integrating a WordPress blog with your Shopify site because you want something with a lot of content? It could simply become a technological nightmare. You'll have to install WordPress on a separate subdomain for it to work which also means two separate logins to keep track of and another component of your site to stay secure. 
While Shopify manages site security, you're on your own when it comes to protecting your WordPress installation. While there are numerous plugins that can help, many of them are premium and demand a one-time or monthly subscription charge.
If you require more advanced SEO features, the Shopify App marketplace can assist you. You may use premium apps to add schema markup to your products, identify broken links, compress photos, and more.
With Schema markup, your products will appear in Google search results with rich snippets that provide data about the product, such as its rating and price. Broken links are inconvenient for customers, and when left alone for too long can If. Your ranking. Page speed can be improved by compressing images.
Shopify includes the fundamentals of SEO, but it's not enough to provide you with a competitive advantage. Expect to go the additional mile for optimization if you're in a really saturated niche with a lot of competitors.
Landing Page Builder
While technically any page on your website can be a landing page where the visitor first lands on your site, in terms of sales and marketing, landing pages are specific and separate from the rest of your website's pages.
A landing page is a standalone page designed to attract a specific sort of visitor to take a specific action. What are the benefits of eCommerce landing pages? According to a study by Marketing Charts:
When compared to post-click landing page visits, product page visitors visited 42% fewer pages.

When compared to post-click landing pages, product pages convert nearly half as many visitors.

When compared to post-click landing pages, revenue per session on product pages is roughly half that of post-click landing pages.
Given that only a small number of purchasers would make a purchase from you, landing pages must be an important part of your marketing strategy. Because of their high focus, they are more effective than a normal product page at attracting customers to buy.
Landing pages are frequently used in paid advertising campaigns since they help keep clients on your site for longer periods of time and promote more conversions. A well-optimized and contextually relevant landing page also raises your PPC quality score.
Your Shopify landing pages are indexed in search engines just like any other page, so when clients search for something related to your campaign and product content, your landing page is likely to show up in the organic search results.
Because landing pages are such an important part of eCommerce, you'd think Shopify would make it simple to build them, right?
Wrong. You have two options: hire a developer to create a template that you can use and modify as needed for your campaigns, or hire a developer to create a template that you can use and modify as needed for your campaigns. If you want to quickly build landing pages for your Shopify website, you may invest in a third-party premium software like one from Shogun.
While Shopify offers a fantastic shop builder, if you're looking for a drag-and-drop landing page builder, you'll be disappointed.
Abandoned Cart Recovery
According to research, in March 2020, an average of 88% of online shopping carts were abandoned. Customers will shop online, add things to their carts, and then abandon the website before completing the checkout procedure. As a result, abandoned cart recovery is an important feature for every company to have. This function is only accessible for your Online Store and Buy Button sales channels, however, it makes it simpler to contact those users in the attempt to convince them to return and convert.
There's a catch. Only Shopify and Advanced Shopify plan to provide this feature. Worse, you can only send one email at a time. A three-part sequence might be more effective. Not only that, but Shopify dictates when you can send the email one, six, ten, or twenty-four hours after the cart has been abandoned. You'll need yet another add-on if you want additional control. More information on Shopify's abandoned cart recovery best practices can be found here.
Coupons And Customer Loyalty
General discount coupons and specific campaigns are both possible with Shopify. You may also change the type of coupon or discount. You have the option of choosing between percentage and monetary discounts, as well as delivery discounts. Setting up a discount takes around 5 minutes.
According to statistics, 65% of a company's revenue comes from existing customers. It makes sense to use one for your eCommerce business when you realize that loyalty program members spend between 12% and 18% more per year than non-loyalty program members. You may save up to ten% on costs by boosting customer retention by only 2%.
If you want to include a customer loyalty program in your business, there are a variety of reward apps available in the app store, including LoyaltyLion, Swell, Smile.io, and beans. However, this comes at an additional cost.
LoyaltyLion costs at least $300 per month, on the other hand, Smile.io only $49 per month.
Customers can be rewarded with points that can be redeemed for free goods, free delivery, a percentage discount, or a dollar discount for a variety of activities, such as purchases, birthdays, social sharing, and so on. You may be able to create a VIP program or reward individuals for referrals depending on the platform you pick.
Shopify Ratings And Reviews
According to Fan & Fuel's research, 94% of online users check reviews before making a purchase. When it comes to product-specific data, according to the Spiegel Research Center, 95% of buyers check reviews before making a purchase.
Customers usually demand firsthand information from people who have tried the product or bought it with the company. It's a wasted opportunity if you don't add product reviews.
According to BrightLocal research, 68% of online purchasers in the US are more willing to engage with businesses that have positive reviews, and 93% of purchasers decide if a company has a strong reputation based on the reviews present. According to Fan & Fuel, 92% of customers would hesitate to make a purchase if there were no purchaser reviews, and 97% of customers believe reviews influence their purchasing decisions.
If that isn't enough to persuade you, the Spiegel Research Center claims that items with reviews are 270% more likely to be purchased than products without reviews. When it comes to a higher-priced item, the probability jumps to 380 percent.
According to BrightLocal, 76% of purchasers trust online reviews as much as they trust recommendations from friends and family.
It is not included out of the box, Shopify provides a free tool called Product Reviews that may assist store owners to increase sales and optimize SEO. You may add a customer review function to all of your items once it's implemented. The appearance and feel of ratings and reviews may be easily customized. The program uses schema markup to display an aggregate review score on your Google search results, which can help you get more traffic from organic searches.
Website Search
You need a strong on-site search if you want your consumers to be able to discover what they're searching for on your website. However,  Shopify does not deliver.
When it comes to an e-commerce website, fuzzy and faceted searches are necessary. People don't know how to spell and expect the search engine to sort it out for them. Google is great at that, but Shopify's search engine isn't good enough. It's a shame to miss sales just because the site search feature doesn't work well.
Always remember if you decide to sell a variety of products. Your customer may be unable to locate all of the things you sell if they are not clearly visible and easy to find. To solve the problem, go to… you guessed it… the app store. There are a few options that provide a free plan, but what you can do with it is limited in comparison to a premium one. Now that we have an excellent idea of what Shopify can do for you let's take a closer look at performance.
Shopify Performance
Shopify is one of the best in terms of performance. It is the second-fastest platform in my tests. Mobile load times are fast, which helps to keep visitors' focus where you want it: on your website.
Load Time
Today's consumers are more demanding than ever before. To retain customers and keep search engines happy, usability is crucial. Speed plays a major role in user satisfaction. One study showed that the stress response to delays in mobile speed is similar to that of solving a mathematical problem or watching a horror movie. The stress response is greater than waiting in the checkout line at a store.
When a site begins to load, users must wait for the content to display, and there is no experience to speak of until that happens. The absence of experience is transient on fast connections, but for slower connections, users are forced to wait and may face additional problems as page resources arrive.
Pinterest noticed a 15% increase in search engine traffic and sign-ups after cutting their perceived wait time by 40%. The BBC discovered that for every extra second it took for their website to load, they lost 10% of their visitors.
When it comes to loading time, it is one of the top-rated hosted platforms, which is vital to the success of any website, but mainly eCommerce. Shopify loads in an avg of 1.3 sec, according to my performance analysis and it's no secret that high-performing sites engage and keep customers better than low-performing ones.
BigCommerce had the second-fastest load time in my research, with Magento coming in last. Keeping customers is essential for improving conversions. Slow sites reduce revenue, whereas fast bites have been shown to improve conversion rates.
According to Mobify, every 100 ms reduction in home page load time translates to a 1.11% growth in session-based conversion. This translated to an almost $380,000 boost in yearly profit for them. They also discovered that a 100% reduction in checkout page load time resulted in a 1.55% growth in session-based conversion, resulting in an average annual revenue boost of over $530,000. So having a fast website literally pays off.
Mobile Site Speed
Only Wix beats Shopify in terms of mobile site speed. Google and other search engines consider mobile-friendliness and site speed when considering where a site should rank for any given search query.
On mobile, customers expect a great and high-quality experience. According to Business Insider Intelligence, m-commerce (mobile eCommerce) accounted for more than 25% of overall eCommerce sales in 2019, more than doubling from 2015. This number is expected to rise further as Millenials and Gen Zers, tech-savvy customers, amass significant purchasing power.
By the end of 2020, m-commerce is expected to reach $284 billion, or 45% of the overall US eCommerce industry. Sales are predicted to reach $488 billion in 2024, representing 44% of eCommerce, with a compound annual growth rate (CAGR) of 25.5 percent.
Desktop Site Speed
When it comes to desktop speed, Shopify is a little slower than Wix and BigCommerce, but it still ranks toward the top. Despite the fact that many customers shop on their mobile devices, some people still use their desktop PCs to make purchases.
Any website owner's goal is to provide a fast and flawless experience regardless of which gadget a customer uses. Ideally, it should not matter whether a user begins a transaction on their desktop and completes it on their mobile device, or vice versa. The experience should be the same across all devices.
Average SEO Traffic
I used Ahrefs ranking data to evaluate where each platform should rank in terms of the quantity of traffic they receive from search engines. The more SEO-friendly the platform and the more SEO tools it has, the better it is because it makes it much easier to attract traffic.
Shopify ranks in the middle of the pack in this category. I've made no secret of the fact that Shopify's SEO tools could be improved, and the data shows it. With something that is so quick and simple to use, it would be preferable for their customers to have a positive SEO experience as well.
WooCommerce wins the cake for this one, most likely because it was designed to work with WordPress, which is a fantastic platform in terms of SEO friendliness. Weebly has the lowest average SEO traffic, which is unsurprising. After all, Weebly does not load nearly as quickly as the others and is significantly slower in terms of mobile and desktop speed than the majority of the other platforms.
Shopify Integrations And Apps
Shopify allows you to offer product variants — multiple colors, styles, or sizes of a product – right out of the box. There is no need to create separate pages for each variety. Within minutes, you can change prices and SKUs, as well as display images of various varieties.
It's also easy to sell digital items straight away, but if you want to offer personalized products, you'll need a free app to help you. Shopify may also be used to sell your products on Facebook and Instagram, as well as eBay, Amazon, and the Walmart Marketplace.
When connected, your items automatically sync to Facebook and Instagram, making it easy to create advertising and shoppable posts. You may also handle everything from within Shopify.
Connect Shopify to eBay to sell your products there and handle your orders from within Shopify. The eBay app is free to download, but you must have an eBay Stores account, which costs between $24.95 and $349.95 per month depending on the membership tier you select. 
If you want to expand your reach, you may combine Shopify with the Walmart Marketplace. Once accepted, you may set things up for free, with no monthly subscription fees, while handling everything in Shopify.
By adding the Google Channel to your Shopify store, you will be able to sync your items and related data about your Shopify business with Google Merchant Center. This helps you to appear in Google Shopping searches that are relevant to your business. To meet Google's standards, you must have a refund policy and terms of service for your store, as well as your contact information (two contact methods, not including a contact form).
Shopify allows you to use a variety of rapid checkout methods, including Apple Pay, Google Pay, and PayPal. One advantage of using PayPal is that buyer credit is available for customers based in the United States or the United Kingdom. However, unless you additionally enable Shopify Payments, you will be charged a transaction fee every time someone uses these payment methods to complete a purchase.
Strong Integration With Amazon 
Shopify may be the best option for you if you want to grow your business to Amazon in order to reach new customers, or if you already use the FBA program to manage your shipment. Why? Shopify competes with Amazon in ways that other eCommerce platforms just cannot. You may use the Amazon integration with Shopify to:
Make new Amazon listings in a variety of categories directly from Shopify.

Create offers directly from Shopify for products that are already on Amazon.

Sync everything to your Amazon Seller Central account, including product data, variations, and photos.

Set your pricing and reserve inventory specifically for your Amazon listings.

Connect your Shopify products to your existing Amazon listings in any category.
To make any of this work, you must have a professional seller account on Amazon, which costs $39.99 per month plus various selling fees based on the product category.
Amazon Pay, also known as Amazon Checkout, enables your consumers to purchase from your business using payment and shipping details already stored in their Amazon accounts. You will retain control over your customer interactions and will not share any product-level data with Amazon if you choose this approach.
Amazon 2-Way Sync ensures that everything on both your Shopify and Amazon stores is up to date. This way, inventory sold from either store is tracked in real-time, preventing overselling and stock-outs.
Amazon Fulfillment By Amazon (FBA) allows you to ship inventory to several Amazon warehouse locations so that when a shopper orders your product, it is packed and dispatched on your behalf. Standard Shipping, Two-Day Shipping, and One-Day Shipping costs will be customizable. You must provide different shipping rates for each of your shipping zones, and they must be as simple as the Amazon shipping rates.
You will incur fulfillment and inventory storage fees if you use FBA. These fees are determined by the season, the size of the item, and the amount of time it is stored. Fulfillment fees are calculated depending on weight and charged per unit. There are also fees for inventory return and inventory disposal.
Fulfillment Integration
The inventory management options and integrations provided by Shopify will not disappoint. With Shopify, you can have your orders sent to a fulfillment center automatically, so don't worry about inventory and shipping. This provides you with greater control over how quickly your company grows.
When selecting the correct fulfillment center for your needs, keep in mind that the fulfillment company you select will have a big impact on your customer satisfaction – and they are not all made equal. Each service provider provides a different set of benefits.
You'll need to think about the products you sell, the location of your customers, your monthly order volume, and how you manage returns.
Shopify integration is available from a variety of fulfillment services, including:
ShipBob

ShipMonk

FedEx Fulfillment

Rakuten Super Logistics, and FBA.
If you are a US-based company with fewer than 2,000 SKUs, do not offer perishable or regulated products, and ship between 10 and 10,000 orders per day, you can use the Shopify Fulfillment Network to hold stock in several warehouses around the US. When orders are placed, the fulfillment centers pick, pack, and ship your products after receiving inventory.
If you come across a fulfillment center that does not have an official integration but can process orders via email, you can develop and activate a custom fulfillment service in your Shopify dashboard.
Selling Online With Shopify
Shopify has some wonderful built-in selling options, but if you want to use cross-selling or upselling to increase your sales, you'll need to invest in third-party apps.
Cross-Selling And Upselling
Cross-selling is giving customers other products that are connected to the original one they purchased. For example, if your shopper adds a computer to their shopping basket, a printer would be a cross-sell.
Upselling, on the other hand, is presenting clients with a product that is slightly more expensive than their original selection. In the case of computers, it could be a better processor, a larger screen, or a bigger SSD.
What is the significance of cross-selling and upselling? They not only increase order value, but they also generate a good amount of revenue for many businesses. You'll require a paid app for more powerful selling features.
Abandoned Cart Recovery
The built-in abandoned cart recovery is a fine place to start, but if you want more control over the emails you send, or if you want to send a series of emails, you'll need to use an app. There are other options available, each of which allows you to manage how many emails you send, whether or not you use push notifications, and other features.
Marketing Automation
This is a key component of creating efficient workflows and processes within your business. According to the 2019 State of Marketing Automation Survey conducted by Social Media Today, 75% of businesses use at least one type of marketing automation tool. . According to Marketo, 76% of companies who use this type of automation experience a positive ROI within a year, and 44% see a positive ROI within 6 months.
Shopify does not have any built-in marketing automation. However, there is good news: marketing automation solutions are accessible in the Shopify marketplace. The kit is recommended by Shopify. It allows you to set up and implement email marketing initiatives, as well as follow up on sponsored social media advertising activities. Kit Skills allow you to combine Kit with other apps to make it do even more for you, such as:
Accounting and billing
SEO
marketing campaigns
Product discounts for remarketing
Leverage positive reviews
Product Reviews And User-Generated Content(UGC)
You can easily ask customers to leave product reviews by using the free product review app available in the Shopify app store. These are examples of user-generated content that you can use to promote your business. Additional apps, such as the YotPo app, can extend that functionality. It makes it simple to collect product reviews and other information like photos. Yotpo's social proof tool can help you raise your sales. A free plan is available.
One-Click Selling
One-Click Selling is a simple approach to making the purchasing process easier for your visitors. You may add one-click purchasing like Amazon. Shop Pay, formerly known as Shopify Pay, is a method that simplifies the checkout process for customers. If your store accepts credit cards using the Shopify Payments payment gateway, you will have free access to this option.
Shop Pay allows users to check out by entering a six-digit verification code texted directly to their phone. You won't have to submit any shipping or payment information if you buy from you or any other store on the Shopify platform this way.
This, of course, only works once customers submit their shipping and payment information and choose to save it with Shop Pay. For  Returning customers conversion rates are up to 18% higher, and checkout times are 40% faster.
Customer Support 
Another useful feature is Shopify Ping. It's a free iOS and Android app that assists you to handle customer messages. Customers to your store can communicate with you using Facebook Messenger, Shopify Chat, or Apple Business Chat. Then, to make things easier for you, all of those communications are delivered to you via Shopify Ping. Regardless of the platform, the consumer used to contact you, you may read and respond to messages from your phone.
Shopify's app store includes 4,200 apps as of May 2020. According to Shopify, more than 80% of sellers rely on third-party apps as of June 2019. Take a look at a few of the apps that improve your store's functionality:
Product Filter & Search

Oberlo Drop Shipping

ReCharge Recurring Billing & Subscriptions

Shipwire

Printful
Shopify Templates And Design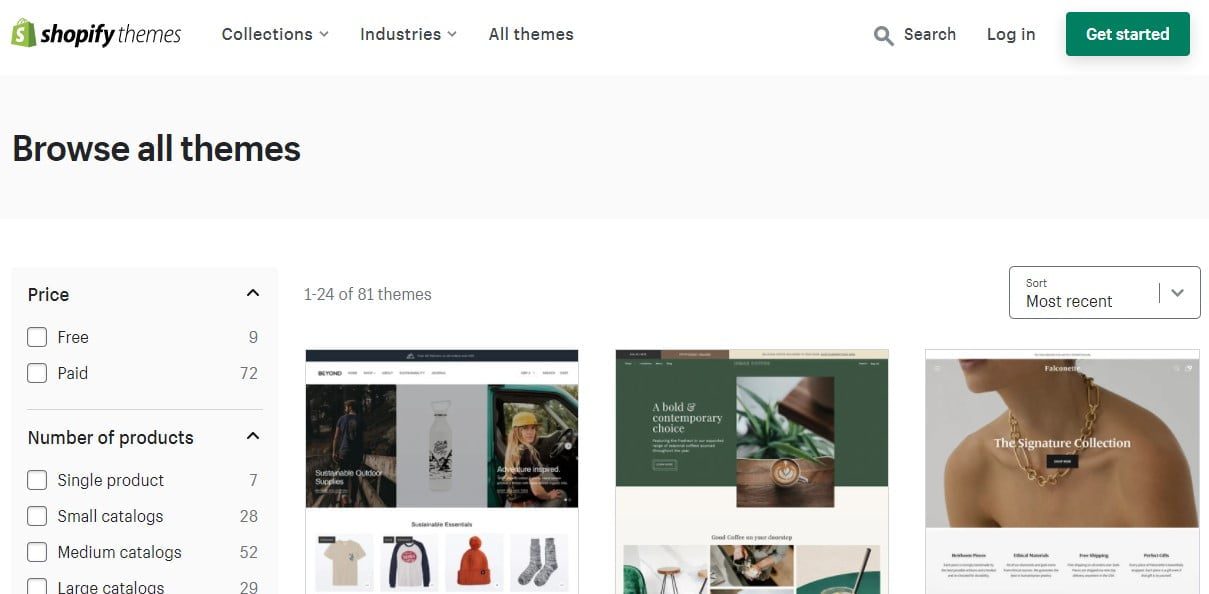 When it comes to templates and design, Shopify makes it simple to create a high-quality design; yet, if you're on a tight budget, you may be dissatisfied. The premium themes are really pricey and hard to customize beyond the built-in options. That said, I discovered that most of the premium themes still provide customers a lot of freedom and flexibility for customization without requiring them to be coding experts.
Theme Selection
There are a total of 73 themes available in the official Shopify theme store. This is quite limited in comparison to platforms like WordPress, which have hundreds of thousands of options. While customization is available in terms of adding a background image, adding your logo, and altering fonts and colors, stores with a medium catalog have the most options. If you have a large catalog, you really only have two options, and if you don't have a vast catalog, you really only have two options. If you choose based on your industry, you will have a maximum of five themes to choose from.
Given that just nine of the themes in the Shopify repository are free, some store owners may want to set aside some funds to purchase a theme — either from the theme store or from a third party like ThemeForest. On the internet, there is no shortage of private-label Shopify themes.
Shopify layouts are pretty pricey in terms of premium theme pricing. Even so, they are in the center of the pack, with Wix and Prestashop being the cheapest and 3dcart and Magento being the most expensive.
Mobile User Experience
The good news is that regardless of the theme you select – whether it's a free or premium option from Shopify or a private-label one – the themes will load fast and look great on mobile devices. Shopify has the greatest possible score for visual design and ranks first in terms of mobile user experience.
While Woocommerce and Weebly are tied with Shopify in terms of mobile user experience, Woocommerce ranks worse in terms of visual design. If mobile usability is vital to you, you should avoid Magento and Squarespace, which rank dead last.
Conclusion
Shopify is an excellent eCommerce solution for those with little to no coding skills. It's really simple to use, and thanks to the available themes, you can quickly choose a design that works well for your business. If you concentrate, you can simply have your store up and operating on a weekend.
However, it is better suited for specific online business models. It's a solid choice for dropshipping, small businesses, and brick-and-mortar retailers. You can run a profitable store without ever having to manage stock or handle delivery using dropshipping solutions like Oberlo and Amazon FBA.
By combining it with the Shopify POS, you can consolidate everything for your online and in-store orders, making inventory and staff management easier. After reading this article if you feel the time is right and Shopify is the best platform for your needs then start. You can also read the article "Shopify vs Bigcommerce: Which One Should You Choose?". 
What are your thoughts about Shopify? I'd love to hear about it in the comments section below! If you like this article please give us a like and share this on social media.