Namecheap is best known for its domain registration and management services, but they also provide web hosting. Namecheap opened in 2000 by providing low-cost domains and outstanding customer support. They now have more than 3 million customers and handle more than 11 million domains. Namecheap offers sells SSL certificates, privacy protection services, and more in addition to domains and complete web hosting plans. Since they believe that everyone should have an online presence, they provide affordable access to everything you need to operate a website.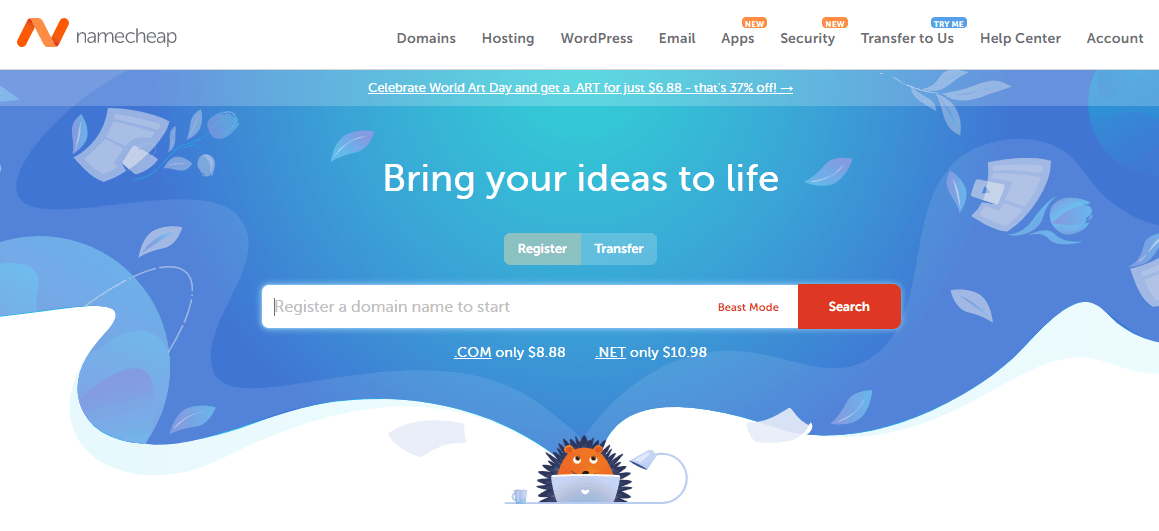 The hosting plans include quick, reliable service with a 100% uptime guarantee. If you need to create a new website, one of Namecheap's numerous site-building applications will help you out. If you already have a website, they will move it for free. They provide a 24/7 chat service in addition to a solid knowledge base that you can consult if you need assistance. Tickets may also be submitted for review.
Pros & Cons
When considering buying hosting from them, there are several advantages and disadvantages to remember.
Pros:
# A popular brand that has been in existence for more than two decades.
# Low-cost domain names.
# Reliable hosting services
# The design and style are very user-friendly.
# Support is of excellent quality
# Migration from other hosting services is free and fast.
# A large number of TLDs with various extensions are available.
# Choose the largest sharing plan, with backups twice daily and weekly.
# There are no upsells when you first sign up.
# Do regular backups.
# The registration and configuration process is simple.

Cons:
# There is no phone service.
# Charge for SSL certificates.
# Any features of the dashboard are difficult to locate.
Let's Compare Namecheap With Top Web Hosting Providers
They are a budget web hosting provider, that's why it has plenty of competition. Namecheap has a set of plans and features to fit anyone from the new website owner with no technical experience to the more advanced techie who wants complete control over their hosting. Namecheap's pricing is comparable to that of sites such as DreamHost and Hostinger. Hostinger is slightly more cost-effective than Namecheap, particularly if you choose a Namecheap plan that does not include a free SSL certificate.
Other features shared by Namecheap and Hostinger include a 99.99% uptime guarantee and 24/7 customer service. Bluehost should be at the top of the list if you're searching for the right web hosting provider overall. The shared hosting is very cheap, and it offers phone and lives chat support 24 hours a day, seven days a week. It's easier to get the best out of the site with analytics and SEO tools.
Remember SiteGround if you're looking for exceptional customer service. SiteGround has excellent user feedback, including the fact that its plan prices increase after the initial duration. WordPress is included with all of the shared hosting plans, and their super-fast servers mean that the site loads easily and efficiently.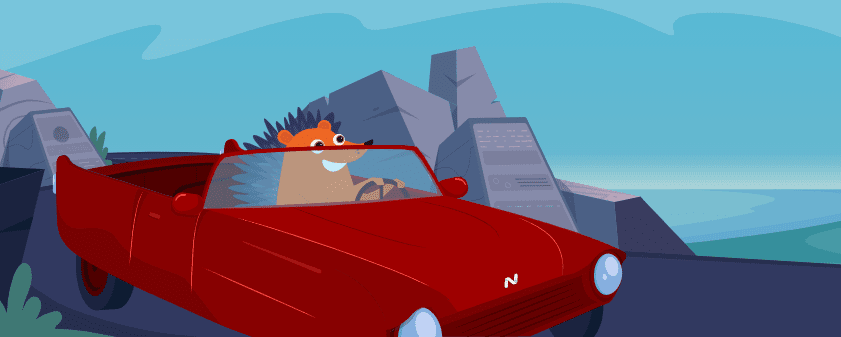 Namecheap Uptime
When selecting a website server, it's important to think about the provider's uptime. Downtime will cost you revenue, cause you to lose customers, and cause you to miss out on valuable leads. The uptime guarantees offered by Namecheap are impressive, but they vary depending on the account type. Monthly uptime for reseller and VPS accounts is guaranteed at 99.9%. It offers a 100% uptime guarantee on shared, business, and dedicated server accounts.
In return for service outages, Namecheap also stands behind these promises, promising a service time extension. Customers get a full day of hosting for an hour of downtime that exceeds their plan's agreement. Via this policy, Namecheap will include up to one month of free hosting every year. Although free hosting can not make up for missed revenue, company, or leads, it does show that Namecheap is motivated to eliminate downtime.
Namecheap Security
It's just as necessary to invest in keeping a site safe and secured after putting too much effort into it. Namecheap has an attractive array of security options. Many of these security features are given free of charge to Namecheap customers. To optimize account security and customer info, two-factor authentication with U2F, TOTP, and OneTouch is given for free.
A year of WhoisGuard privacy security is included with any domain register or transfer. This service keeps the details out of the Whois network, which means you won't get spam calls or messages. SSL certificates can help consumers defend themselves against identity fraud, and Namecheap sells that starting at $4.88 a year. With shared hosting plans, SSL certificates are included for a year at no cost.
If you want to increase your security, Namecheap has a lot of options for you. Its VPN service allows you to work safely while using public WiFi, protecting your privacy while browsing or gaming. Its PremiumDNS option, which works with any domain and provides faster DNS performance, is also available. It's designed for businesses, and it fixes security holes and helps stop attacks so the site stays up and you running.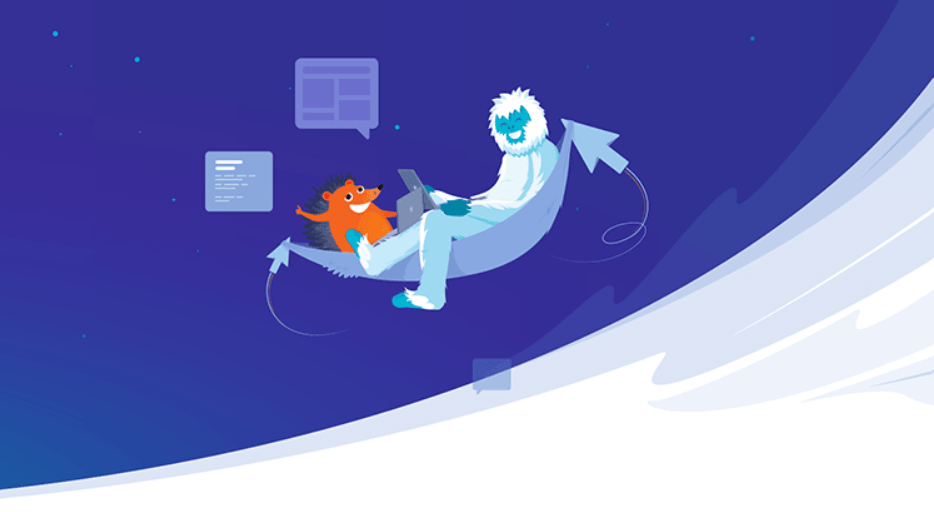 Namecheap Speed
Fast loading times are important for keeping users on your site and providing a good user experience. Although there are numerous changes you can make to improve the pace of your site, you will still be relying on the speed of your host. Namecheap claims to use Dell and Supermicro web servers that are the latest and fastest. RAID protects SSD drives, and each server has at least 16 Intel Xeon CPU cores and 64 GB of RAM to maximize capacity and improve performance.
Although Namecheap claims to load its servers with a "lighter load" to allow the site "breathing space" at peak hours, customer reports are saying that while Namecheap speeds are good, they aren't the best. You'll have to think about how this would affect your website. When using Namecheap to host a massive, complex site with interactive elements or images, performance can decrease badly. A simpler, less complex site with fewer elements could satisfy.
Namecheap Plan Options
Not all business has the same hosting plan. If you're only getting started on a new website and just expect a few hundred users per month, you won't need the same schedule as a well-established business with several websites and over 50,000 monthly visitors.
Namecheap has a variety of plans to help you find just what you're looking for without confusing you with so many choices. Namecheap's pricing is straightforward and easy to understand, and the company can also recommend options depending on whether you're a beginner online, a small business, or a big corporation.
You'll know exactly what you're having because the hosting policies explicitly state how many monthly visitors they'll allow and how much space each plan includes. For certain contracts, discounts are valid for the first year's worth of services.

Namecheap Customer Service
Namecheap has a variety of customer support options. The Namecheap Help Center offers a lot of guides, articles, how-to tutorials, and other useful material on the company's products. FAQs and step-by-step instructions are also organized by-product, making it easy to find what you need.
The Namecheap status updates are also held in the Help Center. These notifications provide server maintenance information so that site owners can keep track of their site's performance and know about recent and future improvements.
Customers who need more support should request a ticket or use Namecheap's live chat feature. Namecheap has customer service 24 hours a day, seven days a week, but the perceived lack of phone help can make dealing with urgent problems difficult.
Namecheap Migration
When you've never done it before, migrating a site to a new host may be a difficult task, but a reliable hosting company would be able to guide you through the process. A good service provider will handle about anything about you. Namecheap stands out in this regard. The whole web migration will be handled by this hosting company. You'll need to give Namecheap access to your hosting account credentials so that support staff can log in and migrate your domain. SSL encryption protects the keys you submit into a help ticket.
Namecheap assures that the domain will be migrated within 24 hours and that downtime will be limited to 15 minutes. Because of the promise and the clear date, you should plan properly and schedule the migration for a period when you expect the traffic to be lower. If this promise isn't fulfilled, Namecheap will give you a refund for your first shared hosting order. All migrations from Namecheap are free.
Namecheap Shared Hosting
One of the most popular forms of website hosting is shared hosting. In a shared hosting plan, your website will be hosted on the same server as many other websites, and you will have access to a portion of the server's computing resources.
Namecheap provides three shared hosting plans, each of which includes a free website creator, unlimited bandwidth, as well as domain and privacy protection. A 30-day money-back guarantee is included with these plans.
PositiveSSL certificates are provided for a year in all shared hosting plans and are automatically installed, saving you time and ensuring your website is ready to go. The cPanel gives you complete control over your website, making it perfect for designing and customizing it. You or your web developer can already be familiar with cPanel, as it is one of the most common control panels.
Namecheap WordPress Hosting
Namecheap could be the way to go if you need to get a WordPress site up and running fast. It uses EasyWP to allow you to manage all of your WordPress pages from a single dashboard, without the need for cPanel. EasyWP makes it simple to view your archives, backup and rebuild your site with a single click, and connect any domain.

Namecheap claims that its WordPress speeds are three times higher than those of traditional shared hosting options. The three WordPress plans offered by Namecheap are ideal for a wide range of website owners. The EasyWP Starter package comes with 10 GB of storage and 50,000 monthly visitors, making it ideal for small businesses. The EasyWP Supersonic package, which is the top tier, has 100 GB of storage and supports 500,000 monthly visitors. It also comes with a free SSL certificate, ensuring that you have all you need to run a successful business website.
Namecheap Reseller Hosting
Reseller hosting from Namecheap comes in three packages, each with a free cPanel account and unlimited bandwidth. A 30-day money-back guarantee is also included in the plans. The cPanel dashboard gives you complete control of your website. Reseller accounts allow for the development of an unlimited domain and subdomains, as well as unmetered bandwidth for certain high-traffic days or seasons.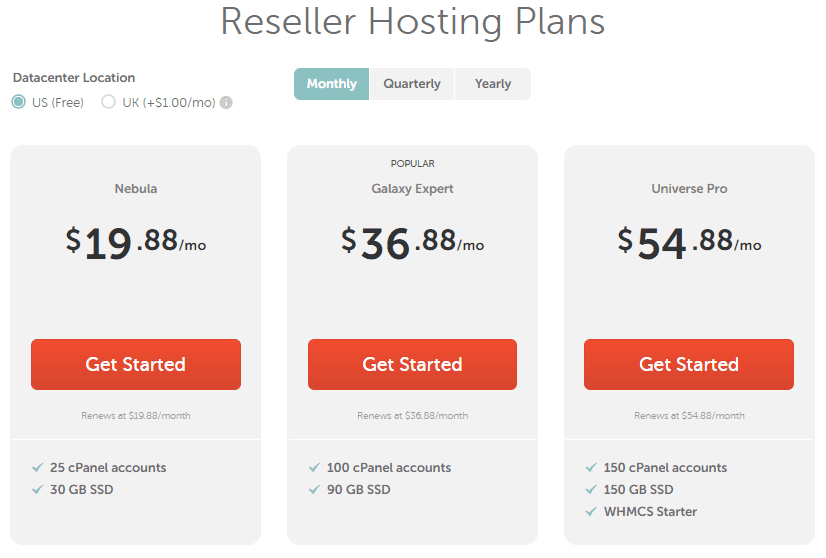 Namecheap also has a lot of alternatives for personalization. Although the WHMCS will automate and streamline your billing and service, white-label marketing tools enable you to fully tailor the site to your needs.
Namecheap VPS Hosting
VPS hosting is similar to shared hosting in that you will share a server with other users. However, because you have access to a separate disk partition and certain computing resources, VPS hosting is closer to dedicated hosting.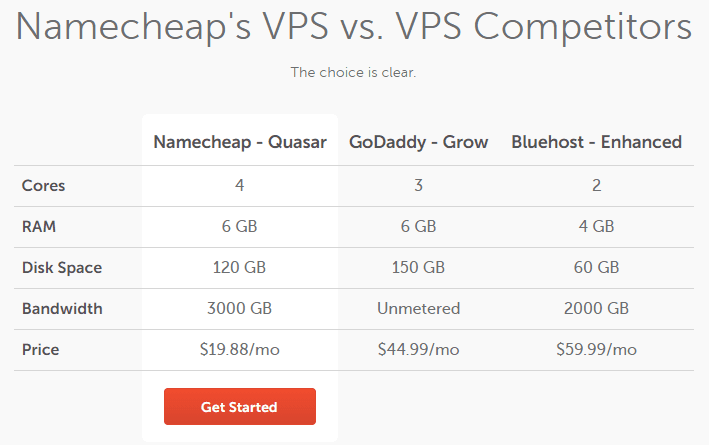 Namecheap offers two VPS hosting plans that allow you to manage your own server, transfer your existing websites to Namecheap, and provide top security. You'll also get root access and the ability to choose your operating system. If you have technical knowledge, you can completely configure your VPS and, if needed, add a cPanel. Solid State Drive (SSD) storage is fast and improves the speed and functionality of websites. Your data is protected by hardware and software firewalls, and the servers are backed up on a regular basis.
Namecheap Domain Registration
In addition to website hosting, Namecheap also provides domain registration services and will assist you in launching a new website. Customers who already know what they want their domain to be will scan for accessible and similar domains using the standard search tool. Customers can review choices at a glance and determine what's best for them thanks to Namecheap's upfront pricing on domain registration, renewal, and transfer rates.
The bulk domain name search option from Namecheap gives you many more options, and it's perfect for companies looking for related domains, managing to keep similar domains out of the hands of others, or purchasing and selling domains.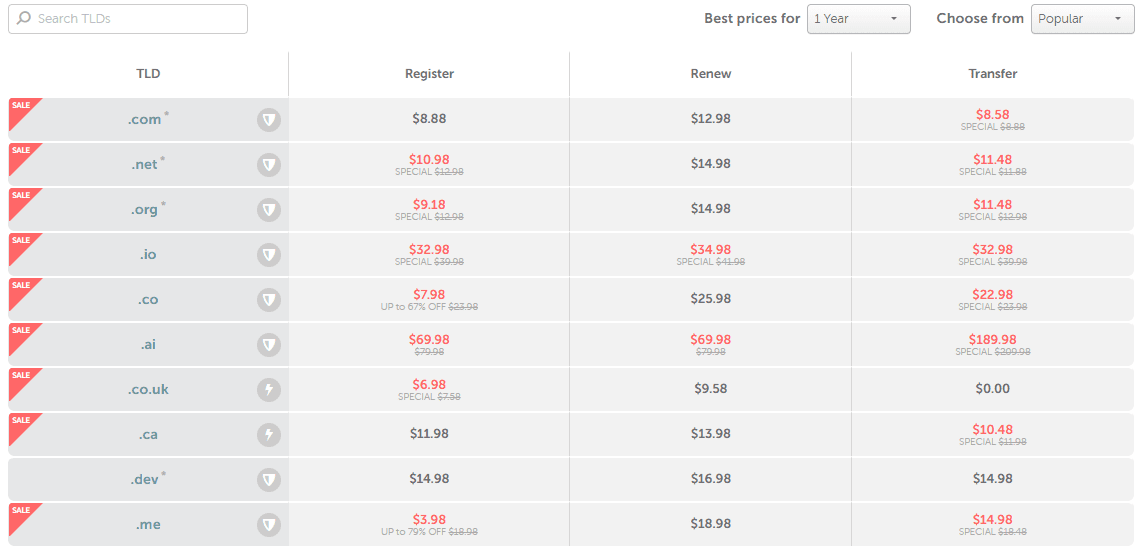 You will enter up to 5,000 terms for a single domain name search using the bulk domain name search. This useful method will help you explore new domain ideas and possibilities by increasing your searchability. You can quickly import keywords into a spreadsheet and see the outcome of your search.
Namecheap's domain registry services are distinguished by some additional features. A free domain and web hosting are included in an all-in-one package. Domain registration and transfer are discounted with monthly coupons available right on the site. Customers who have more than 50 active domains on Namecheap are eligible to join the VIP Rewards Club, which offers discounts on domains. Customers searching for a discount will use Namecheap's search function to find 99-cent domain names.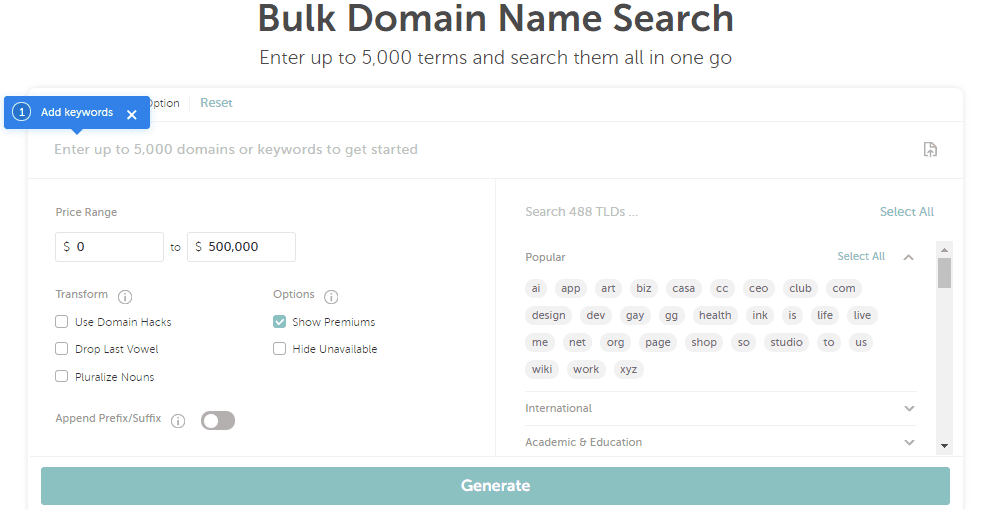 If you're attempting to purchase more domains, Namecheap is a great place to start. It has a lot of various domain buying opportunities and useful resources like the bulk domain name search and the 99-cent domain name search.
Namecheap Email
A professional email address with the company's domain adds a professional touch to all of your emails, and Namecheap has three ad-free private email plans to choose from. A personalized domain-based email, two-factor authentication, anti-spam security, and other features are included with each plan.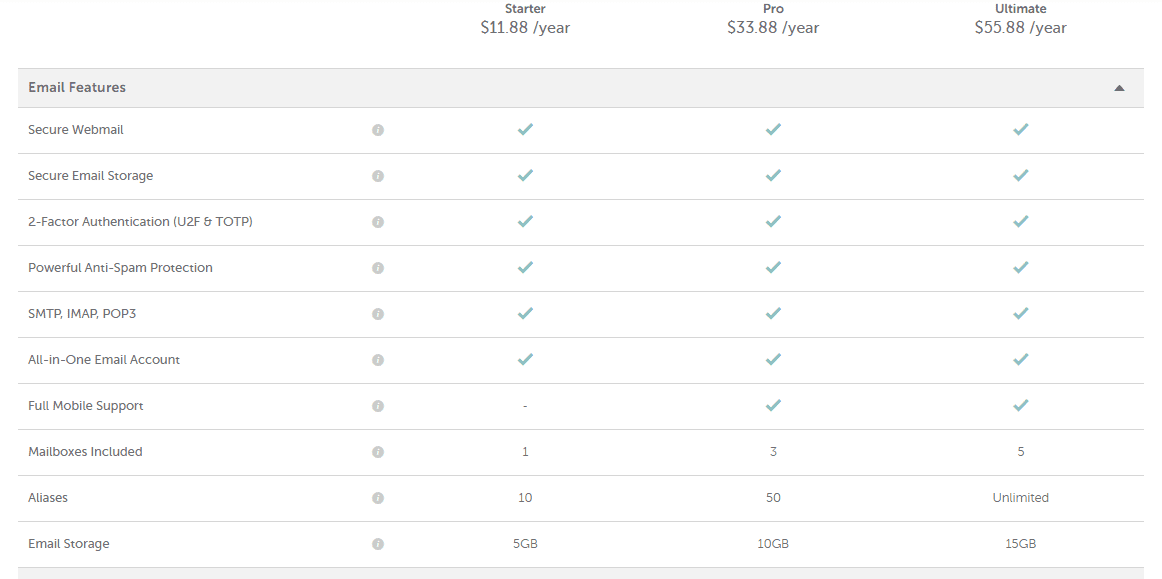 Accessing your email is simple with web-based email browser support, and the Pro and Ultimate options provide full mobile sync support so you can check your email on the go. For private email plans, Namecheap provides a free two-month trial.
10 Alternative Hostings:
Conclusion
Namecheap has some of the most affordable website hosting options available. It will serve as a full-service portal for your business thanks to its domain registry and email services, allowing you to keep your domain, website, and email all in one place.
Although Namecheap stands out for its transparent pricing and diverse plan offerings, the company's lack of phone customer support and the high cost of SSL certificates are drawbacks. Namecheap is a good option if you want to save money on your web hosting. Many of its policies come with 30-day money-back guarantees, so you can try Namecheap with confidence.