It's not easy to find a high-quality web hosting service. There are numerous hosting options available, and your decision will define where your brand will live online for years to come. Hostinger is a good choice for your website because it provides exceptional uptime and quality features at non-premium pricing.
However, several of the features you'd expect from a top-tier web host, such as dedicated hosting and telephone help, are missing from Hostinger's plans.
Hostinger Web Hosting Features
Unlimited Monthly Data Transfers

Linux Servers

Shared Hosting

8GB Maximum RAM in VPS

WordPress Hosting

160 GB Maximum Storage in VPS

200GB Maximum Cloud Storage

Linux Servers

VPS Hosting

24/7 Customer Support

Dedicated Hosting

Cloud Hosting

Reseller Hosting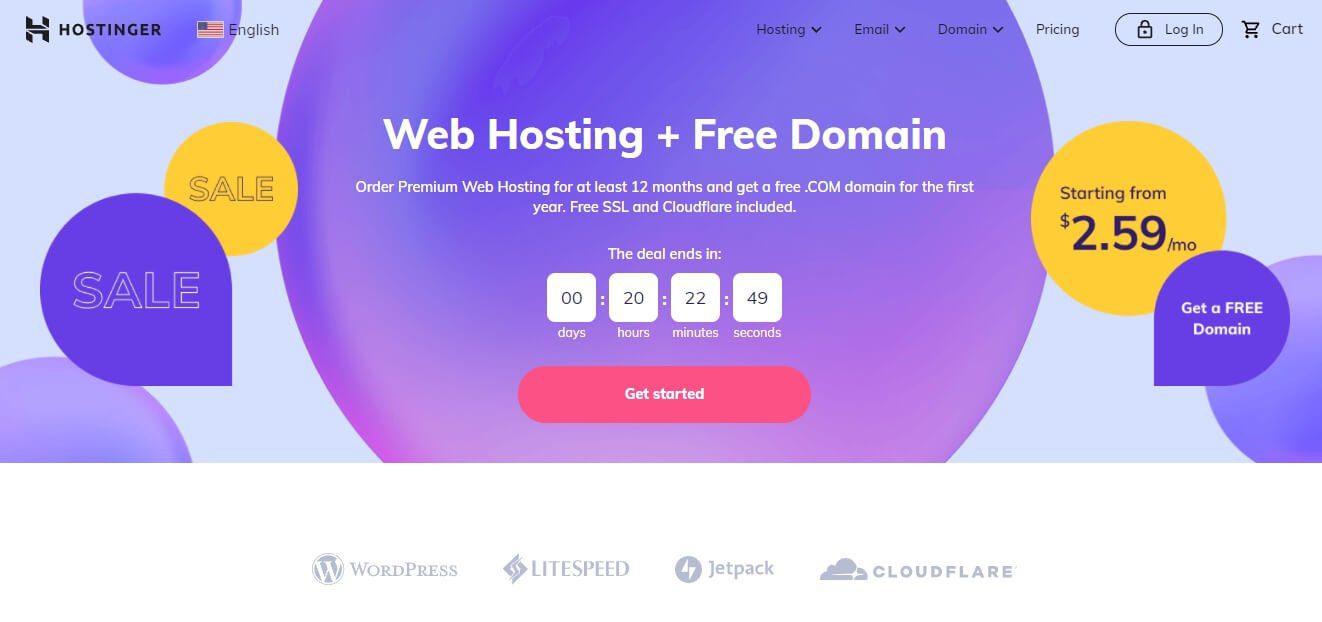 Shared Web Hosting
Hostinger, like a lot of other web hosting companies, provides shared hosting. Your website will share a server with other websites if you choose this hosting tier. In other words, the sites are sharing the cost and resources of a single server. As a result, shared web hosting is frequently inexpensive. What's the drawback? Because shared hosting isn't very powerful, if your content (or that of one of your cohabitants) gets a lot of attention on social media, your site may slow down or become unavailable.
Single, Premium, and Business are the three Linux-based shared web hosting plans offered by Hostinger. The Single plan is $9.49 per month, or $2.99 per month if you sign up for a year (At the end of one year, the renewal costs $5.99 per month). Furthermore, Hostinger advertises a low monthly fee of $1.39, but this is conditional on a four-year commitment. This plan allows you to host only one website and includes one email account (yes, just one! ), 100GB of monthly data transfers, 30GB of solid-state storage, and 10,000 monthly visits.
The Premium plan comes next on the list. It costs $10.95 per month, or $5.99 per month if you sign up for a year (renewal costs $8.99 per month). The package provides unlimited monthly data transfers and 100GB of storage, as well as the ability to establish up to 100 websites and email addresses. Premium also includes a free domain name, a free SSL certificate, and processing power capable of handling 25,000 monthly traffic.
The Business plan is $15.99 per month or $6.99 per month for the first year (renewal costs $10.99 per month). It improves on the Premium plan by including daily backups, a free CDN, and quadruple the processing capacity, allowing your site to manage 100,000 monthly visits. Hostinger also offers 2-year and 4-year subscriptions with substantial discounts. Those are excellent options for a mom-and-pop company looking to sell its inventory.
VPS Web Hosting
If you're serious about establishing an online presence for your company, virtual private server (VPS) hosting is the minimum requirement. VPS hosting, as opposed to shared hosting, gives your website extra server resources to work with because there are fewer websites on the server.
Hostinger offers six Linux-based virtual private server (VPS) options. For $9.95 per month or $4.94 per month with a one-year commitment (At the end of one year increasing to $9.05 per month), the entry-level Linux tier includes 1,000GB of monthly data transfers, 20GB of storage, and 1GB of RAM. For $109.99 per month or a discounted $58.99 per month for a one-year commitment (At the end of one year increasing to $72.99 per month), the top-tier Linux VPS plan provides 8,000GB of monthly data transfers, 160GB of storage, and 8GB of RAM. However, Hostinger's Windows-based VPS plans are not available. Those are solid plans for your business.
Dedicated Hosting
Dedicated hosting is one of the most advanced types of hosting. A dedicated hosting package puts your website on its own server, allowing you to fully utilize the server's resources. A dedicated server is a fantastic alternative if you anticipate a huge number of visitors. However, Hostinger does not provide dedicated hosting.
WordPress Web Hosting
WordPress is the free and world's most popular content management system. This platform is incredibly easy to modify as you see fit, thanks to its simplicity and extensive plug-in and theme ecosystems. This is one of its main features.
Hostinger offers a variety of WordPress plans, including four in total. Single, Starter, Business, and Pro are the four options. The WordPress and Shared hosting plans from Hostinger have similar names, but they have different features. The Single plan ($7.99 per month on a month-to-month basis, $4.99 per month with a one-year commitment) includes one email account and 30GB of SSD storage for a single website with 10,000 monthly visits. The Starter plan ($14.99 per month, or $5.99 per month for the first year of an annual plan) provides unlimited monthly data, support for 100 websites, 100GB of storage, and a free Jetpack plug-in.
Hostinger has a simple onboarding process that will have your site up and running in minutes. Existing sites can be moved manually or with the help of a Hostinger agent.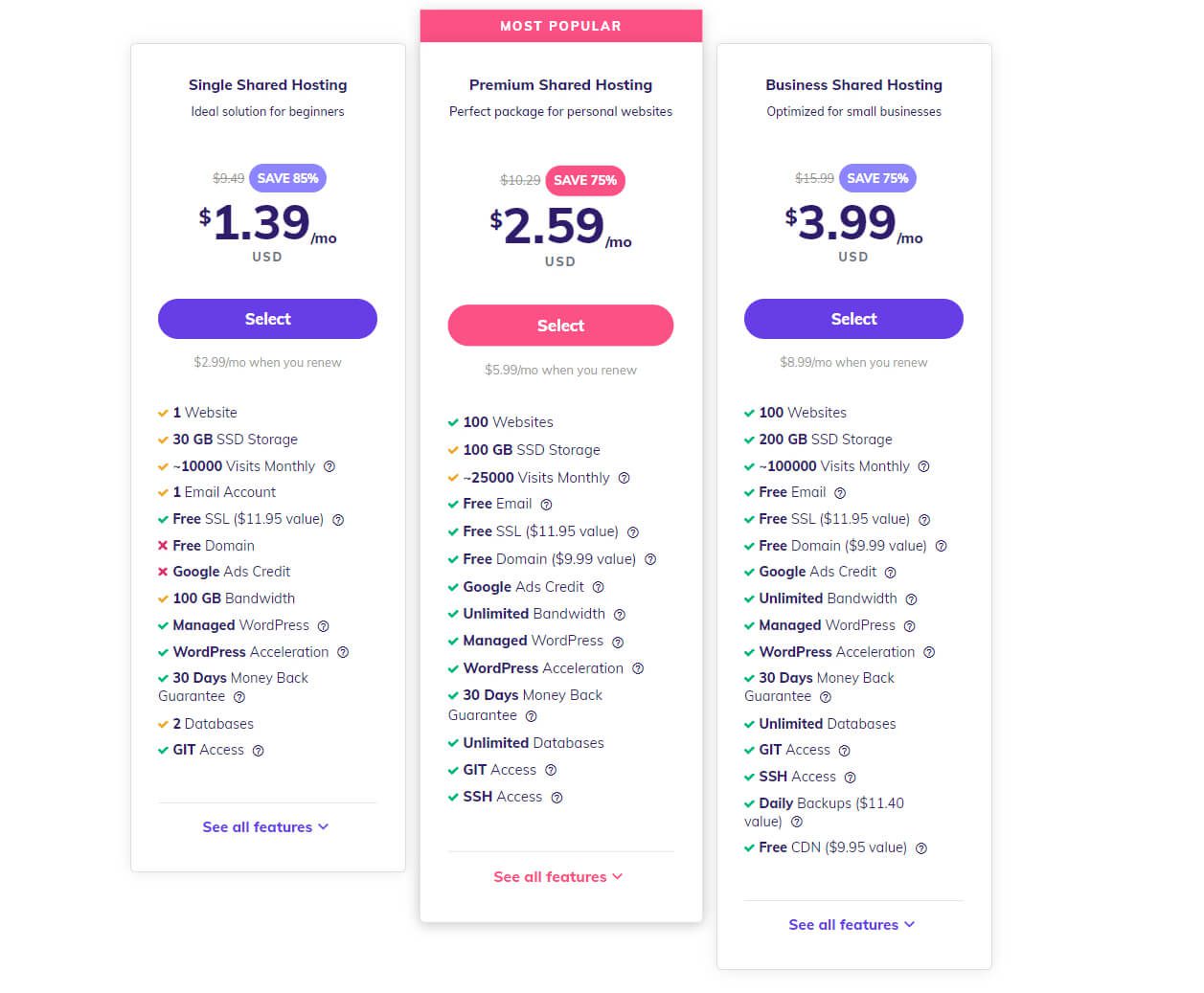 Cloud Web Hosting
The term "cloud hosting" refers to a type of web hosting in which your website is served by different servers. Your site isn't restricted by physical server restrictions, so you can scale resources in real-time. Cloud Startup, Cloud Professional, and Google-powered Cloud Global are the three cloud hosting tiers offered by Hostinger. The entry-level plan is $29 per month, for a one-year commitment it costs $12.99 per month(renewal costs $23.99 per month), and includes 3GB of RAM, 2 CPU cores, a large 200GB SSD drive, and unlimited monthly data transfers.
The middle-of-the-road plan is $58 per month, for a one-year commitment it costs $22.99 per month(renewal costs $48.99 per month) and includes 6GB of RAM and 250GB of storage. The high-end plan, with a one-year commitment that starts at $99.99 per month (renewal costs $95.99 per month), comes with 16GB of RAM and 300GB of storage. All of Hostinger's cloud plans include a dedicated IP, free SSL, and a capacity of 300 sites. These programs are offered in two-year and four-year options.
Reseller Web Hosting
Check out Hostinger's cPanel Reseller Starter and cPanel Reseller Business reseller hosting packages if you want to enter into the web hosting business but don't want to deal with infrastructure issues.
with a three-month commitment, the Starter plan costs $35.99 per month including 50 cPanel accounts, 50GB of storage, 500GB of monthly data transfers, and free SSL certificates. with a three-month commitment, the Business plan costs $33.99 per month ups the ante includes 150 cPanel accounts, unlimited storage, and unlimited monthly data transfers.
Setting Up a Website
Hostinger offers various website-building options, including its own Zyro website builder. The free tool includes a logo creator, slogan generator, and company name generator, among other useful features.
On the other hand, its AI-powered features, are the most interesting. AI Writer creates unique text based on a topic you choose, and AI Heatmap shows you what your visitors will be looking at when they visit your site. In our experiments, Zyro generated excellent starter text. I might see a company employing AI writers and tweaking the copy to meet their specific needs.
E-commerce and Security
E-commerce tools are essential for making money online, and Hostinger provides several of them. You may get important and essential tools like Simple Invoices, OpenCart, PrestaShop, and ZenCart from the Hostinger shop.
If you want to safeguard your website, Hostinger provides a number of tools that may help you do it. For example, some hosting plans provide a free Secure Socket Layer (SSL) certificate, or you may purchase one individually. The technology protects the connection between your website and the computer, which is crucial for protection (especially if you wish to sell products). You can try Cloudflare protection for $19.99, which protects your site from DDoS attacks and other attacks. Many Hostinger plans include Cloudfare for free if you sign up for at least a year of service.
If you have a problem or simply have a question for Hostinger's customer care team, you may contact them by web chat 24 hours a day, 7 days a week. I found the employees to be really polite and knowledgeable, and they responded to our test questions by providing relevant links. The customer service team at Hostinger is the best I've seen in the web hosting industry.
The one major drawback is that Hostinger does not provide phone support. If you want to talk to staff, it's online chat or bust. Webchat, according to the company, is quick and simple for users than phone assistance, so this may not be an issue for you. On the other hand, Hostinger provides a large knowledge database that handles common web hosting queries. In addition, the company maintains a wiki, https://hostingwiki.org/, which includes answers to a variety of questions. Hostinger's plans provide a 30-day money-back guarantee, which is standard in the web hosting industry.
Excellent Uptime
Uptime is an incredibly significant web hosting feature Because it is a measure of your website's availability. Sites having a good uptime are regarded as dependable, whereas those with a bad uptime are inconvenient and untrustworthy.
Hostinger has proven to be a dependable web hosting provider during our 10days testing. During the 10-day testing period, our test site did not go down once. Hostinger offers a 99.9% server uptime rate, so you should be able to rely on them to keep your website up and running.
Pros
Good, low-cost plans

Helpful customer service

Terrific uptime in testing

Optional Minecraft servers

Includes the company's own Zyro website builder
Cons
Lacks dedicated hosting

Not every plan has a Windows option

Lacks phone support

Base shared hosting plan offers just one email account
10 Alternative Hostings
Final Thoughts
Hostinger is a flexible web host with great uptime and customer support, as well as traditional and cloud-based hosting options. It's also simple to use, and it includes Minecraft servers if you want to try something new with the sandbox video game. However, the absence of dedicated servers at Hostinger makes the experience a little dull.
Hostinger provides many more hosting services. Feel free to contact them if you want to place an order. What are your thoughts about this service? I'd love to hear about it in the comments section below! If you like this article please give us a like and share this on social media.