If your WordPress website needs more speed and more security. Do services like automatic website backups, WordPress software upgrades, and a variety of high-quality premium WordPress themes seem attractive as part of your hosting package? If that's the case, managed WordPress hosting (rather than regular "shared" hosting) could be just what you're looking for. WP Engine is, without a doubt, the largest firm in this field. In this review, we'll go through exactly what you'll get when you sign up with WP Engine. We'll also check at loading speeds (we ran a series of in-depth tests with popular themes), uptime, load-impact test results (how they function when a large number of people try to access your site at the same time, creating traffic surges), and everything else they have to offer.
This WP Engine review will grab your attention if you're bored of reading hosting reviews that rehash feature lists and promotional articles. It should provide you with all of the facts and information you require to make an informed choice about whether or not to use WP Engine.
About WP Engine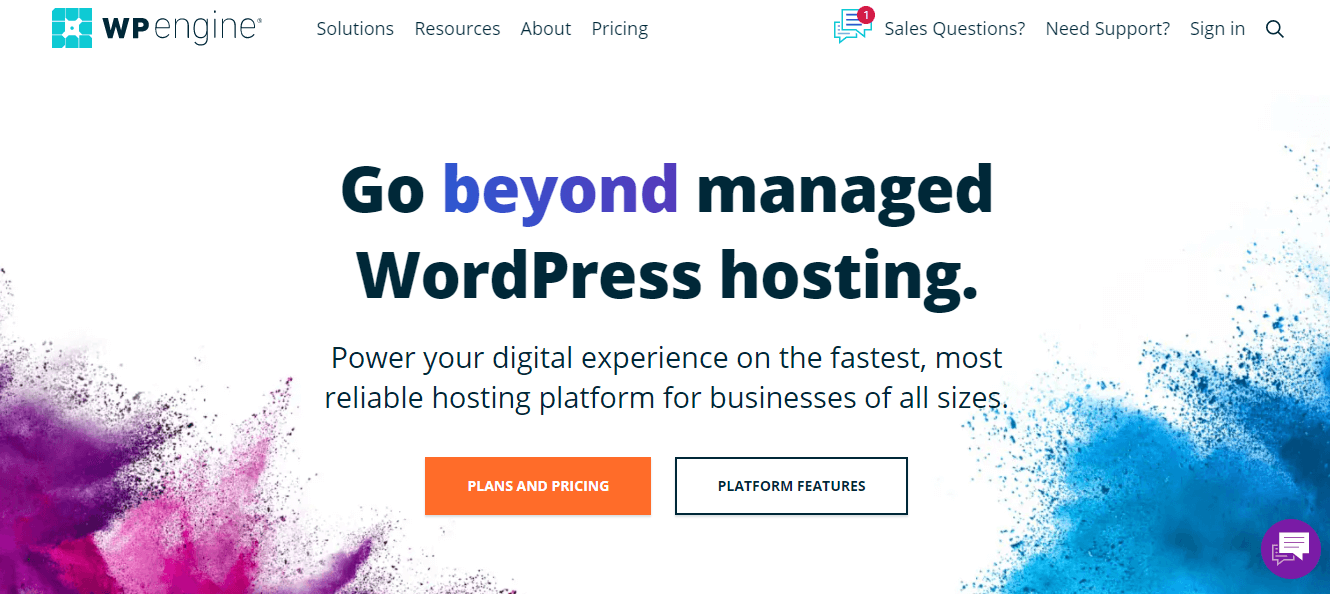 WP Engine may not have been the first provider to offer managed WordPress hosting (that honor belongs to Pagely), but they're the largest (and most well-known) in the industry. WP Engine has a lot of expertise hosting a wide range of WordPress sites, with over 120,000 clients in 140 countries. According to their marketing materials, "5% of the internet globe views at least one experience on WP Engine every day"! But does WP Engine live up to its marketing claims? Is the increased expense appropriate? Let's get started.
Why Should You Use WP Engine?
WP Engine, as previously said, provides managed WordPress hosting. This implies they specialize in developing highly optimized hosting settings for WordPress websites. Not only will this result in faster loading speeds, but it will also ensure that your website runs as smoothly as possible at all times. It sounds great, but let's take a closer look at what that means in terms of features and functionality.
Managed WordPress Environment
If you look at the WP Engine hosting plan specs closely, you'll see that they do indeed provide shared hosting. But don't be thrown off by the word "shared hosting"! This isn't the entry-level shared hosting you'd get for a few bucks a month, when dozens of websites are crammed onto the same low-spec server, as the test results later in this review reveal. Instead, you gain access to WP Engine's well-resourced shared hosting, which is optimized for WordPress and compares favorably to the top premium WordPress hosting services available.
If you want to check how WPEngine shared hosting compares to entry-level shared hosting, our WP Engine vs SiteGround comparison includes test results that highlight the difference between the two types of hosting. More performance testing results will be provided later in this review, but that is not the only reason to pick WP Engine over budget hosting.
Studiopress
StudioPress, the theme development business behind the popular Genesis Framework and a large collection of premium WordPress themes, was acquired by WP Engine in July 2018. As a result, WP Engine clients now enjoy free access to the Genesis Framework and a selection of 35 StudioPress WordPress themes. This is excellent value for money considering the retail price of these themes is around $129. These themes cover a wide variety of categories, including agency websites, various types of blogs, café websites, online portfolios, and eCommerce stores, to name a few.
Automatic Software Updates
WP Engine will keep the core WordPress software of your website up to date as part of their managed hosting service, ensuring that your website is always running the most current edition of WordPress. Rather than installing each new update to your website right away, the WP Engine team tests each new update to the WordPress software first to verify it's stable.
You can also delay the installation of a future WordPress core software update for 30 days, allowing you time to test the new version before it is applied automatically to your site. On this part of the WP Engine website, you can learn more about how automatic WordPress software upgrades work. Plugins, unlike some managed WordPress web hosts, aren't automatically updated on your behalf, therefore you'll have to do it yourself.
Website Backup
WP Engine will keep your website backed up in addition to keeping your WordPress software up to date, due to their nightly automatic backups. The WP Engine backups contain all of the WordPress core files, themes, plugins, and databases, so restoring your site to a previous point should be easy.
You can also create a full backup manually through the WP Engine user portal at any time. It's a very useful feature that performs excellently. Making a backup point manually before making changes to your site, like installing a new plugin or theme, gives you a rapid option to restore your site if something goes wrong. You may retrieve the backup files through the WP Engine portal, but you can also download them as Zip files for safety.
Staging Environment
WP Engine provides you with two more environments in addition to the production environment where you host your live WordPress website. These environments will help you in setting up a proper development workflow.
Create your website in the development environment, then move it to the staging environment for testing with clients or other team members, and lastly to the production environment when it's ready to go live. Moving the site among environments is simple and takes place through the WP Engine user portal's visual interface.
Transferable WordPress Websites
You can also use the transfer environment feature of WP Engine to generate working WordPress websites for clients. When building a transferable website, you have three environments to work with (development, staging, and production), just like when creating a typical website hosted by WP Engine. These transferable websites, on the other hand, do not count against your hosting plan's site allowance. They're also password-protected to prevent unauthorized access, and they can't be made public until the transfer to the client is complete.
You have the option of starting from working with a new WordPress installation or using an existing site on your account as the foundation for the new project when you create a new transferrable site. If you're a developer who frequently creates sites for customers, the ability to quickly create a new WordPress installation based on an existing configuration of themes, plugins, and settings can save you time.
You can transfer the site to your client once you've given them access to the site via the demo link and they're happy with your work. To make the site live, they'll need to have (or create) a WP Engine account with an active hosting plan. This relatively new feature of WP Engine compares to a similar functionality offered by the developer-friendly Flywheel WordPress web host, extending WP Engine's appeal to those building websites for clients.
Customer Support

The online help center for WP Engine includes a lot of content that can assist you in learning more about the platform. Webinars, manuals, blog posts, updates, tutorials, and a knowledge base are all available through WP Engine. These will teach you how to:
Launch your first website.

Troubleshoot typical issues

Make changes to your website.

Improve the effectiveness of your hosting account management.
The support documentation will be beneficial to both beginners and expert WordPress website owners. For individuals who need immediate assistance, live chat service is accessible from 6 a.m. to 8 p.m. CT. WP Engine also has a toll-free phone number that is available during business hours, from 9 a.m. to 6 p.m. CST. Email ticketing support is available 24 hours a day, which is a bonus. One of the nicest things about WP Engine is that their support technicians are WordPress experts that can provide your business with WordPress-specific support. This sets WP Engine from competitors like GoDaddy, who do not offer WordPress-specific support.
Geotarget Tool
WP Engine has a feature that allows you to display multiple versions of your website and its content to users based on their geographic location. GeoTarget is a tool that detects users' location and then displays specified website content to them. Similar features can be enabled on your website using WordPress multilingual and translation plugins. GeoTarget, on the other hand, was designed to work with WP Engine's caching technology to ensure that your website doesn't suffer from performance issues when dealing with various versions of your content. This functionality should be of interest if you wish to display different information on your website depending on a visitor's location. The GeoTarget feature is unfortunately only available as a paid add-on for WP Engine hosting plans.
For Small Businesses
Using managed WordPress hosting can relieve you of the stress of dealing with technical details. Small business owners that have or are planning to build a WordPress site should look at the following WP Engine advantages and features:
A platform that grows with your business.

All plugin and core updates are handled automatically.

The architecture is reliable, with a 99% uptime guarantee.

There's no need to go it alone when it comes to onboarding.

WP Engine will work with you to resolve any problems that may arise.

Improve your search engine optimization (SEO), bounce rate, and conversion rate using these resources.
Performance and Uptime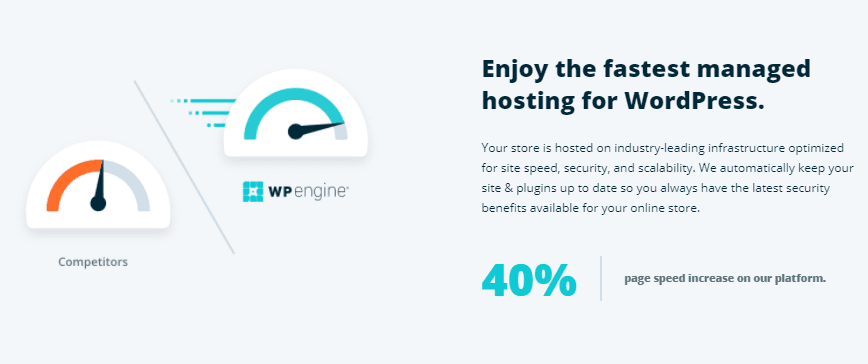 WP Engine will provide your content to your end-users very rapidly, whether you're hosting a blog, an online store, or a professional website. The company optimizes page load using its own WordPress-specific EverCache system to ensure good performance in terms of site speed. A global CDN is included in all plans (content delivery network). The CDN will help your site load quickly for customers all around the world by providing it from the network node that is nearest to them geographically.
Thanks to its world-class network infrastructure, WP Engine has a 99.9% uptime. The corporation also maintains data centers in London, Tokyo, and the Midwest of the United States. As a result, selecting to host your website on servers nearest to your targeted users will result in faster site speed.
cPanel
WP Engine does not offer a standard control panel like cPanel or Plesk so they only provide managed WordPress hosting. They use a proprietary control panel instead. The user interface is simple and easy to use. With a list of navigation links on the left, the control panel is well-organized. You can access your CDN, sites, backup points, migration tools, and more from the management panel. Adding things like an SSH key is simple because of the control panel's clear prompts.
Money-back Guarantee
WP Engine is the only hosting company that offers a 60-day money-back guarantee on all subscription payments. It allows you to try out the service without risk. On custom hosting plans, this option is not available.
Pricing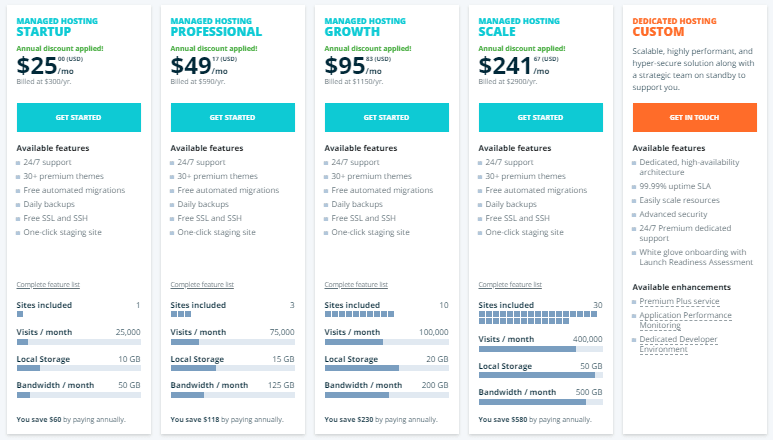 While WP Engine only provides one type of service that is managed WordPress hosting, it does so with a variety of tiered plans. These plans differ substantially in terms of the number of resources they provide and the number of sites they support, implying that you'll be getting a highly scalable service. Let's quickly go over each of the WP Engine plans:
Startup: You have to pay $20 per month. You get support for up to 25,000 monthly visits, one website, 10GB of storage, and 50GB of bandwidth with this entry-level tier. You'll also get an SSL certificate and access to a global CDN, among other things.
Professional: You have to pay $39.33 per month. With this plan, you can add three sites and receive up to 75,000 monthly visits. There's also 15 GB of storage included.
Growth: You have to pay $76.67 per month This plan improves your traffic support to 100,000 and adds ten sites to your account. You also have access to 24/7 phone assistance and the ability to import your SSL certificates, in addition to more resources.
Scale: You have to pay $193.33 per month. This tier is very similar to the previous one. It simply adds more resources, increases your site count to 30, and allows for up to 400,000 monthly views.
Premium and Enterprise: These are custom plans with different prices. They offer a lot of extra tools and assistance, as well as the ability to upgrade your hosting from shared to dedicated servers.
These plans are expensive, but they come with a huge amount of features and plenty of capacity for your website to grow. This service is worth considering if you want to develop one or more major business or eCommerce websites.
Overall Pros and Cons
Let's wrap up our WP Engine review for WordPress with a summary of the major pros and cons of this service provider.
Pros
Unlimited monthly data transfers.

Automated site migration plug-in

60-day money-back guarantee.

Site staging

Automatic daily backups and plug-in updates.

Malware scanning and firewall protection.
Cons
WP Engine does not provide standard hosting services, thus you won't be able to register a domain name or upload your non-WordPress site if you use Linux or Windows.

Every hosting plan has a limit on traffic and storage.

Only the Enterprise and Premium plans come with CDN integration. When using WPEngine's lower-tier hosting services, however, you have the option of select your content delivery network.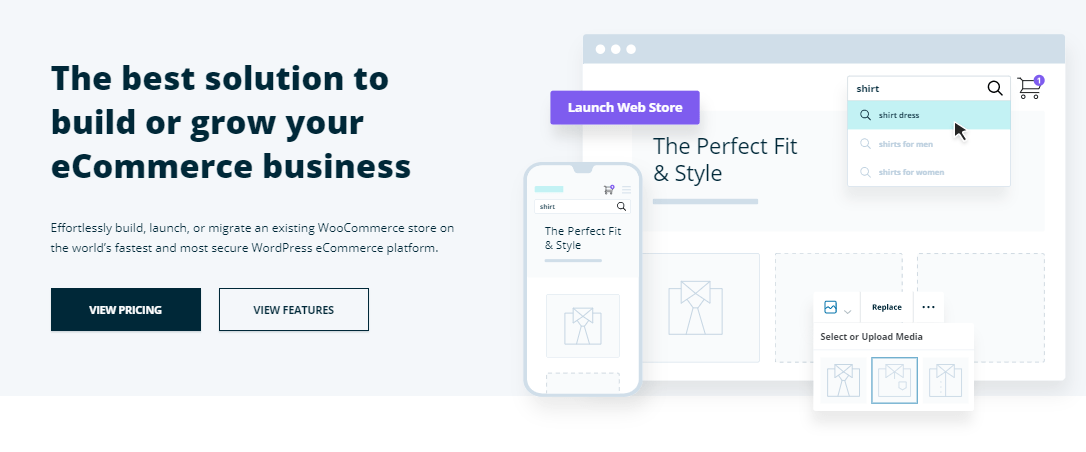 WP Engine vs Bluehost
Build, Grow, and Scale are three fully managed WordPress hosting packages offered by Bluehost. Overall, these plans are inexpensive and include many features. In WP Engine you won't find. For example, with no traffic limits, you can host unlimited websites, domains, and subdomains. 100 free premium themes, daily backups, malware protection, JetPack site analytics, and domain privacy protection are all included in all plans. They also give support to eCommerce businesses.
WP Engine WordPress Hosting Alternatives
If you have a decent budget, WP Engine is a good hosting option. It is, however, quite costly. If WP Engine appeals to you in theory but is out of your pricing range, there are some options to consider. SiteGround, for example, is a fantastic WordPress-specific service, and DreamHost provides managed hosting at a reasonable price. Flywheel offers affordable plans (beginning at $14 per month) while still providing very reliable managed WordPress hosting. They also don't have the same overage costs as WP Engine.
10 Alternative Hostings
Dreamhost – Best Month-to-Month Plan
Hostgator – Affordable for Minimal Needs
Nexcess – Best for scaling and growth
Final Thoughts: WP Engine WordPress Hosting
There is no sugarcoating the truth that WP Engine plans are not inexpensive. However, in exchange for your investment, you will receive a high-quality managed hosting service. This service provides a lot of essential WordPress-specific features, as well as great performance and reliable support. If WP Engine is within your price range, it is worth serious consideration.