Every company, fully or partially, is now online in this modern age. Without a hosting facility, no company would hit the rest of the world. Website hosting actually connects your website to the internet, there are millions of prospective clients to find you in a matter of seconds. When it comes to hosting facilities, there are several options. It's critical to pick the right one for your business. You could get an optimized and quick package for a low price and benefit, or you could end up losing time dealing with problems with the web hosting service you choose.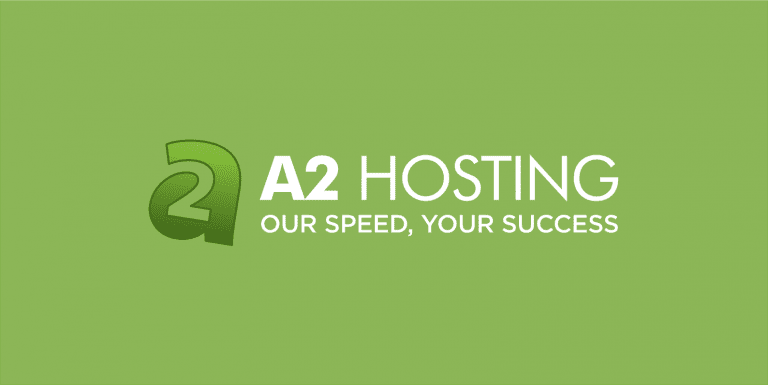 A2 Hosting is a top-level and developer-friendly hosting provider. A2 Hosting was Established in 2001 and they're most known for their page loading speeds. The company was a rebirth in 2003 with a new name. They provide record-breaking speeds, smooth customer support, and optimized WordPress servers with cPanel access. It doesn't matter what type of hosting you looking for because they provide all types of hosting services. A2 Hosting is a risk-free hosting provider because they offer an anytime money-back guarantee. The hosting plans are budget-friendly but the renewal rate bit costly. however a2 hosting is the best choice for you if you need a fast web hosting service at comparatively cheap pricing.
Let's Take A Look At The Services That A2 Hosting Provides For Companies.
Shared Hosting
Personal bloggers are using shared web hosting. A2 Hosting provides shared hosting services in a variety of price points, beginning at just $2.49 per month! There are four sets to choose from Startup, Drive, Turbo, and Turbo Max. Startup bloggers, existing blogging websites, and any personal website for portfolios use this form of hosting.
A2 Hosting has a WordPress-specific shared hosting plan. These plans are more costly than the above-mentioned general sharing plans, but they have a variety of features that make them more attractive to WordPress users, such as a Staging server, Jetpack personal license, Easy WordPress backups.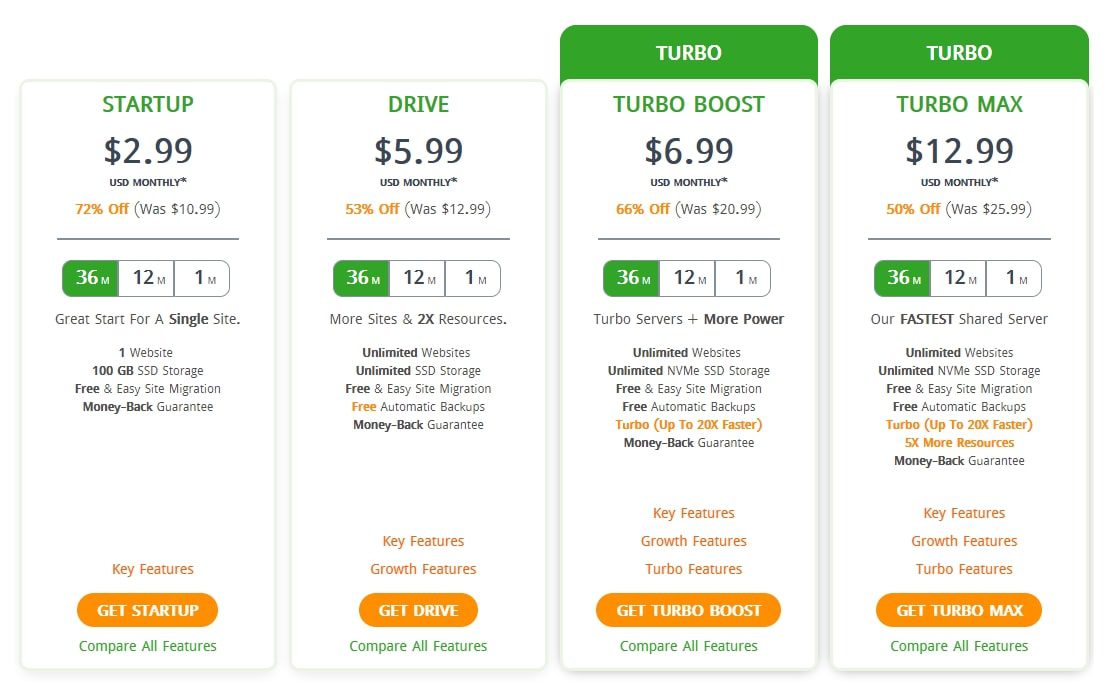 Reseller Hosting
Reseller hosting is the strong point of A2 Hosting services. This hosting is a form of hosting service used by resellers and businesses that includes storage, WHM Control Panel, and a free eNom reseller account, which is ideal for starting a reselling company. According to the number of accounts you need to handle and the amount of storage space you need for your company, you can select from four reseller packages. There are two category packages standard and turbo, the category has subcategories. The standard category has Kickstart, Lunch, Grow, and Scale plans. The Turbo category has Turbo Kickstart, Turbo Lunch, Turbo Grow, and Turbo Scale plans. The entry-level Bronze edition costs just $18.99 per month. The great part of both of these plans is that, apart from the number of accounts and storage capacity, all of the other features are the same through the plans.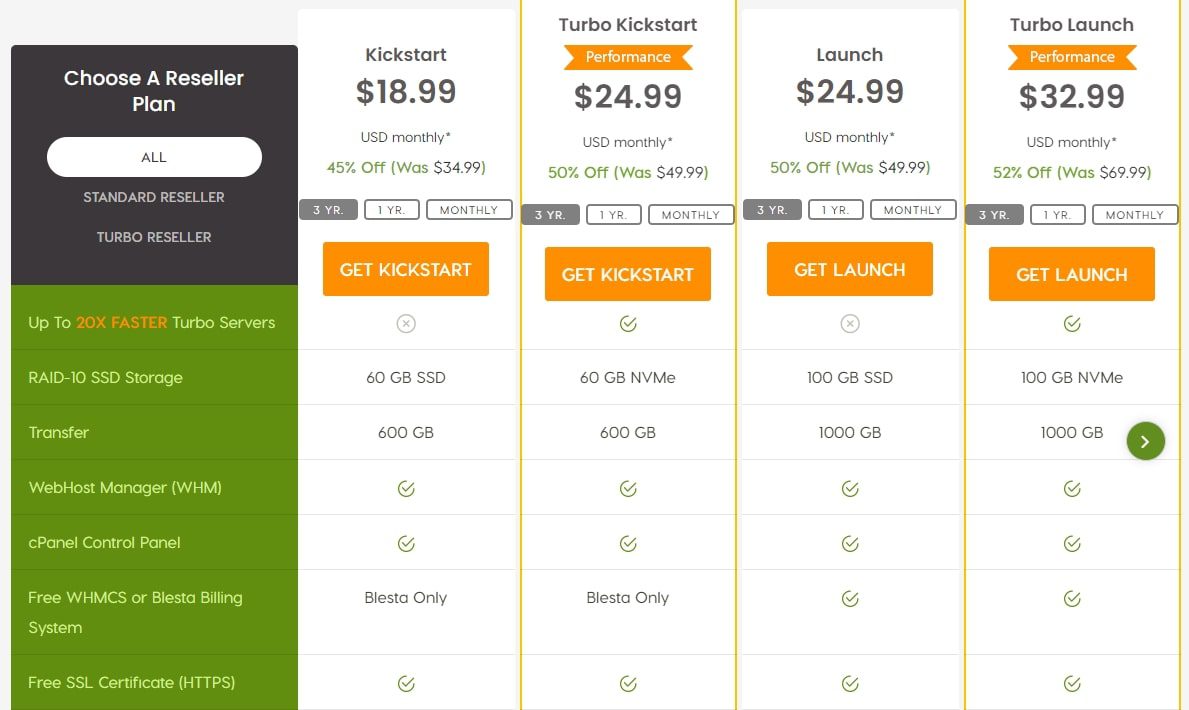 VPS Hosting
Businesses, advertisers, and blogs who choose to extend their services from shared hosting to Virtual Private Server hosting use VPS hosting or VDS hosting. Managed VPS services and Unmanaged VPS services plans are available. You can get the Unmanaged VPS Services for just $4.99 if you have programming skills and can handle and build the site on servers. A2 Hosting's Managed VPS hosting solution combines the convenience of shared hosting with the power of VPS hosting, both with complete support and maintenance from A2 Hosting. Core VPS is the combination of both of these plans, making it more flexible and efficient.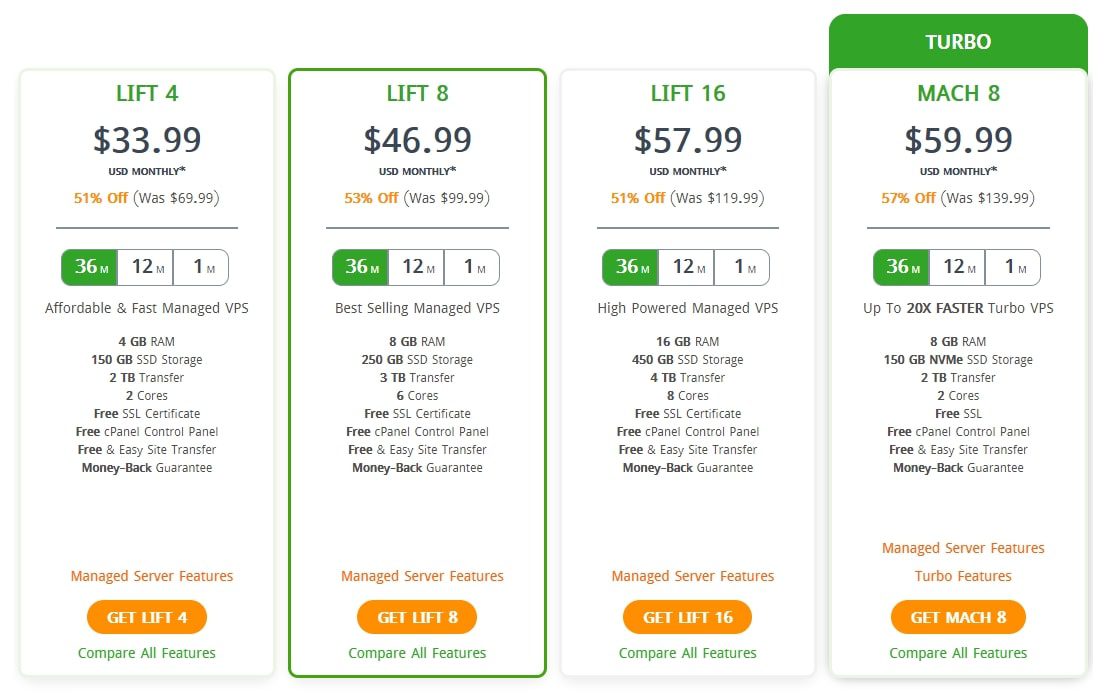 Dedicated Hosting
The fastest dedicated hosting plans are what A2 Hosting is known for. A2 Hosting is known for its speed and is also one of the most trustable service providers. Clients can choose from different levels of dedicated hosting management plans. Unmanaged server, discount SSD server, managed flex server, and core flex server is available. You can also customize your server resources, choose your management level, use the cPanel control panel for managed and core servers, and gain root access to unmanaged and core servers. A2 Hosting is now selling the basic plan for $99.59 per month.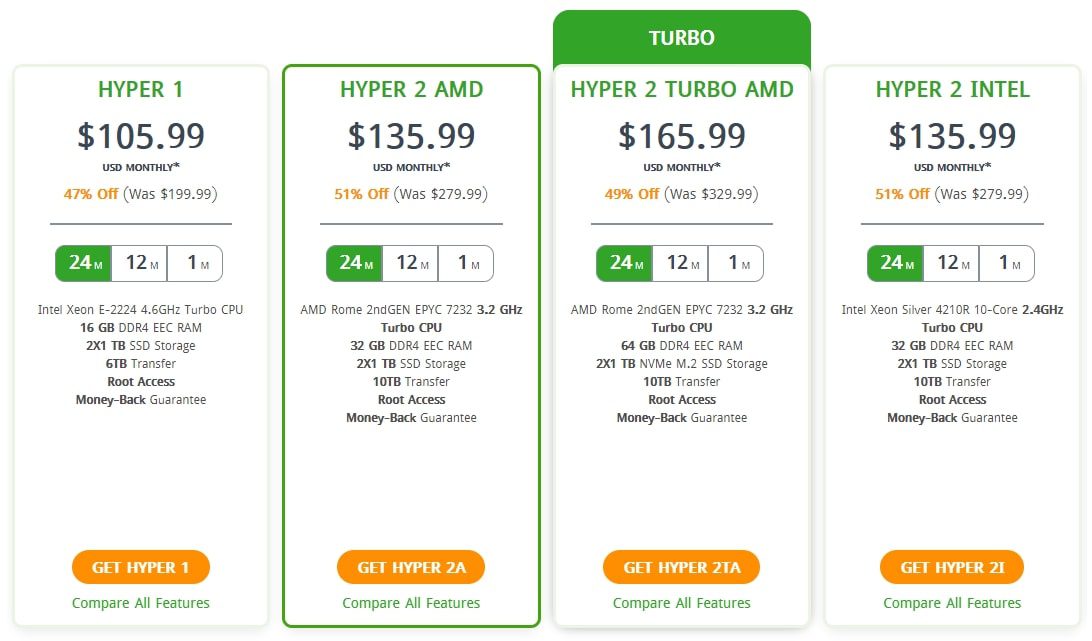 A2 Hosting Features
In this segment we'll focus on A2 Hosting's infrastructure, results, customer service, and plan features like SSL certificates and the Cloudflare CDN(content delivery network).
Performance And Reliability
On my server, I've checked A2 Hosting's uptime and load speed over the last year. Since this is just one server, the results can not reflect the performance of all A2 Hosting servers. However, it does give you a good idea of their pace and dependability. A2 Hosting's pace is really good on a 12-month average. The 6-month average is outstanding, also surpassing WP Engine.
Uptime Guarantee
A2 Hosting guarantees 99.9% uptime, and they work hard to keep this promise by following best practices in the web hosting business, using top-tier data centers, and properly maintaining all servers.
However, there are two situations in which the uptime obligation does not apply:
During regular maintenance and upgrade periods that have been planned in advance

During outages caused by factors outside of A2 Hosting's control
If you have downtime due to problems that are not specified in the exclusions above, and it accounts for more than 0.1 percent of your overall time that month, you might be eligible for compensation from A2 Hosting.
This compensation comes in the form of a service credit equivalent to 5% of the fees you paid that month. For any moment when your website is unavailable outside the 0.1 percent (42 minutes) downtime guarantee, you can earn one such service credit. However, the maximum service allowance you'll get is equivalent to the entire sum you have paid for the month if there hadn't been any outages. Please notice that your downtime must be checked by an A2 Hosting team member in order to earn service credits as rewards.
Backup
You can handle partial or complete backups to your website from your control panel. You'll need to provide a copy of your entire backup to the A2 Hosting support team in order to recover it. There are no charges for requesting these facilities. A2 Hosting will do the migration for you if your previous web hosting service supports cPanel. Migrations are available for shared, managed VPS, and managed dedicated accounts, and require less than 72 hours to complete.
While it is not necessary, A2 Hosting advises that you leave at least seven days between opening your new hosting account and closing your old hosting account to avoid any downtime during the transition process. A2 Hosting can also move your website if your previous web hosting service did not use cPanel, but only for one database.
Cloudflare CDN (Content Delivery Network)
The closest a client is to one of your servers, the sooner they will be able to access your site. A content delivery network (CDN) makes use of a large number of servers to ensure that each visitor receives a fast load time. Cloudflare is used with all A2 Hosting plans for free. Cloudflare is one of the most common and powerful CDNs; according to A2 Hosting, a website using Cloudflare loads pages 200 percent faster, uses 60% less bandwidth, and is more stable.
There are two ways to get the Cloudflare CDN up and running:
Cloudflare's cPanel plugin can be used.

Visit Cloudflare's website to sign up.
You can easily enable and disable Cloudflare for your domains and subdomains using your A2 Hosting cPanel environment if you wish to use Cloudflare's cPanel plugin. You would not be allowed to access your CDN using the A2 Hosting cPanel if you activate using Cloudflare's website.
SSL Certificates
SSL certificates allow your website to safely send and receive data. They're essential for e-commerce, and Google now considers them a best practice for all websites. They're even excellent for increasing customer confidence and can also help you rank higher in search results. If you have a joint or reseller hosting plan, you can use Let's Encrypt, an SSL solution that improves the security of your website. Users with managed VPS plans and managed dedicated servers can use Let's Encrypt as well, but they'll need a dedicated IP address. A private SSL certificate from A2 Hosting can be purchased for even more security.
Website Builder
Also, non-technical users can quickly design their own website with A2 Hosting's website builder. It can do anything from one-page websites to full- e-commerce stores.
Green Hosting
A2 Hosting is an environmentally friendly web hosting operation. A2 Hosting is a member of Carbonfund.org, a leading agency devoted to combating global climate change, in addition to being carbon-free in their day-to-day activities. In terms of day-to-day activities, A2 Hosting is carbon-free. A2 Hosting has been a supporter of Carbonfund.org's reforestation activities and the creation of sustainable, green energy sources since 2007.
cPanel Features
You can access the website's cPanel from the A2 Hosting dashboard. On the dashboard homepage, if you're hosting several websites with A2 Hosting, you'll see a list of the cPanels you have access to.
A2 Hosting accounts include cPanel, a popular brand of the control panel. Basic account information is shown on the left side of the cPanel interface. It contains information such as the domain name and server directory. Addon domains, aliases, autoresponders, bandwidth, mailing list disk utilization, MySQL disk usage, overall disk use, number of email addresses, and email filters are also included.
You will use the main control area to do stuff like:
# Mange your files.
#Use Softaculous, a cPanel-compatible software launcher, to install scripts that expand the website's feature set and features.
#Use the website's staging features.
#Create, maintain, and optimize the databases on your website.
#Keep track of your domains and subdomains.
#Manage the email addresses linked to this same website/domain name.
#Get information on user sessions, such as duration and duration of stay.
Set up authentication suites and SSL certificates to secure your website.
There are also more specialized features available, such as applications that support programming languages and website optimization and caching.
Customer Support
On your dashboard, you'll see a lot of support-related content and links. There are two hyperlinks in the navigation toolbar that you can use if you need assistance, in addition to the Support PIN that is prominently located in the top-left corner.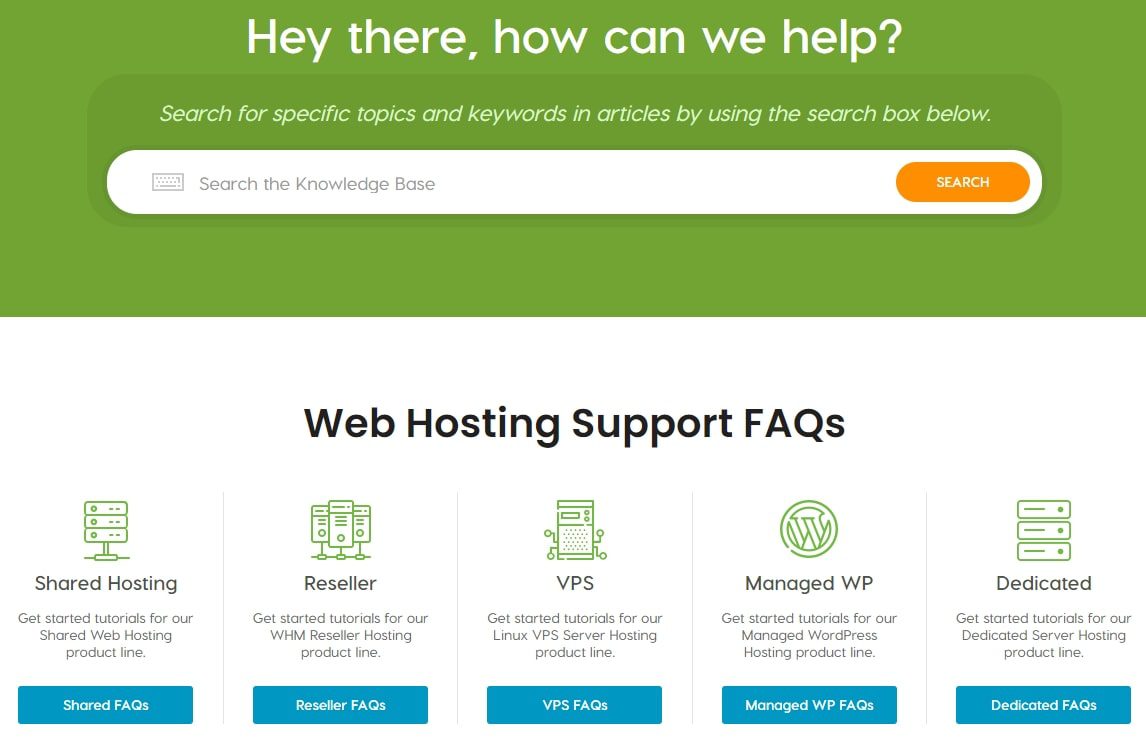 First, there's the Support page, which lets you do things like:
# View and create new help tickets.
# See a list of website migrations that have occurred and make a proposal for one.
# Check the state of A2 Hosting's servers to see if any service interruptions have occurred in the last few days this is important, especially given that the uptime guarantee requires you to report downtime in order to receive compensation.
# Go to the knowledge base page.
# To configure the service-related alerts you receive from A2 Hosting, go to the notification hub.
# Visit the A2 Hosting business blog to learn more about web hosting and web design.
The Open Ticket tab will take you to the Client Area. You will do the following in this section:
# If you have any concerns about your orders, please submit a sales ticket.
#If you're having trouble with your account, submit a hosting question.
# Questions that are not connected to a current domain name or hosting account should be directed to either the Support or Billing departments.
You can contact the A2 Hosting Guru Crew Support team 24/7 via their internal ticketing system, Skype, internet, or live chat if you have any questions, suggestions, or complaints. If you're looking for self-help services, A2 Hosting has a large and comprehensive knowledge base. This knowledge base is also searchable, which is good.
Refunds And Money-Back Guarantees
If you buy a web hosting plan from A2 Hosting and realize after 30 days that it isn't right for you, you will use their 30-day money-back guarantee to get a complete refund of your hosting costs. You will also cancel your account after the 30-day limit has passed. However, you can only be given a pro-rated refund on the portion of the package that you have already paid for but have not used. This does not include domain registration.
Pros And Cons
The key advantages and disadvantages of using A2 Hosting are given below:
Pros
Industry-leading server speeds.

Uptime commitment reduces lost business due to outages.

Feature-rich plans to suit sites of any size.
Cons
There are no free domains available.

By default, it is not PCI-compliant.

Requests for new technology help are approved, but no ETA is provided.
10 Alternative Hostings
Dreamhost – Best Month-to-Month Plan
Hostgator – Affordable for Minimal Needs
Nexcess – Best for scaling and growth