Looking for a high-performance yet affordable managed WordPress host? Cloudways delivers maximum speed and fool-proof security for your WordPress website. Read my review and find out if you should sign up. When it comes to cloud-based managed WordPress hosting, Cloudways is one of the few providers that provide a good balance between pricing and functionality.
Uzair Gadit, Pere Hospital, and Aaqib Gadit formed this hosting in 2009, and their headquarters are on the European island of Malta. Their 30+ employees helped 8,000 people from 43 different countries launch 12,000+ servers and 25,000+ online apps. They also have offices in Spain and Dubai. Cloudways' objective is to provide managed cloud hosting solutions so that customers can focus on their businesses while Cloudways takes care of their hosting issues.
Overview of Cloudways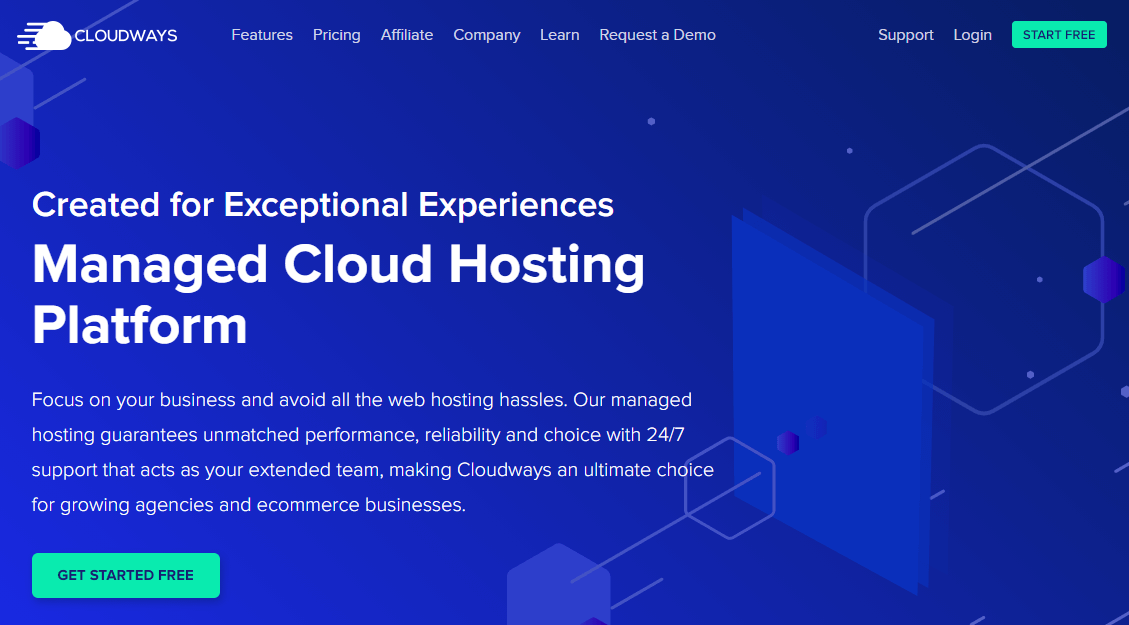 When searching for managed WordPress hosting, you'll almost certainly come across a number of providers that provide comparable services. While the majority of web providers provide managed WordPress hosting on a shared, VPS, or dedicated server, one provider has truly stepped out of the norm and given a really unique managed hosting solution. It offers fully Managed Hosting, ensuring that your WordPress sites load quickly and that you don't have to worry about WordPress hosting issues. Their platform Cloud servers provide a lot of great features, and you can scale your hosting resources as your website grows. Speed, performance, and security are all optimized in their infrastructure. If you're still on the fence about choosing Cloudways as your managed WordPress server, join up for their 3-day free trial to give their platform a try. The lowest managed WordPress hosting package offered by Cloudways is $10 per month. 
Managed WordPress Hosting
It provides managed cloud hosting for WordPress sites on a cloud server, with multiple copies of your material mirrored across several data centers. A complicated algorithm handles data switching, and if your primary server fails, a duplicate of your website is provided from the next available server. This enables quick deployment of computing resources, as well as excellent performance and service reliability. Cloudways are different from traditional hosting. In comparison with traditional hosting, which stores your site on a single server, cloud hosting stores your site on numerous servers (with a backup). Because your site is hosted on many servers, it can be simply transferred in the case of any incidents. Because one of the other servers in the network may take over if something goes wrong, cloud hosting improves uptime.
It's generally quicker than traditional hosting since the server can recognize the location of your visitors and provide content from the server closest to them. SSDs (solid-state disks) are used by many cloud hosts to increase site performance. Cloud hosts, in general, provide higher security than traditional hosts. Cloudways processes your WordPress site using a variety of security methods. Cloud servers can rapidly scale, which is perfect if your company's website suddenly experiences a surge in traffic. With pay-as-you-go pricing, you have more control over your hosting costs. With dedicated resources, SSD-based WordPress Hosting keeps your site speedy. 
Key Features of Cloudways Hosting
Cloudways servers, like any other hosting business, provide varying levels of processing power, memory, bandwidth, and storage space. A cloud server with 10 GB RAM, 25 GB storage, 1 Core Processor, and 1 TB bandwidth is included in the most basic hosting package. Cloudways ensures your WordPress site is secure, quick, and simple to maintain in the following ways:
Cloudways will handle your site migration if you're switching hosts.

The Cloudways CDN boosts server performance. For online sellers, faster site speeds are very important.

The auto-healing feature automatically fixes any problems, reducing the risk of your site crashing.

WordPress is a favorite target for hackers. Because it is the most used content management system in the world.  Cloudways protects your website with a dedicated firewall.

Let's Encrypt supports built-in SSL encrypts data sent between your website and your clients.

Two-factor authentication adds an additional degree of protection against hackers.

Apps may be installed with a single click.

Simple site setup creates a new site on your server with a single click.

Expert support is available 24/7.
Choose Your Cloud Providers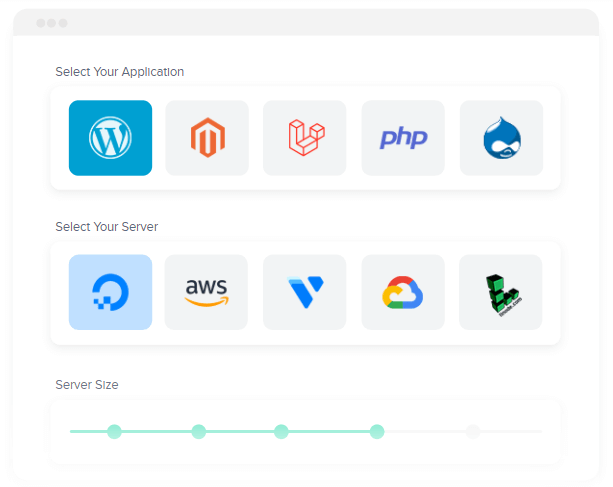 Cloudways hosting control panel allows you to configure the specs of your preferred server. You must first pick your desired cloud provider on the Cloudways console before you can begin configuring your server. A cloud provider is a firm that provides Cloudways with Infrastructure-as-a-Service (in this case, access to data centers and cloud-based servers for website hosting). Cloudways works with the five following cloud providers:
Digital Ocean

Vultr

Amazon Web Services

Linode

Google Compute Engine
Let's talk about Configuring Your Server. You can configure your server after you've chosen a cloud provider. You may set the number of page visits you expect each month using a slider on the control panel. Cloudways uses this information to suggest a server size that is appropriate for your specific hosting requirements.
You may also manually configure server specs by defining how much bandwidth, core processors, RAM, and storage you require. Finally, Cloudways will ask you where you want your server to be located.  Then WordPress is ready to be installed. You may install WordPress from the "application management" option after configuring the cloud server specs. You can pick between three WordPress installations:
WordPress Multi-Site.

Standard WordPress hosting with built-in caching tools.

WordPress with WooCommerce hosting.
The W3 Total cache plug-in is installed and configured with each installation to improve site speed and performance.
Cloudways Console
Let's talk about Cloudways Console. Under the "Server Management" tab in the Cloudways panel, you'll get many of the different options. More features are revealed as you scroll down that page, which you may control as needed. When you use Cloudways to host a managed WordPress site, the following are some of the server's features you'll get:
Security
This security feature maintains track of the IP addresses on your "white list" that you use to access your server.
Backups
If you want you can set up automatic backups of your cloud server images using Cloudways. You can arrange for the server to backup itself once a day, twice a day, three times a day, and so on, with a maximum backup frequency of one week. You may also back up your server manually at any time by clicking a button.
Monitoring
One of the most outstanding things that Cloudways provides with its cloud hosting options is server monitoring. This section includes a graph that you can use to keep track of the load on your cloud server. Over 15 variables can be monitored using a simple drop-down menu, including in-coming traffic, idle CPU, and reads per second.
Easily Handle Traffic Surges
Nothing like paying for an ad, receiving a flood of traffic, and then having your site crash because it can't handle all those visitors at once. With vertical scaling, you may change the number of server resources provided to you at any moment with only a few clicks. When there is heavy traffic, this is a fantastic feature.
If you're just scaling for a short time, Cloudways has a "Pay as you go" method so you don't have to pay for server resources you won't require.
Other Tools And Settings
Aside from the tools described above, Cloudways offers a variety of others. You can, for example, configure MySQL, Apache, and cache memory under the "Manage Services" option.
Cloudways provides a WordPress Migrator tool under the "Migrator Tools" option to assist you in migrating an existing WordPress site to their cloud hosting platform.
You may install DNS management, transactional email services, and other application-specific add-ons in the "Application Add-on" area. The Cloudways console also includes other features like backup restoration, SSL certificate installation, and GIT integration, to mention a few.
Cloudways Is Good For E-Commerce Hosting
Cloudways Hosting comes with a slew of e-commerce features that make selling your items online a piece of cake. Over 10,000 e-commerce stores are now hosted by the company. Thanks to a combination of Memcached, Apache, Varnish, and Nginx, the server offers 100 % uptime and super-fast page loading speeds as low as two seconds. In addition to a user-friendly dashboard, unlimited storage, controlled security and backups, and 24-7 support, the host's e-commerce solutions come with a user-friendly console. Cloudways Hosting offers a variety of major e-commerce platforms, such as Magento, WooCommerce, and Prestashop, so you can sell your products and services online.
Magento
Cloudways claims to be able to install Magento with a single click, removing the hassle of setting up the open-source e-commerce platform. The hosting service is also geared for high-speed Magento stores, which means more conversions for your business. Multi-SSL deployment, as well as built-in SSH and Git environments, are additional features. Your online business might also benefit from a free migration service.
WooCommerce
Cloudways hosting also supports WooCommerce, a popular e-commerce platform. With a one-click install procedure and a free automatic migration service, the hosting company has gone above and beyond to make installation simple. Meanwhile, the host's WooCommerce hosting plans include features like WP-CLI support and one-click server scaling, allowing you to grab your business's resources during peak hours.
Performance And Uptime
Cloudways has worked with some of the industry's most reputable cloud service providers. As a consequence, when you host your website on their WordPress cloud servers, you can expect them to deliver over 99% uptime. Cloudways-hosted WordPress blogs load 40% to 50% faster. Cloudways' VMAN technology, which uses Varnish, Memcached, Apache, and Nginx to boost site speed, makes this possible.
Page Loading Times
Page loading times are especially crucial for small businesses, as they can influence your company's Google search rankings and drive away impatient customers. Cloudways has super-fast page loading speeds because of their cutting-edge technology stack, created for maximizing speed:
Varnish

memcached

Redis

PHP-FPM

Apache

Nginx

MySQL/MariaDB for databases

SSD (solid-state drives) for storage
Data Centers
You'll also have the option of using the StackPath content delivery network, which has a worldwide network of 65+ points of presence. The copies of your website are stored on those data center nodes. When a visitor comes to your site, the system recognizes their location and serves your content from the network node nearest to them.
Cloudflare CDN
You can use the Cloudflare CDN instead. Cloudways explains how to do it in easy, step-by-step steps. Cloudflare has 152 data centers throughout the world. Cloudflare has announced a new of 22 new locations in mainland China. However, keep in mind that access to the new mainland China locations requires an Enterprise account. The Enterprise plan's pricing isn't listed on their website; you'll have to call customer care to find out.  It will definitely be more than $200 a month, as that is the cost of the next lowest tier plan, the Business Plan.
Your Website's Speed May Need To Be Tweaked
A number of page speed elements are depending on your website and daily practices, and thus fall under your responsibility. "13 Ways to Speed Up a WordPress Site," by Cloudways, is an excellent blog post on the subject. Many of their suggestions will be things that only coders can do. Check out Google's Page Speed Insights tool, which checks your business's web page for speed and suggests ways to improve it. Examine your everyday practices as well: for example, uploading huge picture files may quickly slow down your site.
Server Security
Cloudways takes server security seriously, which is why the new WordPress Managed Hosting Click and Go platform protects cloud servers with advanced firewalls. Cloudways' technical experts use "security hardening procedures" to protect servers from hacker attempts.
As previously mentioned, Cloudways provides automatic site backups, and you may specify how frequently your server should backup data. Application-level security refers to security services that are used at the application level rather than the network level. It adds an extra layer of protection to your online business to protect it from external attacks.
Affiliate Program
Cloudways has an affiliate program. You can make up to $6,000 each month by choosing between two commission structures: "Slab" or "Hybrid." Cloudways will provide you with affiliate links, website banners, exclusive deals to advertise, and seasonal campaigns.
Cloudways has an excellent program. They provide you with a dedicated affiliate manager as well as high-quality learning materials. If you own a design agency, are a blogger or work as a freelancer in the website design and development business or another IT area, you should think about this.
Customer Support
Cloudways provides live chat support to all customers 24 hours a day, 7 days a week. I've never had a problem with Cloudways support, and they've always been nice and helpful. However, I've read of some people having problems with them, so I assume it's a hit-or-miss situation. However, the majority of users seem to be very pleased.
Cloudways now only provide support for your server or the Cloudways platform. They do not offer support if you have problems with your WordPress theme or plugins, which is completely normal. They may help you if you know what you're asking, even if your question isn't relevant to their business, but they won't hold your hand and troubleshoot issues with your website.
Support Add-ons
Plugin and theme troubleshooting

Customization 

Phone support

Performance and DB optimization

Private Slack channel

Dedicated account manager
Plans & Pricing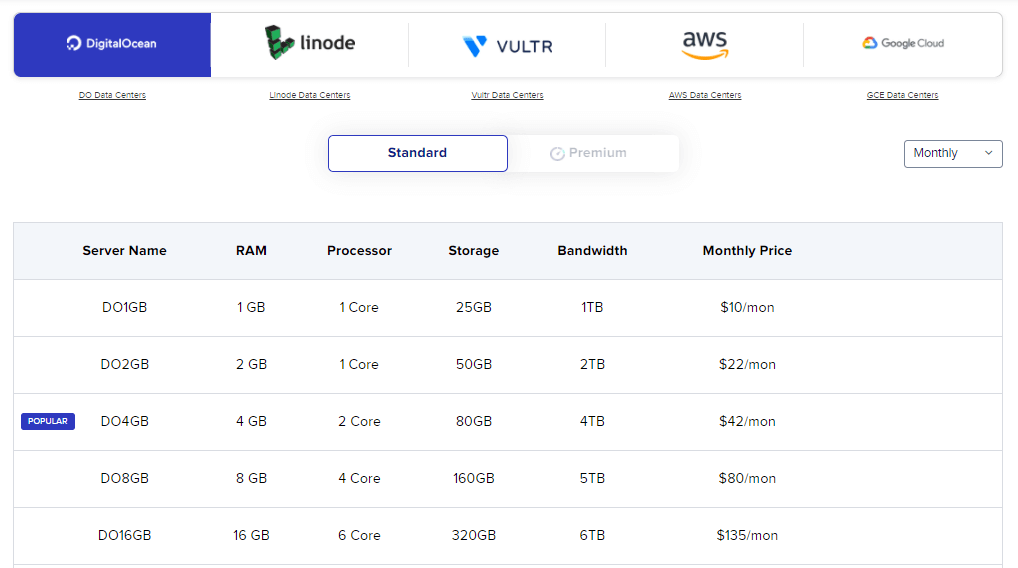 One of the best things about Cloudways is that they provide excellent performance and support at a reasonable cost. They aren't so cheap that you know you'll receive a poor server and support, but they aren't so costly that you feel like you're being taken advantage of.
Unless you're on a small budget, Cloudways with DigitalOcean at $10/month is a better option than a cheap shared server. The improvement in performance will be noticeable, and it will only cost a few dollars more. Cloudways also allows you to pay as you go.
Cheap shared hosting providers offer cheap pricing as low as "just $3 per month," but they charge everything up front, including a bunch of upsells, and overcharge you for things like domain privacy protection. And that is only their starting price. When it comes time to renew, you'll end up paying four times as much, which isn't worth it.
That's their technique of getting rid of you so they can make room for other newcomers who will buy their upsells and other products. As I previously mentioned, the price you pay for Cloudways is based on the cloud server you select and the number of resources you use.
DigitalOcean – $10 per month

Vultr – $11 per month ($13 per month for High Frequency)

Linode – $12 per month

Amazon Web Services (AWS) – $36.51 per month

Google Cloud – 33.18 per month
How To Get Started With Cloudways
Getting started with Cloudways is actually simple, To begin, go to Cloudways' signup page and enter your information to create an account. The link above is an affiliate link, which means that if you use it, I will receive a commission at no additional cost to you. However, this has no bearing on how I feel about Cloudways. If I didn't care about you, I'd tell you to go with Bluehost because it's less expensive and pays out more. So don't be worried. I'll concentrate on WordPress in this lecture. Here's how to set it up:
Choose "WordPress".

Give your app a name. This might be the name of your website.

Choose a name for your server.

Give your project a name (you can change this later)

Choose your preferred cloud service provider

Choose the size of your server. If you're not sure how much you'll need, start small and upgrade later.

Choose a location. Select the place that is most convenient for your visitors. You'll minimize latency and improve speeds this way.

Select "Launch Now".
Pros
DigitalOcean or Vultr High Frequency would be my choices. Although Digital Ocean is more stable, Vultr HF offers higher speeds.

For the cloud servers with 512MB and 1GB of RAM, a 3-day free trial is provided. The great thing is that no credit card information is necessary.

Unlike WPEngine, which restricts the number of WordPress sites you can install, Cloudways does not limit the number of WordPress sites you may install.

Cloudways Console is a user-friendly server management control panel. It has a lot of helpful features, the most important of which are the server monitoring and scaling tools.

Automatic site backups are simple to set up and maybe scheduled according to your preferences.

After increasing server resources, the Pay-as-you-go pricing structure ensures that you only get billed for what you require.

Apart from WordPress, Cloudways also provides hosting for Magento, Joomla, Drupal, and Moodle, among other content management systems.

Cloudways provides a one-time free site migration.
Cons
You won't be able to use Plesk or cPanel. As a Platform-as-a-Service provider, Cloudways provides its own console to help you in managing applications hosted on cloud servers.

Because it requires a certain level of knowledge, cloud-based hosting is not for everyone. You'd be better off with a typical managed WordPress hosting package from renowned providers like SiteGround, WPEngine, or InMotion if you want to skip technical details completely.
10 Alternative Hostings
Dreamhost – Best Month-to-Month Plan
Hostgator – Affordable for Minimal Needs
Nexcess – Best for scaling and growth
Final Thoughts
Unmanaged cloud hosting, to be honest, can be scary. Unmanaged cloud hosting using providers like Linode, DigitalOcean, Vultr, AWS, and Google Compute Engine is always recommended if you are courageous enough to explore the possibilities and learn a lot of new things. However, if you want to focus only on your website without having to bother about server management, and if you don't mind paying a little more, Cloudways is the hosting option for you.
This managed cloud hosting company comes with a slew of innovative features that will make your life easier. Everything is possible, whether it's server cloning, application cloning, or moving your full server to another Cloudways user. On the negative side, you won't receive the same level of one-click application installation help as you would with AWS, GCE, or DigitalOcean. However, I don't believe this is a significant disadvantage because you would almost likely install WordPress. Cloudways is recommended to those looking for managed cloud hosting! Cloudways is reliable and simple to use.