HostGator is one of the industry's largest and oldest web hosting providers. However, is that good or bad? This HostGator article reviews all of the benefits and drawbacks so that you can choose if HostGator is perfect for you. There are a variety of web hosting companies available to pick from, many of which focus on providing reasonable hosting solutions, good features, and excellent customer care. On the other hand, choosing a host is not a simple task.
Fortunately for you, I'm here to analyze HostGator, one of the most famous web hosts on the market today, to determine if what they have to provide is what you need to run a profitable website without burning yourself out with site problems. HostGator was founded by Brent Oxley when he was a young college student in 2002. After spending some time in Canada during its early days of operation, HostGator finally obtained its official office location in Houston, Texas. After that, they continued to expand opening an office in Austin, Texas, and also extending into Brazil.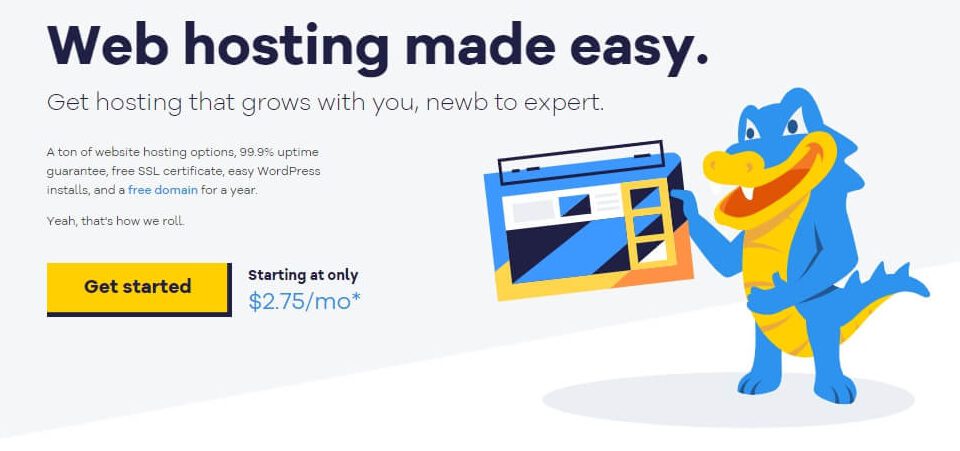 Features
Unlimited MySQL databases

An uptime guarantee of 99.9%

Round-the-clock server monitoring

Unlimited FTP users

Unlimited email accounts

Google AdWords Credits

Bing Ads Credits

SHS access

PHP version 7

Linux Servers available

Windows Servers available

One-click installs

24/7/365 customer support

Unmetered bandwidth

cPanel control panel

Free migration
HostGator Web Hosting Plan
Here are the various web hosting services they offer to website owners.
Shared Web Hosting

Cloud Hosting

WordPress Hosting

VPS Hosting

Dedicated Hosting

Reseller Hosting
Shared Web Hosting
HostGator provides very cheap web hosting services for all types and sizes of websites. There are three different options, with the Hatchling plan being the cheapest. Hatchling, Baby, and Business are shared hosting plans all provide features that will satisfy your basic web hosting requirements. For instance, any web hosting plan has a built-in Gator Website Builder for easy drag-and-drop site creation. They also include the QuickInstall tool, which allows users to easily install a WordPress site, forum, gallery, blog, and eCommerce shop scripts to your site. They also support WordPress sites, as well as Joomla, Drupal, Magento, Wiki, and phpBB hosting content management systems.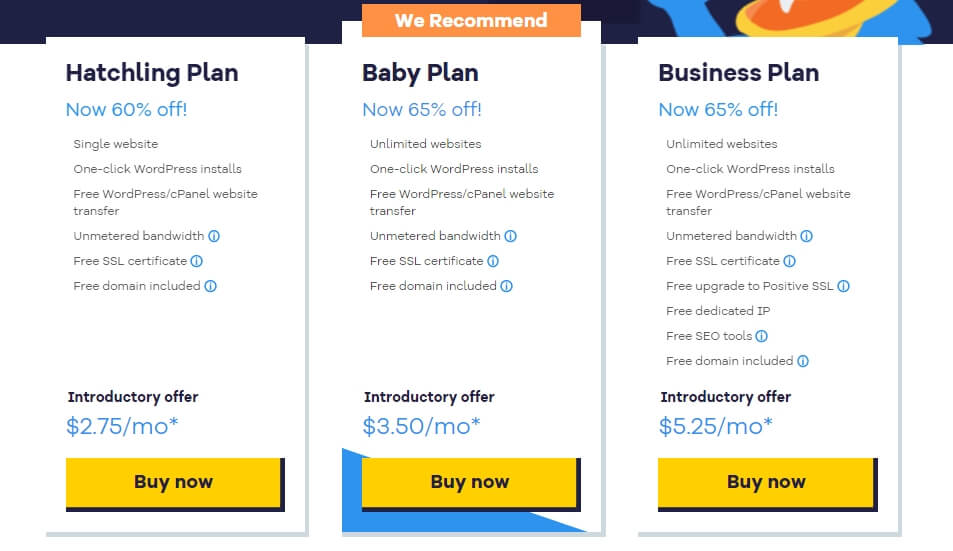 Cloud Hosting
Their Cloud hosting services include a lot of options for companies who wish to scale quickly. Enjoy excellent cloud caching solutions, resource management features, and user-friendly dashboards. Also, with the simple-to-use cPanel, you can handle full control over your entire site. Furthermore, in the situation of a server failure, quickly transfer all site data to another server, and be aware that three duplicated copies of your site are hosted across several devices to provide protection and redundancy. Their cloud hosting options start at $4.95 per month and expand up to larger plans at $6.57 per month and $9.95 per month as your demands grow more demanding.
WordPress Hosting
For those people who deal only with WordPress, HostGator offers WordPress hosting that caters to the WordPress platform and provides all of the features required to create a quick, efficient, and highly secure site. Due to its supercharged cloud architecture, low-density servers, CDN, and various cache layers, WordPress hosting claims up to 2.5X fast loading time. Furthermore, this web hosting service is managed, which means that HostGator handles automatic upgrades to your WordPress core, plugins, and themes, as well as malware removal and site backups. You also get a free CDN service, which speeds up content delivery to your visitors.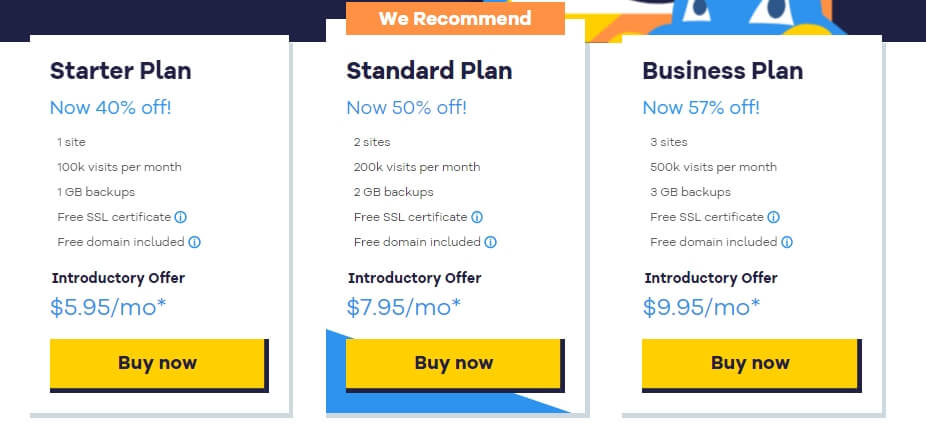 VPS Hosting
With VPS hosting, you get comprehensive features like full root access to control your whole hosting environment, and several network security layers to assure server dependability and quick scalability with a single click of a button.
Furthermore, you can be confident that your data is stored on servers that are secured by RAID 10 disk space configuration and have redundant power and HVAC units. Get weekly off-site backups of your complete website, a full suite of development tools to help with site functioning and design, and award-winning support for any problems you may have. VPS hosting packages cost $29.95 per month, $39.95 per month, and $49.95 per month, respectively.
Dedicated Hosting
Dedicated servers may be necessary for those people who highly trafficked websites and have a higher budget. Your site's data will be stored privately on your dedicated server, there are no shared resources needed.
Furthermore, you can run Linux or Windows, select between HDD and SSD hard drive choices, get data center level DDOS security, and have full root access, unlimited databases, RAID-1 setup, and 3-5 dedicated IP addresses. Expect to pay between $119 and $149 per month for dedicated hosting services.
Reseller Hosting
Consider their reseller plans if you want to start your own web hosting business. Receive excellent tools to help you increase your customers, handle full control over-allocation of resources, and upgrade as required to keep your company growing.
A reseller hosting package includes the WHM control panel with multi-language support, 99.9% uptime guarantees, 400+ brandable tutorials for your customers' use, and unlimited MySQL databases with phpMyAdmin access. Whether this is something you're interested in, see if one of the three plans available – Aluminum, Copper, or Silver – with monthly fees ranging from ($19.95 to $24.95) per month works for you.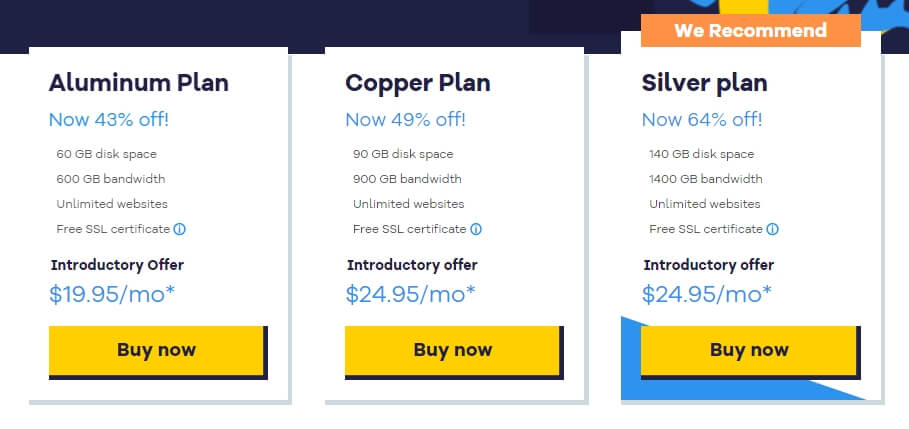 Application Hosting
HostGator has you covered if you aren't using WordPress as your content management system. HostGator supports platforms like Joomla, Magento, Drupal, Wiki, and phpBB Hosting, and runs on Linux, Apache, MySQL, and PHP. In addition, all plans include unmetered bandwidth, email marketing, and one-click installation of additional useful tools.
Windows Hosting
Though Linux is favored for web hosting, Windows hosting is available for those that require it. This hosting option includes the IIS, Microsoft SQL Server 2012 R2, Parallels Plesk Panel, and ASP.NET support, ensuring that you have everything you need to build a user-friendly website. However, HostGator has a web hosting service for any budget, website type, and size, and even caters to particular clients such as Windows or WordPress users.
Uptime
Over the past year, HostGator has averaged 99.95 percent uptime with little more than four and a half hours of downtime. Another plus is that they have an uptime guarantee, which states that if their uptime falls below 99.90%, you will receive one month of credit. However, any planned maintenance or unexpected hacks are not included in this warranty. You must contact them and request the credit within 1 month by submitting a support ticket to their billing department.
Load Time
Over the last 12 months, HostGator's servers have had no problems keeping our site up and running. HostGator provided page loading time on average of 707 ms. This isn't the fastest speed, but it's good enough. Furthermore, HostGator's page loading times have significantly improved. It used to take more than a second for our website to load. It has been proven that slow website loading times have a direct impact on your visitors' experience. And this has a knock-on effect on your bottom line as well. There are some steps you can do to improve the speed of your site without changing hosts. However, if your host is regularly slow, you'll be fighting a losing battle.
Recently some hosts offering uptime guarantees, which implies that all customers benefit. Competitors acting in this manner serve to raise the bar for the entire industry. Everyone else in the market is forced to either match their guarantee and enhance the usual level of service or risk falling behind.
Good Support
HostGator, like other well-known companies such as SiteGround and Dreamhost, offers a knowledge base, live chat, phone, and email assistance. I tried out their live chat feature. I submitted a question about their cloud hosting plans and was connected to a customer service representative in less than two minutes. The responses were quick and informative. Overall, I had a positive customer service experience.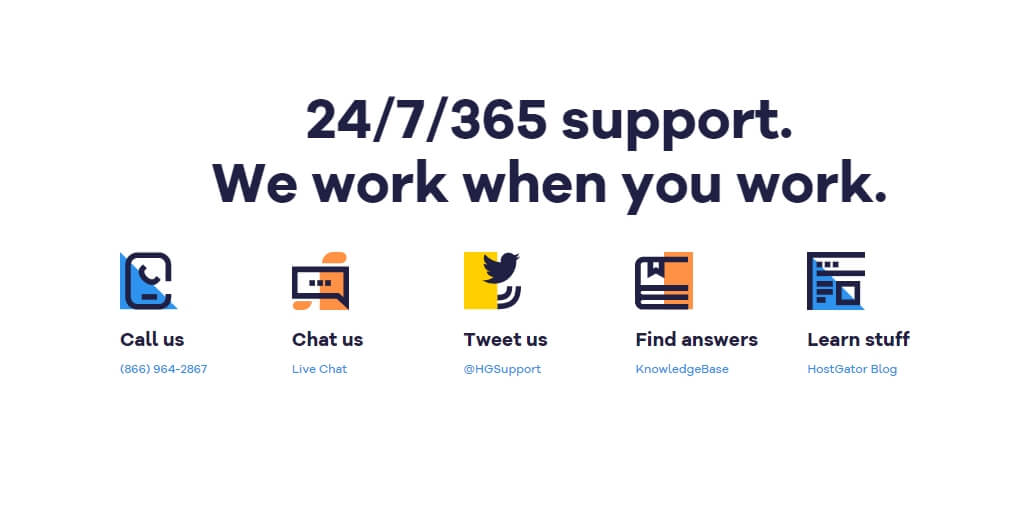 Money-Back Guarantee
HostGator is so confident in its service that they increase the industry-standard 30-day return policy to 45 days. That implies you can use them for more than a month and still get your money back if there are any problems. All shared, reseller, and VPS hosting packages are eligible for the money-back guarantee. Keep in mind that this does not apply to HostGator's dedicated servers, administrative fees, or custom software installation fees. After looking through several Terms of Service documents. I've discovered that these limitations are pretty prevalent in the hosting field.
For example, if your plan includes a free domain name, the regular charge of $15.00 for the domain will be deducted from the refund amount. There are a couple more points to make. According to the terms of service, HostGator has up to 90 days to issue a refund. Money orders, Western Union payments, checks, and bank wire transactions will not be refunded. Only new plans or accounts are eligible for refunds. So, if you already signed up for one and are canceling a renewal or a second attempt, you will receive nothing in return. Finally, foreign currency refunds are processed using US Dollar exchange rates.
Site Security
The shared hosting plans from HostGator are quite basic. You get more than enough for one site, but not a lot of extras on top of that. Fortunately, they provide some additional security options, such as the option to add SiteLock monitoring to your site. This service will run every day, scanning for potential site vulnerabilities or hacks and notifying you immediately if they detect one. They also include Spam Assassin in their email services to assist prevent spam from reaching your inbox.
The only drawback is that SiteLock will cost you a little more money. I'll go into more detail about this in the Cons section, but the starting price is $1.99 per month, payable annually at $23.88.
Migrations
If this isn't your first website and you're attempting to migrate an existing one, HostGator has you covered. You'll have 30 days after signing up to contact them and have them assist you in moving any site files, databases, scripts, or even a domain name over. This covers the migration of your whole cPanel. So, if you have many site installations (such as subdomains for a single large site), you're covered.
All HostGator shared hosting plans offer a single site (or cPanel) migration. Different plans, such as resellers, will have access to more resources (up to 30). When compared to some hosts, a single free site migration isn't much. However, it is still better than nothing.
User Friendly
HostGator is ideal for new bloggers or webmasters. Their website is filled with tutorials, walkthroughs, and other resources to help you understand the murky world of DNS and data centers. They also include additional features for fresher who want to set up a site without having to hire someone to design, develop, and handle everything.
Gator by HostGator is one of the best website builder tools I've seen. It includes free hosting and a domain name, so you just need to purchase a single account to cover all of your needs. To begin with, the customizable templates are all modern, and you can quickly adjust how they look by dragging and dropping each element. You'll also receive site analytics and a free SSL certificate to help protect your visitors' private info like their location.
Gator by HostGator also has an eCommerce plan, allowing you to build up a fully functional online store with inventory and more without having to worry about payment gateways, plugins, or other complicated technology. It simply works.
When to Use HostGator Hosting?
HostGator's shared hosting is ideal for those people who search for a service that does not limit bandwidth and is generous with storage capacity. It's also a good fit if you want to add other programming languages to PHP. It is allowed to use Perl, Python, and Ruby On Rails. I believe HostGator is the greatest EIG hosting service I've experienced.
When Not to Use HostGator?
Despite its user-friendly UI, I'm afraid it's not ideal for larger projects. Neither for hosting-dependent projects such as online stores nor regular bloggers. Their low uptime percentages and slowish speed can harm your SEO efforts, and assistance can be irritating at times. But, for me, the most concerning aspect is that they do not offer a backup system – sorry, but one weekly backup is insufficient for most people.
Top 10 Best Web Hosting Providers
Nexcess – Best for scaling and growth
Final Thought
I recommend HostGator Shared Hosting. However, there are better options available. HostGator's shared hosting has several advantages. The uptime has remained consistent, and the speed has improved. The client service was excellent. And the plethora of beginner-friendly settings makes it easy to use.
However, the additional price increases make it too pricey to give it my highest recommendation. What are your thoughts about HostGator? I'd love to hear about it in the comments section below! If you like this article please give us a like and share this on social media.