Nexcess hosting is a managed commerce and content platform that provides Magento, WooCommerce, and WordPress hosting solutions. It operates five data centers. They are located in Australia, the US, and the UK. Their goal is to relieve you of maintenance issues and security concerns — these guys will handle it all for you.
In this web hosting review, I'll go deeper into the support Nexcess provides and the services you can take advantage of.
Consider Nexcess to be a partner who will look after the performance, speed, and security of your website while you concentrate on the business staff.
It offers not just hosting but also a shop builder, which allows you to create e-commerce without coding or templates.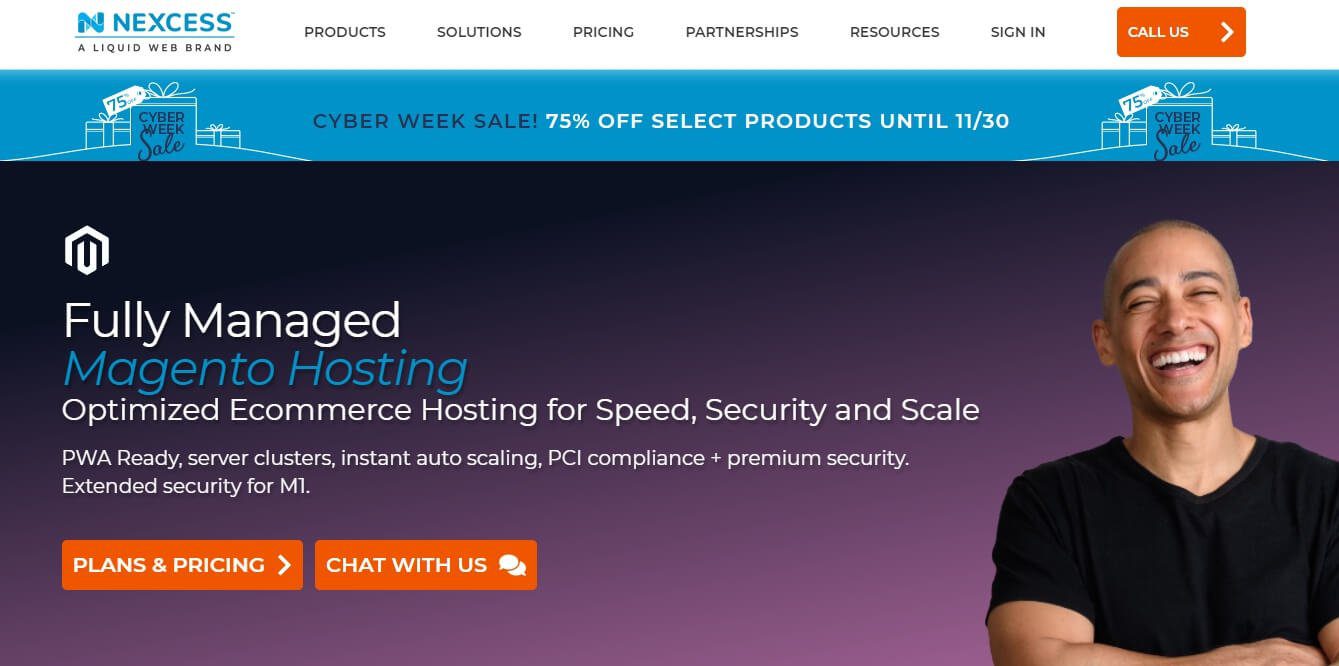 Features
Built-in server-level caching.

Integrated CDN.

Malware monitoring.

Free SSL certificates.

One-click staging sites.

Built-in image compressor.

handle high-traffic situations.

Free iThemes Security Pro access.

Automatic WordPress plugin updates.

Automatic daily backups and on-demand backups.
When to Use Nexcess Hosting
If you want to improve the speed of your Magento or WordPress websites, use this hosting. Other web hosting services are up to 13 times slower than this hosting. All of your plugins automatically update, resizes, and optimize your graphics, synchronize your staging and production systems, and auto-scale your server if your website gets a traffic wave. If the things described above cause you a headache, switch to Nexcess.
When Not to Use Nexcess Hosting
In comparison to other hosting services, Nexcess review does not provide low-cost services. They also offer low bandwidth, so try it out if you require hosting for a resource-intensive website. They choose SiteWorx as a control panel rather than Cpanel or DirectAdmin, which may be hard for new users to use. In other circumstances, Nexcess is performing excellently, therefore consider this hosting service for your CMS.
Shared Hosting Performance
Nexcess is up to 13 times faster than its competitors, as I've already said. This is due to the utilization of SSDs and RAID for cloud storage, as well as Apache 2.4, MySQL 5.7, and PHP 7.0/7.1. All of these methods reduce memory usage, improve load balancing, and increase security.
Furthermore, unlike its competitors, Nexcess has its own data center. They are using SSD as storage. Because their server stack is specialized to the needs of WordPress, your website will run faster than with others.
Hosting Speed
After shifting to this Nexcess hosting, the user observed improved performance and faster page loading speeds. Nexcess provides near-instant asset caching, configurable tech stacks, auto platform & plug-in upgrades, and container add-ons to provide optimal speed outcomes. In the Pingdom test, the Average Loading Time is 141 ms.
Server Response Time
I used Bitcatcha, a speed tester tool, to test Nexcess performance in several regions. Nexcess data centers are built with redundant cooling, networks, and power to achieve a high standard of server performance.
They also have image compression features integrated that compress images, 24/7/365 website monitoring, HTTP/2, and tier-1 bandwidth connections that reduce latency in different regions.
The Nexcess average response time is ideal, as shown in the table above. So you can rest confident that your company will not suffer performance issues.

Website Migration
All hosting plans from Nexcess include free website migration. Don't be concerned about website downtime; the Nexcess team will keep it to a minimum, making your transition painless. All you need to do is submit a migration request using your client portal, provide information about the existing host, and set up a migration time.
After that, your website will be set up on a temporary domain, and once you've checked it, the Nexcess staff will schedule a time for your domain name to be pointed at your Nexcess service and go live.
Hosting Types
Managed Magento Hosting

WooCommerce Hosting

Managed WordPress Hosting

Flexible Cloud Hosting

Enterprise Hosting
Managed Magento Hosting
Magento Cloud allows you to build your Magento server "in the cloud," and you can select a data center as you wish. All of their plans include auto-scaling, to securely take payments, built-in security, and CDN to help you enhance your page load speed. Furthermore, their hosting services are PWA-ready, allowing you to make a simple website feel like a native iOS or Android app.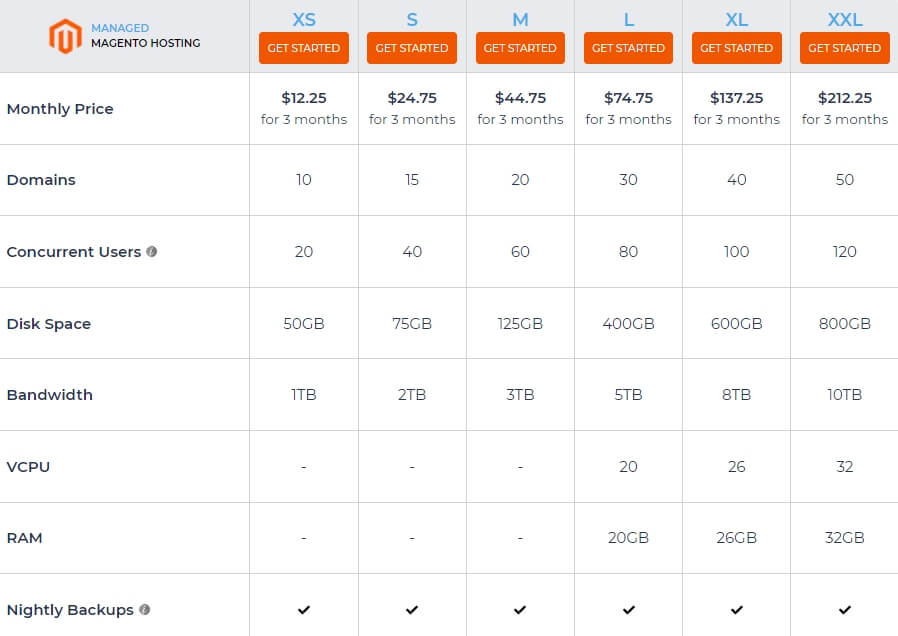 WooCommerce Hosting
Nexcess manages your eCommerce website's infrastructure, WordPress, and WooCommerce, and provides help for anything relevant to your online store. Isn't it unbelievable? Nexcess has the Custom Order Table for WooCommerce to speed up WooCommerce queries and includes Astra Pro, the quickest WooCommerce theme, for free. As a result, no matter how many visitors you have, your website will load quickly.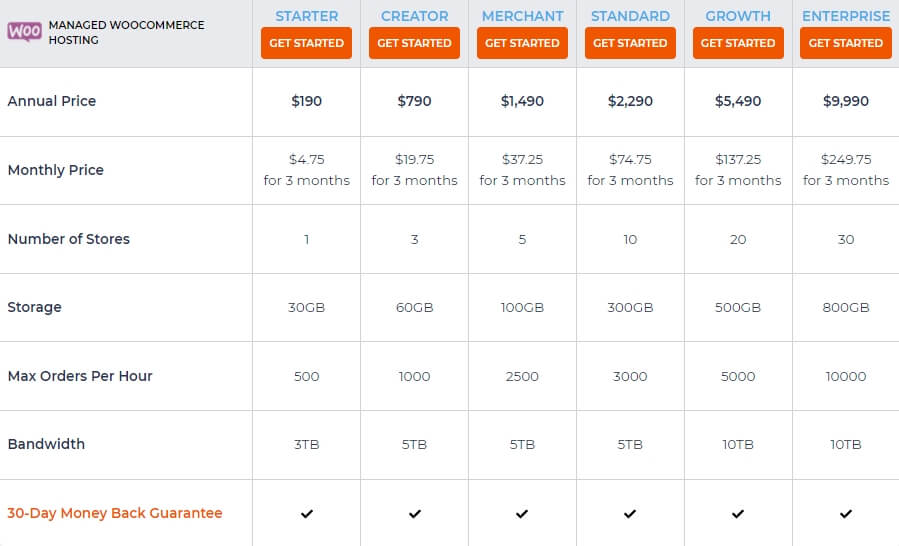 Managed WordPress Hosting
Nexcess creates tools based on their Cloud infrastructure to help you maintain your WordPress + WooCommerce store up to date and safe. Following the creation of an account on Managed WooCommerce Hosting, the server hosting team will monitor your website and keep its performance at a top standard, allowing you to accept orders and grow your business indefinitely.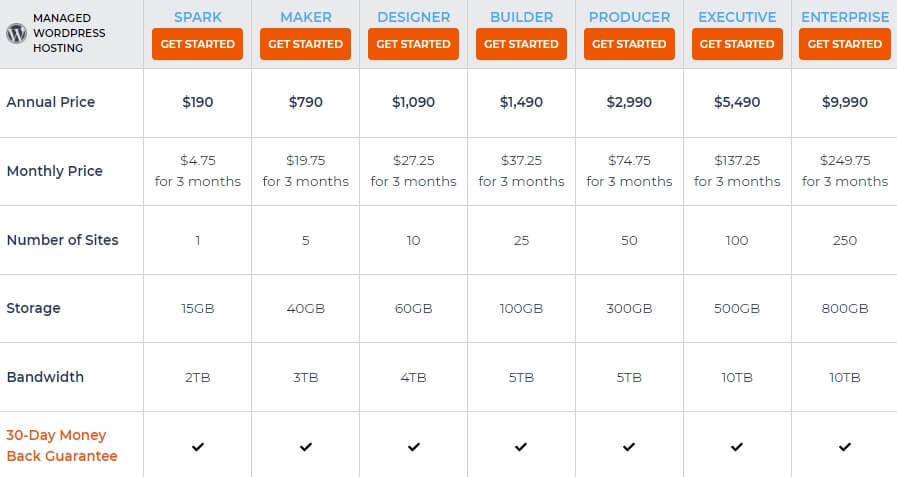 Flexible Cloud Hosting
Auto-scaling, PCI compliance, and development tools are all features of cloud hosting options. In a fully managed cloud environment, you will have maximum dynamic flexibility. With a single click, you can rapidly upgrade your cloud hosting service or boost user concurrency on your Client Portal.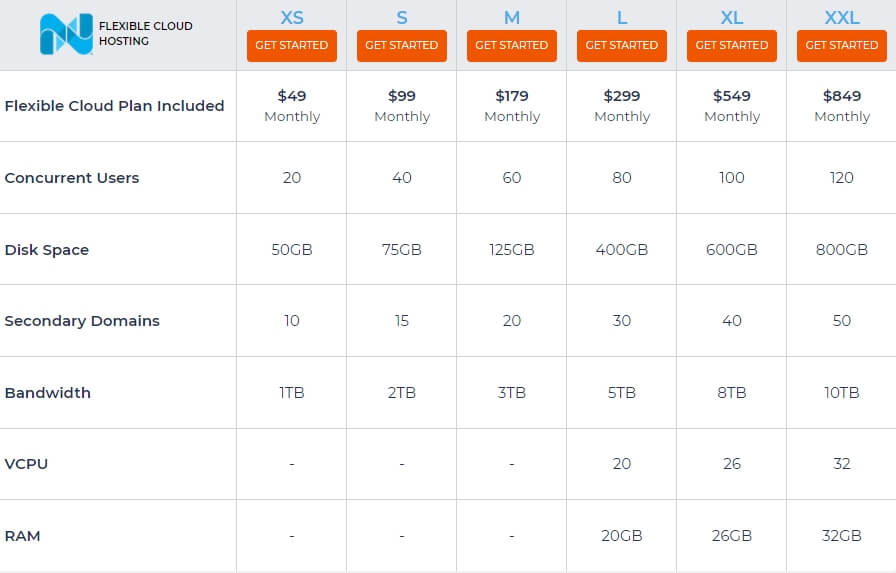 Enterprise Hosting
The Enterprise Support Group will monitor and secure your site on a regular basis. As long as you use their service, their experts will handle your first migration and address any difficulties.
Nexcess cluster architects will help you through the selection process and size you based on your requirements. Your cluster can grow to any size you require. Simply contact their cluster architects, and they will walk you through the decision process and assist you in selecting the appropriate size for your needs.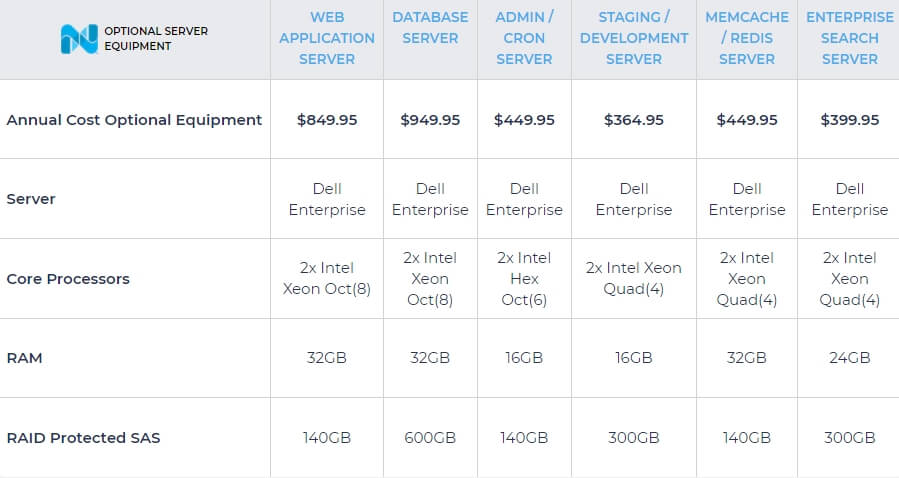 Pros
Excellent uptime

PCI Compliant

Stable and fast hosting

30-day money-back

Support on Magento 2

Magento official parter

Well-optimized for Magento 2
Cons
No live chat

High prices

Limited bandwidth

Limited hosting resources

SiteWorx admin panel is tough to use
Security
Nexcess applies extensive security hardening and proactive monitoring to all of our hosting options, ensuring the security and safety of your website and customers. You get 24/7/365 monitoring and alert response, free premium SSL certifications, PCI compliance, and proactive patching and updates.
In addition, if you purchase any Managed WordPress or Managed WooCommerce plan, you will receive the premium iThemes Security Pro plugin for free.
Premium plugins, such as iThemes security pro, are included in all plans. So there's no need to be concerned about WordPress site security.
Support
Nexcess provides support for all of its plans 24/7. Support is available via live chat, email/ticket, and phone, with phone numbers specific to the Americas, Australia, and the United Kingdom.
Although the support team is polite and helpful, many other users complain about long response times, and not being able to access 24/7 live chat assistance can be annoying if you have an urgent issue.
Top 10 Best Web Hosting Providers
Final Thought
Nexcess is a good web host that takes pleasure in being the complete package for individuals who require excellent web hosting for their WordPress website.
In terms of features, it clearly outperforms the competition when compared to other managed web hosts. This is an excellent choice for anyone seeking a dependable web host, offering everything from free site migrations to CDN services, and 24/7 support.
What are your thoughts about this hosting? I'd love to hear about it in the comments section below! If you like this article, please give us a like and share this on social media.