You should read the Wix review before creating a website. In this article, I am going to review Wix in detail, Wix is one of the most popular website builders.
This guide will help you know all of the platform's advantages and disadvantages, and by the end, you should have a good understanding of whether Wix is the best match for your project.
About: Wix Review

Wix is a cloud-based service that allows you to design and develop your website or online store without any coding knowledge. You don't have to worry about purchasing a web hosting or installing software the concept is that almost everything you need to create and manage your site is provided "out of the box" and occurs online. Using the Wix website, you simply create and maintain your site in a web browser.
Wix is one of the more established website builder companies, having been formed in 2006 and presently employing 4,000 people. And it has a large user base: there are presently roughly 4.6 million live websites using Wix, according to Builtwith.com. Wix has offices in Canada, Brazil, Germany, India, Ireland, Lithuania, the United States, and Ukraine, its headquarters in Israel. Squarespace employs around 1,100 people and maintains 2.6 million websites. Jimdo now employs 200 people and hosts 494,000 websites.
Wix's big size is important because it provides long-term security (i.e., minimizes the chance of the company folding and taking your website with it) and means you can expect regular feature updates. Wix provides all the features you need for your website. Wix provides a simple drag-and-drop user interface for creating websites.  A Wix website can be used for the following purposes:
Blogging,

Hosting an online forum,

Creating an online store,

Making appointments,

Gathering contact information, and more
However, you will have to pay to access some of these features, which takes us to Wix price. Let's have a look at it.
Wix Pricing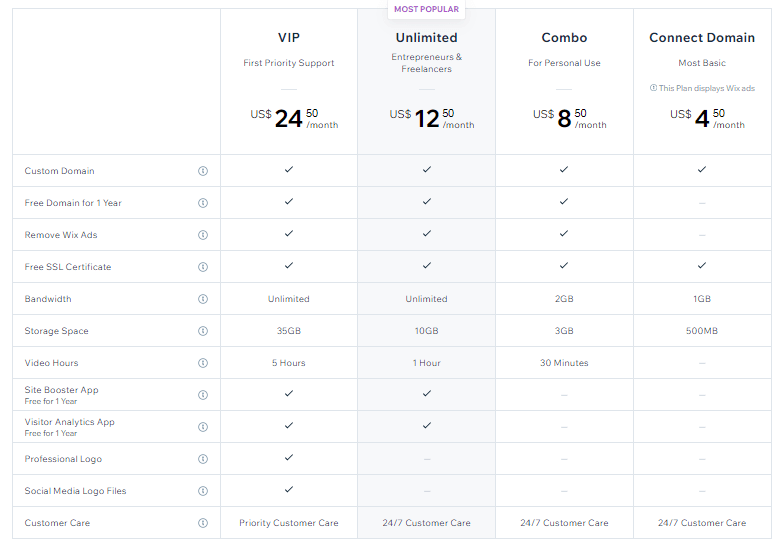 Wix offers a free version that allows you to build a simple site. This is a better way to try the platform out, but it is ad-supported and the ads are quite big!. Makes it difficult to connect a domain name to your website. If you only require a website for a 50th birthday party, wedding, or small community yard sale, the free plan is pretty standard; but, owing to a lack of functionality, it is not a choice for professional users.
On the other hand, the Wix free plan, lets you use all 800 Wix templates and includes free hosting. Wix includes photos, clip art, and icons, and you may add apps from the Wix app market which offers both paid and free apps. You also receive 500MB of storage space and 1GB of bandwidth. This should be enough for a new website. You may also use the free plan without providing any credit card information. Moving on to paid plans, the options offered to vary depending on your location this review will focus on Wix pricing plans in the United States.
Combo Plan
If you live in a different country, you will most certainly come across a similar set of plans, though with somewhat different names and prices. The Combo plan is described as 'for personal use', costing $14 per month, It is important to note that it removes Wix brand advertising from your website. With a large Wix call-to-action added at the top of your site, this advertising is pretty intrusive.
The package also includes free domain name registration for the first year and lets you link a domain name to your website (i.e., your site may be found via yourdomain.com rather than a Wix address). This package gives you 3GB of storage for your data. You can now post 30 minutes of video footage to Wix as part of this package.
Unlimited Plan
The Unlimited plan is comparable to the Combo plan in terms of basic functionality, but also includes $300 in Ad Vouchers. These can be used to pay for Google Adwords, Bing Ads, and Local Listing advertising. The unlimited plan costs $18 per month. The plan also includes access to AppSharp's Site Booster application, which submits your website to search engines, as well as an analytics app, which lets you measure site traffic.
Finally, Wix's Unlimited package includes 10GB of storage, unlimited bandwidth, and video hour features. The video hours feature on Wix allows you to post video content to your website, which you can then sell or rent. It's a unique feature in the website builder market, as other competitors only allow you to embed clips from YouTube, Vimeo, and other sites. Filmmakers, musicians, and online course sellers that want to charge for access to their video content may find this feature beneficial.
Pro Plan
This plan offers you 20GB of storage and 2 hours of video viewing time, respectively, over the 'Unlimited' plan. It also includes a logo maker, the option to create social network icons, and a calendar tool that allows you to provide event listings on your site. The Pro plan costs $23 per month.
VIP Plan
The VIP plan is equal to the Pro Plan, but it includes additional storage (35GB) and video hours (5 hours), as well as a better priority for customer support. The VIP plan costs $39 per month. 
Business Basic
The cheapest Wix package that allows you to sell things online is the Business Basic plan. It has many of the same features as the Unlimited plan, but with additional storage (20GB vs. 10GB) and longer video hours (5 vs 1).
However, its e-commerce capabilities are somewhat limited. It does not allow you to display product prices in several currencies, facilitate subscriptions, apply tax rates automatically, use product reviews, or drop ship, unlike the other Wix e-commerce options. It costs $23 per month.
Business Unlimited
The Business Unlimited plan adds logo creation tools, social networking icon tools, more generous storage (35GB), and more video hours (10) to the Business Basic plan. It also includes new e-commerce functions, but one of them, automated sales tax, is somewhat limited (you can only run 100 transactions per month through it). Although drop shipping is available with this plan (through the Modalyst app), there is a size limit of your inventory, you can only dropship up to 250 products per month. It costs $27 per month.
Business VIP 
Wix calls the Business VIP package the full suite, and it includes more storage and video hours than any of the other business plans. The plan offers 50 GB storage and unlimited video hours. You'll also get priority support and sales tax automation limits: 500 transactions per month. For a more successful business, however, that is unlikely to be enough. It costs $35 per month.
Wix Enterprise
It also offers an Enterprise edition, similar to Shopify Plus or BigCommerce Enterprise, as is increasingly the case with online store and website builders. Wix Enterprise costs $500 a month and essentially gives you the same features as the $49 VIP plan, but with certain limitations on things like sales tax and product reviews.
During and after the build, you should expect a lot of hand-holding. For example, you can engage with specialists on design and code problems, benefit from enterprise-grade security and get access to the VIP support line. It costs $500 per month.
Domain Name Registration
Wix helps you to register a new domain name or connect an existing domain name. With most Wix paid-for plans, you get a 1-year free domain registration coupon when you register a new domain name. Wix's renewal prices are comparable to those charged by companies like www.name.com, and you may move your domain away from them at any time.
If you don't currently have a domain name and want to create your website with Wix, registration with Wix is a convenient choice that allows you to store everything in one place. The disadvantage is that you'll be placing all your eggs in one basket, meaning that if you lose access to your Wix account for whatever reason, you'll lose not only your website but also your domain name.
Hosting
You don't have a choice in terms of hosting just as with other website builders like Shopify or Squarespace, you have to choose the hosting that comes with Wix's premium plans. This is said to have a 99.8% uptime, which is good.
Mailboxes or Email
You may either purchase email mailboxes through Wix, which are offered by Google Workspace. Also, you may adjust your Wix domain's DNS settings to use your preferred email address solution. External mailboxes are only available on paid plans.
Wix Templates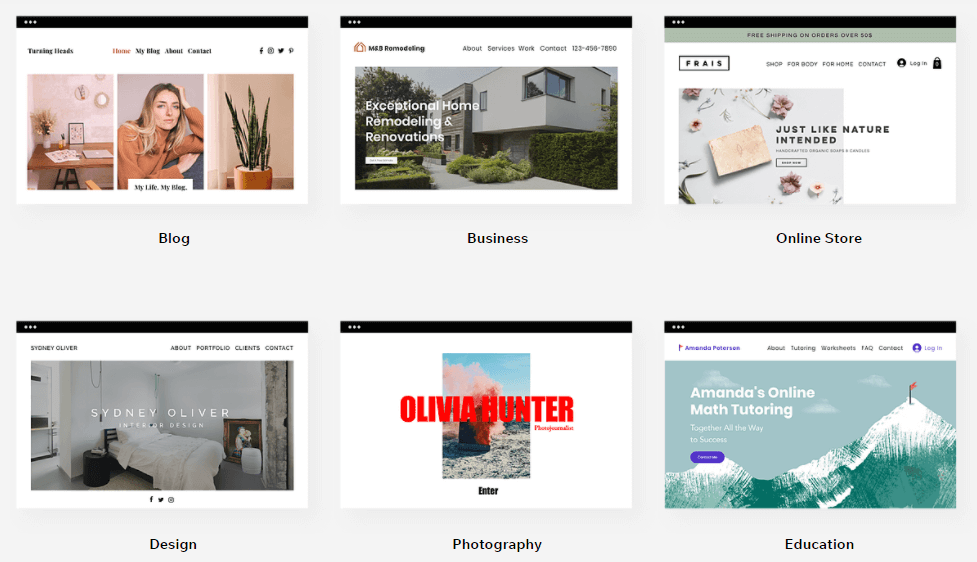 Wix has over 800 templates to choose from. This is far higher than primary competitor Squarespace, which has roughly 115; and all Wix templates are free, unlike other online shop builders such as Shopify and BigCommerce. Wix websites don't have to appear like do-it-yourself creations since the templates are professional and visually attractive. As long as you fill them properly, Wix websites don't have to appear like do-it-yourself creations.
The templates also make fantastic use of space and fonts to generate impact, and they're especially attractive when combined with high-quality photos. And, since we're on the subject of photography, Wix has a big library of professionally taken photographs that you can use for free, and you can also access Shutterstock easily from Wix Editor at a reasonable price. It's only $2.99 per photograph.
The templates are organized into simple categories, so you should have no trouble finding one that meets your needs. And, because there are so many templates, you may be quite specific: for example, there are several sub-categories in the online retailer's areas fashion, food, jewelry, electronics, and so on. Different sub-categories are available for solo artists, bands, and DJs, among other things, under the 'Music' templates.
Wix has offered high-quality example text, photos, and layouts once you've chosen your template. These will help you get started, provide a sanity check on what to include, and avoid writer's block. One major caveat is that if you're using Wix's primary version, you'll need to pick the perfect template and stick with it because you can't switch templates.
That's right: if you change templates in the process of building your website, you'll have to start again. It's not flexible. Many of Wix's alternatives are more flexible Jimdo, for example, enables you to change templates in the middle of a project without losing any information, while Shopify and BigCommerce are similarly flexible.
Animations
Wix makes it simple to add features to your websites like parallax scrolling, animations, and video backgrounds. To optimize speed, some functionalities are automatically deactivated on mobile view. However, just because you can does not mean you should; animations are a typical cause of usability and performance issues.
Content Management
Wix provides three primary website-building options. There are Wix Artificial Design Intelligence (ADI), Wix Editor, Velo by Wix. There's also a new version in BETA called 'Editor X,' which was just published. In a moment, I'll go through this in further detail. When you first sign up for Wix, you are offered the option of creating an 'ADI' or an 'Editor' site. Let's go over the three primary Wix versions, starting with ADI.
Wix Artificial Design Intelligence (ADI)
Wix ADI's goal is to make it simple to create a website, even if you dislike computers and have no past knowledge of them. It develops your website by asking you a few simple questions and gathering whatever information is available about your company through a Google search. The pages are laid out for you automatically using a drag-and-drop user interface. It's the greatest version of Wix to use for web design newbies who just need something basic.
Wix Editor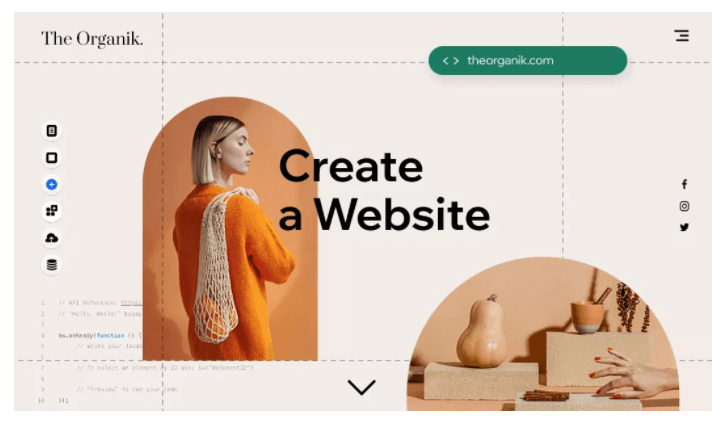 Wix Editor is Wix's standard version, and it gives you a lot more control over your website's design and features than ADI. It's about as complicated as laying out a newsletter in Microsoft Word, so it's simple to use.
Velo by Wix
You can create database collections using 'Velo by Wix' previously known as 'Corvid by Wix'. If it seems terrifying and not something you'd ever want to do, think of Data Collections as spreadsheets instead. Velo allows you to make a spreadsheet and then generate a large number of web pages using a template filled with data from the spreadsheet. You may also use it to add javascript, APIs, and custom page behavior. Velo is obviously on the more technical end of the spectrum, but even if you never use it, it opens up options down the road if you want to employ a web developer.
Mobile Friendly
Smartphones are being used by a huge number of people to access the internet, and in some situations, they are the only way to do so. This implies that your website must be mobile-friendly. Wix says that your website will "look great on any device with a mobile-friendly version of your website," and makes much of your option to customize the mobile-friendly view.
Wix, on the other hand, employs absolute positioning, which implies that site items are positioned relative to the user's device rather than by pixel. Absolute positioning allows you to position items like text, photos, forms, and more. but it also implies that your website won't adapt as effectively to various screen sizes. Squarespace and Shopify, for example, use responsive design, which means that page components are placed according to the screen of the viewing device, and your site design will automatically change to look good on any device. As a part of assuring good search results, Google also supports responsive design. Because of the usage of absolute positioning, Wix websites are not fully responsive, despite the fact that they claim to include certain responsive elements.
Pixel-perfect layouts tend to appear nice on the screen of the website designer, but not necessarily on mobile devices or other displays with different resolutions. In reality, this means that Wix websites are sensitive to layout errors, with portions of the page disappearing off the screen if you're not cautious with the mobile version of your site. To be fair, Wix makes it simple to hide, resize, and reposition components on mobile devices, with a 'mobile view' to help you do so. It also does a decent job of automatically developing a mobile draft of your site.
So, in most circumstances, you should be able to use Wix to develop a website that looks great on a mobile device. And some consumers may enjoy the fine-grained control they have over how their site looks on a smartphone. On the other hand, absolute positioning will always be less mobile-friendly than a responsive design website and, relying on how you're laying up your content might take longer to set up.
Squarespace
Squarespace is a key alternative to Wix. It's a hosted solution, just like Wix, so it's easy to set up and has a lot of built-in features like email marketing and e-commerce. It includes comprehensive support. Squarespace allows you to create fully responsive websites, and its interface is more beautiful and user-friendly in my perspective.
Editor X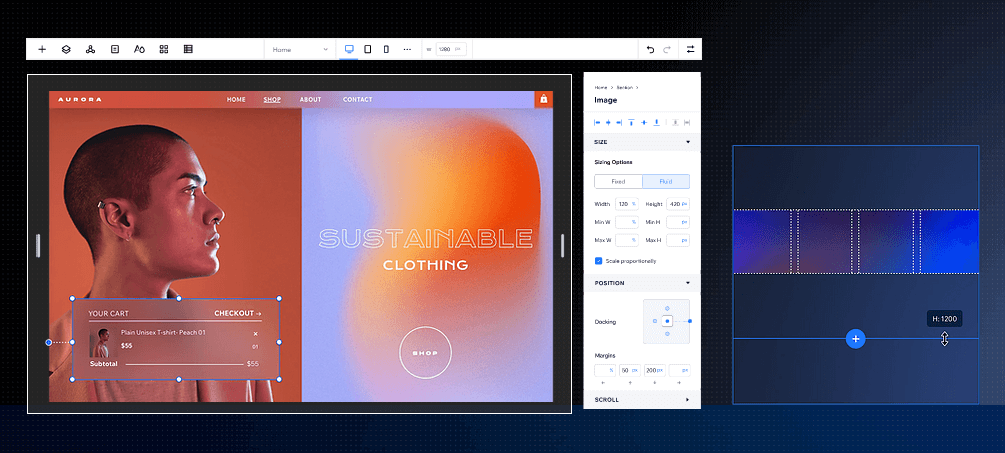 Editor X is a way to build responsive websites using Wix. Wix has launched a BETA version of Editor X, a new edition of their platform. Importantly, this enables you to create responsive web pages. This is initially targeted towards agencies and developers, but some of the mobile-friendly functionality will hopefully make its way into other Wix editions in the near future.
Access Code and Change Providers
If you're using its ADI or Editor platforms. Wix does not allow you to edit or access your website's code, modify or access CSS files, or export your website to another provider Velo does. Copy and paste the data from your site onto another platform is possible for exporting. It is acceptable for small to medium sites, but not so useful for big ones.  However, you can export products up to 5000 as long as they are physical ones. And since we're on the subject of products, let's look more closely at its e-commerce features.
Blogging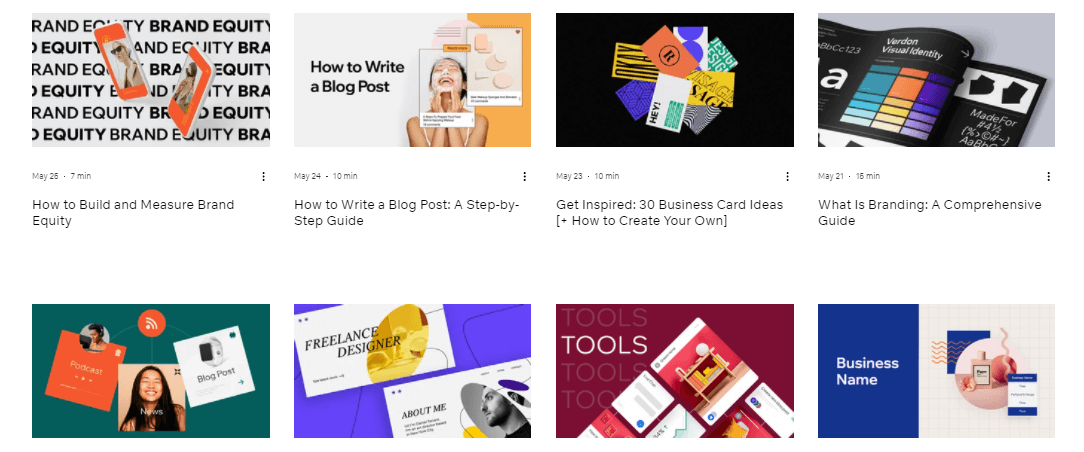 Quality blog posts are an important part of driving traffic to your website. In comparison to some of its competitors, its built-in blogging tool isn't poor. It has content versioning features, which not all related platforms do, and it allows you to use both categories and tags. On the other hand, Wix makes it difficult to export your blog posts. There is no dedicated export option.
However, it doesn't let you export your blog posts easily. There's no dedicated export opportunity. In summary, it is excellent for basic blogging, but I'd search for a different platform if I wanted to build a professional blog and most probably in the direction of WordPress.
E-Commerce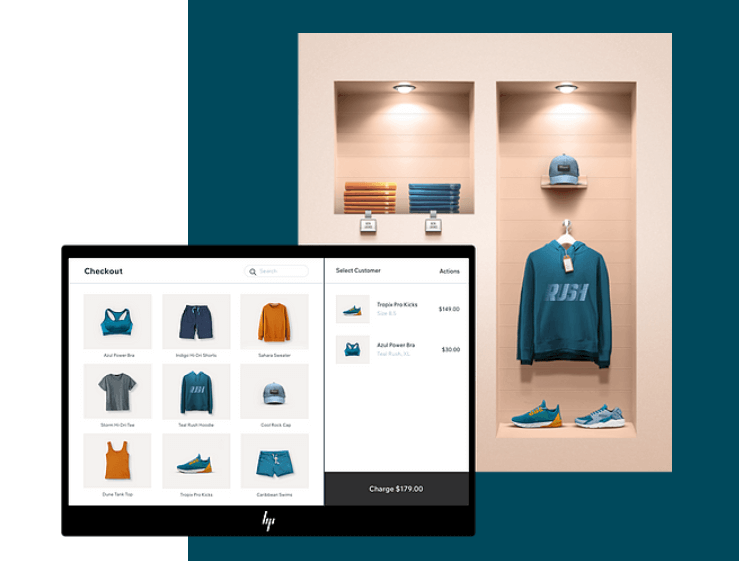 To sell products on your site, you'll need to be on the Wix Business Basic plan that costs $23 per month or above. If you are, you'll find that the platform does an excellent job of making e-commerce accessible and "non-scary" for entrepreneurs who are just getting started with online selling. It's simple to get started: enter your information, set up payment methods, and you're ready to go.
Core E-Commerce Functionality
For small to medium-sized businesses, this website builder offers a reasonable range of e-commerce features. The platform gives you:
sell any amount of products both digitally or physically, with six product choices, in up to 1000 alternatives.

Allow customers to filter and sort your products.  

Maintain your store from your phone.

Enter tracking data for physical products using a mobile app via UPS, USPS, FedEx, or any other carrier you choose.

Use an abandoned cart saver tool that allows you to contact individuals who leave your site in the middle of a purchase and offer them a discount code or other incentive to complete it.

 For dropshipping using apps like  365Dropship, Modalyst, Printify, Spocket, and Printful.

Give real-time shipping calculations using apps like Printful, 365Dropship, Printify, Modalyst, and Spocket only for Brazil and the U.S.
However, not all of these functionalities are available on its most basic e-commerce plan, so you'll probably need to switch to a 'Business Unlimited' or 'Business VIP' plan to make use of them. Let's take a closer look at a few essential e-commerce features:
Selling Digital Products
This website builder makes selling digital items particularly simple – even a newbie can create a website and begin selling digital goods in under an hour. It provides built-in features for your clients may download their items directly from the site, and automatic emails are sent to acknowledge purchases.
As previously mentioned, it is also an excellent tool for selling or renting video content.  The file limit for (zipped) digital files is 1GB, which compares favorably to Squarespace and BigCommerce (whose limitations are 300MB and 512MB, respectively), but it is not as fair as Shopify, which allows you to sell files up to 5GB in size. One thing to keep in mind is that Wix stores do not allow you to export digital items.
Tax and Shipping
Its tax and delivery options are quite flexible. You may set up tax on a per-region basis, which you may need to do to comply with different tax requirements in different US states and Canadian provinces, or you may support VAT MOSS (VAT Mini One Stop Shop) when selling digital items to European clients.
Automated tax calculations are now accessible in Wix as well, if you have a Business Unlimited plan or above – but there are some annoying limits (100 transactions on 'Business Limited' and 500 transactions on 'Business Limited.') If you have an 'Enterprise' plan, you have a custom limit).
Point of  Sale (POS) Features
Wix Point of Sale allows you to sell not only online but also in physical locations, and it syncs your inventory as you do. To enable POS, you must apply the Square or SumUp systems in conjunction with your site and be located in a supported country.
It supports Square for users in the United States, Japan, the United Kingdom, Australia, and Canada. Wix users in Germany, Spain, Bulgaria, Latvia, Poland, Slovenia, Italy, Norway, Cyprus, Malta, Luxembourg, Netherlands, Belgium, France, Switzerland, the UK, Ireland, and Slovakia can use SumUp.
Multiple Currencies
It does not yet support multi-currency selling. You must decide on a single currency and stick to it. This is unfortunate because selling in a site visitor's local currency tends to produce more sales. There is a third-party software called 'Currency Converter,' which can show you the costs of your purchases in another currency, but it does not allow you to check out in that currency. If multi-currency selling is a must-have feature for you, BigCommerce (which has excellent built-in multi-currency selling options) or Shopify are far superior.
Payment Gateways
A payment gateway is a technology used by merchants that helps your online store process transactions. It integrates with a huge number of third-party payment gateways. The number of options varies by area, but there are roughly 50 in total, including large companies like Paypal, Stripe,  Worldpay and, Square.
Its payment gateway selection is less great than that of competitors BigCommerce and Shopify (which operate with 45+ and 100+ payment gateway alternatives, respectively), but it is far more comprehensive than Squarespace's (which only supports two Stripe and Paypal). Its built-in payment gateway is also an option, and it's now available in the following countries and currencies:
Germany (EUR)

Brazil (BRL)

Ireland (EUR)

Austria (EUR)

Belgium (EUR)

United Kingdom (GBP)

Portugal (EUR)

Lithuania (EUR)

Netherlands (EUR)

Italy (USD) (EUR)

Spain (EUR)

Switzerland (CHF)

Finland (EUR)

United States(USD)
Alternative Online Store Builders
Although it does an excellent job with e-commerce, there are a few specific e-commerce platforms worth considering if your primary purpose is to create an online store, like BigCommerce and Shopify. Both of these platforms are hosted store builders that run in a web browser, similar to Wix. However, they offer far more comprehensive e-commerce features than Wix, particularly in terms of point-of-sale, multi-currency selling, and real-time carrier shipping.
Integration With Other Apps
This website builder has an App Market with over 250 apps, some of which were created by Wix and others which were created by third parties. The App Market is simple to use and offers a variety of essential features for your websites, such as pop-ups, social media integrations, live chat, and calendars.
There is another option to add features from third-party apps by using an HTML block to insert a widget from one of those apps.  Although the number of integrations in its app shop is less attractive than that of other website builders like Shopify, you'll still find a good selection of integrations and add-ons.
Data Capture and Email Marketing
Customers can use its simple built-in forms to send you messages or offer contact information. You'll need to add the FormBuilder app to your site if you want custom forms that do more complicated things with your data. Contact information collected on your Wix website is saved to your website's "contact list" automatically. You can also manually save contacts to this list or import them. It has built-in email marketing features.
You can do some pretty sophisticated things with Ascend, and it's very affordable compared to some of the leading email marketing tools. For example, sending up to one million emails per month with Wix Ascend costs only $45; most of the leading email marketing solutions would cost $1000+ per month to send those volumes of emails.
Wix SEO

Its SEO feature is generally excellent, allowing you to quickly complete major SEO tasks such as adding alt text, adding meta descriptions, editing page URLs, and creating 301 redirects. SEO Wiz tool is one SEO feature that can appeal to SEO newbies. This book will take you through the most important steps for optimizing your website for search engines, including how to adjust your page titles, alt text, meta descriptions, and more.
If you're not sure what all these SEO terms mean, don't worry, its SEO Wiz will describe what you're doing and why. If you have a premium membership, the SEO Wiz can also assist you with Google Search Console registration. However, there are a number of major SEO issues.
First, there's the way Wix sites appear on mobile devices – as mentioned before in this comparison, Wix builds separate desktop and mobile versions of your site rather than using responsive design. Google prefers responsive design to Wix's "absolute positioning," which involves working with a single template that adapts its size automatically to the device it's being viewed on.
Then there's the fact that Wix sites now fail to meet the 'Core Web Vitals' requirements. Core Web Vitals are a set of goals for a website's speed, responsiveness, and visual stability; sites that fulfill them may see a boost in Google search results starting in May 2021. As a result, until this issue is resolved, Wix site owners may experience a small disadvantage in search ranks. Despite these omissions, Google's Webmaster Trends Analyst John Mueller has stated that Wix websites "work great" in search, and it's crucial to remember that its site success in search results isn't only dependent on technical SEO.
Customer Support
When using Wix, I was able to get solutions to almost all of my questions by searching in the Help Centre, which has a big collection of articles and excellent searchability. Throughout the site, there is also good contextual help. It offers phone and email customer support, and there is a bot chat option.
It's main website builder competitors don't all offer phone support. so thanks to this website builder for doing so. For English-language users, phone support is provided 24 hours a day, seven days a week. This feature is available  Monday to Friday for French, German, Italian, Japanese, Portuguese, Russian, and Spanish during office hours. You'll have to ask for a callback, which means you won't have to wait on hold. There is also an email ticket and VIP support available.
Conclusion: Wix Review
For smaller websites that need to appear perfect, I would suggest it without reservation. Due to the fact that there is only one sub-level in the navigation menu, it cannot accommodate complicated site structures. Weebly is best suited for big websites. Wix has the most extensive library of prebuilt designs for every sector. Because you cannot switch to a different theme after making your initial selection, it is more difficult to modify your site's design (you must modify it manually or start from scratch).  What Wix has created here is undoubtedly outstanding in many ways, with an almost unbelievable rate of development. Just try to check out the free plan before upgrading to a paid plan to see whether it's the correct fit for you. Wix is a well-known website builder, but it is not the only one! There are multiple choices available. If you're looking for an alternative, Squarespace is best for you.
What are your thoughts about this topic? I'd love to hear about it in the comments section below! If you like this article please give us a like and share this on social media.