Everyone wants a website that is reliable, adaptive, and flexible to your requirements. Your time is best spent focusing on your company rather than thinking about other things. Cloud web hosting could be the best option. This is a relatively new form of hosting that has arisen as an impressive alternative for websites that need a secure and reliable hosting solution that is both adaptable and agile.
Unlike typical web hosting, which requires you to buy a fixed amount of resources such as bandwidth and RAM on a single server, cloud hosting distributes your website's requirements through a vast virtual server that is housed on hardware in data centers all around the world. It is extremely simple to add more resources or reduce them as required with cloud hosting. Furthermore, since there are many servers to take up the slack, cloud hosting is also less vulnerable to equipment failure issues.
If you're looking for a low-cost hosting solution that can rise with your business, cloud hosting is a good option to consider. I'll go over five of the best cloud web hosting choices and show you how to choose which one is best for you.
A2 Hosting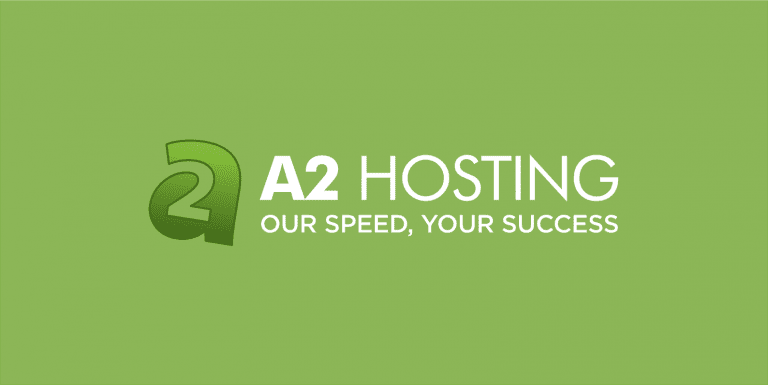 A2 Hosting is at the top of this list for many reasons. First and foremost, they are well-known in the industry for providing super-fast web hosting, and their cloud hosting plans have proven to be equally fast and stable. What distinguishes A2 is its adaptability. Whatever you need from your cloud hosting provider, they are a nice, solid choice for getting you where you need to go. One feature that will be particularly useful if you are slightly less tech-savvy is 24/7 customer service.
There is also a range of pricing options, with the cheapest plan, Runway 1, beginning at $4.99 per month and the most costly plan, Supersonic 8, beginning at $29.99 per month. A2 Hosting also has a 30-day money-back guarantee, which not all providers do. Another noteworthy feature of A2 Hosting is that you can host as many websites as you want as long as you remain within the bandwidth allotted to you.
Hostgator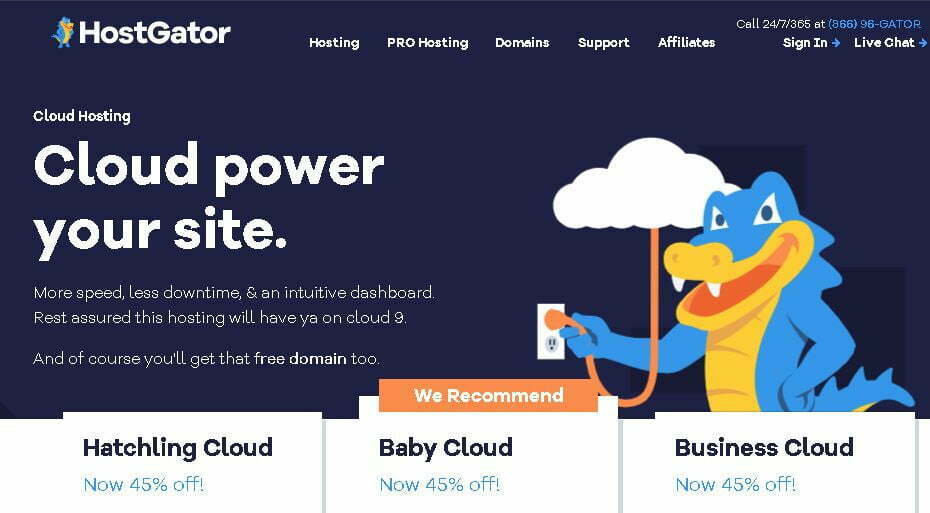 If you want affordable cloud hosting that is also reliable, Hostgator is the way to go. Since it provides unmetered storage and bills on an hourly basis, it can also manage a site with a large number of pages or major traffic fluctuations without compromising its excellent 99.99 percent uptime guarantee. Their introductory discounts really set them apart, especially for their most expensive plan. Depending on the package, you will get up to a 70% discount on your first year of hosting with Hostgator.
The Hatchling plan is now $4.95 per month, the Baby plan is $6.57 per month, and the Business plan is just $10 per month after the discount. Every plan comes with a 36-month commitment. Unless you choose Hostgator's business plan, you will not receive any benefits such as free backups or SEO resources, but the costs for that plan are still a great affordable choice with the discounts. It's also easy to use, with the ability to scale up your cloud services with a single click as your company grows.
InMotion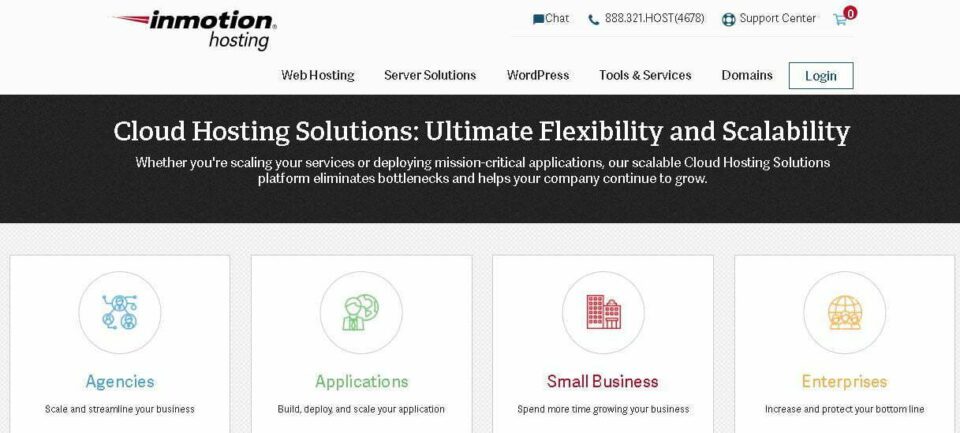 InMotion is an excellent choice for small business owners in need of a website, especially if they are newcomers to the digital world. InMotion makes it simple to scale your resources as required, and the fact that their packages include a free SSL certificate and cPanel makes them an excellent one-stop-shop.
However, it is their customer service that truly separates them. InMotion provides live chat and phone support 24 hours a day, seven days a week, as well as help tickets and an information database with a variety of resources. If you're a busy entrepreneur who isn't yet comfortable online, this type of high-support, all-in-one solution is likely to be just what you need. InMotion is a more costly choice, with the most affordable package for small companies costing $59.99 per month. However, at the time of writing, they are running a promotion in which this package is $17.99 per month and also includes free SSLs.
Bluehost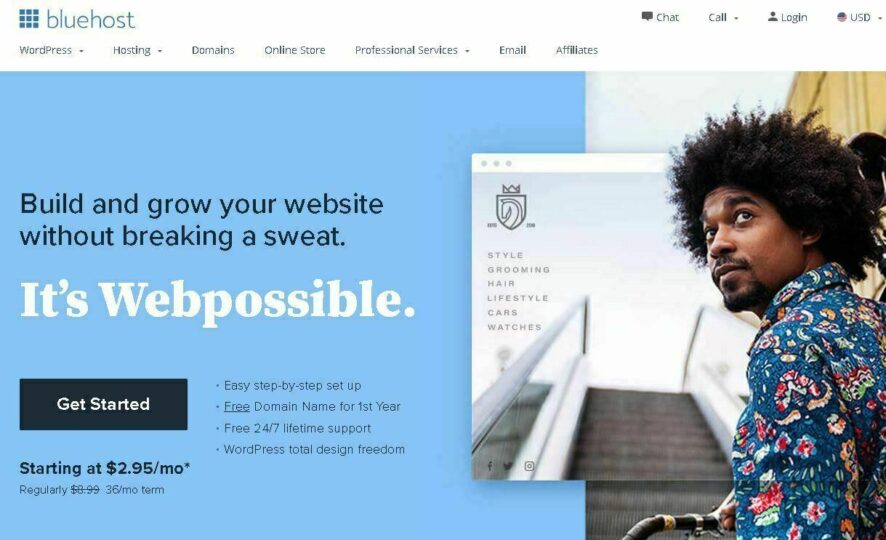 Bluehost is a well-known name in the web hosting industry. Although most people are familiar with their non-cloud shared hosting plans, they do offer the opportunity to upgrade all of their plans to the cloud by selecting the Cloudflare option. This allows you to add the flexibility and scalability of cloud services to a convenient, user-friendly plan without having to make any changes yourself. Bluehost makes it simple to create a website. They include WordPress plans, which are generally used, as well as their own basic, Weebly-based website builder.
It's a good way to add cloud hosting benefits to a hosting and site-building experience you're already comfortable with. The Basic plan begins at $3.95 a month and is limited to one website. The Plus plan, which begins at $4.95 a month and includes unlimited sites and storage, is the most affordable option. The Choice Plus plan is their most common and costs $6.95 per month, while the Pro plan costs $13.95 per month. All plans provide 24/7 customer service, a free domain for a year, a free CDN, and a free SSL certificate for a 36-month agreement.
Nexcess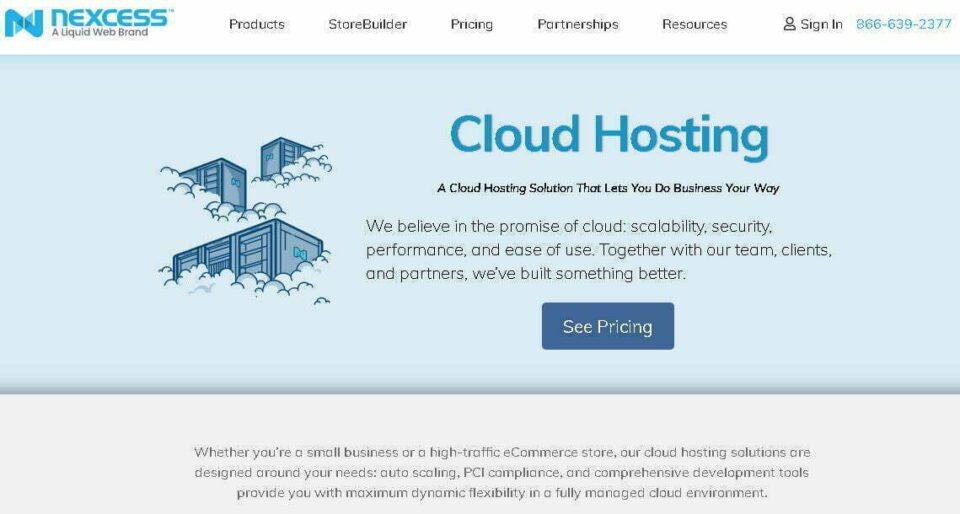 Nexcess is a cloud hosting service designed specifically for eCommerce businesses. They provide Magento, WordPress, and WooCommerce integration, allowing you to begin selling right away. Nexcess is an obvious option for an eCommerce business with significant growth plans, particularly when combined with the scalability of cloud hosting. They also have a range of plans based on the eCommerce platform you select, as well as 24/7 customer support—ideal for busy online store owners.
Nexcess has a lot of great features, such as auto-scaling, PCI compliance, SEO tools, and a lot of development tools for full flexibility and customization. Since Nexcess has so many integration choices, it's difficult to offer an exact price. However, if you choose WordPress as your platform, pricing starts at $19 per month for one site, with seven different plan choices. The Enterprise plan, which costs $999.00 a month, includes up to 250 sites, 800 GB of storage, 10 terabytes of bandwidth, 30-day backups, and unlimited email accounts. WooCommerce and WordPress have similar pricing, but Magento starts at $49 a month for cloud hosting.
5 Alternative Hostings
Dreamhost – Best Month-to-Month Plan
Conclusion
At this point, you should have a clear understanding of what your cloud hosting requirements are and which provider is the right match to meet them. To summarize, here are my top recommendations. It is important to note that, while some solutions are greater than others, there is no one-size-fits-all solution. You should consider your goals, whether they are expense, customer support, flexibility, or something else, and let that decide where you host. It's a choice that will decide the website's future. However, with so many great choices available, the future appears to be bright.