In this WooCommerce review, I provide complete details about all WooCommerce features and a Setup Guide. WooCommerce is a popular eCommerce platform for online stores and shops. It is open-source software that helps businesses create, manage and maintain their own store.
With WooCommerce, businesses can choose from hundreds of themes and plugins to customize their store according to their needs. It is user-friendly and easy to use, allowing businesses to quickly set up their store without needing any technical knowledge or coding skills.
Furthermore, WooCommerce provides a wide range of features such as order tracking, inventory management, payment gateways, shipping options, and more.
People like WooCommerce because it provides them with the ability to easily create and manage their own online store. The platform is extremely cost-effective as there are no upfront costs associated with setting up the store or maintenance fees.
Additionally, it offers great customer support which can help customers with any issues they may have while using the platform. Finally, WooCommerce makes it easy for users to integrate third-party services such as PayPal or Google Shopping in order to increase their sales.
WooCommerce Review: Why Most People Like Woocommerce
REST API
Good CMS(WordPress).
400 extensions
Design customization.
thousands of WordPress plugins.
Free and paid excellent themes.
Excellent products and checkout pages.
Product ratings and reviews
Unlimited products, images, and galleries.
Product sorting and filtering.
Unlimited product variations support.
Customizable checkout.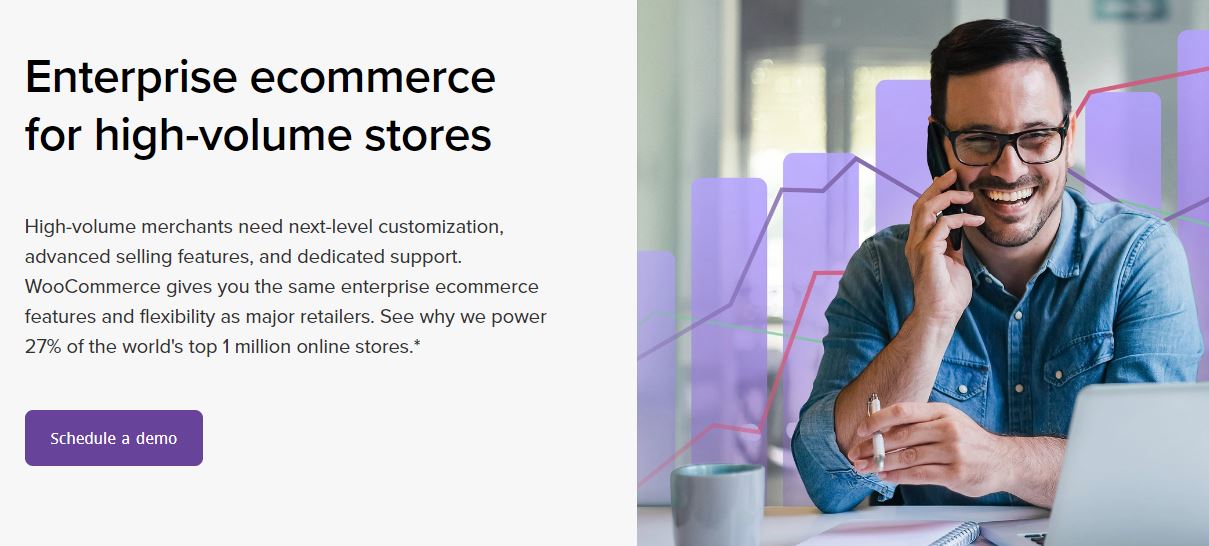 Is WooCommerce Good for Beginners?
Yes, WooCommerce is a great option for beginners. It has an intuitive interface and is easy to set up. It also offers plenty of customization options so you can create the perfect online store for your business. Additionally, it integrates with many popular payment gateways which makes taking payments from customers easier than ever.
WooCommerce Pricing
We know that WooCommerce is free. But, there are very few operational charges associated with WooCommerce prices, such as hosting, a domain name, SSL, themes, plugins, and developer fees.
Woocommerce Hosting and Domain Name
Hosting is the service of putting electronic equipment and software for a website on the internet and making it visible to the public. Choosing the best WooCommerce hosting service from among the many available. It is an important role since it has a big influence on the performance of your business.
Prices will vary based on the hosting company and the options you want. In general, hosting expenses are estimated to vary between $5 and $30. For example, Cloudways hosting provides you with the most affordable option.
I recommend BlueHost and SiteGround hosting you can try. Before choosing you can check out my review link given below.
you'll have to pay another crucial expense. It is the purchase of your domain name. A professional domain can be purchased in two ways. The first way is to purchase a domain from where your site is hosted and The second way is to purchase a domain from one provider while hosting your site with another.
SSL Certificates and Reliable DNS Service
SSL certificates are essential for online retailers because they encrypt sensitive data, such as credit card information or other financial data, between a user's browser and server. Almost every host provides an SSL certificate for free.
If your host does not provide a free option, the fee ranges from $8 to $65 each year. All hosting providers offer DNS services you can use it. But if you want more security and speed you have to host your domain on the name servers of a proven DNS hosting provider.
Also if you handle a big store that is providing worldwide service, you have to go for a GeoDNS service. Based on the requested location you can distribute your traffic with GeoDNS.
How to Install WooCommerce?
The WooCommerce installation process is not as easy as other hosted solutions. If you don't want to be involved in any coding, this may be challenging for you. After creating a database you need to download a package and then install it through FTP on your server.
To summarize, there are three steps to complete setting up a WooCommerce shop, which is as follows:
Step 1: Choose a hosting provider.
Step 2: Install and configure WordPress and WooCommerce plugins.
Step 3: Set up shipping, and payment gateway, also add products.
Ease of Use
As an open-source platform, installation to optimize on your own. As a result, using it necessitates a certain level of expertise or a willingness to give some time to research.
The WP-Admin dashboard makes the UI very user-friendly. There is no built-in drag-and-drop design builder. You may design, change, and modify your website layout with as little code as you wish using a side control panel. If you are experienced with WordPress sites, using WooCommerce won't be much of a challenge.
Themes and Customization
In the setup process, appropriate theme selection is a crucial decision. The value of your store is significantly increased by a great design and exceptional performance.
Thanks to WooCommerce's theme store, you can simply select an eye-catching theme for your eCommerce business. It's a WooCommerce theme marketplace with both free and paid designs.
With costs starting from $20 a year, you can ensure that your shop stands out from the competitors.
We've also selected a couple of the top WooCommerce themes for you to test. You can choose from a great variety of gorgeous themes created by third parties in addition to WooCommerce's theme shop.
You can certainly switch to a different theme if the one you've chosen no longer satisfies your needs. However, there are several measures you should take before turning on the switch to avoid losing your data. To put it another way, you must properly follow WooCommerce's instructions, which may be a difficult process for certain users.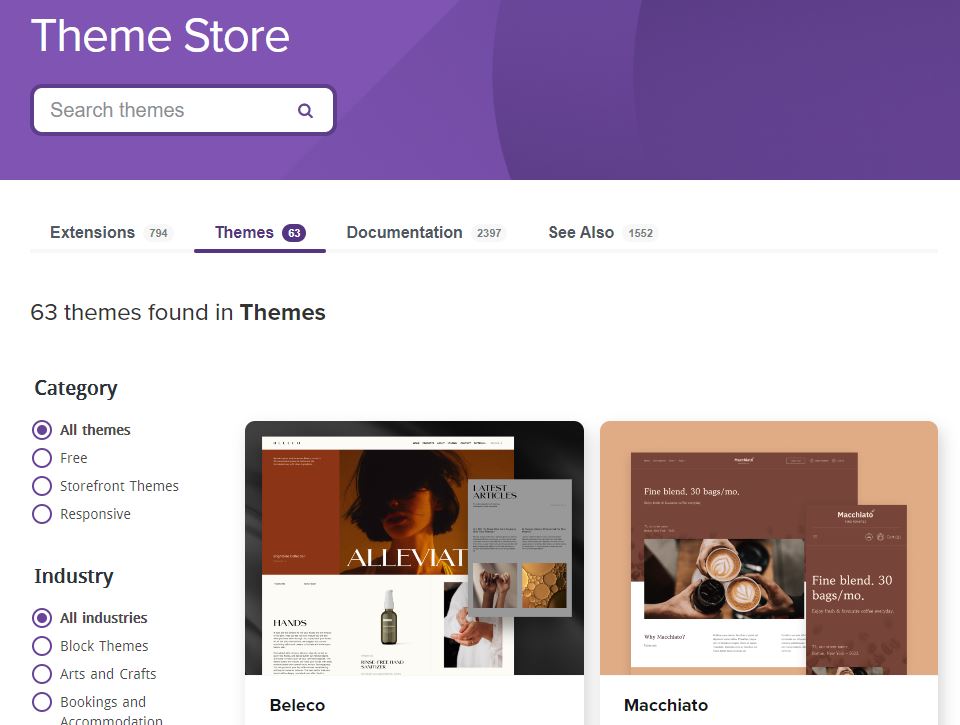 WooCommerce Inventory Management
The WooCommerce inventory management function makes it simple to manage and track your supplies. Basic activities such as preparing inventory reports and making updates to any component of your items are within your capabilities.
You can also build and manage variable items, as well as additional amounts for distinct versions. WooCommerce Grouped Products can include the primary product and other goods as a nice alternative for up-selling and improved inventory management.
One of WooCommerce's advantages is that there are almost no limits to the number of items and variants you can make. On the other hand, managing inventory using WooCommerce may necessitate the assistance of a third party to get the most out of your store's performance.
Shipping, Tax, and Payments: WooCommerce Review
WooCommerce Shipping
This platform now offers three delivery options: Flat Rate, Free Shipping, and Local Pickup. After that, you must choose the options and pricing for each one.
Flat Rate Shipping
Create a standard rate per product, order, or shipping class.
Free Shipping
If you select free shipping, you can give customers free shipping on any order.
Local Pickup
You can offer the option to pick up their products at no cost.
You can also use Shipping classes to group items of similar categories or charge various rates for different product classes.
WooCommerce Tax
WooCommerce provides users with a lot of flexibility when it comes to taxation. You may setup your preferences so that tax is calculated based on the shipping address, billing address, and store location.
This platform also offers a free plugin called WooCommerce Tax to help you avoid worrying about sales taxes for your online store. When you connect your site, it analyzes the amount of sales tax for WooCommerce orders that should be collected based on your area.
You can also take advantage of free security, analytics, and uptime monitoring.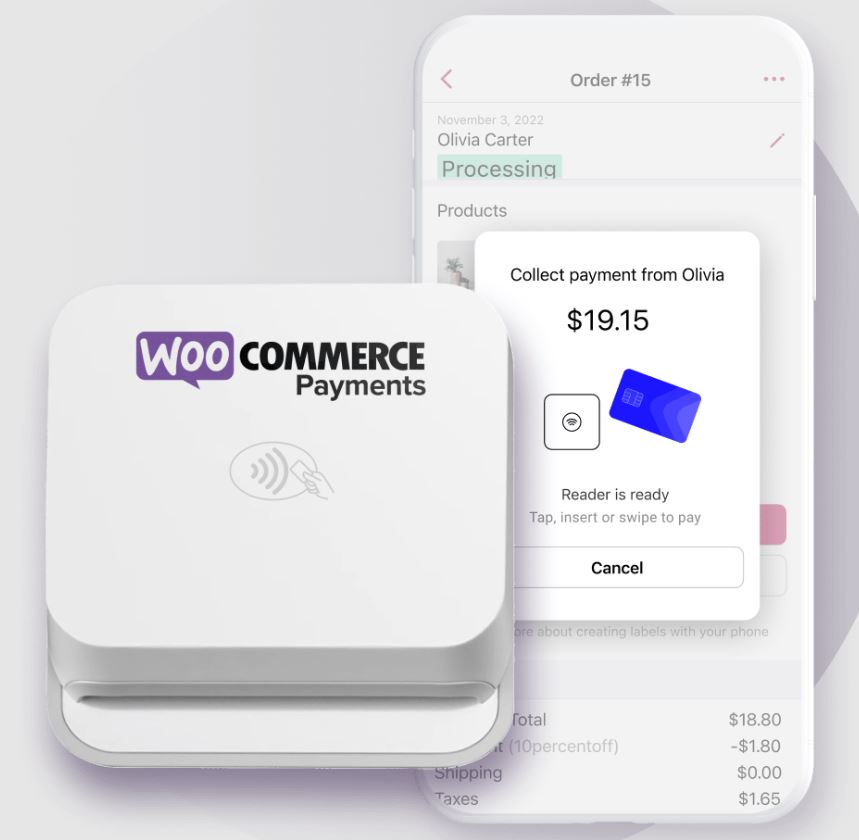 Payments
WooCommerce's own payment processing solution is called "WooCommerce Payments" and it is a great feature. with this feature customers directly purchase from your store easily without any additional payment system.
There are payment processing charges per transaction. Charges change for different countries and different payment methods. there is no setup charge. WooCommerce payments are available in most countries. however, this list appears to be continually expanding.
In terms of payment gateways, WooCommerce is a prominent participant. This platform has its own payment system that is exclusive to WooCommerce shops. This payment plugin is available for free, and there are no setup or additional costs.
Your clients can use credit or debit cards to make payments safely. Allowing customers to pay you directly without leaving your shop can help you improve conversions. If you want extra functionality, there are over 90+ other payment extensions available.
Analytics and Multi-site: WooCommerce Review
WooCommerce Analytics
WooCommerce Analytics creates extensive reports on your income, orders, goods, types, discounts, taxes, and so on. Begin by going to Analytics on your dashboard, where you may review and export data in charts and graphs for a variety of data. If you want you can customize your report for your specific needs. You can export your data in CSV format.
You can also add other essential tools like Google Analytics if you require even more deep information. It's an intriguing tool that gives you data on your website's visitors. WooCommerce Google Analytics allows you to connect your new store to Google's infrastructure and monitor the performance of your site.
It helps you to monitor users' activities, find which things they're looking for, and figure out what they're most interested in.
WooCommerce Multi-site
WordPress Multisite is a feature that allows you to build a website, blog, or online company. WooCommerce is compatible with WordPress Multisite, so you can setup a WooCommerce Multisite network with each site serving as an online store.
You may not only save time by managing multiple sites in the network at the same time, but you can also offer various items in each region and change the currency for each store properly using WooCommerce Multisite. Your orders will be kept separate in this way, making it easier to handle and track all of your different orders.
It's really easy to set up WooCommerce Multisite. To create a multi-store, you only need to follow a few simple steps and have no technical skills.
Plugins & Extensions
Installing extensions that can help you increase the functionality of your site. This platform now has over 400 free and paid plugins organized into a variety of areas such as Store Management, Marketing, Payments, and so on. They not only improve the look of your shop, but they also increase conversion by monitoring their activity.
In addition, you may filter extensions by price, rating, and more. You can quickly check out more detailed features, setup tutorials, and a WooCommerce review for each plugin.
For one extension, you'll have to spend anything from $29 to $299 every year.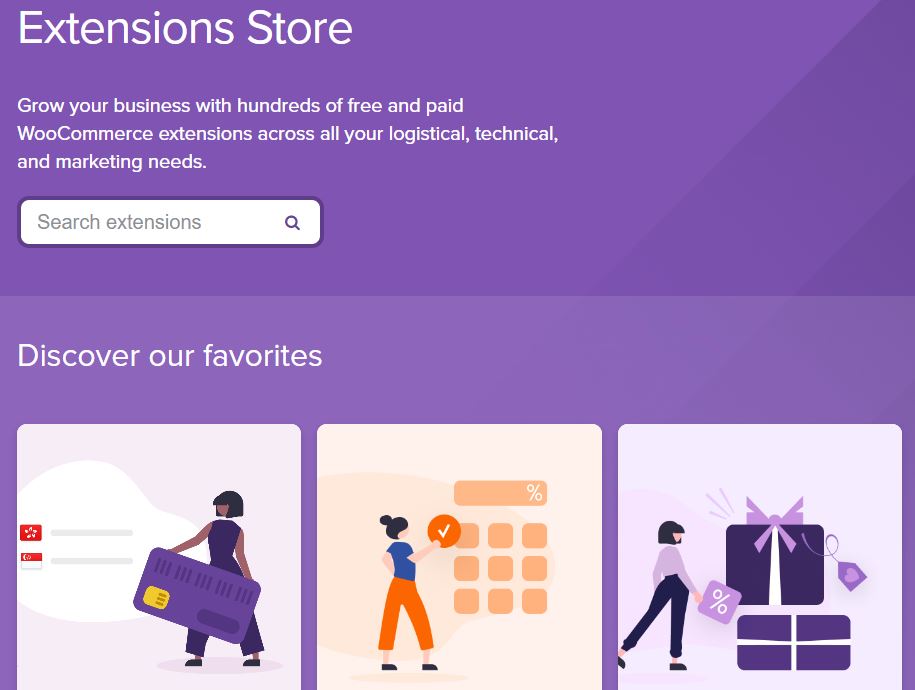 What Is the Difference Between a WordPress Plugin and a WooCommerce Extension?
A WordPress plugin is a software program that adds functionality to the WordPress website, allowing users to customize and extend their website's functionality. Plugins are typically developed by third-party developers and can be found in the WordPress Plugin Directory.
A WooCommerce extension is an add-on for the popular eCommerce platform, WooCommerce. Extensions allow users to add extra features, such as payment gateways, product options, shipping methods, and more. Unlike plugins, extensions are created and maintained by the WooCommerce team or other developers who have been given permission to develop them.
WooCommerce Integration
This platform may also be linked to other eCommerce platforms to expand its features. WooCommerce integrations include things like selling WooCommerce items on eBay, integrating Shopify's Buy Now button to WooCommerce, and more. These will assist you in making the most of the beneficial WooCommerce features offered by a number of major eCommerce businesses.
For example, integrating your WooCommerce business with Amazon, a marketplace, will provide you with a number of advantages. Marketplaces not only offer you, more users, also give you various tools to help you run your company. Integrating your online business with one of the most prominent marketplaces can also help you get greater trust from people all around the world.
WooCommerce Dropshipping
Because of three key reasons, this is one of the greatest solutions for your dropshipping business:
Reasonable Cost
You'll require to pay for a domain, hosting, themes, and add-ons to start a dropshipping business.
No Product Restriction
We know this is an open-source platform, and you have complete control over your website. WooCommerce's terms and rules will have no effect on what you are selling. You can sell anything until it is illegal in your country and the consumer's country.
High Customizability
This platform gives a lot of flexibility, which is one of its main advantages. You will not be controlled by any third parties throughout the setup and management of your online business. As a result, you have complete control over the design and development of your online business.
For newbies, the initial stages to creating a visually appealing dropshipping business on WooCommerce are not simple. You can enroll in a dropshipping course, or you can follow this step-by-step approach to creating a WooCommerce dropshipping store from start.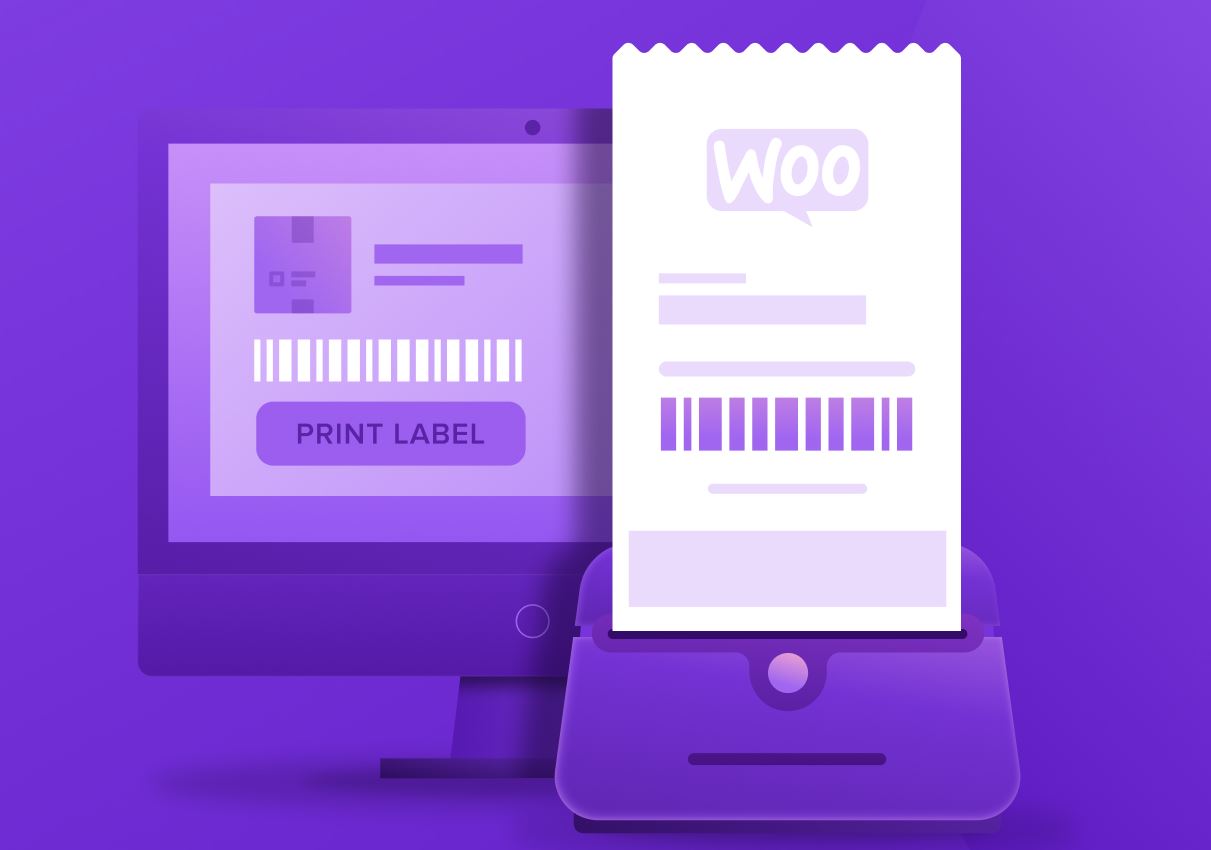 SEO & Security
Business owners should focus on its Content Management System, SEO, and Blogging functions.
WooCommerce SEO
SEO is important since it determines where a website shows in search results. When consumers use search engines, a better ranking makes it easier for them to locate your items.
WooCommerce comes with built-in tools that help you optimize your product pages. It is your job is to create product categories and organize your items into the appropriate categories. To optimize your product pages, use the WordPress editor to effortlessly update text, permalinks, and other page components.
On the other hand, WooCommerce provides a number of SEO plugins to help you optimize your store.
WooCommerce Security
It's easy to lose sight of security in the hurry of excitement around the debut of your shop, but it's necessary. From the beginning, keeping your store's data safe should be a primary focus. You must take care of your server and domain if you want your site to be secure.
In general, WooCommerce is a secure platform. You may use this platform to implement two-factor authentication. It's a system in which you use two of the three elements available to confirm your identity rather than just one. As a result, you won't have to be concerned if your password slips into the hands of outsiders by accident.
When you use the third-party software, you may face security concerns. If you don't pay enough attention to upgrading your site's security, you might also put your hosting and themes in danger.
Customer Support
Customers can connect with WooCommerce through a number of methods. WooCommerce does not allow customers to communicate via live chat or email.
Instead, it mostly offers WooCommerce Docs to give assistance. In addition, the platform has a FAQ area with solutions to the typically asked topics. The community forum is another place where you may get help.
What are the Advantages of WooCommerce?
Great Flexibility
interactive community,
Maximum Security
full-fledged CMS,
more cost-effective,
SEO friendly environment,
great customization option,
availability of developers
numerous systems like POS system
What are the Disadvantages of WooCommerce?
technical issues
Focus on the US market
no phone-based support,
legal texts not included,
small non-English speaking community.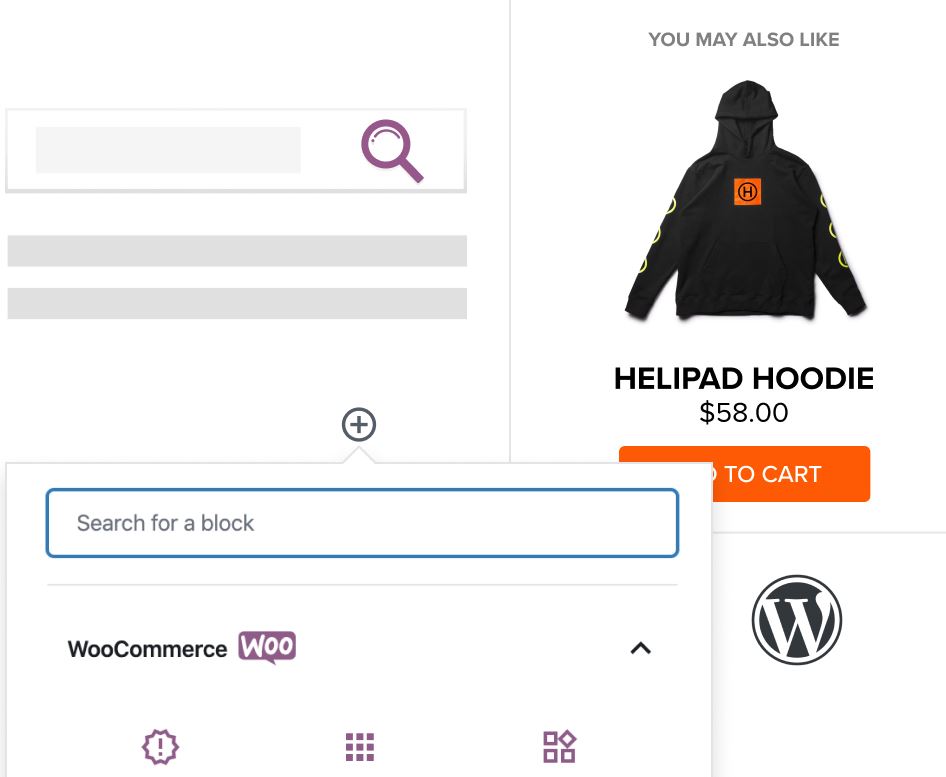 FAQ: WooCommerce Review
Is Woocommerce Any Good?
Yes, WooCommerce is a powerful e-commerce platform for small businesses. It is easy to set up and use, has a wide range of features and integrations, and is highly customizable. Additionally, it is open-source software, which means that it can be tweaked and modified to meet your specific needs.
Is Shopify Better Than WooCommerce?
It depends on your needs and preferences. Shopify is a great option for those who want an easy-to-use, all-in-one solution with a range of features and access to additional services. WooCommerce is a good option for those who want full control over the look and feel of their online store, as well as more customization options. Both platforms offer great features and are both good choices depending on what you need.
Should I Move From WooCommerce to Shopify?
It depends on your needs and preferences. Shopify is a great option for those who want an easy-to-use, all-in-one solution with a range of features and access to additional services. WooCommerce is a good option for those who want full control over the look and feel of their online store, as well as more customization options. Both platforms offer great features and are both good choices depending on what you need.
Should I Choose WooCommerce or Shopify?
It depends on your needs and preferences. Shopify is a great option for those who want an easy-to-use, all-in-one solution with a range of features and access to additional services. WooCommerce is a good option for those who want full control over the look and feel of their online store, as well as more customization options. Both platforms offer great features and are both good choices depending on what you need.
Is There Something Better Than WooCommerce?
Yes, there are many eCommerce platforms available that offer more features than WooCommerce. Some popular alternatives include Shopify, Magento, BigCommerce, OpenCart, PrestaShop, and Squarespace Commerce.
How Difficult is WooCommerce?
WooCommerce is relatively easy to set up and use as it is based on WordPress, which is a user-friendly platform. However, depending on the complexity of your store and the features you want to add, there may be some more advanced tasks involved in customizing and maintaining your store.
Does WooCommerce Slow Your Site Down?
No, WooCommerce doesn't necessarily slow down your site. However, if you are not taking steps to optimize the performance of your WooCommerce store, it can impact the speed of your site. The best way to ensure that your WooCommerce store is running optimally is to use caching and other performance optimization techniques.
Is Wix or WooCommerce Better?
The answer to this depends on the specific needs of your business. Wix is a good choice if you are looking for an easy-to-use website builder with limited eCommerce features, while WooCommerce offers more robust eCommerce capabilities.
In terms of ease of use, Wix may be the better option for those who don't have much experience in web design or coding. However, WooCommerce has more features and flexibility that may make it a better choice for businesses that need a more powerful eCommerce platform.
Is WooCommerce Hard to Set Up?
No, setting up WooCommerce is relatively straightforward. There are detailed instructions available online and the process can be completed in just a few steps. Additionally, there are many third-party plugins and themes available to help customize the look and features of your store.
How Much Does WooCommerce Really Cost?
The cost of using WooCommerce as your ecommerce platform depends on the specific features and services you need. The basic version of WooCommerce is free to download and install, but you will likely need to purchase additional plugins, themes, or other services to customize and enhance the functionality of your store. Generally speaking, the cost for these additional features can range anywhere from $30 to $500 or more depending on what you need.
Does My Woo Theme Work on WordPress?
Yes, Woo themes are designed to work with WordPress. All you need to do is install the Woo theme and activate it in your WordPress dashboard.
How Does WooCommerce Work?
WooCommerce is an open-source eCommerce plugin for WordPress. It allows users to easily create and manage online stores with WordPress. With WooCommerce, you can add products, customize store settings, manage taxes, and process payments quickly and securely. You can also use the built-in features to create a professional-looking website, create product reviews and ratings, set up discounts, add shipping options, and much more.
What Do You Do Every Day to Manage Your WooCommerce Store?
1. Monitor sales and customer feedback – Keeping track of sales and monitoring customer feedback is essential for managing any WooCommerce store. Check the analytics regularly to spot trends and take action on any customer concerns or gripes.
2. Maintain product inventory – An effective inventory management system is key for a successful WooCommerce store. Utilize plugins that can help keep stock levels up-to-date, automate orders, and ensure customers have access to the products they need.
3. Manage shipping & fulfillment – Shipping is a critical part of running a WooCommerce store, so it's important to set up efficient processes around it. Configure shipping settings in the dashboard, utilize third-party services like UPS or FedEx, and stay on top of order fulfillment to ensure timely deliveries.
4. Keep your site secure – Security should always be top of mind when running an online business; make sure you're regularly patching security vulnerabilities, encrypting data transfers, and using two-factor authentication where possible.
5. Optimize page speed & performance – Page loading speed has a significant impact on user experience, so it's important to keep your WooCommerce site running smoothly by optimizing images, caching files, and minimizing redirects as much as possible.
Who Should Choose WooCommerce?
WooCommerce is an excellent choice for anyone looking to create an online store. It's perfect for those who are new to eCommerce and want a platform that's easy to set up and use. It's also ideal for established businesses that need a cost-effective way to scale their operations.
WooCommerce is great for small business owners, entrepreneurs, bloggers, and freelancers as it offers a range of features that can help them grow their businesses.
Why Use WooCommerce?
WooCommerce is one of the popular eCommerce solutions for WordPress, which helps to create online stores quickly and easily. It is an open-source platform that offers a wide range of features, including payment gateway integration, product management, inventory management, shipping options, and more.
WooCommerce also provides users with the ability to create custom designs and layouts for their stores while still providing the same level of security as larger eCommerce providers. Additionally, WooCommerce allows users to accept payments from customers in multiple currencies and supports various tax rules around the world.
This makes it an ideal choice for businesses that want to expand their reach globally or even just make it easier for customers in different countries to purchase items from them.
Final Thoughts: WooCommerce Review
I hope that my WooCommerce review has cleared up any concerns about the platform. As you've seen, WooCommerce offers a lot. Check out the quality of its features, that work for your business.
I think it beats all other eCommerce platforms because of its versatility. Feel free to Contact Us for more information and like our social media page to get more useful tips and news.