Planning to get Elegant Themes? Read this Detailed Elegant Themes Review to find out if it's worth it. Elegant Theme is a name you'll almost definitely come across if you're looking for a new WordPress theme.
It is one of the most well-known names in the WordPress ecosystem. According to its massively popular Divi Theme, a few strong plugins, and an active user community. Elegant Themes deserves a spot on the shortlist when it comes to theme and plugin shopping.
Elegant Themes is a website that provides WordPress themes and plugins at an affordable price. It is powered by a team of experts from all over the world. In other words, It is a WordPress theme shop that provides SEO-friendly WordPress themes. For 87 themes it costs $89 that can be used for blogs of any niche. The developer team is now working on launching more products.
But are the goods enough for your website? Can you sign up for this WordPress mainstay or keep looking? At the conclusion of this article, you should have all the information you need to make an informed decision.
More About Elegant Themes Review 2022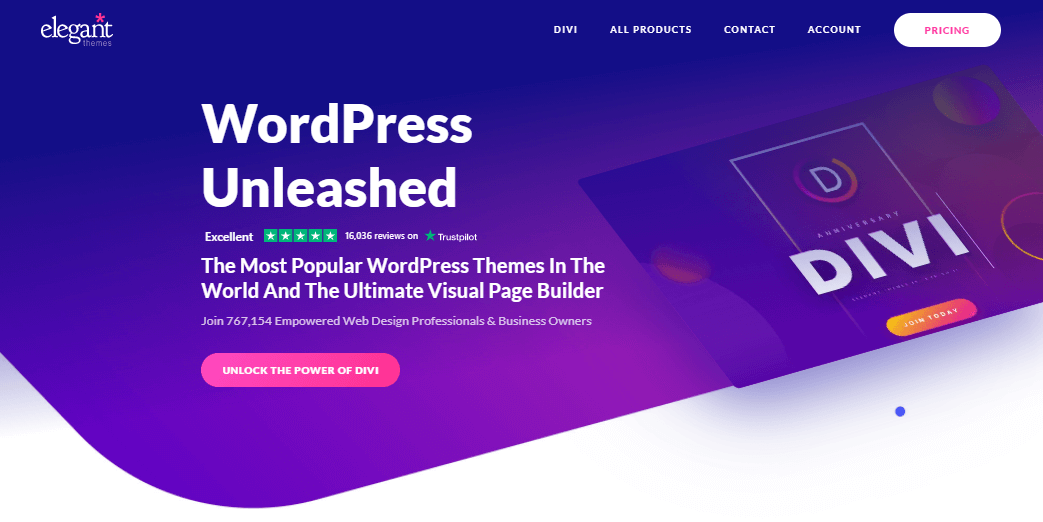 Elegant Themes has been in business for 11 years and has represented over 600,000 clients. In the meantime, it has expanded to a workforce of more than 80 workers spread across several countries, a far cry from its humble beginnings in founder Nick Roach's college apartment. Elegant Themes has published 87 WordPress themes as well as a range of plugins over the years. It has recently refocused its attention on only two of its most recent trends, Divi and Extra, as well as its Bloom email opt-in form and Monarch social media plugins.
Divi Builder, the WordPress page builder that truly made the Divi theme so popular, is now available as a standalone plugin. The Divi theme and page builder are still the most popular Elegant Themes products. If you use a premium theme from a reputable source like Elegant Themes, your website will be more secure than if you use a free theme or one downloaded from an untrustworthy site.
Aside from its high-quality products, Elegant Themes' pricing plans are another explanation for its popularity. For $89 a year, you have access to all of the themes and plugins, which makes it really affordable. If you want to use its goods for a long time, the marginally more expensive 'Lifetime Access' package is potentially the perfect value, providing access to both current and future products for a one-time cost of $249. There is also a 30-day, no-questions-asked money-back guarantee for all orders, allowing you to test the themes and plugins risk-free.
Although Elegant Themes' priority is now on its two key themes, Divi and Extra, you can still use its oldest themes for the time being. However, these themes now seem to be out of date and are rumored to be discontinued, so it's better to disregard them while determining whether or not to join. Although having access to anything for $89 seems to be a great deal.
Before we get through the plugins, let's have a peek at the WordPress themes. As previously said, signing up for Elegant Themes grants you access to 87 WordPress themes for the price of only one elsewhere. However, there are only two major themes to consider. Elegant Themes has been focused on making Divi the best WordPress theme available since its release in 2013. Extra quickly followed, and the two have become the stars of the Elegant Themes portfolio. Indeed, as previously said, the older themes will be retired.
What is the Difference Between the Divi Theme and the Divi Builder?
The Divi Theme is a WordPress theme that includes the Divi Builder, a drag-and-drop page builder tool. The Divi Builder allows you to create custom pages and posts with a variety of different elements.
It is a great choice for businesses and bloggers who want to create a professional website without having to hire a web designer. The Divi Builder makes it easy to create beautiful pages without any coding knowledge.
If you are looking for a WordPress theme that includes a powerful page builder tool, then the Divi Theme is a great option.
Are Elegant Themes Reasonable to Buy?
Elegant Themes is a popular WordPress theme provider, offering both free and premium themes. The Divi theme is their flagship product and is available as part of a subscription package.
Elegant Themes is affordable to buy, and the Divi theme is a great value for the money.
DIVI WordPress Theme & Page Builder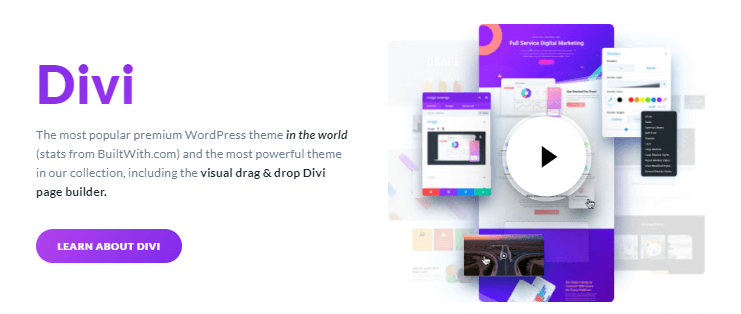 Divi is a completely multipurpose theme, allowing you to build almost any type of website. Divi is an undoubtedly flexible website-building tool, capable of doing anything from blogs and business sites to eCommerce shops and anything in between.
It's also suitable for new WordPress users who want to build custom websites without ever touching a line of code. This powerful theme, on the other hand, has become a popular choice among professional web designers looking for a tool to make building sites for their clients more efficient.
Divi Builder comes with a new theme-building feature that allows you to use Divi Builder to design all of your content and templates starting with any base theme.
Divi democratizes web design for all, No matter your skill level. Newcomers to WordPress can create custom page designs using Divi layouts and the builder's point-and-click interface. Professional designers will do what they've always done, so much more quickly. The Divi Leads tool is another aspect of this theme worth noting. Split testing your site's design and content is easy with Divi Leads.
Divi Leads takes the guesswork out of deciding which headline or color scheme the visitors will respond to best.
Divi Leads make it simple, while you sit back and wait for results, to show many different variations of your website and its content. The library of previously created website packs that are accessible to this theme is an area in which Divi is improved since its launch.
At the time, more than a hundred website packs were published and you could import them into WordPress. Then you could edit your own site with the visual builder. You can not only import a full website pack with one or more homepage layouts and templates for your websites, but you can also choose and select over 800-page templates from your library.
Divi sets itself apart from other themes in the market by not requiring any coding to customize the themes. This provides users with an intuitive interface and the ability to design their website without complications.
Overall, Divi is an excellent choice for creators who wish to create a custom WordPress website regardless of their technical skills. Though Divi should work well for anyone who is looking for a ready-to-go website design with all the pre-built website packs and individual templates.
Extra Theme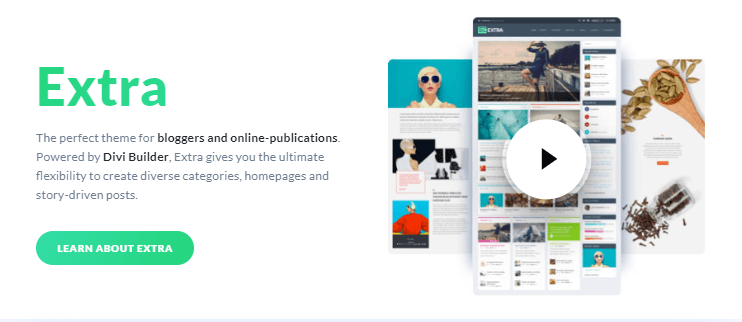 The Extra theme, released after Divi, includes so many of its best features. Divi was planned for blogs, online magazines, and other content-rich websites though it is multipurpose. The default homepage layout is perfect for a website for news and magazines and allows you to display the best or latest content in stylish grid formats using this interface.
The overview of your content can be shown by post carousels, tabbed areas, mini-article sliders, and custom widgets. Extra also features an image-focused homepage layout that draws attention to your content by using featured images from your content. This theme's style is aimed at attracting your visitors to read more of your posts.
You can customize all of the theme's templates using a front-end drag-and-drop user interface since Extra provides the powerful Divi Builder tool. Furthermore, you can use the builder and its module library to generate custom designs for each article you publish on your blog. If you want your blog or online magazine to have the same presentation level as major news media websites, you now have a powerful tool to support you.
You can use Extra and the Divi Builder to create custom pages that overlay images with text, have photo collages, use pull quotes, include many columns, and include other content elements to transform the website from a simple blog to a professional-looking online publication. You can also import all of the website packs and individual page templates available to Divi theme users.
The category builder and its associated modules are an amazing feature of Extra that is not found in Divi. You may use this feature to create custom category pages that specify how lists of blog posts and other content, such as portfolio items and eCommerce items, are displayed on your website. You can not only create several templates but also conveniently allocate them to various types of content on your site, such as specific blog categories.
If you want to have complete control of how content lists are displayed, this feature allows you to be really creative. Extra was designed to be the perfect theme for blogs and online publications, and it succeeds excellently. Extra is a popular theme that should be considered by every blogger or owner of a magazine-style website.
Bloom WordPress Plugin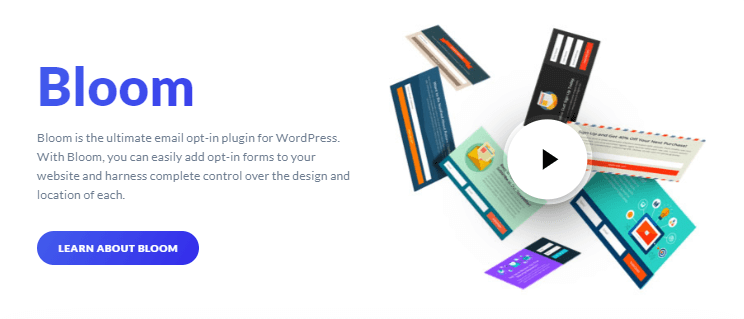 There are several advantages of being able to email your followers if you post a new article, introduce a product, or make another important announcement. Unfortunately, gathering a list of email subscribers is a difficult task. Bloom, thankfully, is a plugin that will assist in encouraging visitors to sign up to include their email addresses.
Once you've enabled Bloom, you can start adding email opt-in or sign-up forms to your website. Pop-up, fly-in, below-the-post, inline, and widget forms are all available. There is also a protected content form that requires visitors to enter their email addresses and subscribe to the list in order to view a certain piece of content. Bloom also comes with a good selection of email opt-in form templates that can be customized using the plugin's editor.
In addition to being able to customize the appearance of forms, you have a lot of control over how they perform. You may use an intro animation to decide how the form appears, as well as a time delay to monitor when the form appears.
Custom triggers may also be used to manage the visibility of the form and other features. You will choose where each form will be available on your web using the Bloom form display settings. You will activate the form for the whole web, the home page, individual articles and sections, and many more.
However, you can tailor their design and content to match the posts they're displayed on so you can create different types and then display them on specific parts of the site.
Bloom also comes with a split-testing tool that lets you compare two forms to see which one performs better with your target audience. It compares well to other popular email opt-in form plugins like OptinMonster and Thrive Leads. Bloom is a powerful tool that can help you build your list of email subscribers.
Nearly every type of website may benefit from having a list of email subscribers, and Bloom is a powerful tool that can help you expand your list.
Monarch WordPress Plugin

The Monarch plugin can help you get more users to share your content on social media. Not only do social shares help attract more traffic to your site, but they may also help your content rank higher in search engines like Google. You may add a number of social sharing buttons to your website after Monarch is live. More than 20 social media networks are available, and the buttons may be displayed in five different places, including photos and videos.
Monarch lets you pick from a number of trigger-activated buttons in addition to floating, always-visible sharing buttons. Time delays, page scroll position, after commenting or purchasing, and after a period of inactivity may all be used as triggers to determine when your visitors are presented with a pop-up or slide-in set of social sharing buttons.
The monarch may also be used to display links to your social media profiles, including follower numbers. This tool allows you to add social proof to your website quickly.
Monarch, like the rest of the Elegant Themes tools, provides you with a lot of control over the appearance of your social networking buttons and links. This plugin's customization is done through a user-friendly interface with a variety of choices and settings, ensuring that the plugin is correctly the way you want it to be.
Monarch is one of the greatest social media plugins for WordPress, so having it included in your Elegant Themes membership is great.
Elegant Themes Support
Elegant Themes had a reputation for providing less-than-stellar support to its clients a few years ago. After doing some research and being a satisfied client for a while now. Its products are updated and developed on a regular basis, and its themes and plugins have extensive online documentation, including tutorial videos and text. Posting a message in community forums used to be the only way to receive help.
However, there is now a live chat help channel that is available 24 hours a day, seven days a week. Chat messages were answered immediately. The chatbox, on the other hand, frequently shows a notice claiming that the support team usually responds within a few hours.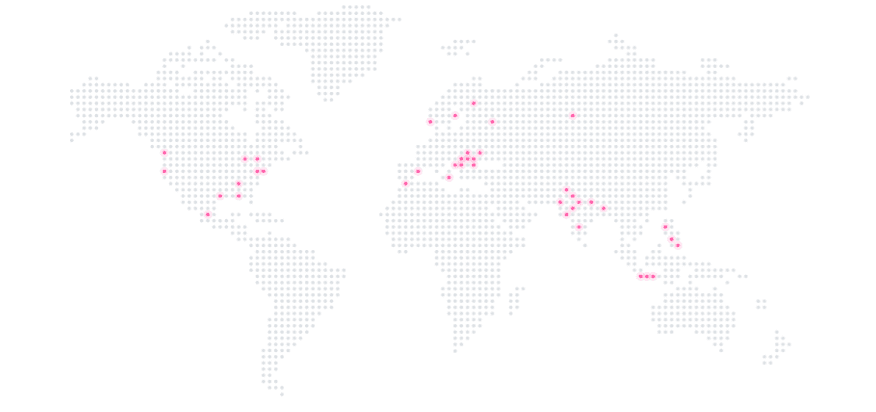 You may also send support emails via the live chat channel and then check back for a response at your leisure, in addition to conversing in real-time with the Elegant Themes support staff. Although the Elegant Themes team no longer monitors the forums, they are still active and may be a useful resource for asking questions of the community and interacting with other Elegant Themes users.
What Are the Best Themes in Elegant Themes?
There are a number of great themes available from Elegant Themes. Some of our favorites include the Divi theme, which is perfect for creating powerful and sophisticated websites, and the Extra theme, which is ideal for online magazines and blogs. Other great choices include the Bloom theme for email opt-ins and the Monarch plugin for social media sharing. Whatever your needs, you're sure to find a great theme from Elegant Themes.
FAQ of Elegant Themes 
If you still have questions regarding Elegant Themes and Plugins. Then you can read these FAQs and make your decision. We collect these questions from the Elegant Themes community.
How Much Do Elegant Themes Cost? What's Included With Divi Theme?
Elegant Themes is a popular WordPress theme provider. Their flagship product, Divi, is a versatile theme that can be used for a variety of sites. Divi costs $89 per year, which includes access to all of their themes and plugins. This is a great deal for anyone who needs a lot of flexibility in their WordPress site.
Are Elegant Themes Search Engine Friendly (SEO Optimized)?
Yes, Elegant Themes are search engine friendly and optimized for SEO. All of their themes are designed to load quickly and be easy to navigate. Which helps search engines index your site more effectively. In addition, all of their themes include features that allow you to control how your content appears in search engine results, such as custom titles, descriptions, and keywords.
Do Elegant Themes Provide Prompt Customer Service?
Elegant Themes is committed to providing prompt and courteous customer service. Their team of highly trained and professional customer service representatives is available to answer your questions and address your concerns in a timely manner. They value their customers and strive to provide the best possible service experience.
Does Elegant Themes Offers Discount?
Yes, Elegant Themes offers a 20% discount for new customers. This discount is applied to your first order and can be used on any of their products, including their popular Divi theme.
Can I Use Elegant Themes on WordPress.com?
Yes, you can use Elegant Themes on WordPress.com. You can find more information about how to do this here: https://www.elegantthemes.com/blog/tips-tricks/can-i-use-elegant-themes-on-wordpress-com
Can I Use Elegant Themes on Client Websites?
Yes, you can use Elegant Themes on client websites. You will need to purchase a separate license for each client's website.
How Many Sites Can You Use Elegant Themes on? Can I Use Themes and Plugins on Unlimited Websites?
Elegant Themes allows you to use their themes and plugins on an unlimited number of websites. You can also use Divi on multiple sites.
Do Elegant Themes Offer a Free Trial? Do Elegant Themes Offer a Money-back Guarantee?
Yes, Elegant Themes offers both a free trial and a money-back guarantee. Their free trial allows you to explore all of the features and options of their themes and plugins. Their money-back guarantee means that if you're not satisfied with your purchase, you can get a full refund within 30 days.
Is Divi Builder Good for Beginners? Are Elegant Themes Divi Builder Easy to Use?
Yes, Divi Builder is good for beginners. It is easy to use and comes with a lot of features that can help you create beautiful websites.
Does Using the Divi Builder Have Any Downsides Regarding Seo?
There are no known downsides to using the Divi builder in regard to SEO. In fact, many believe that it can actually help improve your website's ranking on search engines. This is because it provides an easy way to create well-structured and coded pages that are loved by search engine crawlers. So if you're looking to improve your website's SEO, the Divi builder is definitely worth considering.
Can I use Divi page builder with other WordPress themes?
Yes, you can use Divi page builder with other WordPress themes. You just need to install the Divi Builder plugin and activate it. Once you activate the plugin, you will be able to use the Divi Builder on any WordPress theme.
I Don't Know Anything About Coding, Can I Design the Theme Without Coding Skills?
The Divi drag-and-drop site builder allows you to customize the theme without having to edit any code.
Pros and Cons of Elegant Themes
Pros
Both Divi and Extra have powerful features.
Both themes and plugins are fully responsive.
If you're using Divi you get continuous updates as part of your membership.
24/7 live chat support gets help when needed.
Cons
Sometimes their customer service is poor
The social share plugin is not compatible with newer social chat apps such as WhatsApp, Messenger, and more.
Sometimes Elegant Themes' products are not as performant as some alternatives.
Elegant Themes products are not available for individuals purchase.
No monthly subscription, which can disappoint for few users.
Are Elegant Themes Worth It?
Elegant Themes provides great worth for your money as you gain access to all of their products. You can use these products on an unlimited number of sites for a single price. A lot of other companies ~$60 for just one theme, while $89 at Elegant Themes gets you two premium themes and three premium plugins.
Final Thoughts About the Review of Elegant Themes
Divi is without a doubt one of the greatest and most popular WordPress multipurpose themes. Elegant Themes offers good value for money, with Divi, Extra, and a few helpful plugins. It's available for $89 when you sign up. The Divi Builder, which is a major feature of the Divi theme, has been updated and is now one of the best WordPress page builders available. Everyone may benefit from the Divi Builder's capability, from novice web designers to seasoned web designers.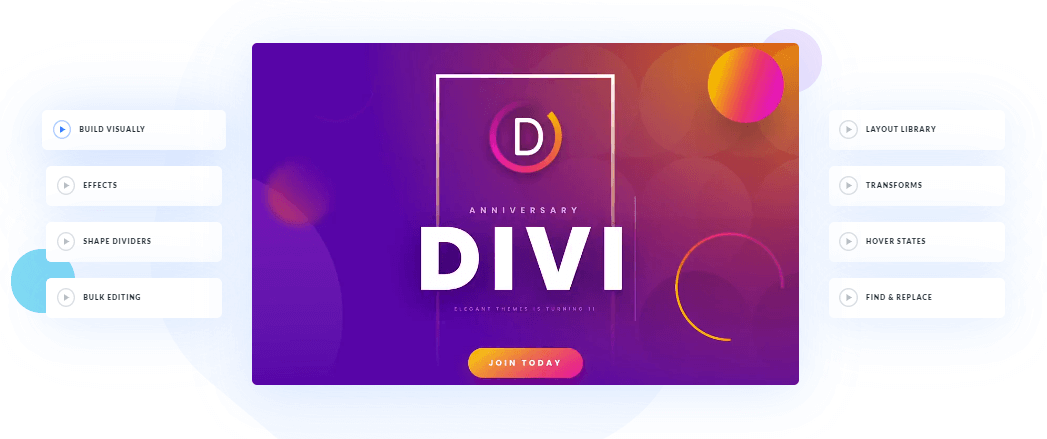 Because of the amount of creative control they provided and the inability to import whole website packs or demos into your site. Divi and Extra may be a little overwhelming in the past. Launching a new site using these themes is considerably easier now that ready-made website packs and individual templates can be imported directly into your WordPress dashboard in just a few clicks.
Signing up with Elegant Themes to get access to Divi, Extra, and the Divi Builder plugin makes sense whether you're looking for a WordPress theme that can be used to build any type of website or a plugin that can help you transform your existing site. Bloom and Monarch, the other plugins, are also very useful.
Feel free to contact them. If you use any of these products, please share your user review of Elegant Themes in the comment below. If don't use then what are your thoughts about this topic? I'd love to hear about it in the comments section below! If you like this article please give us a like and share this on social media.