Are you looking for a premium platform for building and hosting websites? Check out our Squarespace website builder review to know about Squarespace pricing, plans, customer service, and more. After completing the Squarespace review you will understand whether it will be perfect.
What is Squarespace Website Builder?
Squarespace website builder is a premium platform for building and hosting websites. At first glance, it seems very similar to Wix and other lower-priced website builders, however, it eliminates the need for you to learn coding languages or understand complicated website marketing terms.
Website builder Squarespace is a powerful and modern website-building platform that makes it easy to build, manage and grow your business. Featuring some of the best designers and features on the market, It is a great option for anyone looking to create or update their website. We love It because of its unique designs, access to great partners and apps, and its growing community of users.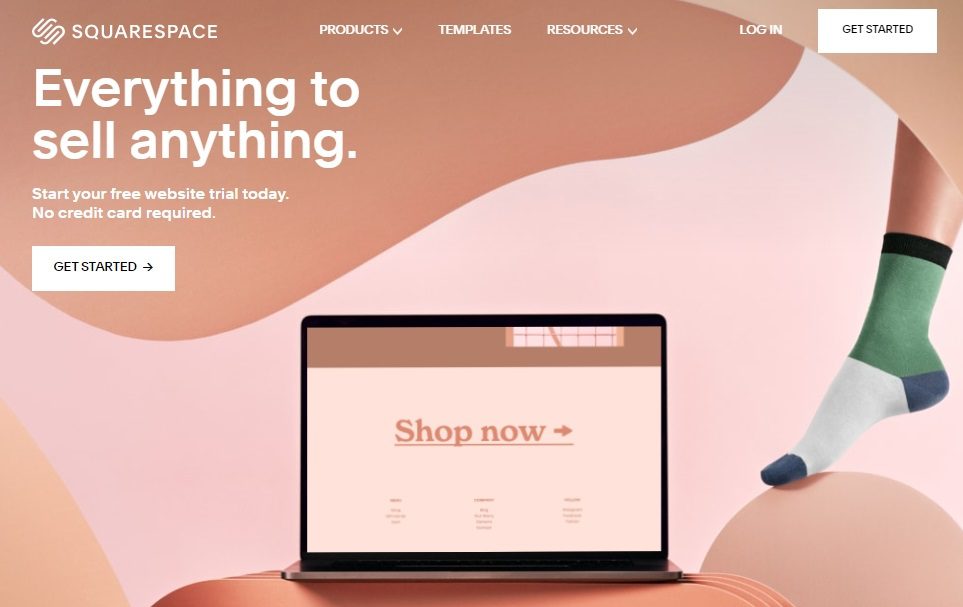 With Squarespace, it's easy to create a professional website for you or your business. It provides high-quality designs and easy-to-use functionality so that you can focus on what's important. Once you've chosen your domain name, building your website, and added photos and videos, you're ready to share your vision with the world. It's that easy. It is popular for creating online portfolio websites, blogs, and even eCommerce stores.
Pros and Cons of Using Squarespace Website Builder
Checking the pros and cons before making a decision is always beneficial. When considering using any kind of platform, it's important to take some time and evaluate what advantages and disadvantages come along with it. Analyzing the benefits of the platform can help one determine if the effort necessary to use it is worth it. On the positive side, platforms often offer users increased convenience, flexibility, scalability, and better access to resources. On the other hand, they may require additional setup costs, more complex user interfaces, or even security risks that should be taken into account. Before getting started with a platform, one can make an informed decision on whether or not it's right for them.
Pros
It offers beautiful and responsive designs that accommodate mobile screens. Your store can sell digital downloads, physical products, and subscriptions. You can customize your site with custom code, and use Blogging tools to schedule posts. Free SSL certificates and unlimited storage and monthly data transfers are included with all plans.
Cons
When upgrading to version 7.1, you must reinstall your site from the ground up. You will not be able to switch templates, and there is no longer a free tier plan. You can't use free templates and get phone support for this site builder.
Squarespace Website Builder is Best for
Squarespace is best for photographers, artists, and anyone who loves design and wants their website to look as good as the content they're showing off online. It comes with a good range of eCommerce tools, making it a great choice if you're planning to open a store that has a small inventory, or only sells digital products. We wouldn't recommend it for very complex or large stores
Blogging
Squarespace offers a variety of built-in blog tools. The platform is particularly useful for bloggers who include many images in their posts since 32% of marketers say visual images are the most important content type for their business. Contributors to your blog can work from anywhere, sync posts with social media accounts, and use the Blog App to manage your site from a mobile device. There are templates designed for blogging, allowing you to create a thriving blog quickly!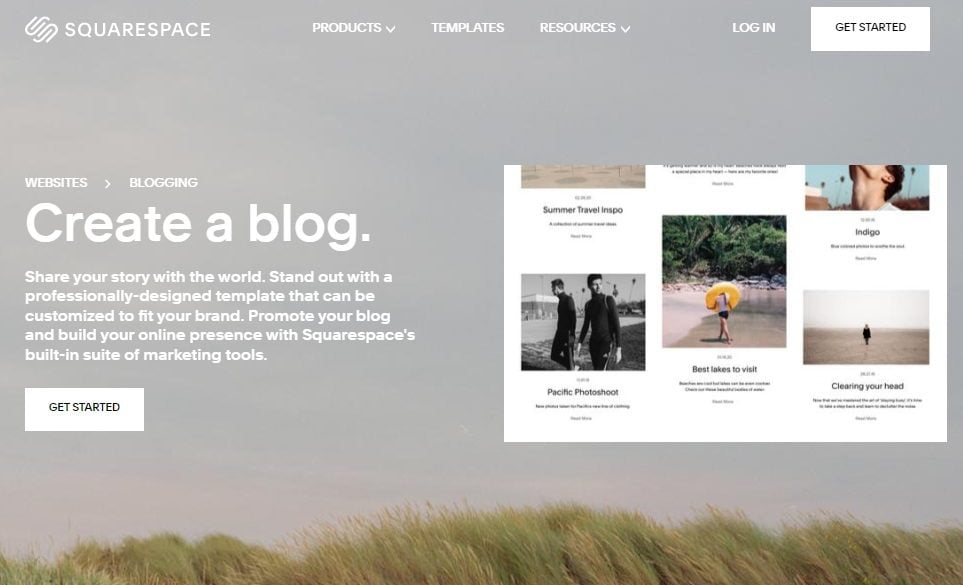 Business
Squarespace provides its customers with a variety of online business tools. These tools help customers create a unique brand and make their lives as easy as possible. Some of these tools include eCommerce functions, built-in analytics, email campaigns, SEO tools, and integrations with online services such as G Suite and PayPal.
Squarespace is a popular platform for small business websites. It helps small businesses succeed. You can view a selection of its customers on its website. It helps businesses succeed from the beginning. Small business websites on It can use the platform to showcase their brand, facilitate online sales, and engage customers.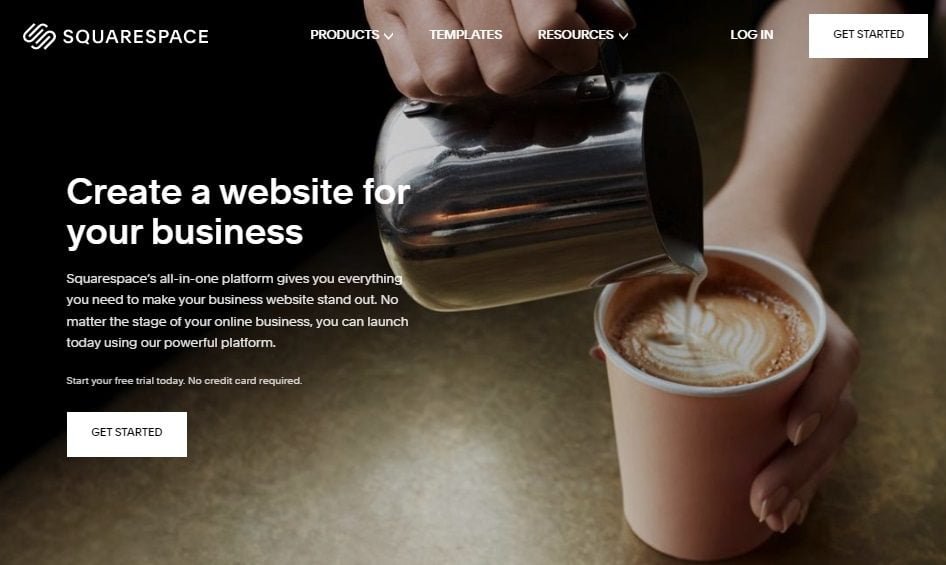 eCommerce
Squarespace is a fantastic website builder, and you can use it to create a beautiful eCommerce site. However, as much as we love it, there are some limitations to note. For example, It's plans are pretty expensive for what you get, and the company doesn't offer any free trials. However, features such as SEO optimization, unlimited bandwidth for all plans, and a powerful inventory system are all great reasons to consider Squarespace for eCommerce.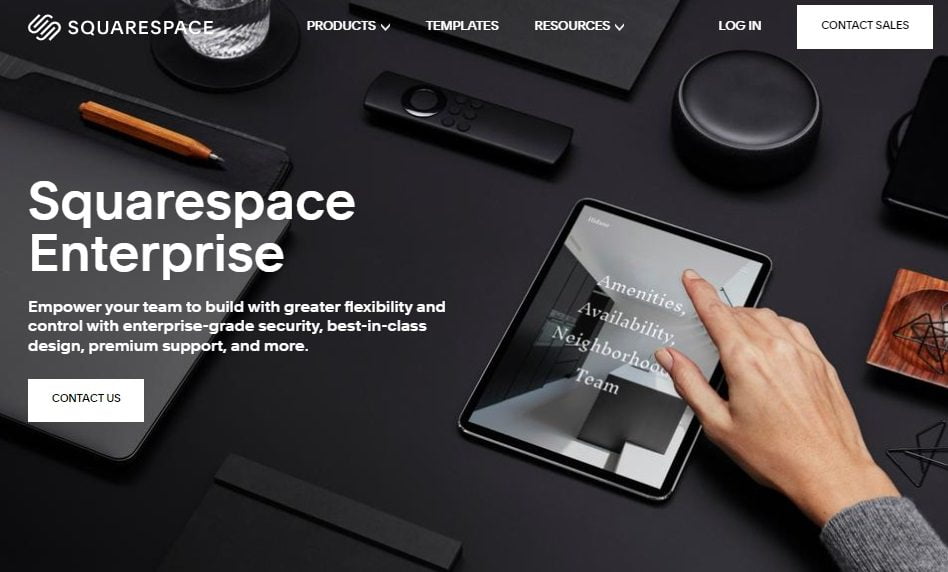 Squarespace is particularly strong in the field of eCommerce. Its templates are designed to show off products at their best – whether that's food or fashion – and its inventory system gives you great control over your site's catalog. It also makes it easy to sell physical and digital products on your site.
Squarespace isn't perfect of course: its plans cost more than the competition (though they do include unlimited bandwidth), and it doesn't offer any free trials. It also lacks some advanced features, including abandoned cart recovery which is really useful in eCommerce. Nevertheless, if you want an online store that looks great on all devices (thanks to responsive design), It is one of the best website builders around. We gave it a score of 4.5 out of 5, which is on par with Shopify.
Personal
Our top pick for personal websites is Squarespace. It's a drag-and-drop website builder with excellent tools for creating a portfolio or photography website. The platform has a wide range of templates that are suitable for all kinds of needs.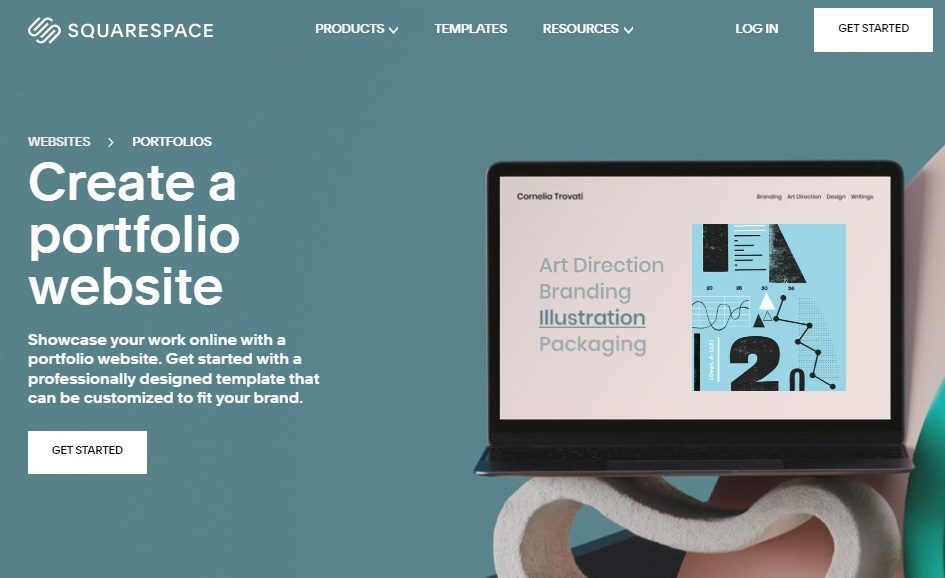 Squarespace has integrated eCommerce tools and templates that will help you sell your photos from your website. It's also easy to integrate third-party apps such as Adobe Creative Suite, making this platform ideal for creatives who already have a workflow in place.
All the templates are designed by professionals and look great in any browser, so you don't need to worry about how your site looks on mobile. Squarespace is our favorite platform for building portfolios because it offers complete creative control – even its basic plan includes unlimited storage space and bandwidth.
Squarespace Review: What About a Scalable Website?
When you're just starting out, Squarespace offers a great spend-to-save experience. Because it already offers unlimited storage and bandwidth on its cheapest plan, you don't need to worry about running out of space. Plus its plans offer a good amount of features, meaning you shouldn't need to upgrade too often.
Ease of Use
Squarespace used to have a name for being a little "difficult." The editor wasn't the most user-friendly, and users frequently reported that it took a very long time to get used to it due to a steep learning curve. However, we're happy to report that such issues are no longer an issue. Its overall user experience has vastly improved in recent years.
When it came to navigating its editor, we observed the biggest difference. When you first start, it offers a helpful video that will guide you through the process. It also includes a list, which will be helpful to newcomers.
Squarespace is a drag-and-drop website builder, however, unlike Wix and other builders, you can't just drag and drop everything. It's more section-based, so it takes a little more time to get used to. The increased structure, however, helps to keep your overall site design neat and tidy once you've spent a few minutes browsing it. Many of our users indicated during testing that they "found this considerably easier to use than Wix and much less overwhelming."
Squarespace's interface looks clean and modern, although it can feel a little too clean at first. Finding the items you're searching for requires a few clicks, and there are moments when we wish it was more straightforward where to discover specific features. However, after you've figured out what you're doing, editing becomes quick and simple, and you'll like the clean menus!
Squarespace Pricing
Squarespace offers four different pricing options that start from $12 to $40 each month. You have to pay annually.
Unlimited storage and bandwidth are included in all annual subscriptions. You also get a free custom domain and SSL security. After the upgrade, you'll have access to additional features like promotional pop-ups.
The Personal plan costs $12 per month and includes website functionality but not eCommerce. It is the lowest Squarespace option. The cheapest package for an online store is $26 per month, which includes limitless products, no transaction fees, label printing, and other features.
Best eCommerce Website Builder Squarespace Plans
Squarespace offers two different plans, there are Personal plan and a Business plan. The personal plan, which costs $12 per month, includes all you'll need to create a simple but fully functional site. Unlike other builders that limit functionality on their beginner plans. You also get unlimited storage and bandwidth.
The business plan costs $18 per month. The business plan is ideal for businesses, as its name suggests! The Business plan offers all you need to succeed if your website is expanding and you want to start selling online.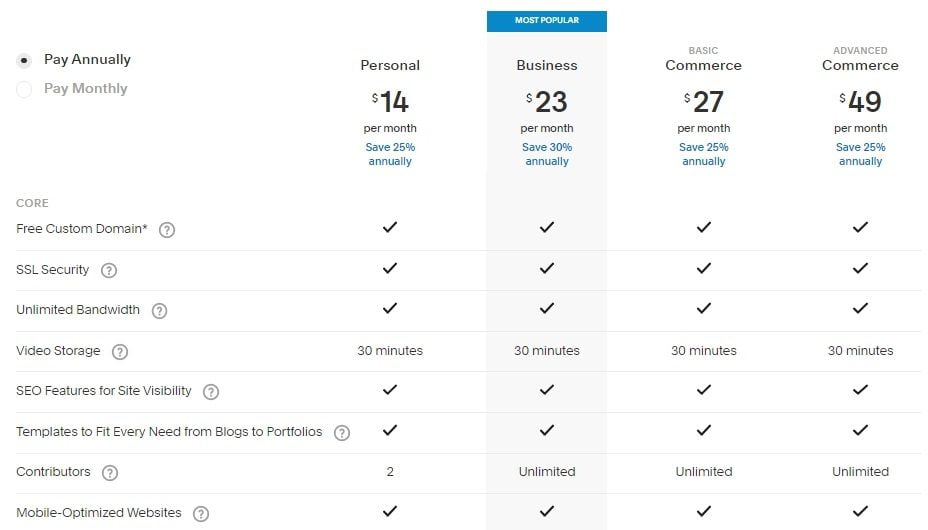 Ecommerce Plans
If you want to get into selling online, you'll need eCommerce plans. There are the two most expensive plans that are specifically suited for creating online shops. The Basic Commerce plan costs $26 per month, payable annually. It is ideal for small online businesses.
Advanced Commerce plan costs $40 per month, payable annually. It is perfect for rapidly expanding businesses.
The Basic Commerce plan is the most affordable way to start an online store. It has all of the features of the Business plan, but transaction fees are removed and additional eCommerce options such as POS, customer accounts, and the option to sell on Instagram are included.
The Basic plan is ideal for launching an online store and developing your eCommerce store.
The Advanced Commerce plan costs $40 per month. It is the most expensive plan. It includes all of the features of the Basic plan, as well as some attractive add-ons like abandoned cart recovery, advanced shipping, subscriptions, and more.
Value For Money
It's not the cheapest builder on the market, but you get what you paying for. We found it to be a decent value for money during our study, particularly when compared to alternatives like Wix, which costs $2 more per month.
The lack of a free plan is the major disadvantage of its pricing. This implies that once your free trial period expires or you wish to publish your website, you'll have to upgrade to a paid plan. On the other hand, it's alternatives like Wix, which offers a free plan.
Squarespace's pricing is very reasonable. When determining the value for money, consider the features you'll receive. Its smallest $12/month package includes unlimited storage and bandwidth. On the other hand, its alternative builder like Wix offers 3GB storage for a $14/month plan.
While Squarespace does not provide a free plan like some other website builders. But all of its plans offer a 14-day free trial.
It offers a 14-day money-back guarantee, so you can cancel within the first two weeks.
Attractive Squarespace Templates
All of Squarespace's templates are designed to match the client's needs of "excellent design, usability, and performance" with their sleek, attractive, and modern looks. you can edit and preview all templates for free, as part of your monthly subscription.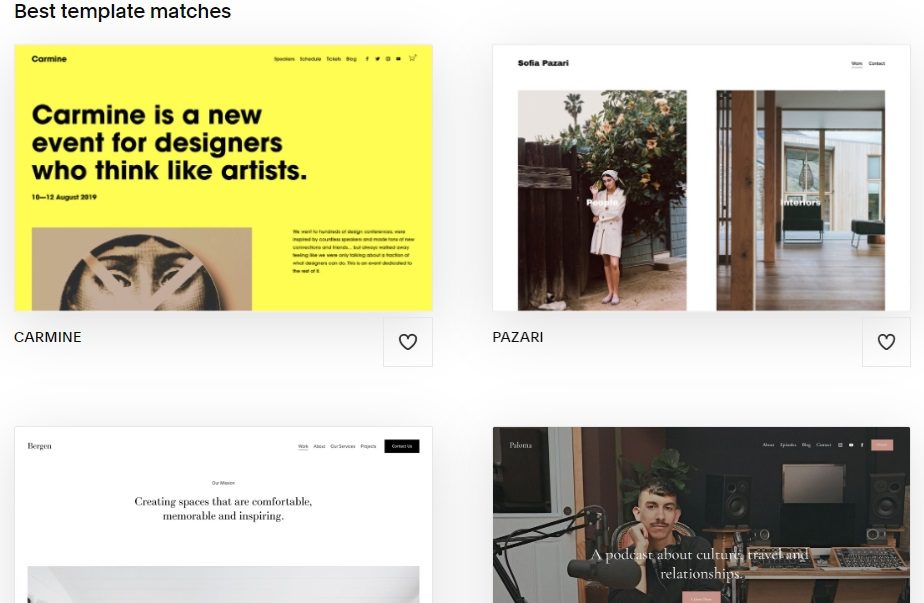 If you want, you can explore templates by category and industry. Each template has features and layouts specific to the sector it was created for, but you can simply change the look and features of any template to fulfill your needs. All templates are mobile-friendly.
Design Customization
Squarespace's designs are fully customizable, allowing you to effortlessly change images, add/delete sections, insert/delete content, and handle many pages all at once.
As previously mentioned it's not a fully drag-and-drop builder, you can move items around and rearrange the layout by changing your design options.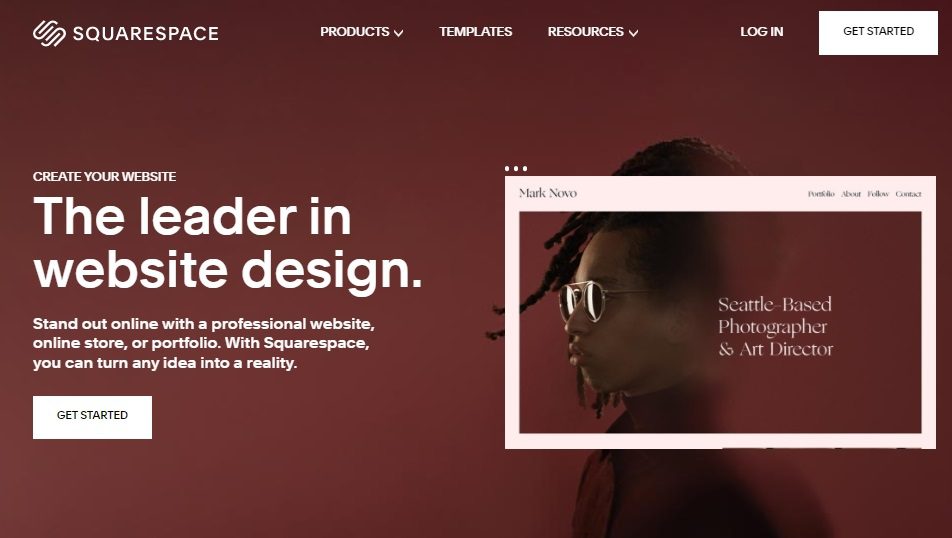 On the other hand, it does not provide the same level of creative control as others. It has a more controlled editing procedure, and you won't be able to drag elements around as freely. Instead, you'll have to work with the fundamental layout of the template. One advantage is that it makes it difficult to build an ugly website, but if you have a certain design in mind, these limitations might be annoying.
If you understand how to code, you can take it a step further and customize the fonts, colors, and backgrounds for a unique look. Squarespace advises against utilizing custom code for anything other than aesthetic changes like these, as it could compromise your site's layout.
You can change text, fonts, colors, images, and more even if you don't know how to code. You can add/delete pages, change the structure of your menu, and more. Squarespace's goal is to assist creative ideas to succeed, so having the ability to express yourself in its templates makes it logical.
Essential Tools
Squarespace has a lot more limited offerings. Squarespace's functionalities are all top-notch and cover a wide range of sectors, so there's something for everyone.
The new Design panel in updated version 7.1 makes it very easy to adjust colors, fonts, and spacing throughout the entire site. With version 7.1 you can add pre-built sections, allowing you to build custom layouts using text, graphics, and more.
However, many aspects, such as marketing and SEO, are similar between versions 7.0 and 7.1.
Social Media Integration
With Squarespace, you'll never be stuck for inspiration. You can link your accounts from over 20 social platforms like Facebook, Instagram, Twitter, and YouTube. Also you can sync it with Dropbox for simple access to photo collections. You can even host your podcast on your Squarespace website and publish it to Spotify and Apple Podcasts. You can directly import content from social media.
Best Website Builder SEO & Marketing
SEO is the process of improving your website's search engine ranking.
Squarespace's SEO is strong, and all of its pages adhere to SEO best practices. It provides you with a variety of tools, such as editing titles, adding keywords, and more, to make your website more SEO friendly. Squarespace came in the third position out of all the website builders we reviewed in this category.
There is, however, always space for improvement! If you've never dealt with SEO before, Squarespace isn't the most beginner-friendly platform, so newcomers should expect to take a hands-on approach to their site's position. Although there are instructions to guide you in Squarespace's support pages, which provide a very detailed explanation of SEO, we'd have loved to see some SEO-recommended practice suggestions in the editor when you're developing your site. For newcomers, this may appear to be a little daunting, so take your time and read it all.
Email Marketing
Squarespace gives you the ability to design email campaigns. This comes with a cost, but you'd be paying a charge anyway if you utilized a third-party service like Mailchimp or Constant Contact.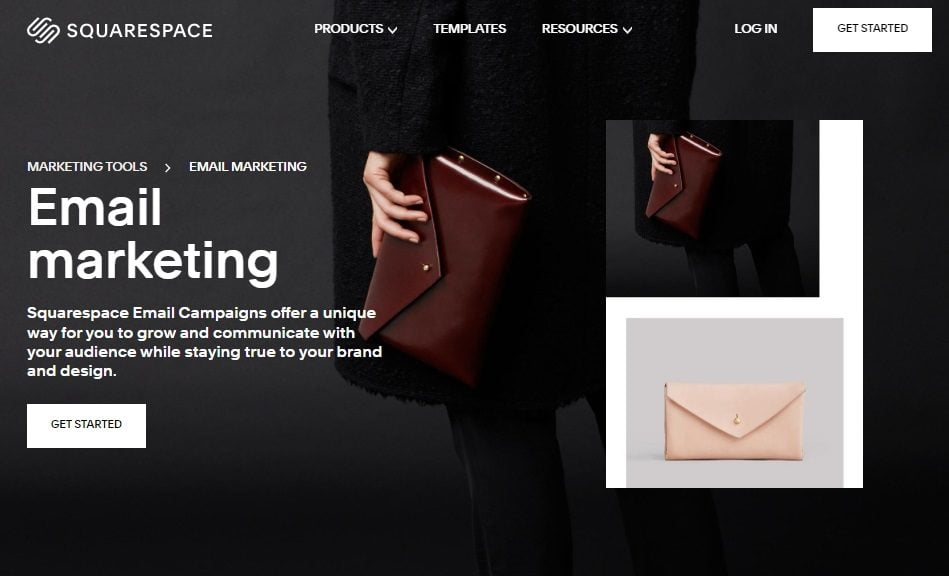 Squarespace allows you to send either one-time or automated email campaigns.
The main benefit of using Squarespace for email is that it connects with other Squarespace features such as shopping and membership sections.
Useful Extensions
In Squarespace most of the features are built-in. Even then they include an app store if anyone wishes to add additional functions. You'll find 29 selected third-party extensions in its Extensions marketplace to help you manage, grow, and improve your site. There are four different types of extensions:
Finance
Inventory and Products
Shipping and Fulfillment
Sales and Marketing
There you will find free and paid extensions including Spocket, Syncee, TaxJar, and more. The selection isn't massive but you can boost your website.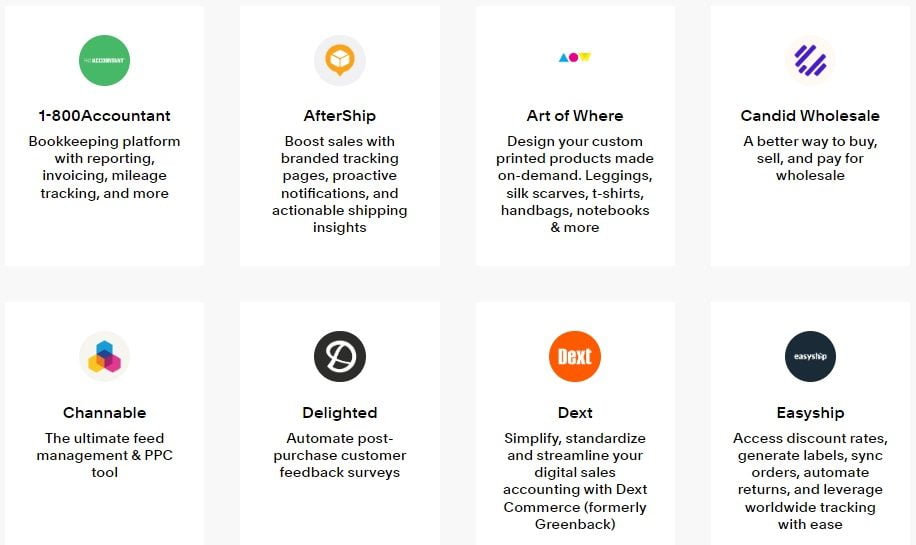 Domains
Your domain name is the online address that visitors will use to reach you — for example, techreviewgarden.com. Squarespace makes it simple to purchase a domain. If you already have one then you can link it.
When you join up for an annual paying plan, you get a year's worth of free domain. After the first year, you have to pay for renewal at the usual fee.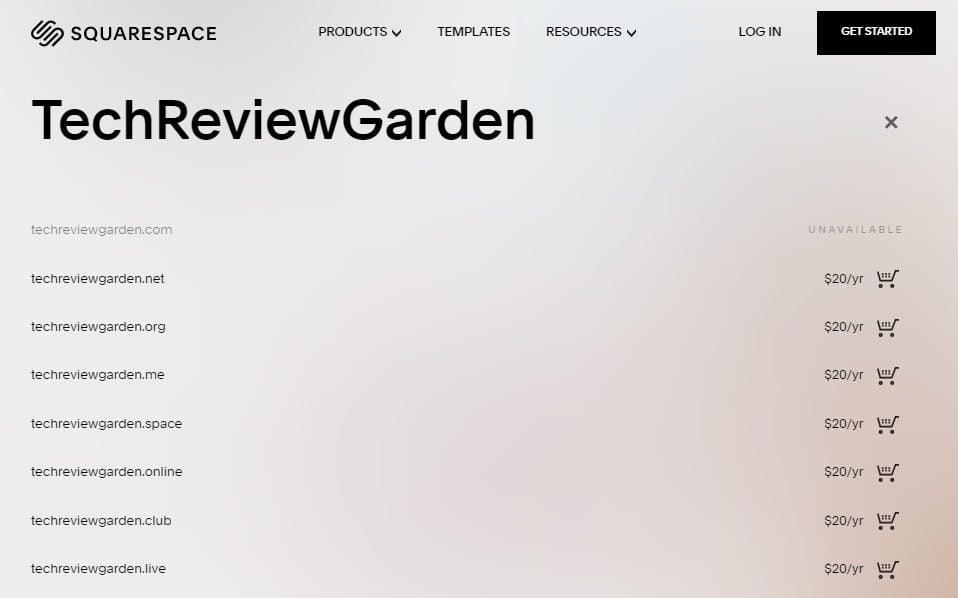 Prices for domains range from $20 to $70 per year, which is more than you'd pay for a domain through other registrars, but more than worth the convenience of registering it in-house. Domains with particular extensions, such as for example.legal or example.salon, are more expensive than domains with more common names, such as example.com.
Security
When linked to your Squarespace site with any domain registration you will get a free SSL certificate.
SSL encrypts all data sent to and from your website. SSL is very critical for payment processing sites, such as online shops.
Squarespace features built-in virus and bug protection, as well as DDoS protection to safeguard your site from unwanted activity.
Squarespace doesn't allow you to fight for yourself; it offers robust security to keep your website secure.
Backups and Restores
Its editor does not feature autosave. The user is now responsible for remembering to hit 'save' frequently. We're not sure why Squarespace doesn't autosave for users, as it seems like a rather fundamental tool to include in its editor.
On the other hand, it allows you to recover lost/deleted pages and blog posts for up to 30 days after they've been erased/deleted, so don't panic!
You won't lose your work if the internet goes down if you're editing on the go with your phone!
Event Planning
Never miss an appointment again! With Squarespace Scheduling, you can offer your customers a booking system customized for your business. If you're a plumber or a yoga instructor, for example, clients can check your schedule and book a spot using the quick response (QR) code displayed on your site. They can also reschedule without calling you directly and paying fees to do so. Squarespace Scheduling makes it easy for your site visitors to get in touch.
Squarespace Customer Support
Its ideal customer service options, small but high-quality support range, and its helpful guides, and tutorials made it the reigning champion. Their support options are given below:
Live chat
24/7 Twitter support
24/7 Email support
Knowledge base
Community forum
Video tutorials
The Squarespace knowledge base makes it easy to find an answer to your question. Squarespace has one of the best knowledge bases I have ever seen. From short, in-depth articles on many different topics, to videos that show you how to complete specific tasks, and tutorials, everything is easy to find and understand. Its knowledge base is filled with amazing articles, guides, and tutorials. Be sure to check it out if you run into any issues or have questions.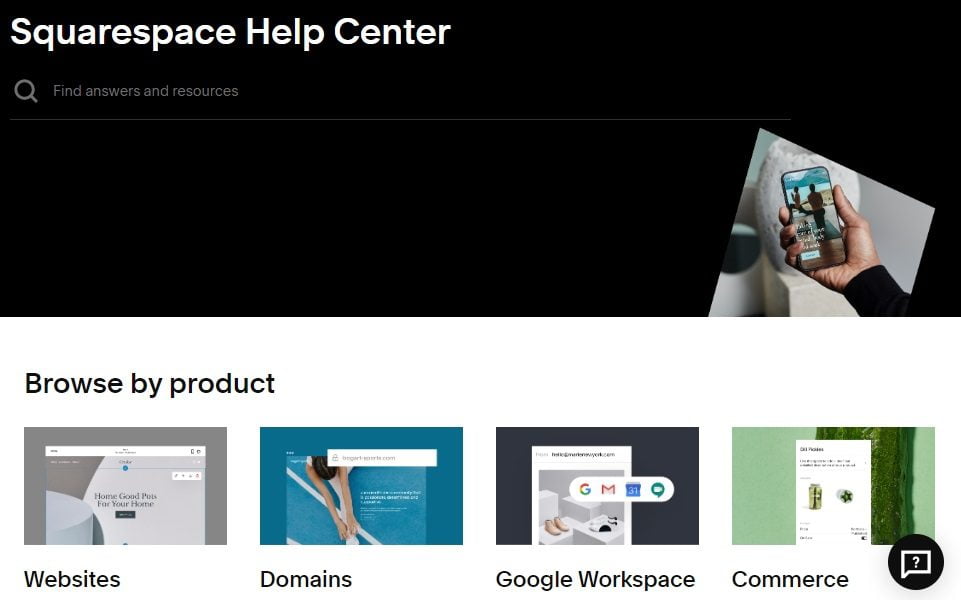 Few website builders offer the same level of 24-hour support to all their customers, but Squarespace is clear about this, while others give the impression that higher-paying customers receive better service.
Squarespace does not offer phone support but their customer support is outstanding. You could have a solution to your problem in a matter of seconds. It's because of these strengths that we rate Squarespace above all other builders for its excellent customer care.
Squarespace Alternatives
Squarespace is an all-in-one website builder that provides templates, hosting, and more. While Squarespace is a great option for many people, plenty of alternatives are available for those who want to explore other options.
Wix
Wix is perhaps the best-known of these alternatives and it offers a great site builder for both small businesses and individuals. It's easy to use and has some of the best website templates available.
Weebly
Another popular option is Weebly, which is also incredibly user-friendly and perfect for small business owners who need an easy way to get started with their website. If you're a current Squarespace user, you may want to take a look at the reviews and see what other users think about the platform before making any decisions. Ultimately, whichever option you choose should depend on your individual needs and preferences.
Is Squarespace Better Than WordPress?
Squarespace is a great platform for creating websites and offers many advantages over WordPress. While both are popular website-building platforms, Squarespace is often seen as being better than WordPress. This is due to its ease of use, intuitive design tools, and impressive customer service. Squarespace also has an array of built-in features that allow users to quickly create beautiful websites without needing coding knowledge. Additionally, hosting and domain services are included in the subscription fee, which makes setting up a website on Squarespace much easier than with WordPress. All in all, Squarespace sets itself apart from WordPress by offering more features and convenience at an affordable price.
FAQ: Squarespace Website Builder Review
Is Squarespace Free?
Squarespace does not provide a free plan. However, you can test out the service for 14 days for free.
Can I Transfer My Website to Squarespace?
Yes, you can transfer your website to Squarespace using their Website Importer tool. This allows you to transfer content from any existing website into a new Squarespace site.
How Much Does It Cost to Have a Website With Squarespace?
The cost of using Squarespace for a website can range from $12 to $40 per month, depending on the plan you choose.
Is Squarespace Bad for Seo?
Squarespace is not bad for SEO, but it's also not the best platform out there for SEO. Squarespace does provide some basic features and tools that can help you optimize your website for search engines, such as customizable meta tags, sitemaps, and editing HTML and CSS code. However, it's missing more advanced features like schema markup or keyword research tools that are available on other platforms.
Is Squarespace Good for Websites?
Yes, Squarespace is a popular website-building platform and is good for creating websites. It offers a range of templates and tools to help you create a professional-looking website without needing to write code. You can add content, customize the design, and integrate with other services like eCommerce solutions.
Is Squarespace Worth It?
Squarespace is a well-rounded choice if you want a polished and minimalist website. The professional templates, integrations, and business features make it a great e-commerce platform. It's quite expensive compared to other website builders, though, so it's best for those who plan to monetize their site.
Is Squarespace Good?
Squarespace is a fantastic platform. It is the website builder that I suggest the most.
Is Squarespace Good for eCommerce?
Squarespace offers many tools to help you sell your products online, including Squarespace Commerce features such as unlimited product support and a built-in shopping cart.
Is Squarespace Good for Blogging?
Squarespace offers a variety of built-in blog tools.
Is Squarespace a Hosting Site?
You get hosting for your site and its content, unlimited bandwidth, and storage with all Squarespace plans. You also get hosting for all of your Squarespace domains.
Is Squarespace Easy to Use?
Squarespace provides high-quality designs and easy-to-use functionality so that you can focus on what's important. Once you've chosen your domain name, building your website, and added photos and videos, you're ready to share your vision with the world.
Is Squarespace Good for SEO?
Squarespace offers features such as title tags and mobile-friendly design to help your site rank well in Google search results. You can also customize your page title, making it different from your page URL, to further boost your rankings.
How Much is Squarespace a Month?
Squarespace offers four different pricing options that start from $12 to $40 each month. You have to pay annually.
How Long is Squarespace's Free Trial?
Squarespace provides a free trial for 14 days.
Which is Better Wix or Squarespace?
Wix is a less expensive option than Squarespace. This site builder gives you more freedom to customize your code, but it's not as easy to use for beginners. If you're looking for a simpler design with less of a learning curve, then you will probably prefer Squarespace.
Which is Better Shopify or Squarespace?
Shopify is a website builder specifically designed to support eCommerce selling. Some people prefer Squarespace because it is simpler to use; but Shopify offers greater extensibility, with more widget functionality and integrations with other apps.
Final Thoughts: Squarespace website builder Review
The final thoughts on whether Squarespace is right for you is a difficult one to make. It really depends on what you're looking for from a website builder. Squarespace is an excellent choice if you are looking for an easy and intuitive website builder with plenty of features and options. They offer a free plan, as well as various paid plans with different levels of access, so you can find one that suits your needs.
If you are a small business looking to build a website or create a website, then Squarespace offers plenty of features, including templates and options that can help make the process easier. Ultimately, it will come down to whether you feel comfortable using Squarespace and feel that their plans give you enough value to justify the cost. If so, then it may be the right choice for your next website project.
After the 14-day free trial, if you find that it's not suited for you then you can apply for a refund. Then read our other website builders' articles like Wix, Bigcommerce, and Shopify.
Is this article useful to you? I'd love to hear about it in the comments section below! If you like this article, please give us a like and share this on social media. Is there anyone you know who could benefit from this article? Use the sharing buttons on the right to share it with them.