Are you looking for the best website builder for small businesses? Check out our Weebly website builder review to know about Weebly pricing, plans, customer service, and more. After completing the Weebly review you will understand whether it will be worth it.
Weebly is one of the good site builders that make inroads into the eCommerce field. If you want to build a website for your business without any cost or cheap pricing, this is a good option for you. Compared to other platforms it is too outdated. It has Some features that are not up to date and limited customization. So it is only for beginners not for big players. It helps beginners to provide necessary guidance about how to start.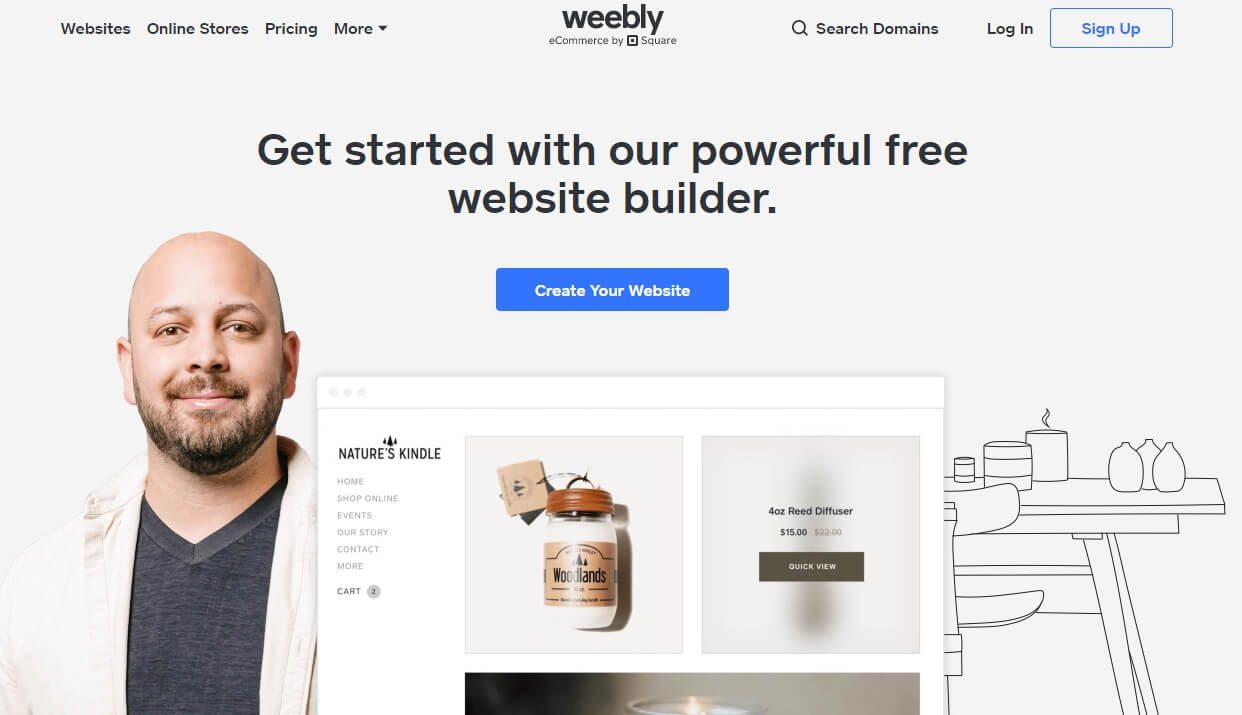 Overview of Weebly Website Builder Review
Few people are confused with Squarespace because the platform was acquired by payment company Square. Weebly is one of the most well-known website builders on the planet, with over 50 million websites using this builder. User-friendly design and reasonable prices are its main attractions.
Who is the Best Fit for Weebly?
If you want to start a small business and stay small then it is one of the best options for you. It's quite primary in terms of website builders, but the benefit is that you can get your site running and operating in a short time. It also includes an excellent app store. if you require to add additional tools you can.
It's also a great option for personal websites like blogs and Résumés. Its simple themes provide the perfect setting for your writing or other accomplishments. There are also additional features like Multiple profiles, SEO for blogs, comments, and sharing options.
Weebly is not a good choice if you want a lot of control over your website's design. Weebly is restricted in this area due to the editor's structure. Wix gives you a lot more creative license, while Squarespace's designs are far more polished. If you're looking for something more powerful or scalable, Weebly is probably not the place to go.
Pros of Weebly Website Builder
Attractive themes.
Customizable templates.
Helpful SEO guides.
Value for money.
Excellent uptime.
Free plan option.
Supports third-party apps.
Unlimited data transfers.
e-Commerce options.
Money-back guarantee.
Cons of Weebly Website Builder
Poor customer service.
Limited customization.
Limited photo editing features.
Poor collection of templates.
What Kinds of Websites Can You Make Using Weebly?
Weebly offers a large set of tools and like other website builders, it comes with many built-in features to assist you in creating the website of your dreams. Weebly, on the other hand, offers advantages and disadvantages that make it a better match for some clients than others. Let's look at who Weebly is best to assist you in making good choices.
Business Website
Weebly is perfect for company websites; in fact, companies are Weebly's primary target customers. When you browse Weebly's site, you'll notice a lot of messages aimed at assisting businesses in getting started, growing online, finding clients, and selling items.
Weebly Features for Business website:
Businesses related to particular themes
All plans come with powerful SEO tools and eCommerce support.
Blogging and newsletters are available
Analytics can provide you with a better understanding of your performance and visitor interactions
Weebly now includes a seamless combination with Square's payment suite, making it more comfortable than ever to begin selling online for pop-up shops, eCommerce websites, and other stores.
However, according to our study, Weebly is no longer the best option for business scalability. It lacks the resources to truly assist your business in growing, mainly because, Square's focus is on its eCommerce platform rather than Weebly.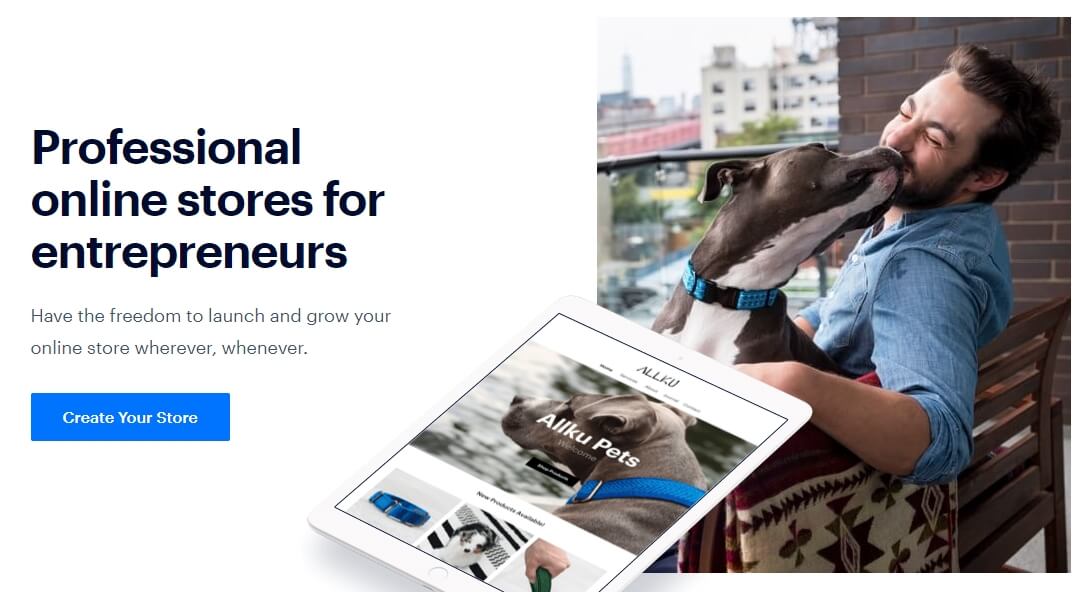 Ecommerce Website
Weebly's commercial features, as well as its integration with Square Online, make it an attractive choice for small businesses. Powerful SEO and marketing tools remain important, and your theme will be eCommerce-ready.
You'll be asked to choose the type of website you wish to establish when you create your account. You'll be referred to Square Online rather than Weebly if you wish to sell online, while you can always add eCommerce features to your Weebly site.
The smarter pick of the two is Square Online, which is a purpose-built eCommerce platform. Overall, Weebly's eCommerce features are lacking in-depth, making it difficult to build a successful and sustainable online store. Wix or Shopify are excellent options if you want a custom-branded storefront.
One of the most appealing features for newbie users in the United States is that it is one of the few builders we've studied that allows you to sell for free. In the eCommerce sector, this has traditionally been its biggest selling point. When you consider that Square Online also offers a free plan with a considerably more comprehensive range of sales tools, it's a little less appealing.
Personal and Portfolio Website
Weebly also has a lot of special offers for personal projects. Weebly's designs aren't the showiest on the market, but they are clean, simplistic, and attractive ideal for quickly creating a website with no effort.
Now we share some features which are made Weebly such a popular platform for personal and portfolios:
Image editor.
Animation effects.
Fonts are customizable.
Video backgrounds are available.
Newsletters option.
All types of social media marketing are available.
Weebly is ideal if you want to concentrate on your business rather than on the looks of your website. If you want more creative freedom, Wix or Squarespace are better options, but Weebly is a good option for personal websites.
Blogging Website
Weebly has always been a long-time favorite when it comes to blogging. Weebly is a cost-effective and reliable blogging platform, but it isn't the cheapest one available. Squarespace takes the top spot, with Wix coming in second place. Both have too many features that make them fantastic blogging platforms.
Weebly has an outstanding set of blogging features to keep you and your readers satisfied, whether you're wanting to make a blogging website or just want to operate a small blog alongside your store or business. These are some of them:
blog related themes
RSS feeds and social media sharing options are available.
Schedule social media sharing
Media integrations
Category, sidebar, and more customizations are available.
Advanced comment management is available.
You can also use custom URLs, tags, and meta descriptions as well as a custom header and footer code, to improve the SEO. Weebly makes it simple to generate appealing but effective blog content, which you can then share with your followers.
Scalability
It isn't a scalable platform. Although it includes features for small-scale growth, it is not designed to support websites that are rapidly developing and expanding. The fact that the platform hasn't noticed broad innovation in current years doesn't help matters. You'll start with small and from there, you won't be able to go anywhere.
We wouldn't recommend Weebly for very big online stores. A specialist eCommerce builder, such as Shopify or BigCommerce, is a good choice if you're serious about selling online. Take a look at Wix if you want a platform that includes all of the website features of Weebly plus more.
Weebly Themes
Themes are Weebly's most significant flaw. They aren't horrible by any terms, but they aren't getting any awards yet. They meet the criteria for being clean and basic, but they're also quite old. The editor on Weebly is also fairly limited, so you won't be able to customize them as much as you'd want. However, you can change themes whenever you wish, and Weebly is an excellent fit if attractiveness and customizability aren't the top focus.
Weebly doesn't offer the widest collection of themes (about 50 in total), but the ones it does have aren't particularly impressive. They're not poor, and you can change templates at any moment, but they're no match for Wix and Squarespace's offerings.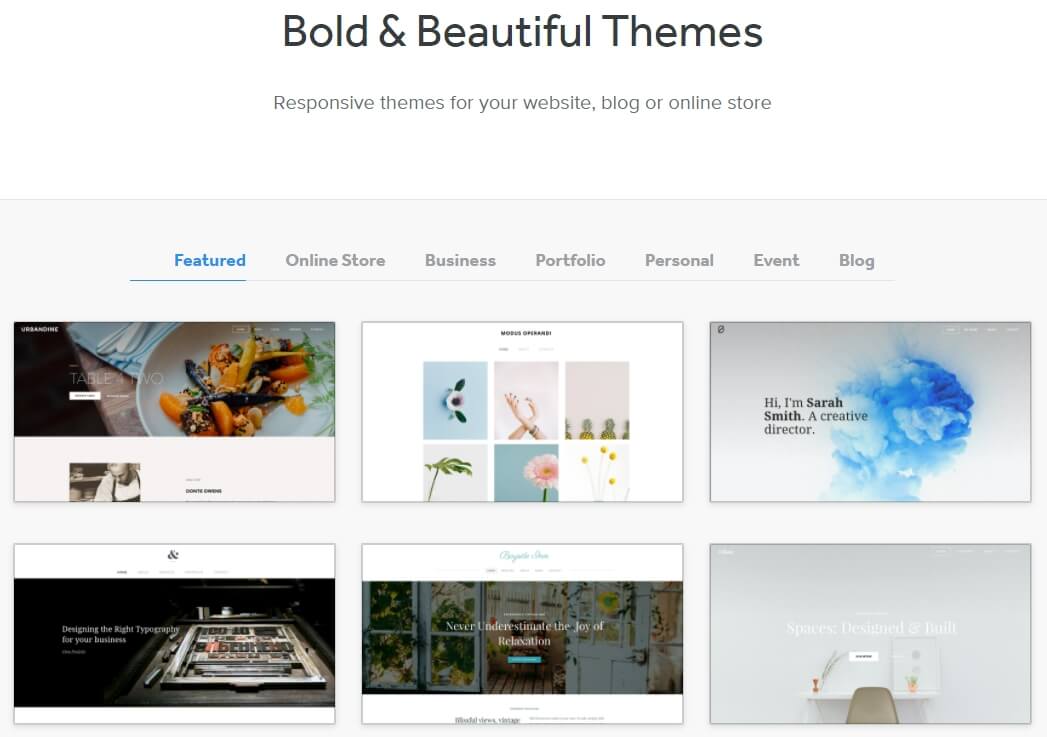 Get Started More Info
The good news is that they come in a variety of formats, however, grid layouts and full-screen image backdrops are preferred. On a desktop, this looks fairly appealing, but when you shift to a mobile screen, things start to go a little wrong.
Unfortunately, Weebly's templates aren't responsive for all devices. Its designs don't scale well on small displays, and the formatting is frequently poor. This is disappointing, given that mobile accounts for almost 50% of global website visits and plays a significant influence in rankings! This reflects its lack of innovation, leaving it behind competing platforms that have kept up with the times.
Its designs aren't as professional as other gorgeous templates, so if you want a genuinely wonderful website, you should look at other platforms. Weebly's themes are organized into categories to make it easier to choose the perfect look for your website. You may learn more about these categories and their themes by reading on or continuing reading to learn how customizable Weebly's themes are.
Themes Customization
Weebly's themes, despite being disappointing, check most of the essential boxes: they look good, they're all free, and there are a lot of unique designs to select from. You can also change the theme at any moment. However, there is one more vital item to check, and that is customization.
You want your website to be unique and stand out from the crowd; you may even want to modify the style of your theme to do this. Weebly makes it simple to edit your website, but it gives you less creative freedom than alternative builders like Wix.
Themes on Weebly are more organized; you can't just drag and drop anything. If you're worried about building your website, this is a benefit because it serves as a layout guide. On the other hand, it is a great option if you want complete control over your website. When you're trying to create your site exactly how you want, its structured themes can be difficult.
Weebly App Centre
The App Centre, which is not to be confused with the Weebly Mobile App, provides add-on options to enhance the functionality of your website. This is something that I think all site builders must have because it separates the core business from the additional functionality.
Users who simply require basic functions will not be presented with an interface that is overloaded with features they don't use. Users that require additional functionality can choose from a variety of options to meet their requirements.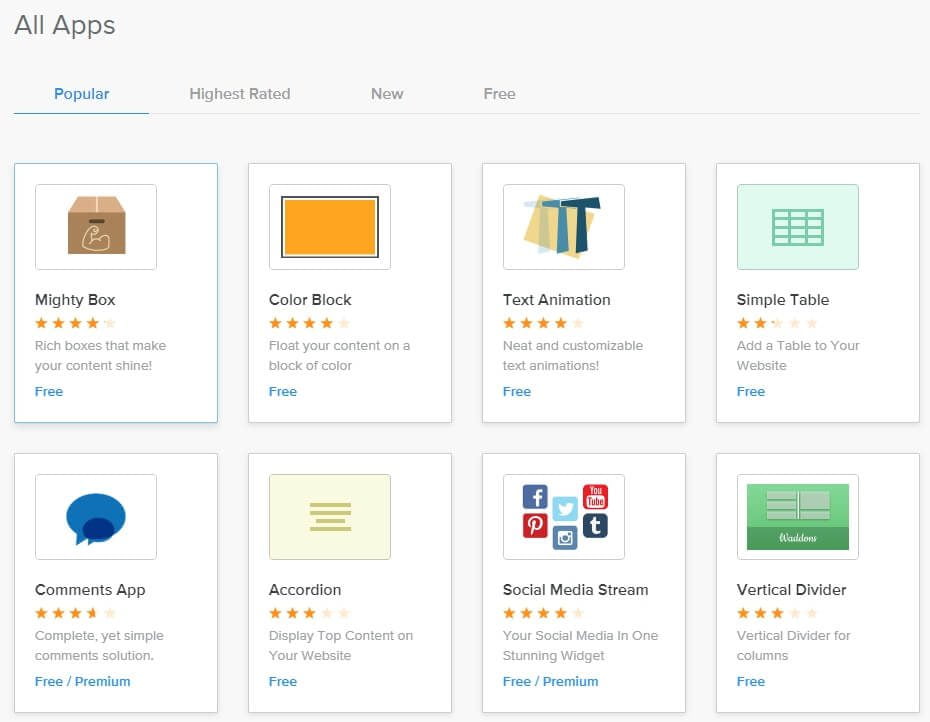 Get Started More Info
The Communication, Marketing, eCommerce, Social, and Site Tools categories are all represented in the Weebly App Centre. They're available for free, free to try, or premium, so every adding extra feature will not cost money.
Hundreds of third-party apps are available in Weebly's App Center. They're simple to set up and contain features like eCommerce, marketing, and more. Keep in mind that most of these apps cost between 10$ to 30$ per month, so if you use too many, your website will rapidly become expensive to maintain.
SEO on Weebly
The art of attempting to improve your website's position in search engine results is known as SEO. Because 93 percent of online interactions begin with a search engine, excellent SEO is critical if you want to expand your digital presence.
In the past, website builders have gotten a terrible image when it came to SEO, and it's true that some of them still do. On the other hand, It has always featured a robust set of SEO options, so you won't have to worry about that.
You may also change URLs, meta titles, and also meta descriptions, and make use of more powerful Seo options like picture alt text and more.
On the other hand, it lags when it comes to powerful SEO features. It doesn't have any keyword support, its mobile optimization is poor, and more.
Weebly also came in the bottom place in our site speed test due to its slow server response time. This may not have been a big deal in the past, but since Google's Core Web Vitals, loading time has become more crucial than ever.
Regardless, Weebly is a wonderful option if you're a newbie to SEO. Weebly has a fantastic Ultimate SEO Guideline that will lead you through the entire process of ranking your site. Weebly's guidance includes everything like research, analysis, performance, and more.
To make it easier to track how well your site is performing, you may put Google Analytics on it. Weebly also offers its built-in website analytics called Insights, which provides real-time data and traffic patterns for your site.
Ecommerce
Weebly's eCommerce features grew as a result of its acquisition by Square. You can now sell using the free plan, which comes with a limited set of eCommerce features. These are some of them:
Quick Shop
Inventory management
Shopping Cart and more
However, for a successful business, we suggest subscribing to a subscription plan – more advanced plans enable better eCommerce options like item ratings and the ability to accept PayPal payments.
Weebly is a wonderful platform for starting a modest online store. We prefer a builder like Shopify or BigCommerce for serious retailers, as Weebly's capabilities are built for smaller-scale selling.
Weebly Marketing
Developing and flourishing online requires a significant amount of marketing. There are many marketing applications in the Weebly App Center. You can use apps in the Marketing category to add a Social media feed, manage Google Ads campaigns, and more.
Weebly Promote fits with Email marketing. It is one of the most popular marketing techniques. This is Weebly's newsletter tool, designed to make email marketing as simple and effective for users as possible.

Get Started More Info
Weebly comes with ready-made layouts. You can customize it with simple drag-and-drop and provides reports on how many visitors have clicked on your emails.
Weebly Promote is worth checking out if email marketing is one of your key marketing techniques. Weebly Promote is free to trial, and there are three paid plans to choose from:
Build plan: This plan costs $8 per month with a lead-capturing form and five emails.
Grow plan: This plan costs $25 per month with all of the features of the Build plan plus 20 emails, automated emails, and schedule emails.
Accelerate plan: This plan costs $75 per month with everything from the cheaper plans plus unlimited emails.
Weebly Customer Service
What if you get stuck when creating your website? The best part is that Weebly's Help Center includes a ton of guides to walk you through any typical questions, and you can contact the support team at any time.
Weebly's community forum and email assistance are included in all plans. However, unless you're on the more expensive plans, you won't have access to phone assistance. live chat or phone support is only available in the United States.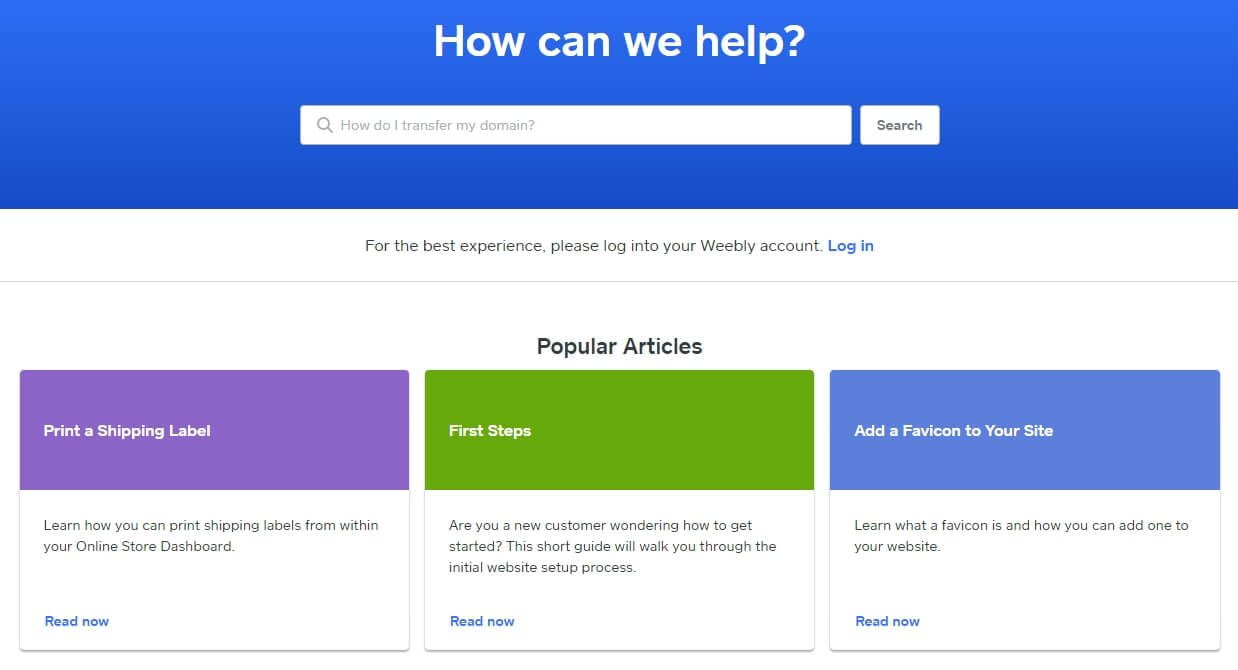 Get Started More Info
Monday through Friday from 6 a.m. to 6 p.m. PST, and on other days from 8 a.m. to 5 p.m. PST Weebly's live chat is open. You can get phone help if you buy Pro and Performance plans. The phone help is available From 6 a.m. to 6 p.m. PST, dial 1-844-493-3259. Alternatively, you can ask a question on Weebly's social media page. It's not acceptable that customers on lower-cost plans don't have a permit to all of the support options.
Weebly Website Builder Review: Hosting and Security
You don't have to pay extra for hosting because it's included in all plans. In terms of security, you don't have to pay extra because it's included in all plans.
Weebly defends its websites against DDoS attacks and provides complete cyber-attack safety, yet it's always a good idea to take extra precautions just in case.
You can also have your site's SSL certificate activated immediately, which encrypts personal information like passwords and credit card info that passes between you and your visitors.
Weebly Pricing and Plans
Weebly offers a free subscription, however, it only includes the most basic functionality. When paid yearly, its four professional plans run from $5 to $38 per month. You can add a custom domain to any of the plans, but only the Pro plan and up allows eCommerce features.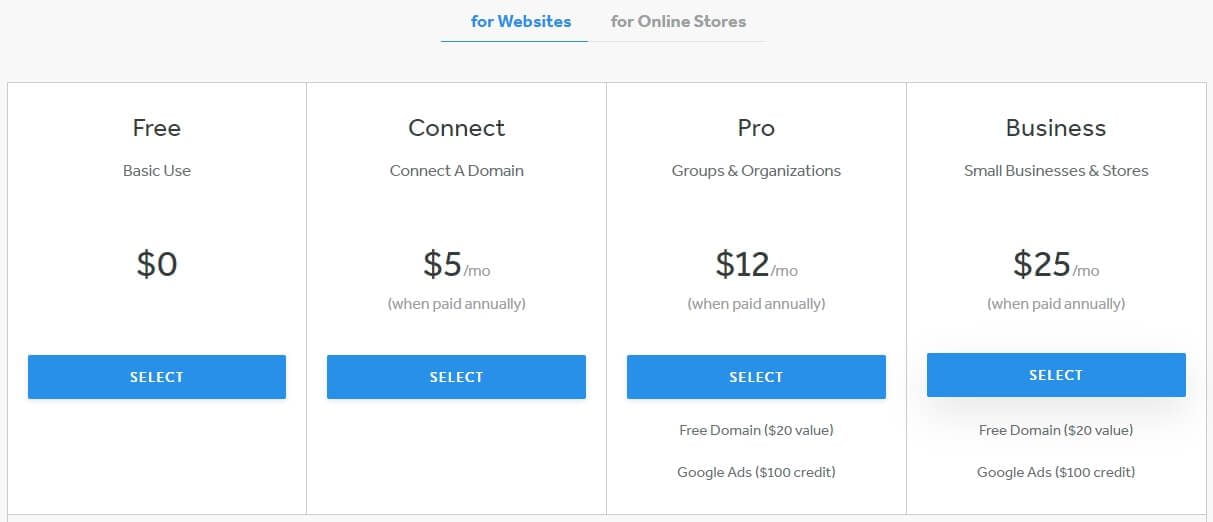 Get Started More Info
You can upgrade your plan at any moment, it's a good thing about it. if you planned to sell online for a short time then you can easily upgrade your plan. You don't need to pay the full amount for the new plan if you previously paid. For example, if Connect plan is your previous plan then you already paid $60, so for the Pro plan, you have to pay only $84.
Let's take a look at how much each of their plans costs if you pay annually:
Weebly Connect: $5 per month
Weebly Pro: $12 per month
Weebly Business: $25 per month
Weebly Business Plus: $38 per month
The biggest difference between the free and paid plans is that the subscription plan allows you to add a custom domain and removes the unwanted Weebly branding from your website. When you use a free website plan Weebly places ads on it, you cannot remove ads unless you switch to a paid plan. If you want to appear professional or establish a small business, it's critical that your website be free of Weebly branding. Plus, a free domain includes Weebly pro, business, and business plus plans.
Key Benefits of Using Weebly
Using Weebly offers many key benefits to users. To begin with, it is incredibly user-friendly and easy to use, even for those who are not tech-savvy. The drag-and-drop feature makes it simple for anyone to create stunning websites with no coding knowledge required.
Additionally, Weebly provides plenty of tools and features such as templates, custom domain names, eCommerce options, and much more. All of these features make Weebly an ideal choice for creating professional-looking websites without having to spend a lot of money or time on web development. Furthermore, Weebly is very reliable and secure so users can trust their data will be safe.
Finally, it offers excellent customer service should any issues arise during the use of the platform. Overall, there are many benefits to using Weebly which make it a great choice for anyone looking to create their own website quickly and easily.
Top Weebly Alternatives & Competitors
Weebly is a great option for website building, and it's easy to use. However, there are plenty of other great Weebly alternatives that may be better suited to your needs.
The top 10 Weebly Alternatives:
Wix
Webnode
Squarespace
Zyro
Jimdo
Duda
Strikingly
WordPress
Webflow
Shopify
Wix is a popular choice, as it offers a free plan that allows you to easily create a website and even an online store.
Squarespace is another good alternative and it offers more features than the free plan of Weebly. It also has a free domain included in its paid plan and provides users with more flexibility when building their website.
Additionally, both Wix and Squarespace offer ease of use and website builder tools that make creating your site simple and straightforward.
Overall, when looking for Weebly alternatives, you should consider the features each platform offers as well as its price point before making a decision. Weebly is still a great option, but if you have specific needs or requirements then one of these other platforms might be the best choice for you.
Weebly vs. Squarespace: Is Weebly better or Squarespace?
When it comes to website-building platforms, two popular choices are Weebly and Squarespace. Both offer an easy way to create a beautiful and professional website quickly. However, when comparing the two platforms, there are some key differences to consider.
Weebly is an ideal choice for beginners or those without any coding experience as it is a more straightforward platform with drag-and-drop building tools and templates. It also offers plenty of features such as eCommerce tools, SEO optimization tools, and analytics tools to help grow your business online. On the other hand, Squarespace has a more sophisticated and modern design but lacks the same level of ease of use as Weebly. It also comes with fewer features than Weebly but provides better customization options due to its advanced HTML and CSS editing capabilities.
In conclusion, both Weebly vs. Squarespace have their own strengths and weaknesses which make them suitable for different people depending on their needs. If you're looking for an easy-to-use website builder without having to do any coding then Weebly would be the better choice. However, if you want more advanced customization options then Squarespace could be the better option for you.
Weebly vs. Wix compare: Is Wix better or Weebly?
Weebly and Wix are both popular website-building platforms. They both offer a variety of features and tools to help users create professional websites quickly and easily.
In terms of pricing, Weebly is generally more affordable, with plans ranging from free to $25 per month. Wix has more expensive plans, starting at $14 per month.
Weebly offers a drag-and-drop editor that makes it easy for users to customize their site's design. It also includes an app store with additional features such as eCommerce tools and marketing services. Wix also provides a drag-and-drop editor and an extensive app marketplace, but its designs tend to be more modern than Weebly's.
Weebly has better SEO capabilities than Wix, allowing users to optimize their sites for search engines with ease. Wix also offers SEO tools, but they are not as comprehensive as Weebly's.
Overall, both Weebly and Wix are great website builders that offer plenty of features to create stunning websites without any coding skills required. Depending on your needs, either platform could be an excellent option for your business or personal website-building needs.
Cancellations & Refunds
Weebly offers a generous money-back guarantee for cancellations and refunds. If you choose to cancel your subscription to Weebly, you can receive a full refund of the money that you paid. All refunds are processed within 7-10 business days after the request is received and approved.
Weebly also provides an easy-to-use cancellation process that allows customers to cancel their subscriptions quickly and easily. Additionally, if for any reason you are not satisfied with your purchase from Weebly, you have 30 days from the date of purchase to request a full refund.
All refunds will be credited back to the original method of payment used at the time of purchase. Weebly takes pride in offering its customers an exceptional customer service experience, which includes flexible cancellation and refund policies.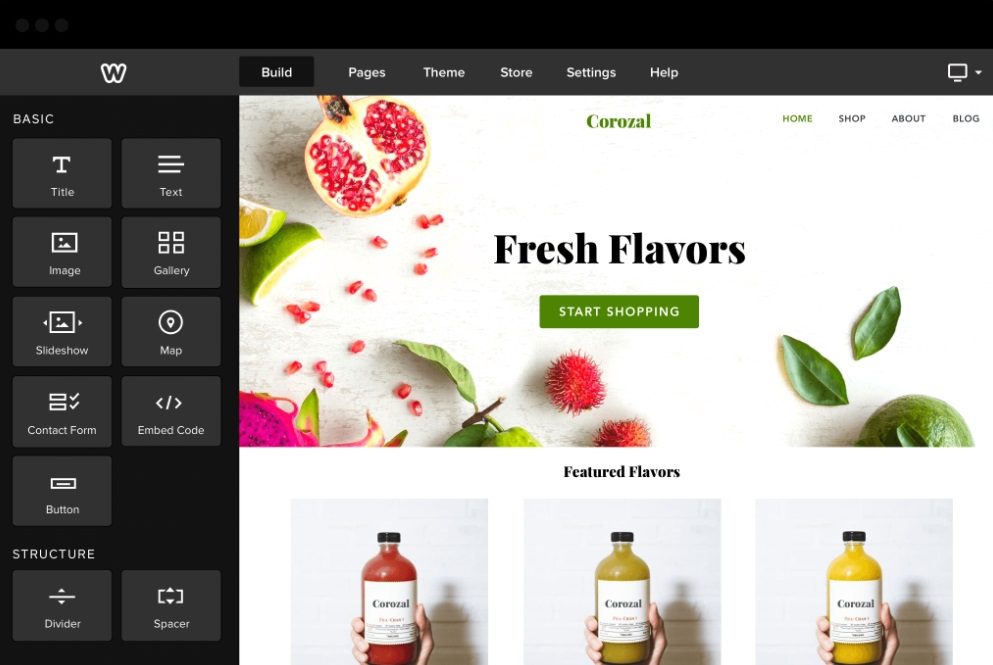 FAQ: Weebly Website Builder Review
Who is Weebly Best for?
Weebly is a great website-building tool for those looking to create a website without having to write code. It's an easy-to-use drag-and-drop platform that requires no coding knowledge, allowing anyone to have a beautiful website up and running in minutes.
Weebly is best for small businesses, entrepreneurs, bloggers, hobbyists, and anyone who needs an online presence but doesn't have the tech expertise or time to learn how to code. With its user-friendly interface, Weebly makes it simple for users to customize their site with professional design tools such as fonts, colors, backgrounds, images, animations, and more.
It also offers features such as a built-in contact form and eCommerce capabilities. For those looking for a powerful yet easy-to-use platform to build their website with minimal effort, Weebly is a perfect choice.
Can I Upgrade or Downgrade My Weebly Premium Plan?
Yes, you can upgrade or downgrade your Weebly premium plan at any time. The Weebly platform is designed to be flexible and user-friendly so that users can adjust their account settings as needed.
Upgrading or downgrading your plan is easy; all you have to do is log into your Weebly account and select the "Upgrade/Downgrade" button in the Settings tab. From there, you can choose the plan that best fits your needs and budget.
You may also be able to take advantage of certain discounts if you upgrade or downgrade within certain periods of time. It's important to note that any changes made to your plan will take effect immediately, so make sure you are aware of what you are signing up for before making a change.
Does Weebly Provide Email Accounts?
Weebly does not provide email accounts. However, they do offer the ability to connect an existing email account to a Weebly site. This allows users to send emails from their own domain name, which can help create a more professional look and feel for any business or website.
The process of connecting an email account is relatively straightforward and includes setting up DNS records as well as forwarding all incoming emails to the desired destination. Additionally, Weebly also offers a premium plan which includes access to G Suite, allowing users to take advantage of Google's powerful suite of products such as Gmail, Calendar, Drive and Docs.
In conclusion, while Weebly does not provide its own email accounts, it does provide several options for those who need them.
Is There a Free Trial for Weebly Professional or Performance?
No, unfortunately, there is no free trial for Weebly Professional or Performance plans. However, Weebly does offer a 14-day money-back guarantee on all their plans. This means you can get your money back if you decide to cancel within the first 14 days of purchase.
If you'd like to try out these plans before committing to them, it's best to start off with one of the Starter Plans and upgrade when you feel comfortable doing so. The starter plan gives users access to all the features that come with the Pro and Performance plans, just at a lower cost and with fewer resources.
You'll be able to see what kind of website performance you can expect from these plans before making your decision.
Is It Possible to Monetize My Site?
Yes, it is possible to monetize your website using Weebly. Weebly offers a range of features that allow you to monetize your site quickly and easily. With the help of Weebly, you can implement everything from simple ads to more complex eCommerce solutions on your site.
Monetizing your website with Weebly is as easy as setting up an account, configuring the monetization options, and then adding content to your pages. You can even use Weebly's advanced tools to create custom landing pages or integrate third-party services like affiliate links or online stores into your site. With Weebly, monetizing your website is easier than ever before!
Is Weebly Easy to Use?
Weebly is a popular website builder that makes building an online presence easy and achievable. It has a wide range of features and tools, making it an ideal choice for those who want to create a professional site without needing to know any coding.
Weebly is designed with the user in mind, featuring an intuitive drag-and-drop interface so users can easily build their sites from scratch. The platform also offers hundreds of pre-made website templates that are easily customizable and stylish. Users can even add eCommerce capabilities if they choose.
Weebly is easy to use and requires no coding experience whatsoever, making it perfect for beginners who want to get their sites up and running quickly. It's also great for experienced web developers who want more control over the design of their sites. All in all, Weebly is an excellent choice for anyone looking for a simple yet powerful website builder.
Is Weebly Worth It for a Business Website?
Weebly is the best choice for businesses, small businesses, or big businesses. It is the easiest site builder to use.
Is This Brand Right for Small Businesses Online Store?
Yes, this brand could be right for a small business online store. It offers a wide range of products that are suitable for small businesses, including web hosting, domain names, and marketing services. Additionally, the company provides tools that can help small businesses create an online store and manage it.
Do I Need to Pay for Hosting on My Weebly Website?
Yes, you need to pay for hosting on your Weebly website. There are several different plans available depending on the features and functionality you need.
Do I Have to Pay for Weebly Themes?
No, most Weebly themes are free to use. However, some of their more advanced themes may require a one-time fee or an ongoing subscription.
Does Weebly Have a Free Trial?
Yes, Weebly does offer a free trial. However, it is only available for 14 days and does not include all features.
Do I Have to Pay Monthly?
No, you don't have to pay monthly. You only need to pay for the services that you use.
How Much Does a Weebly Domain Cost?
The cost of a Weebly domain varies based on the type of domain you purchase. A .com domain costs $19.99/year, while a .net or .org domain costs $14.99/year.
I'm Starting a Blog. Should I Use Weebly or Squarespace?
If you have decided to start a blog, it can be not easy to decide which platform to use. Weebly and Squarespace are two of the most popular platforms for blogging. Both offer easy-to-use tools to create a website or blog.
Weebly is free and provides customizable themes, SEO optimization, and hosting on their servers. Squarespace has more options than Weebly, such as eCommerce features and third-party integrations.
However, it is more expensive than Weebly. Ultimately the decision depends on your individual needs and budget. If you need eCommerce features or advanced customization options, Squarespace may be the better choice.
If you are just starting out and want an easy-to-use platform that won't break the bank, Weebly is likely your best option.
Can I Create a Multilingual Site With Weebly?
Yes, you can create a multilingual website with Weebly. You can use the Weebly App Center to find and install language translation tools that will enable your site visitors to select their preferred language.
Is Weebly Owned by Google?
No, Weebly is not owned by Google. Weebly is owned by Square, Inc., which is a financial services, merchant services aggregator, and mobile payment company.
Is Weebly a Trusted Website?
Weebly is a trusted website and one of the most popular website builders available. Weebly is secure, reliable, and trusted by millions of people around the world.
Are Weebly Websites Reliable?
Weebly websites can be reliable, depending on how they are set up and maintained. It is important to make sure that the website is secure and updated regularly in order to ensure reliability.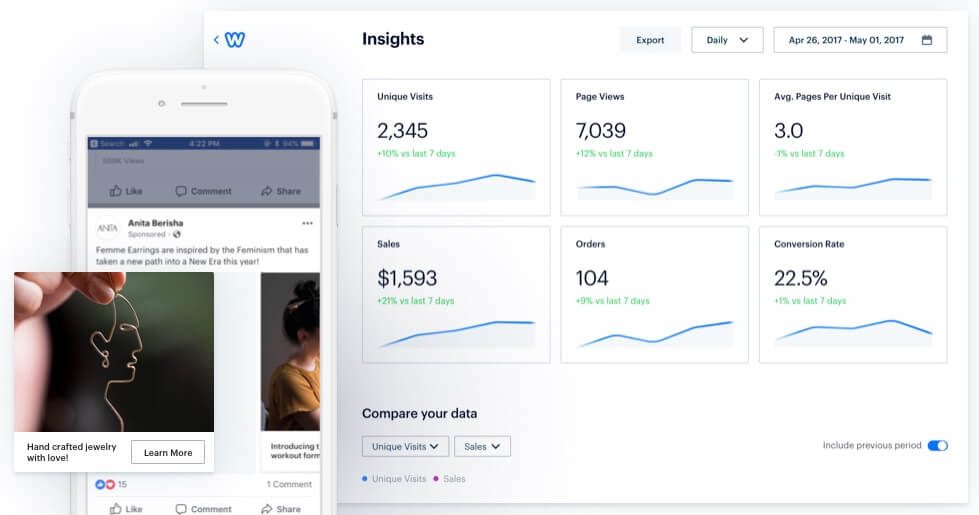 Conclusion: Weebly Website Builder Review
You can always try Weebly's free plan if you're confused. This should give you a good picture of how they run as a business, as well as their offerings, features, and more.
I strongly suggest the Connect or Pro plan for bloggers and personnel. They both will provide you with a lot of functionality and the price is reasonable. The Pro, Business, or Business Plus programs are recommended for small to large businesses.
Note that you can pay the difference to change your plan with Weebly at any time. Hope you enjoy the Weebly website builder review and understand all about it.