Are you looking for the best-selling admin dashboard template? If so, then below we provide 10 admin dashboard templates that you can choose from. You can use these templates for your upcoming project. All templates have valuable features that fulfill your needs.
Why Admin Dashboard Template 
Admin dashboards are the foundation of many websites and web applications. It is one of the most effective ways for business or website owners to view, manage, and access business data. Also, get business reports. An admin template provides you with the tabular views and forms you'll need to display records and input data.
They come with a variety of dashboard layouts and are ready to use right away. You can also freely customize them if you want to.
The majority of these Bootstrap admin templates have online demos so you can see them in action before engaging with one.
Metronic
By far the most famous premium admin template ever published is Metronic. It provides a variety of layout options. Metronic is made with HTML5, Bootstrap CSS, Angular 9, VueJS, React, and Laravel. Metronic is a versatile and user-friendly platform that is suitable for both beginners and experienced users. To begin with, you won't have to think about any of the technical aspects of an admin dashboard while working with Metronic. Metronic is fully responsive, flexible, retina-friendly, and compatible with all modern web browsers.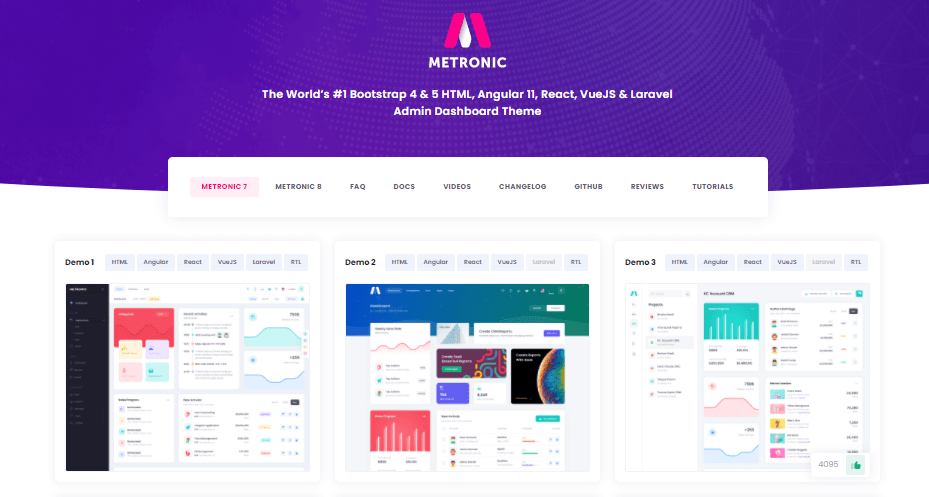 Key Features:
All New Exceptional Design
Trending UI/UX designs to future-proof your projects.
Video Tutorials
How-to videos for you to kick-start your projects.
Native Angular 11
Complete support with login, auth, ACL, and CRUD.
Pre-build Applications
Multipurpose pre-build applications that empower your business.
Intuitive HTML Version
Stands on Bootstrap 4 & 5 – Builders & Classic packages.
Blazing Performance
All core plugins build with pure Javascript for optimal performance.
5 New Angular Demos
Demo 6, Demo 7, Demo 8, Demo 9, Demo 10, Angular versions.
Angular Wizard Demo Pages
Wizard 1, Wizard 2, Wizard 3, Wizard 4.
Project Applications
Five projects List Options, View, Add & Edit Project Pages.
Support Center Application
2 Home options, 3 FAQ options, Feedback & Licence pages.
New Components & Features
Iconbox, Infobox, Callout, Ribbon Components, and many more.
Updates Improvements & Fixes
A huge work on improvements, Plugins Updates, and Fixes.
Fuse
Fuse is backed by Google's AngularJS material, which means it can use all of Angular's features. This is a highly sensitive template that is retina ready, in addition to its clean, flexible, and unique design. It works within all modern web browsers on, any screen resolution, and any device. The Fuse template includes features such as email, chat, file manager, scrum board, and notes.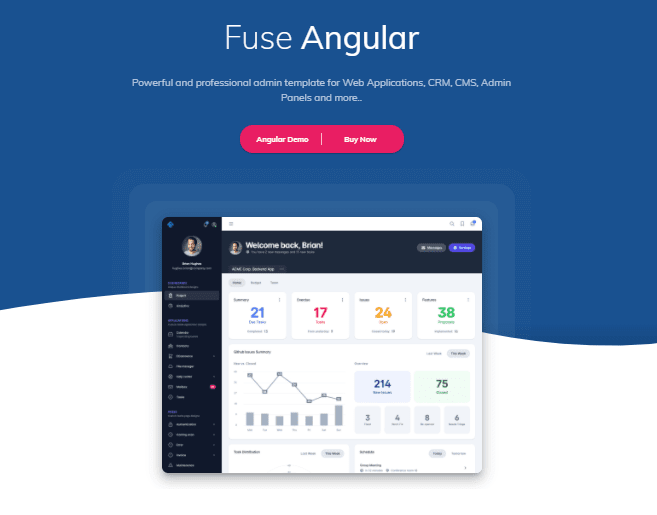 Key Features:
Angular & Angular Material
Built with Angular on top of Angular Material library.
Content Rich
Built-in apps and ready-to-use pages to cut your development time.
Color Management
Angular Material compatible color templates and advanced color management.
Based on SCSS
All styles are written with SCSS for easy customization.
Flexible Structure
Ability to change the template structure based on routes.
Free Updates
Free lifetime updates including new features and bug fixes.
Different Layouts
Different themes and content layouts for the separate app and page structures.
Easy Development & Deployment
Develop and deploy your app by using the power of Typescript & Angular CLI.
Premium Support
Premium support from our experienced support team.
No Dependencies
Production app can work on simple hosting, no NodeJS or any other dependencies.
PSDs Included
20+ layered and organized Photoshop files included.
Limitless  
Limitless is a Bootstrap-based professional admin template. As the name implies, it is flexible and efficient enough to handle all kind of web applications. Hundreds of HTML pages and CSS files are included with Limitless. Each file refers to a single component, layout, tab, plugin, or extension, making it simple to locate and modify the code you're looking for.
Dropdown menu, nav, buttons, breadcrumbs, and pagination are among the components provided in this design. Fixed navbar, fixed footer, boxed layout with default sidebar, and boxed full-width are only a few of the layout options. This template includes a number of plugins and extensions, including an image cropper and a block UI plugin.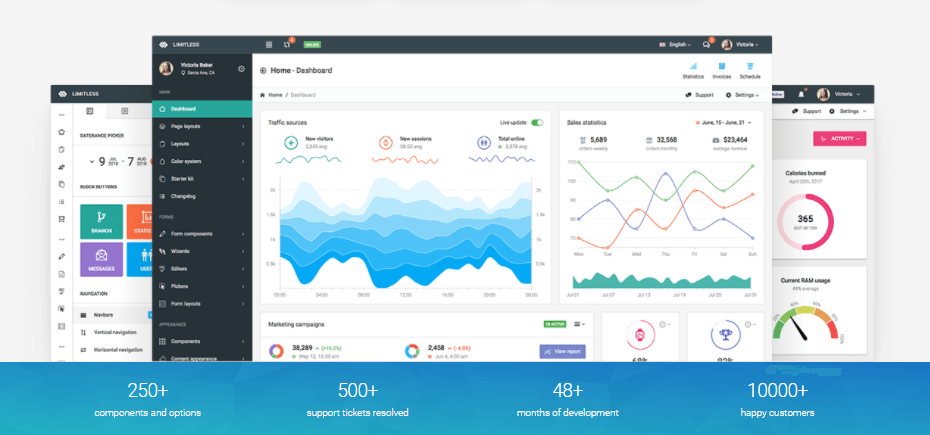 Key Features:
Pre-built layouts
The limitless template includes over 1000 static HTML pages, all of them are ready for integration.
Layout
Limitless comes with four pre-built layout.
Fully based on LESS and SCSS
BS3 version is fully based on LESS, BS4 version is based on SCSS, with an automated compilation.
Hundreds of Components
Includes extended BS components, 100+ plugins and extensions, and extended layout options.
Multi-level Navigation
Supports collapsible and accordion vertical nav, multi-level horizontal nav, and mega menu.
Translation Ready
Limitless supports i18next library integration, which allows you to translate your content on-the-fly.
Data Visualization
Includes ECharts, Dimple, C3.js, Google charting libraries, and advanced native D3.js charts.
Detailed Documentation
Comes with very detailed docs and includes options, features, and descriptions with screenshots.
Starter Kit
Each layout includes a set of blank pages with basic functionality to simplify the development process.
5 Ready-to-use Layouts
Includes most common layout types, based on a responsive grid and supports up to 4 sidebars.
Set of Custom Pages
A set of pre-built custom pages: search, galleries, registrations, logins, users, error pages, chats, etc.
Color System
Includes optional, but recommended a custom color system, based on Material Design palettes.
Advanced Mega Menu
Supports horizontal navigation with an advanced mega menu and extended components.
Pages 
Pages is a completely responsive admin dashboard design that is rich in features and layouts. It is built on Bootstrap. The most famous of its five different layouts are "Pages Condensed." It provides a variety of sensitive blocks for dashboards with a lot of content. The newest design, "Pages Casual," combines bright colors and a top navbar for a simple, user-friendly interface.
The goal of Pages is to make it as easy to read as possible. Pages come with their own form system that is specifically built for dashboards and is consistent across all browsers and operating systems, in addition to its clean layout options. This is referred to as the Inter-typeface family. Pages also have an advanced color system that automatically maintains the contrast ratio between font and background color, ensuring that your dashboard text is legible.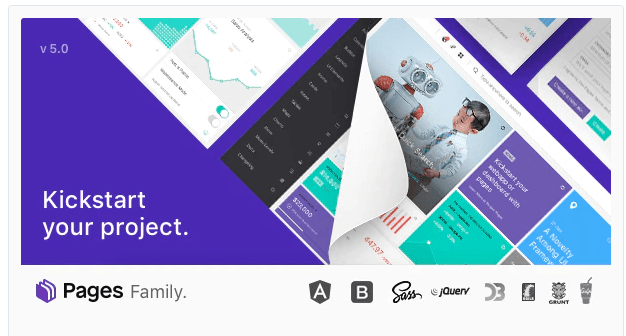 Key Features:
Native Angular
Inbuilt native angular components without jquery. Less bulky and clean code.
Light Weighted
lightweight code makes the framework less bulky and increases the speed of load.
Smooth as Silk.
GPU performance for animation for an ultra-smooth and fast Experience.
100+ Widgets & Plugins
Widgets and plugins to quickly deploy a good experience with the dashboard.
Well Documented
Get Started with a detailed guide from the experts.
Fully responsive
From Mobile to desktop, Fits any screen.
Multiple Layouts
Switch between layouts to experience a whole new look and feel for your product.
Animations
Animation curves are made natural and quick to produce motion.
2x Retina Ready
Web components will look sharper on different high-density displays.
Syncing colors
Pick the Primary colors, and the framework will automatically sync the color hues.
Hinted Typography
Fonts for various OS browsers, Either its Windows, Mac OSx, Or ubuntu, It does it all.
Icons
Select a wide variety of icons ranging from font awesome to in-built icons.
Github Repository Access
Get Access to our private Github repository and get instant updates.
Remark 
Remark is a top-rated admin template developed with Bootstrap 4. It is highly responsive, allowing its display to be optimized across all devices and web browsers, including Internet Explorer and Chrome. Remark is a fantastic premium admin template that makes the design and development process easier.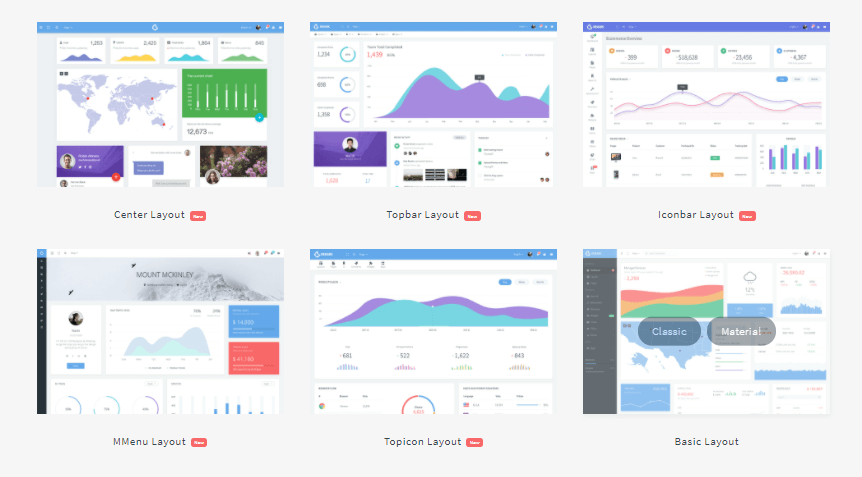 Key Features:
Responsive design
Fully adjust to fit the size of the screen, whether it's mobile, tablet, or desktop.
Classic and material design
All components and layouts work well for this two different style.
UI Components
It offers a wide choice of elements, full customizable components.
Menu Layouts
Focusing on designs 6 different layouts to help.
Color Schemes
They provide 11 predefined color scheme.
Components
More than 1000+ UI components and 100+ widgets, chats and more.
Menubar
Look great against dark or light menu background, it comes with 11 color palette.
Application
The app is designed to help you save time by developing projects.
Pre-build pages ready
With the choice of pages offered and building websites fast.
Dark & Bright Menubar
Look great against light or dark menu backgrounds.
11 Color Skins
Come with 11 color palette and is exceptionally easy to switch.
Vuexy
Vuexy is a powerful admin dashboard template based on the VueJS platform, created by developers for developers. This feature-rich and highly customizable template can be used to create any type of application, from banking apps to fitness apps and more. Horizontal menu, default menu, collapsed menu, dark, and semi-dark are only a few of Vuexy's dashboard layout options.
Vuexy also offers templates for email, chat, to-do lists, calendars, and eCommerce applications in addition to these pre-designed templates. Alerts, fuzzy search, bookmarks, a floating nav bar, dark and semi-dark layout options, cards, and charts are among the elements and tools included in the dashboard.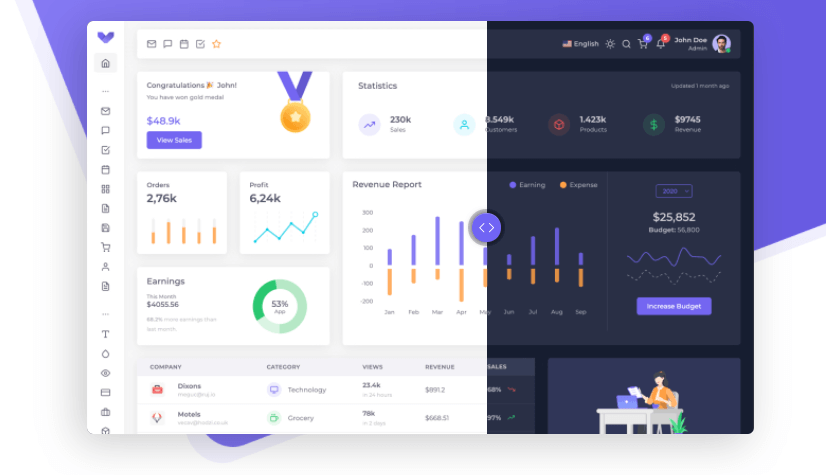 Key Features:
Layout
6 Pre-built layout options to cater needs of modern web applications.
Bootstrap 4x
It's been made with Bootstrap 4 and a fully responsive layout.
 BootstrapVue
With BootstrapVue you can build responsive, mobile-first, and ARIA accessible projects on the web.
Dashboards
It comes with two niche dashboards.
Apps
Vuexy has 4 workable apps like email, chat, todo, and calendar.
Independent Authentication
It has authentication of firebase and does not depend on jQuery. It is always ready for Axios and algolia. Laravel is a backend language that gives you the best support for your front and website.
Authentic Firebase
Vuexy is a Mobile HTML Theme useful for integrated libraries and frameworks. It has a special feature of authenticating firebase and social logins.
ECommerce-Friendly
This application was also available on e-commerce like shops, malls, any wish list, etc.
Unlimited And Responsive
This Vuexy app has an unlimited color palette and a completely responsive layout. It also comes with three different layouts: a dark horizontal layout, a collapsible layout, and a semi-dark layout.
Content Publishing
Vuexy is the best HTML Websites theme that gives results immediately for publishing the content, and it is best for us.
Navigable Design
It has easy navigation, a clean and modern design, and algolia integration-like features.
OneUI
OneUI is a responsive admin dashboard design built with the Bootstrap platform and compatible with the Laravel PHP framework. This dashboard can help you create your web project quicker and more effectively by providing developer tools and HTML and PHP versions of its pre-designed templates. A new dashboard, landing page, arriving soon, authentication, and errors page template, as well as a new classic and inline editor, were included in the most recent update. Sidebar scrolling, Flexbox-based layout, page overlay, header search, and other features are included.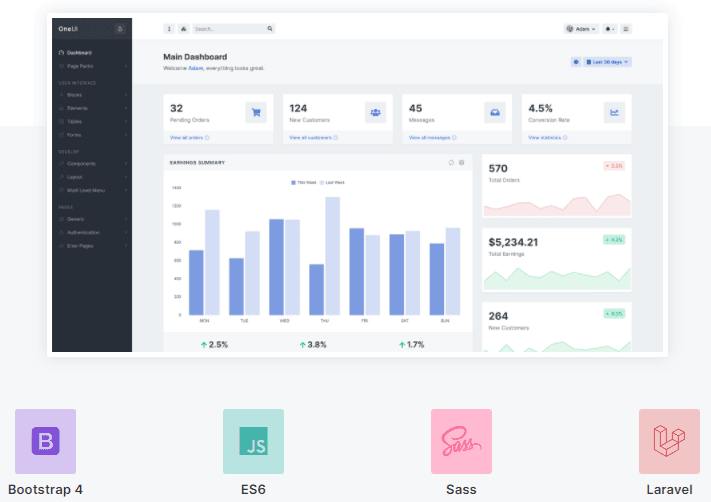 Key Features:
Laravel
Laravel starter kit is now based on laravel 8.
Vue Edition
You get the pure vue.js version for free by purchasing the complete OneUI package.
Developer tools
They have smart developer tools such as webpack 5, Babel 7, Gulp 4, Autoprefixer and Browsersync which will save you time and help you build your project faster and more efficiently.
Bootstrap 4x
Its been made with Bootstrap 4 and fully responsive layout.
Sass
OneUI was built with Sass, overriding and extending Bootstrap in an intelligent way to ensure a perfect and modular workflow.
ECMAScript 6
It was built with ES6, the new major JavaScript release which enables us writing cleaner and better code.
FontAwesome 5
OneUI comes with the latest Font Awesome version, bringing you over 1300 freshly made icons for your projects.
Gulp 4
We created smart development tasks to help you focus on your projects. Just install the npm dependencies and use them out of the box.
Browsersync
It will serve and sync your project across different browsers and also refresh them each time your save your files.
Autoprefixer
Peace of mind when working with Sass. Use the latest CSS syntax and Autoprefixer will auto add any required prefixes for older browsers.
Porto Admin
ThemeForest's Porto Admin dashboard admin template is one of the most popular in the marketplace. It comes with over 20 ready-to-use dashboard samples, each with advanced forms, tables, and other tools. You simply pick a demo, customize it, and you're finished. If you choose, Porto Admin also has unique versions for some of the most common CMS frameworks, such as WordPress, Magento, Drupal, Shopify, and Joomla.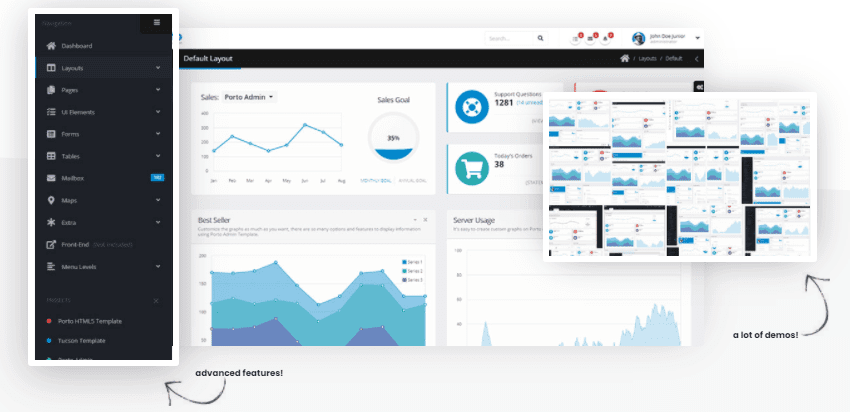 Key Features:
Fully Responsive
Porto Admin is fully responsive and ready to look so fresh on any type of device.
Light & Dark Styles
Easily can change the background color style by adding the HTML.
Exclusive Style Switcher
Here you will be able to select any variations of color you want and create a new website in a second.
Usability Specialists
The designs of all pages and all demos included in Porto Admin were created by usability experts and modern designs standards.
Bootstrap 4x
It's been made with Bootstrap 4 and a fully responsive layout.
CSS3 Animations
Porto Admin is always keen to update the latest CSS 3 technologies, you can see nice and exclusive css3 animation effects through demos.
Prebuilt Dashboards
Porto Admin is a truly complete template, with over 20 demos that make it suitable for any type of admin project. We believe you will like Porto Admin.
Speed Performance
Choose Porto Admin and make your site at high performance. We know your project must the fast as possible.
Integration with Porto
More features add to the template, purchase Porto and Proto Admin & make your website more powerful.
Outstanding Support Center + Extensive Documentation
If you have any queries our dedicated support will be here.
Source code Extremely Well Organised
We are experts in front-end development. Our source code is extremely organized and so easy to maintain.
Customer Review
4.85 average rating based on 2.5k+ reviews proves that Porto is loved by our customers.
Elite Admin
Elite Admin is a Bootstrap 4 admin template that can be used for a variety of purposes. It is well known for advanced features such as multi-file upload, charts, widgets, eCommerce websites, validation forms, and more because of its outstanding flexibility and functionality.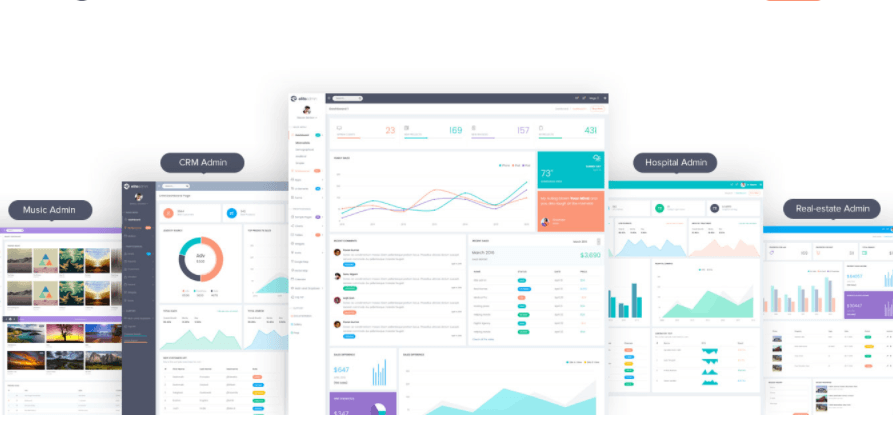 Key Features:
9 Color Schemes
They have included 9 pre-defined color schemes with Elite Admin.
Dark & Light Sidebar
Included Dark and Light Sidebar for getting the desired look and feel.
2000+ Page Templates
They have 20 demos & 100+ Pages per demo to make it easier.
1000+ UI Components
Almost 1000+ UI Components are being given with Elite Admin Pack.
Lots of Widgets
A wide range of Widgets is available with Elite Admin Package.
Bootstrap 4x
It's been made with Bootstrap 4 and a fully responsive layout.
3000+ Font Icons
Lots of Icon Fonts are included here in the package of Elite Admin.
Fully Responsive
All the layout of Elite Admin is Fully Responsive and widely tested.
SassBase CSS
There CSS is written by Sass Base to make your life easier.
Easy to Customize
Customization will be easy as they understand your pain.
Lots of Chart Options
You name it and they have it, Yes are lots of variations for Charts.
Multiple File Uploads
You can upload multiple files with our Multiple selectors.
Ubold
Ubold is a fully featured premium admin template built on top of the most latest Bootstrap version. This theme is responsive and mobile-friendly, and it includes hundreds of ready-to-use elements. In reality, Ubold includes over 500 user interface elements, 150 pages, and 110 charts. Ubold also includes six layout options as well as 13 pre-built applications for email, chat, projects, calendar, and eCommerce.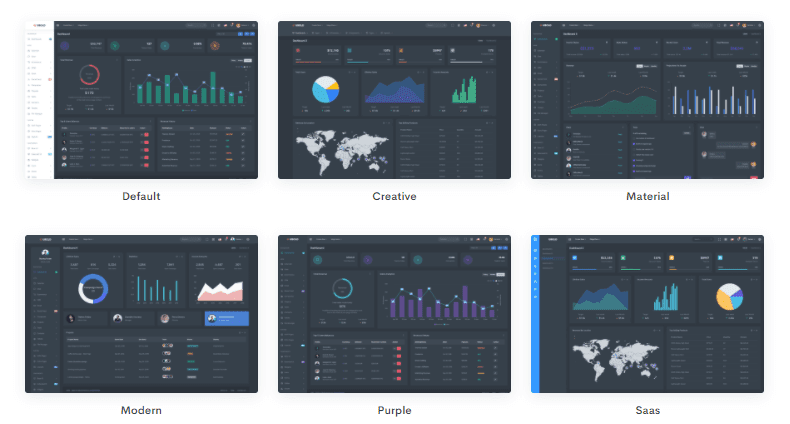 Key Features:
Bootstrap
It's been made with Bootstrap 5 and a fully responsive layout.
Based on SCSS
All styles are written with SCSS for easy customization.
UI Components
They have 500+ UI components.
Chart
They have 11 chart libraries and the total chart is 110+.
Layout
6 Pre-built layout options to cater needs of modern web applications.
Are You Looking For Hosting? Check Out Top Five Hosting
Final Thoughts: Best Selling Admin Dashboard Template
We recommend these 10 Best Selling Admin Dashboard Templates. Feel free to contact them if you want to place an order. What are your thoughts about these templates? I'd love to hear about it in the comments section below! If you like this article please give us a like and share this on social media.