Magento is the most widely used eCommerce platform. Magento manages approximately $100 billion in gross merchandise volume each year. For enterprise users, there is a premium tier, however, the software is free to use at its most basic level. Massive merchants like Samsung, Coca-Cola, Nike, and Nespresso, as well as countless small eCommerce businesses, use Magento.
Magento is an excellent platform for a well-established business. If you're a small business looking to go into eCommerce for the first time, there may be less expensive options available. However, if you have a proven business strategy, the financial resources to back it up, and the time to mold and sculpt Magento to match your demands, it may be the ideal solution.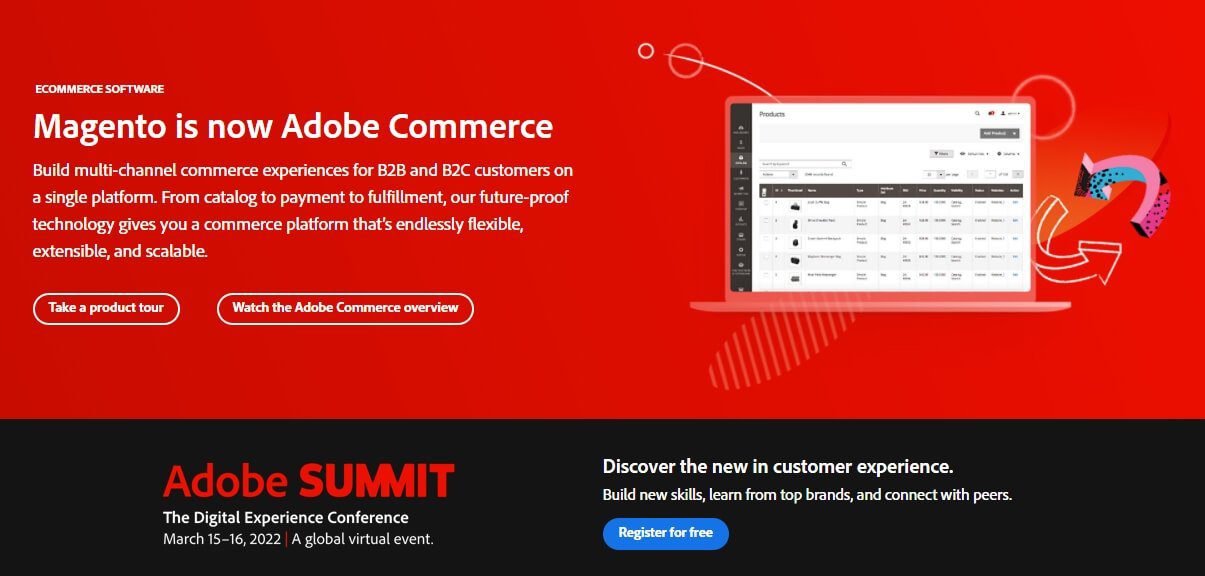 Features
B2B Functions

Payments

Gift Cards

Support Tools

Client account

Marketing tools

Customer service

Business Intelligence

Search technology

Product management

Category management

Order Management

International support

Analyze and report

Customer Dashboard
Magento Pricing
This Open Source platform is the most popular edition on the market. 83% of websites use Magento open-source edition. How much does it cost per month? This version is available for free download and installation. However, if you don't have the time or ability level to personalize your site the way you want, you'll still have to pay for hosting, domain, and security, as well as any web development assistance. A shop starting at $15,000 with basic functionality, a simple free theme, and no integration with other systems or services.
Magento Commerce
It was previously known as Magento Enterprise and is designed for enterprises of all sizes. Magento Commerce price is determined by your annual total sales volume. You can also use the Magento Commerce plan for free to test it out. A free demo is available in this version, but you must provide all of your details.
If your average gross sales revenue is less than $1,000,000, its costs will be $22,000 per year. When your average gross sales revenue is $1,000,000 to $5,000,000, then its cost will be $32,000 per year. If your average gross sales revenue is $5,000,000 – $10,000,000, then its cost will be $49,000 per year. When If your average gross sales revenue is $10,000,000 – $25,000,000, then its cost will be $75,000 per year. If your average gross sales revenue is $25,000,000+, Magento Commerce costs will be $125,000 per year.
Magento Commerce Cloud
Magento Commerce Cloud is only for big enterprises with a huge number of sales. The biggest benefit is all of your information is stored in the Cloud rather than on a hard disk that can lose your data. The price of this plan is somewhat more than the previous one.
If your average gross sales revenue is less than $1,000,000, its costs will be $40,000 per year. When your average gross sales revenue is $1,000,000 to $5,000,000, then its cost will be $55,000 per year. If your average gross sales revenue is $5,000,000 – $10,000,000, then its cost will be $80,000 per year. When your average gross sales revenue is $10,000,000 – $25,000,000, then its cost will be $120,000 per year. If your average gross sales revenue is $25,000,000+, Magento Commerce's costs will be $190,000 per year.
Other Cost
you have to pay extra costs to implement and manage your website. you'll have to pay for your hosting, theme, domain, SSL certificate, and add-ons. VPS Magento hosting changes from $60 to $300 per month, we recommend Nexcess hosting. The domain and SSL certification costs vary from $10 to $50 per year.
Ease Of Use
For non-techies and newbies, this Ecommerce platform is a real stumbling barrier. Because Magento 2 is installed locally, you'll need to set up FTP and transfer Magento Archive to your hosted system. It is difficult to set up and customize.
The troubles appear to be over once you've completed the setup process. Its administration and day-to-day operations are simple. Managing content in your store is no longer a difficult job with the help of the page builder.
It also has a great user interface for merchants. Everything you need to manage is featured in the sidebar for easy access. Its developers are spending more and more time making the platform more user-friendly. On the other hand, it is not as user-friendly as other platforms.
Themes & Customization
Themes
Its marketplace gives you additional options like free and paid themes. The seller can customize templates after use as pre-built. For more ideas go to Themeforest, you can choose from over 500 templates. template price range is 29$ to 200$. It comes with Luma and Blank theme. you can feel Magento's power and flexibility with the Luma theme. With complete customization, these are eye-catchy, modern, and clean.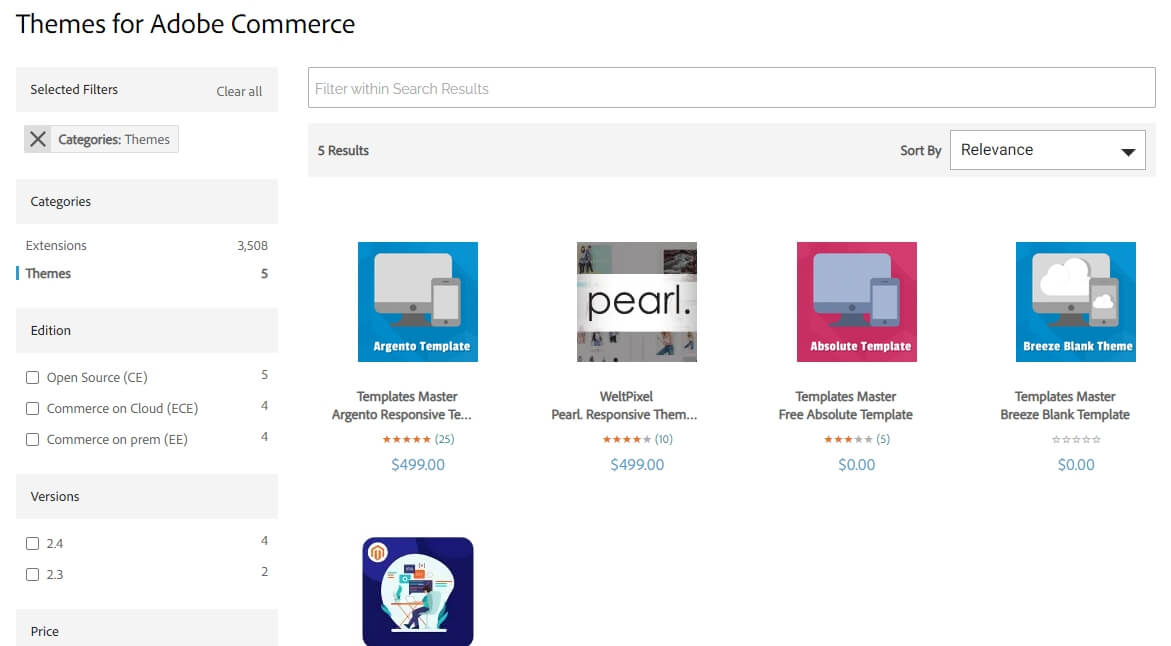 Front-End Customization
after final your theme then start the installation process to customize your store as you want. This phase needs the skill of PHP and other programming languages like CSS and JavaScript. If you have no experience with technical skills, you can take assistance from a developer.
Magento 2 allows you to change almost everything, including themes. There are three basic approaches to doing this. Firstly you can make a theme from scratch. Secondly, you can buy a page builder or a theme generator. thirdly you can use the default page builder.
eCommerce Features
Its comprehensive features are one of the causes for its dominance in the eCommerce platform solution sector. Other simple platforms, such as WordPress, need the installation of extensive extensions, which kills a lot of time worrying about plugin compatibility, maintenance, and updates.
On the other hand, Magento saves users a lot of time by including all of the features they require within the main system. This made use of its out-of-the-box features, which is a competitive advantage.
The feature list for Magento is vast, but in this review, we'll break it down by section so you can get a better idea of how you can sell using this platform.
1. Inventory Management
Create basic, configurable items that are packaged, grouped, and downloadable. create pre-defined product templates to fastly build up new products with a specified set of characteristics. Based on their features, automatically allocate items to certain categories. This means no need to manually add products to categories; all you have to do now is set up characteristics for your products.
2. Sales Channels
Your Amazon and Magento catalogs, inventory, and orders are automatically synced.

Any changes in the catalog are automatically synced.

Create Google Merchant Center and Google Ads accounts.

With Google Smart Shopping campaigns, you can reach out to more customers.

Review its ROI reports.
3. Shipping & Tax
Integration with international shipping companies.

Offer free delivery and discounts, specific quantity, and more.

Support fixed product taxes.

For EU transactions tax is automatically calculated
4. Analysis
Data may be accessed and analyzed from anywhere, and reports are automatically generated and updated on a regular basis.

Data and visuals can be exported from the platform.

With its report builder, you can do deep analyses.
5. Check-out & Payment Gateways
In the cart display tax and delivery estimates, In the checkout process, provide an order summary with product photos.

Increase conversion rates by offering a quick Buy option that uses previously saved payment and shipping details to expedite the checkout process.

PayPal, Braintree, Authorize.net, CyberSource, and WorldPay are just a few of the payment gateways you may use.

Qualify for the easiest level of PCI compliance, depending on the payment methods used.
Magento continues to grow. As a result, features are rapidly expanding.
Mobile Commerce
Mobile commerce has become a popular trend, and Magento hasn't missed a beat! Magento M-Commerce Platform was launched in 2011. It is the world's first mobile commerce platform. All Magento versions are compatible with the mobile app. The applications enable companies to take customer connections to an altogether new and connected level, as well as give customers an intuitive and simple-to-use customized storefront.
After nearly a decade of development, the Mobile edition has evolved into a highly valuable tool for businesses looking to attract visitors from all over the world. The following are some of Magento M-Commerce's key features:
Provides a reliable, fast, and engaging user experience

Fully responsive theme

Instant purchase option
SEO
No need to configure its SEO because it is done automatically.

You can change meta keywords, descriptions, alt-tags, and more as your need. Extra features like no-follow links, sitemaps, and redirects make it easier for search engines to index your site.

Apart from that, all versions of Magento 2 offer mobile optimization and Magento SEO. This implies that everything looks great on buyers' devices and that your site can still be visited without a lot of effort on your part.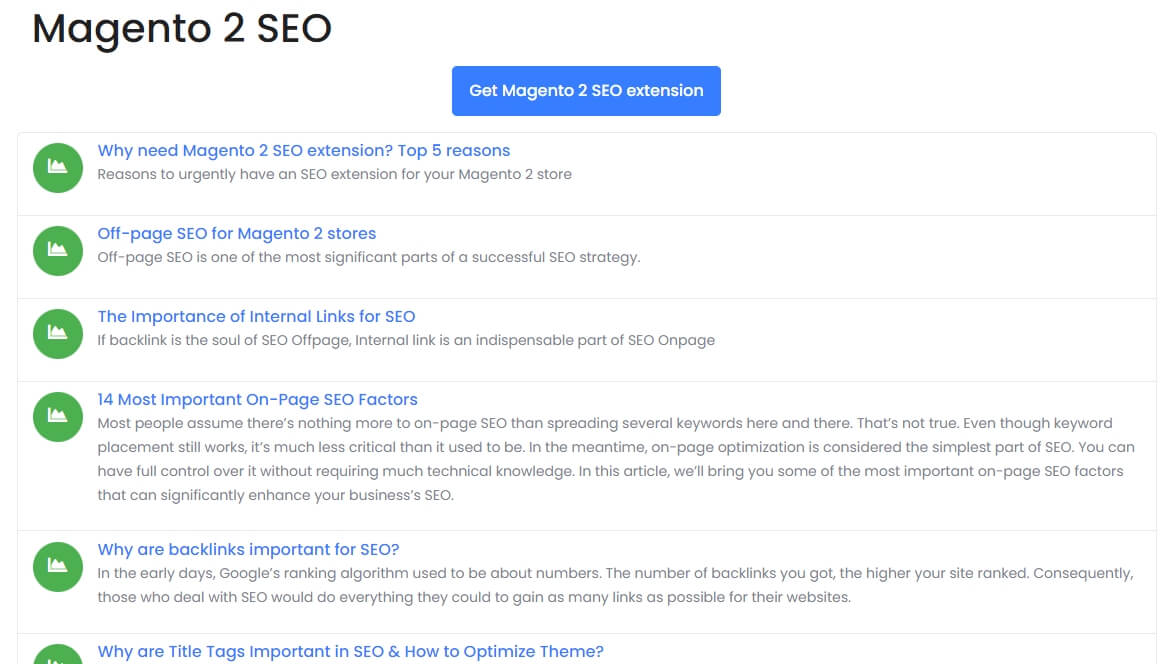 CMS (Blogging)
You can get help from this platform if you focus on publishing articles that help your visitors and convert successfully. Magento CMS comes with all of the features you'll need to handle your content and its quality with ease. Of course, you can use third-party extensions to take advantage of the blogging features.
Marketing Features
Upselling products, flexible coupons, and providing promotional prices are just a few of Its marketing features. Above listed features are dependent on the plan you choose. If you are using this Open Source platform and you need to access more features then you have to upgrade to Magento Commerce or Magento Commerce Cloud plan. On this platform, you can customize your features to your business needs.
Support
It does not provide customer support practically, their customer support is just like most the open-source eCommerce platforms. There's no live chat, phone, or email support for merchants that use Magento Open Source.
On the other hand, this platform provides plenty of resources for merchants who are tech-savvy and capable of managing their support strategy.
This platform includes an informative blog, a knowledge base, and a forum where users get help from others.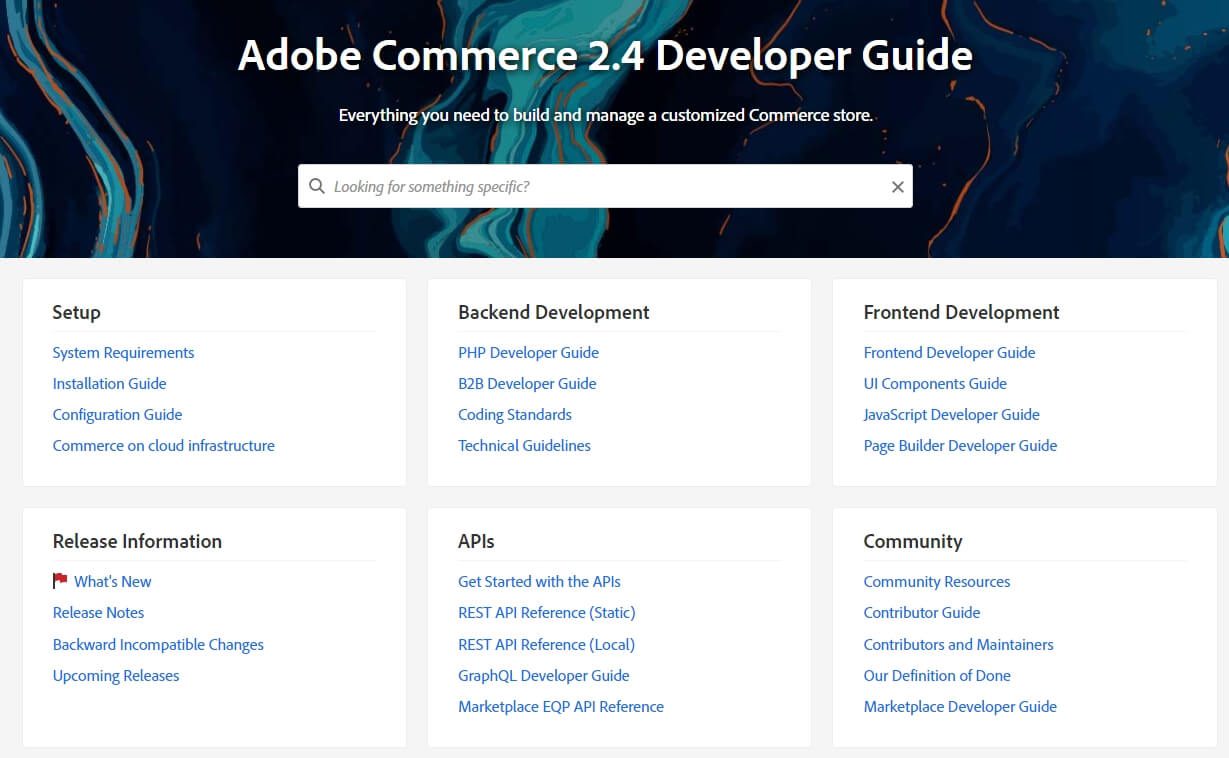 Extensions
Its marketplace contains a large number of both free and paid extensions covering a wide range of topics, including customer support, accounting, content, marketing, POS, payments and security, site optimization, etc.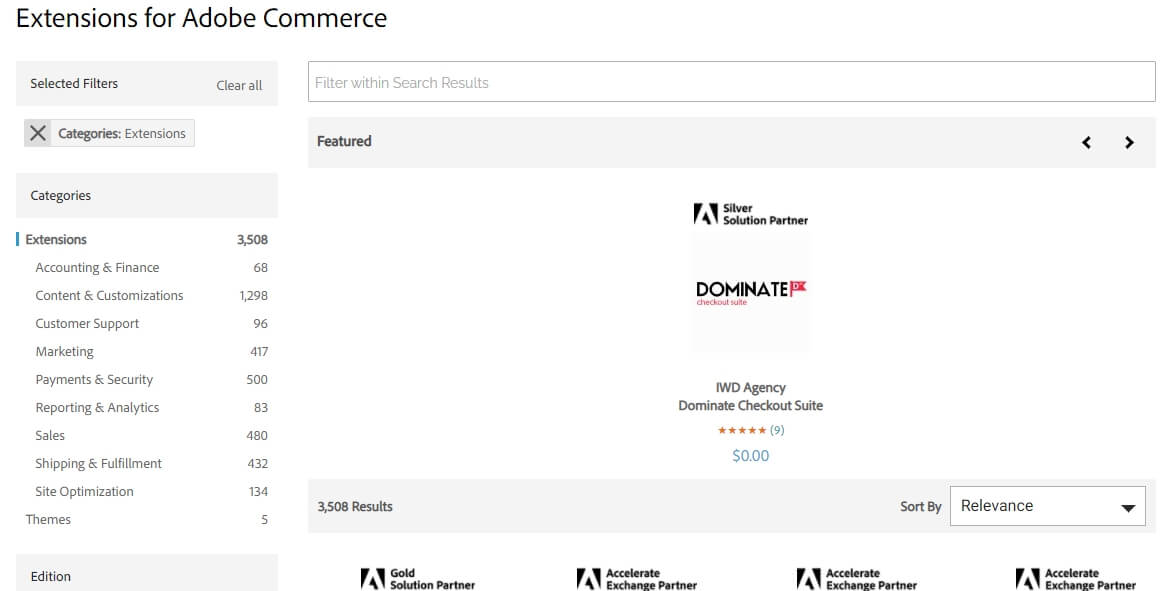 Security Features
This platform is designed for most medium to enterprise-sized businesses. Hence, the high level of security for their website undoubtedly is a major necessity. This eCommerce platform has prioritized security since its beginning.
They have a dedicated Security Center to keep your site safe. However, the cost is pretty expensive. It costs from $1,000 to $5,000 for SQL injection vulnerabilities and its users are not eligible for this type of service.
Payment Security
Send credit card details directly from the client to the gateway. This ensures that your client's details do not leak out during the payment procedure.

All sites qualify for the most basic level of PCI compliance. When processing, and sending credit card details, this wants to protect your clients' information.

Automated fraud detection tools make the worry out of preventing eCommerce fraud, abuse, and payment regulation.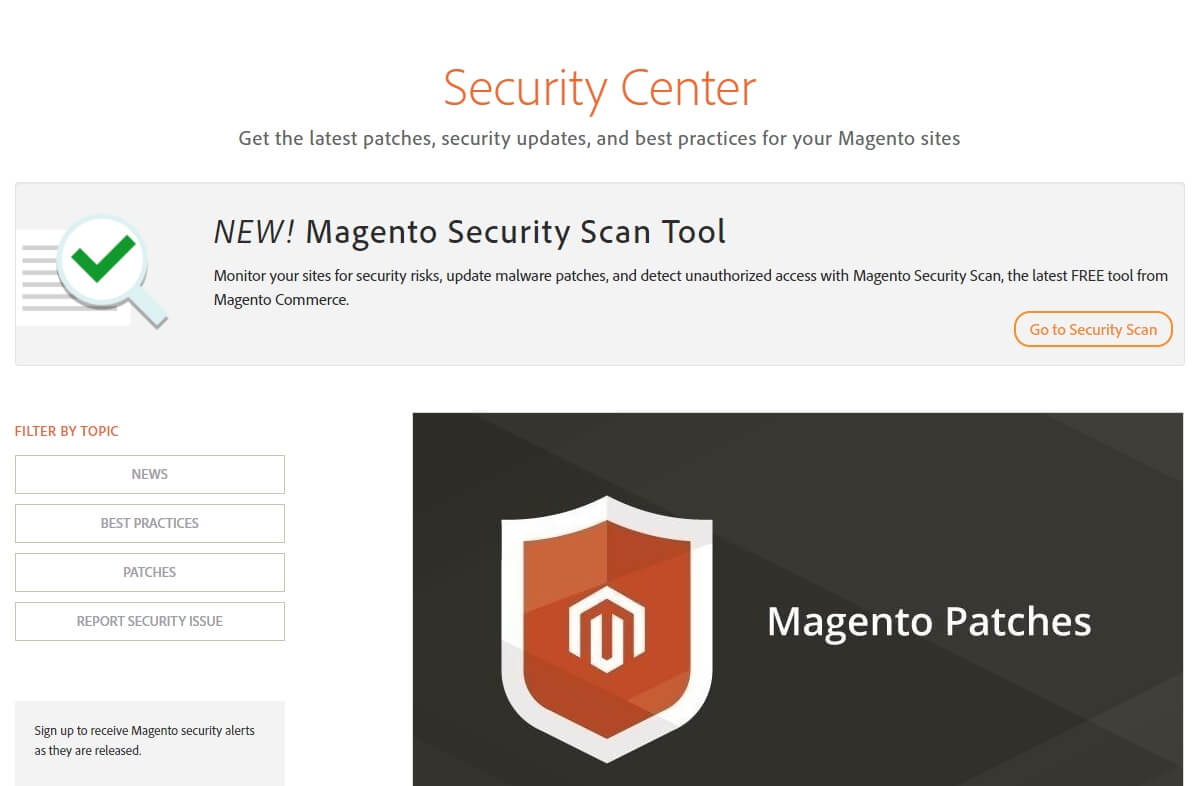 Architecture Security
AES-256 data encryption and SHA-256 hashing are used in the Advanced Encryption Standard. This eCommerce platform uses a global encryption standard (AES and SHA) to protect our information from prying eyes.

Google ReCAPTCHA and Two Factor Authentication are used to secure stores and prevent false logins.

The Security Center will keep you up to date on security issues.
Final Thoughts
However, this open-source eCommerce platform is holding a top position in the market. It continuously gets popularity as one of the best eCommerce solutions for medium to large businesses.
We think this article has covered all parts of this eCommerce platform. After reading this article if you feel the time is right and Magento is the best platform for your needs then start. You can also read the article "Shopify In-depth Review 2022 – Must Read Before You Start".
What are your thoughts about this Ecommerce platform? I'd love to hear about it in the comments section below! If you like this article please give us a like and share this on social media.