The best domain name registrars of 2023 have been revolutionizing the domain registration process with their innovative services and modern technologies. These companies provide reliable and secure domain registration services, allowing customers to register their domains quickly and affordably. They are also well-known for providing excellent customer service, helping customers choose the right domain name, and managing their domains with ease.
Some of the top domain name registrars of 2023 include GoDaddy, NameCheap, Bluehost, SiteGround, Google Domains, and DreamHost. Each of these companies offers different features and pricing plans that cater to different needs and budgets. To ensure you get the best out of your domain registration experience, it is important to research each company's offerings carefully before making a decision.
Developing and launching a website is not usually a low-cost endeavor. Most people are unaware of how much money is required to get a website up and operating. If you don't feel confident creating your own website, you'll have to hire a web developer. Then there's the issue of web hosting and domain registration to worry about. Your website fees might easily go up depending on the size and capabilities of your site.
Brief of Domain Registrars
Purchasing a low-cost domain is one approach to reducing your overhead costs. One of the most crucial components of any website is the domain name. It is how people will visit your digital space, whether it is a personal blog, a commercial website, or an eCommerce site, and it reflects your overall brand. In most cases, a lower price tag denotes poor quality. That is not the case with domains.
A few of the best domain registrars provide low-cost domains. There are other web hosting companies that will handle the registration process for you and provide you with a free year of domain registration. These choices can assist you in getting your website up and running without breaking the budget. We'll go over some of the cheapest domain names in this tutorial. Before we get started, let's review the basics of what a domain is and what a registrar can do for you.
When we say a domain is "Cheap" or "Budget," we're referring to the price range of $0.99 to $12. We researched over 20 different domain registrars that fall within that pricing range when creating this article, and then evaluated the service and features you get with your domain purchase.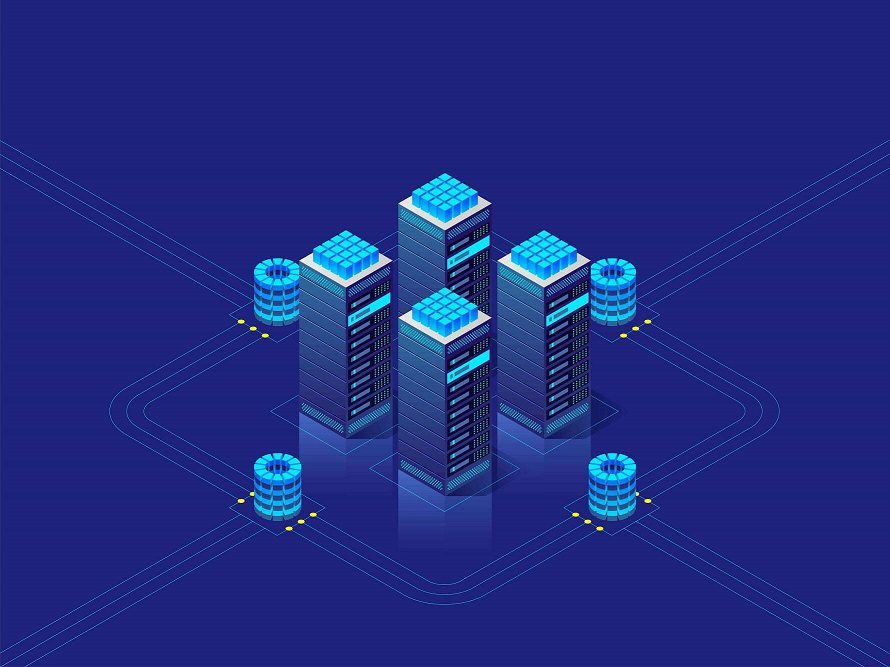 What is a Domain Name?
A domain is a unique name that you use to visit a website. The Internet is run on a system of numbers behind the scenes. A unique IP address is assigned to each computer, mobile device, and website. The IP address, commonly known as the Internet Protocol address, is the address used by devices to connect to a website's server and download data to display on your screen.
IP addresses are difficult to memorize since they are so long. As a result, domains were created to simplify things for the general Internet user. The IP address is linked with the domain name. When a visitor types your domain into their browser's address bar, the computer performs a short search of the DNS server, which acts as a giant phone book on the Internet. The server informs the computer of the domain's IP address and directs the browser to that digital space. All of this happens in a matter of seconds.
While the procedure appears to be hard but it is actually quite simple. Domain names, make the Internet far more accessible. To reach your favorite website, instead of remembering a random string of numbers, you can use a memorable domain.
A good domain name can help you with all elements of your website's promotion. Your website's brand name awareness can affect SEO, email marketing, and the rest of your online presence.
What About a Domain Extension?
The letters after your domain in your URL are known as domain extensions. Top-level domains, or TLDs, are another term for them. The domains ".com" and ".gov" are two examples. Domain extensions are used for a variety of reasons. They are mostly used to identify the mission or geographic location of the site. For instance, ".com" is used for commercial websites, whereas ".gov" is used for government-related websites.
The International Corporation for Assigned Names and Numbers, or ICANN, is in charge of extension coordination and regulation. This organization is in charge of creating new top-level domains. While most people are aware of the domain extensions ".org" and ".net," there are actually over 1,000 to pick from. The new generic top-level domain program from ICANN has introduced a slew of new extensions that can help your website stand out.
Extensions are a vital component of your domain because it's the stuff you're paying for. You can register almost any domain name you choose as long as it does not infringe on the rights of others or is not already taken. However, you can only utilize a limited number of domain extensions. In most cases, the cost of registration and renewal is determined by the popularity of the extension.
What is a Domain Name Registrar?
The registrar is the company that manages all aspects of your new domain's registration. They will register your domain name and link it to the IP address of your website. These services are included in the registration and renewal fees. To be properly qualified as a registrar, these companies must be accredited by ICANN.
When you buy a domain, keep in mind that you're paying for registration services. The domain is yours once you've paid the costs. The domain and the domain extension are not owned by registrars. You can always move your domain to another company if you're unhappy with the service you're getting. When you change companies, you don't have to pick a new domain as long as you keep up with renewal fees. You can keep the domain you chose for as long as you like.
Where to Find Best Domain Name Registrars of 2023
When it comes to finding the best domain registrar of 2023, there are a lot of options to choose from. The two most popular choices are Domain.com and NameCheap. Both offer competitive prices and an easy-to-use interface.
Domain.com is known for offering a wide range of domain name options with competitive prices, while NameCheap is known for providing excellent customer service and being one of the most trusted domain name registrars in the industry.
Additionally, both offer additional features such as website-building tools, email hosting services, and more. Ultimately, when choosing the best domain name registrar for your needs in 2023, researching each company's offerings and finding the one that best fits your needs will be key to making a successful decision.
Domain.com
Domains.com is a company that is dedicated to being the world's leading domain registrar. They also provide web hosting and a website builder, although their major focus is on domains. The company has been in operation since 2000 and has a fairly reliable support team that is available 24 hours a day, seven days a week. They are a subsidiary of the EIG company.
Domain.com offers a wide range of pricing options. Their list of possible TLDs is fairly extensive, giving you enough of opportunities to save money on registration fees.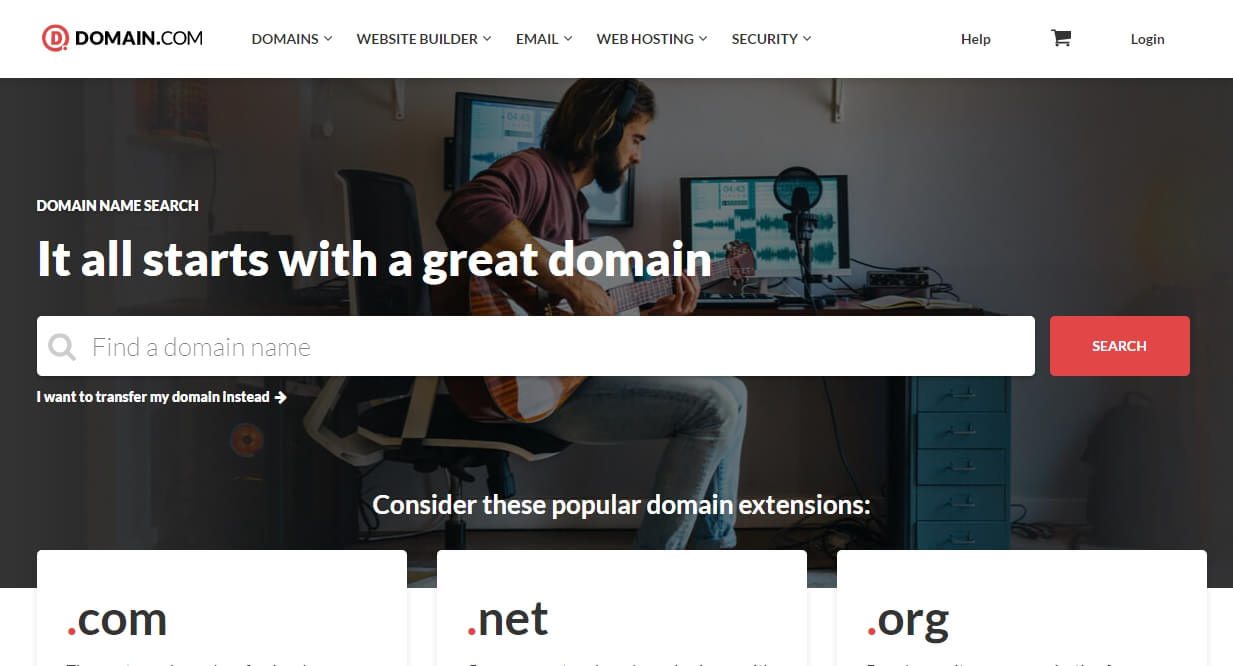 Domain.com – Cheap Domain Pricing
.com – $9.99 for first year, $13.99 a year for renewals ( use code SiteHub to get a .com for just $7.49 )
.biz – $5.99 for first year, $12.99 a year for renewals
.stream – $2.99 for first year, $2.99 a year for renewals
.bid – $2.99 for first year, $2.99 a year for renewals
.digital – $2.99 for first year.
Every Domain Name Gets the Following Features
Transfer Lock Security – TLS
Free SSL certificate
Email and URL forwarding
Complete DNS control
24/7/365 customer support
Extensive knowledge base resource
NameCheap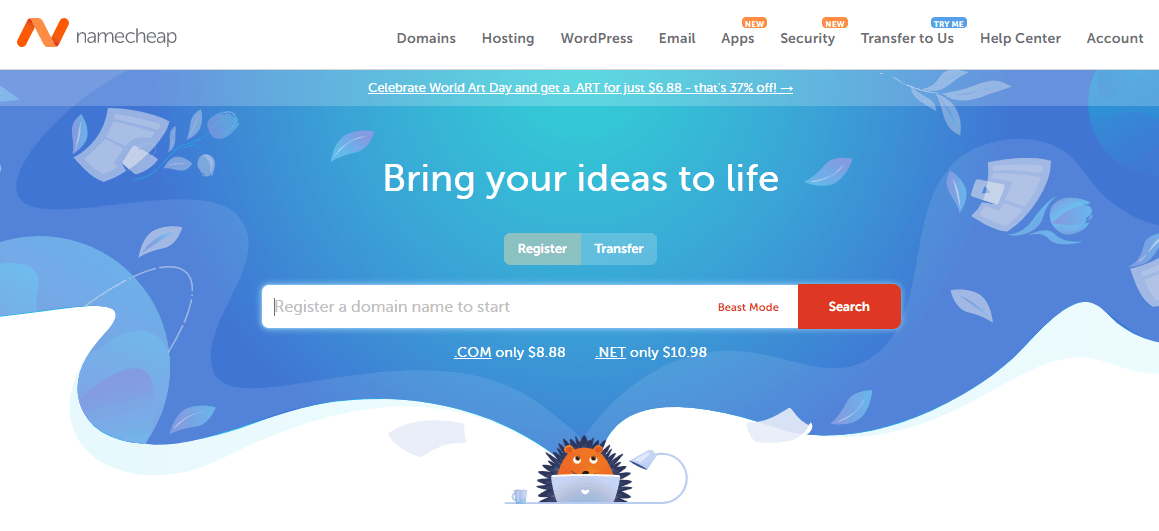 In the domain industry, NameCheap is a big player. The company has a good reputation and offers a variety of domain extensions. Premium domains are available, but there are plenty of generic TLDs to choose from.
WHOIS Guard is also available, it is a free privacy feature from NameCheap,. There are many other website services offered. WordPress hosting, SSL certificates, and more services are available. Every domain name comes with a free integrated email account.
Namecheap also accepts various payment methods, including Apple Pay, PayPal, credit cards (Visa, AMEX, and Mastercard), and BitCoin for domain registration.
Namecheap – Cheap Domain Pricing
.com – $8.88 for first year, $12.98 a year for renewals
.net – $12.98 for first year, $14.98 a year for renewals
.co.uk – $7.58 for first year, $9.58 for renewals
.one – $8.88 for first year, $10.88 for renewals
Bluehost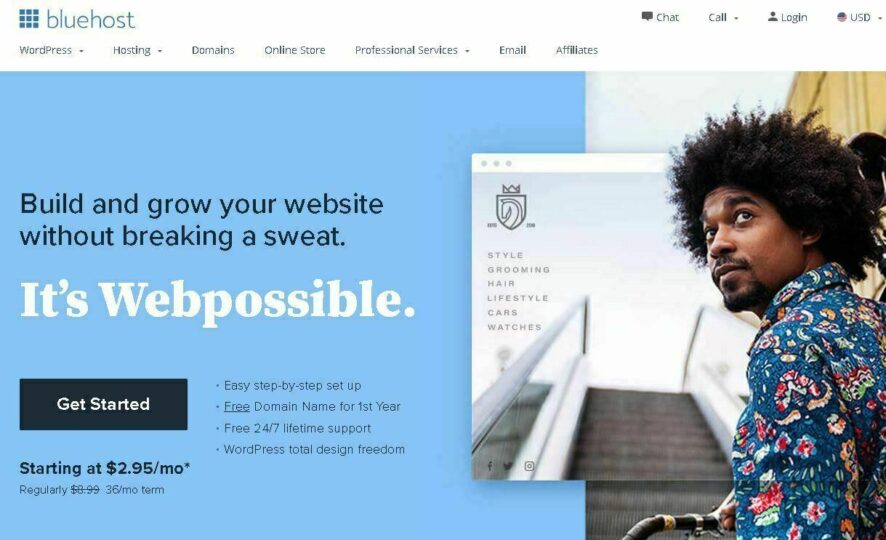 Bluehost is one of the largest hosting companies in the world, therefore it's only natural that they offer domain registration services. There are numerous low-cost domain available here. We like Bluehost because they provide you a free domain for the first year when you purchase one of their hosting plans. You can get your site up and running without spending a fortune thanks to the affordable pricing of their shared hosting options. It's a straightforward solution for bloggers and small company owners to have an all-in-one bundle that includes a low-cost domain (FREE), web hosting, and a free email account.
Bluehost – Cheap Domain Pricing
.xyz – $14.99 for first year, $19.99 a year for renewals
.texh – $4.99 for first year, $19.99 a year for renewals
.site – $2.99 for first year, $12.99 for renewals
.us – $8.99 for first year, $15.99 for renewals
Bluehost Features
Easy-to-use domain management dashboard
Domain locking (keeping your domain safe from thieves)
Free SSL certificate (not all registrars offer this)
Auto-renewals
Complete DNS control
24/7 expert support
Self-service knowledge base
HostGator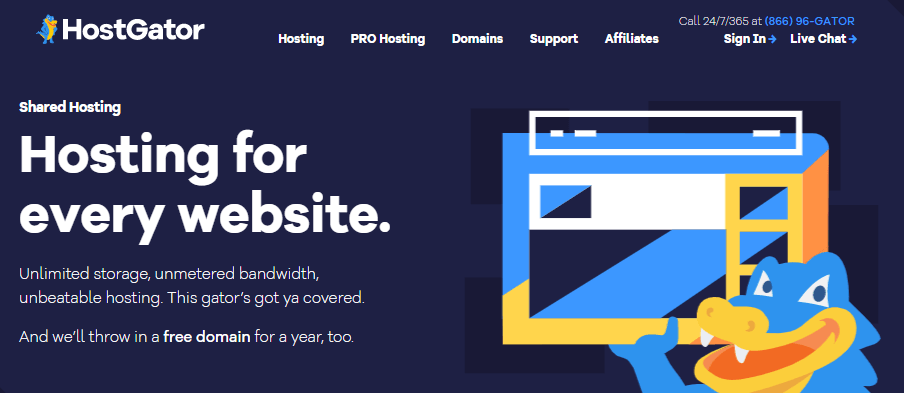 HostGator has a variety of hosting plans to fit everyone's needs. New users can get a free domain for the first year by taking advantage of introductory pricing.
Even if you only go to HostGator for domain registration, their cheaper option will save you a lot of money. The company can also help you move domains, renew them automatically, and secure your privacy.
Hostgator – Cheap Domain Pricing
.club – $9.95 for first year, $15.00 a year for renewals
.site – $0.99 for first year, $15.00 a year for renewals
.online – $9.95 for first year, $15.00 for renewals
.com – $7.95 for first year, $17.99 for renewals
GoDaddy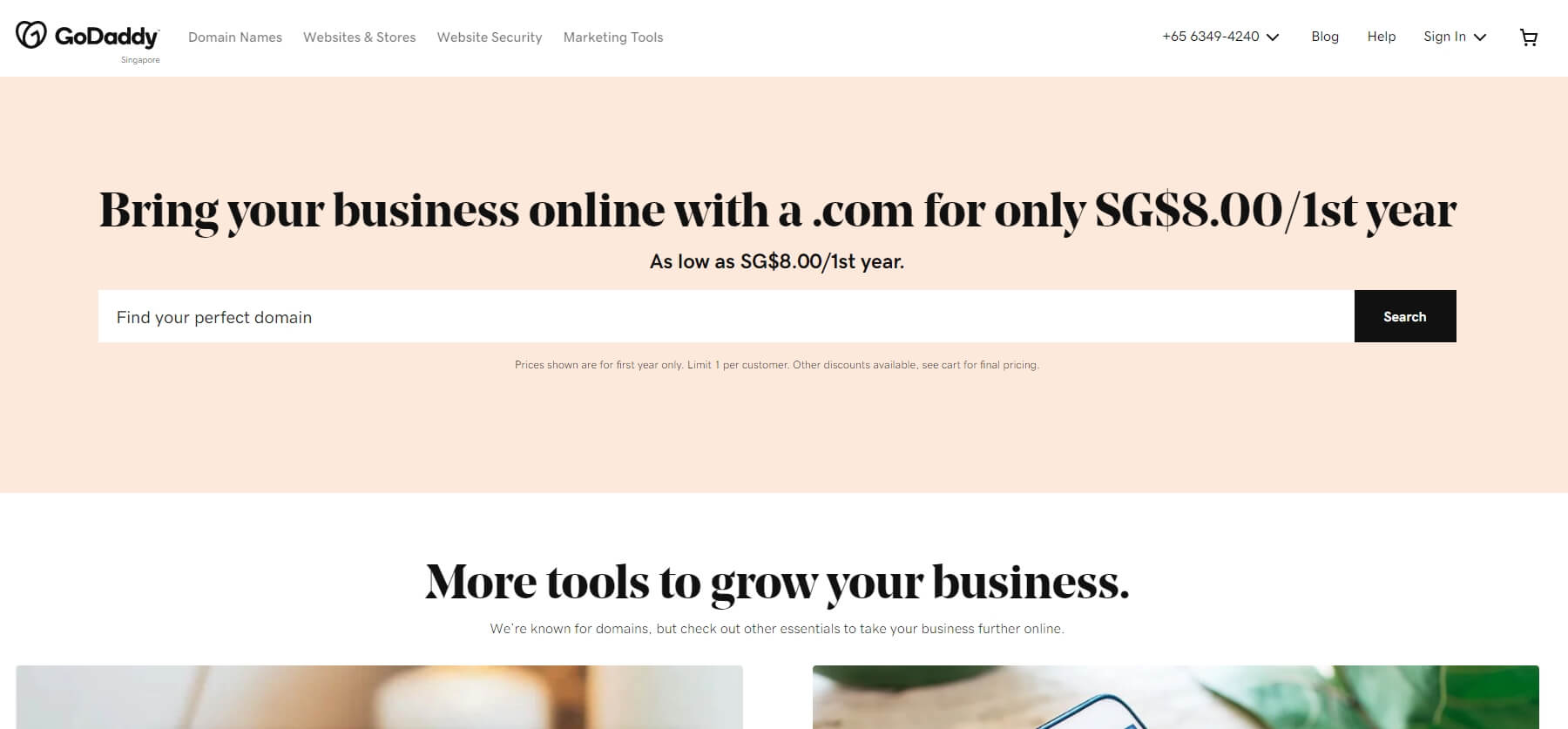 GoDaddy is one of the most well-known domain registrars in the world. Over 78 million domains are now managed by the company. While they will try to upsell you on other things, the basic domains are reasonably priced. They're also cheaper for the first year. You can also renew your domains and transfer your domains.
Godaddy – Cheap Domain Pricing
.cloud – $4.99 for first year, $14.99 a year for renewals
.work – $4.99 for first year, $9.99 a year for renewals
.com – $0.99 for first year, $17.99 for renewals
.club – $0.99 for first year, $17.99 for renewals
Hover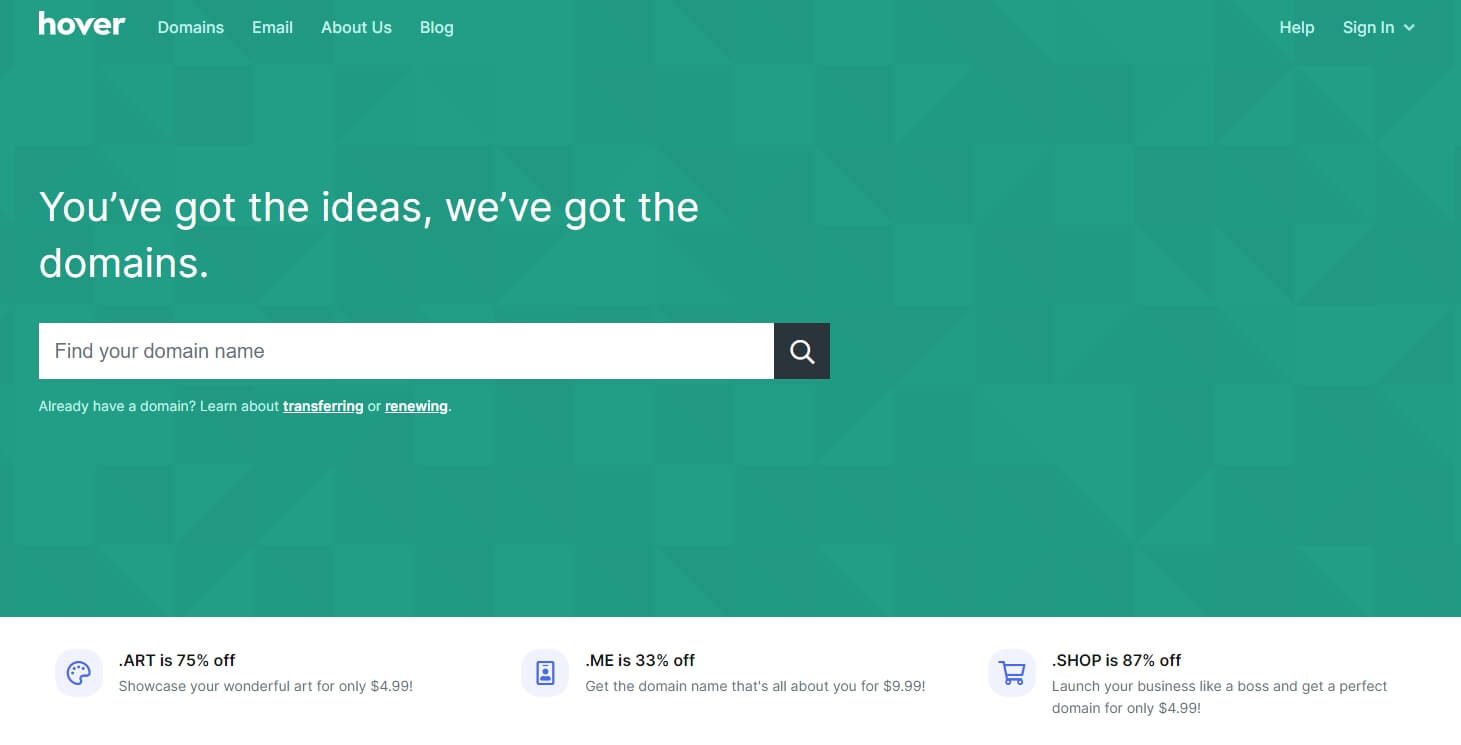 With hundreds of domains to choose from, you'll have no trouble choosing an affordable option at Hover. The registration website was created to improve the user experience. Individual and wholesale domain pricing can be found easily. Unlike some of its competitors, the company does not provide a lot of additional features. O1 n the other hand, hover is an excellent registrar if all you want is affordable domains. There are no upsells at all during the checkout process, which is quite refreshing. They also take credit cards, Apple Pay, PayPal, and AMEX as well as other payment methods.
Hover – Cheap Domain Pricing
.net – $15.49 for first year, $17.49 a year for renewals
.com – $12.99 for first year, $14.99 a year for renewals
.it – $14.99 for first year, $14.99 for renewals
.org – $13.99 for first year, $15.99 for renewals
Siteground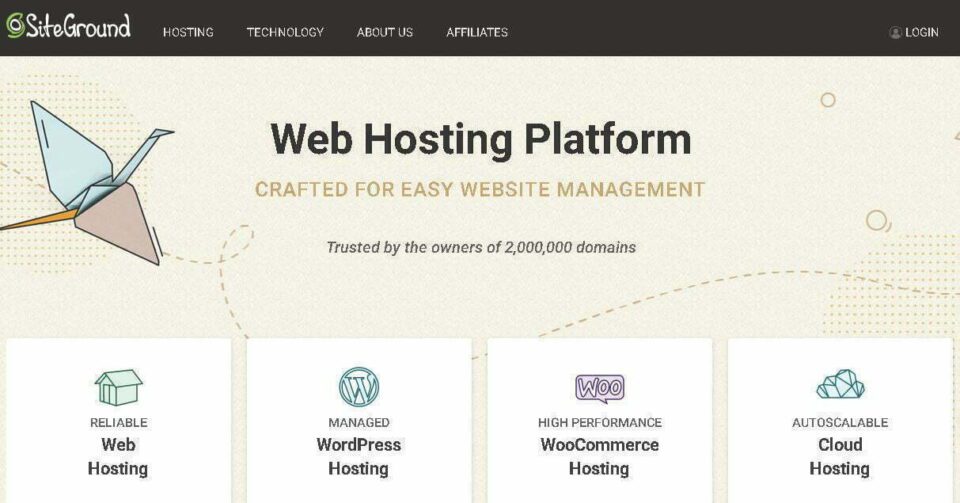 Siteground is primarily a web hosting company, but they also offer domain name registration, similar to Bluehost and Hostgator. If you don't want to struggle with nameservers and DNS settings, buying your domain and hosting from the same company eliminates the trouble. This is why most people choose to get their hosting and domain names from the same company. Siteground isn't the cheapest of the registrars listed above, but they do provide excellent web hosting and can handle domain name configuration for you.
Siteground – Cheap Domain Pricing
.net – $17.95 for the first year
.com – $15.95 for the first year
.org – $17.95 for the first year
The Cheapest Domain Extensions of 2023
You might use a cheap domain extension if you want to save as much money as possible. The extensions listed below are currently among the most cost-effective. Use this list to generate name suggestions for your website.
Is the Domain the Same as the Hosting?
Domains and hosting are frequently confused by new website owners. While they both play an essential part in getting your site seen by a large number of people, they are two very different things with separate costs. The domain is what people use to find your website. Hosting refers to the physical location of your website. Visitors use the domain to reach the hosting server, which stores all of your site's content and data.
Many web hosting companies also provide registration services, which is really a source of confusion. However, you are not required to register your domain with your hosting company. You can use a variety of businesses and services. However, there are certain advantages to registering the domain with the hosting provider. For one, you'll just have to deal with one billing provider. This might assist you in staying organized and keeping track of your costs. Second, if you're a new user, many providers will give you a free domain for the first year.
FAQ: Best Domain Name Registrars of 2023
Can a Domain Be Purchased for a Lifetime or a Limited Period?
Yes, a domain can be purchased for a lifetime or a limited period. Lifetime registrations are typically more expensive than registering a domain for a shorter period of time (e.g., 1-5 years).
Does It Matter Which Domain Registrar I Use?
Yes, it does matter which domain registrar you use. Different registrars offer different services, prices, and features. You should choose a registrar that offers the services and features that you need for your domain name. You should also make sure that the registrar is reputable and has good customer service.
What is the Best Way to Buy a Domain Name?
The best way to buy a domain name is by using a reliable domain registrar such as Namecheap, GoDaddy, or Google Domains. They offer competitive prices and provide a secure platform for buying, transferring, and managing domains. Additionally, you can purchase additional services such as hosting and email accounts along with your domain name.
Where to Buy a Domain?
You can buy a domain from a domain registrar, such as GoDaddy, Namecheap, or Google Domains.
Which Domain Registrar Do Big Companies Use?
Many large companies use a variety of domain registrars, including GoDaddy, Namecheap, Network Solutions, 1&1 IONOS, Domain.com, and more.
Conclusion: Best Domain Name Registrars of 2023
Starting a website does not have to be costly. Whether you run an online business or a personal blog, a low-cost domain can help you save money while giving your site a unique identity. To get you started, several registrars provide substantially discounted pricing, introductory offers, or a free domain name.
Remember that your domain is simply one of the costs associated with running a website. You may put your money toward better hosting or development services if you go cheap on names.
What are your thoughts about the Cheapest Domain Name Registrars? I'd love to hear about it in the comments section below! If you like this article please give us a like and share this on social media.