Do you require professional services like website creation from scratch, all-in-one store setup, maintenance service, and more? Do you need high-quality templates? And you want to modify your website or blog?
It's a time-consuming procedure. You may come across lots of themes, plugins, and e-commerce stores when searching for the most excellent tools on the internet.
Which one do you think I should go with? Do they come at a reasonable price? Can I count on them to provide good service? What if you could obtain everything you need in one place? You don't have to worry about getting tangled up anymore.
By combining certain features and functionalities, TemplateMonster has come up with a solution to satisfy all of your business demands.
Template Monster is a fantastic platform with a lot of features such as templates, plugins, graphics design, HD themes, website builders, SEO, e-commerce stores, and marketing tools to help you grow your online business.
It has been providing outstanding services to clients at affordable costs since its beginning in 2002. You can also use the Template Monster tools without difficulty.
To make things easier for you, I conducted research on several marketplaces, reviews, ratings, and customer feedback.
In this article, I discuss TemplateMonster's all-in-one store setup service.
Let's get started!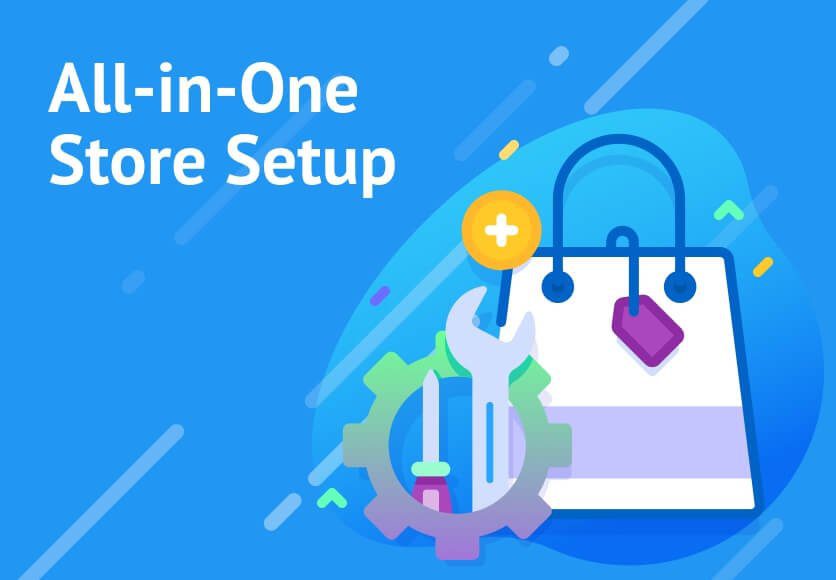 All-in-One Store Features
They offer three packages. There are Quick, Classic, and Premium.
Quick Package:
Theme installation on web hosting

Hosting setup as per the theme's requirements

Default plugins activation and setup

Store configuration

Product import

Demo content replacement

Theme customization

Website contact details setup

Free revision

SEO optimization

15 high-quality images

1,800 words of extra SEO copyright

Working with a project manager
Classic Package:
All features of the Quick Package

Improved website security

GDPR & CCPA Configuration

Contact forms setup with Captcha/Re-captcha

Social feed widget integration

Google Analytics code integration
Premium Packages:
All f

eatures of the Classic Package

Mailchimp setup

Extra developer hours
How It Works
Collecting Information
Once your order has been verified, a member of their team will contact you to gather all information to perform the service. They'll need access to your hosting account to install the template. If you don't have compatible hosting, their customer service representatives will help to find and register one with the desired domain name.
You must also send us all of the content for your websites and blog posts, as well as content positioning guidelines. They also want a CSV file containing a product list that they may upload to the client's website. You can do so by responding to the project manager's email or by using a file-sharing service. Your project manager would be pleased to assist you if you have any questions.
Completing All-in-One Store Setup Service
They'll install the template on your hosting and customize it after they get all of the information. Their team will add your logo and content, update the colors (if necessary), and activate the contact form, among other things. They run a complete web store setup and import content and products to the client's website. Your project manager will be able to update you on the status of your project at any time.
On-page SEO Optimization
If you have chosen the All-in-One service they will provide fully featured on-page SEO optimization of your website. You'll work with their SEO professionals, who will:
Analyze

your site's organic performance.

Google Search Console

should be integrated.

Keyword mapping and local keyword targeting.

Create internal links and meta tags.

Prepare

a competitive SEO strategy.
Reviewing & Finishing Up
You will be able to review and approve the results once their staff has finished customizing the template. There are two free revisions available if you want to update or edit anything at this point. Your project manager may go over all of the details of the new fixes and changes.
They'll provide you with the login and password information for the admin panel after the project's final clearance. You'll be able to log in and manage the site, as well as make other changes.
You Need to Provide
cPanel plus FTP and MySQL access to your hosting

Colors that are to be changed in the template

Content (images and texts) for informational pages and blog posts

Logo (preferably in .SVG)

CSV file with a list of products

Detailed content placement instructions
Top Reasons to Try All-in-One Store Setup Service
Our team will present you with even more customizing possibilities if you choose the Ultimate Website Launch service. Because they have a skilled team of developers and project managers, they can offer low costs for excellent quality. This All-in-One Store Setup service includes the following features:
Quick uploading

content.

Your project manager will ask you for the

essential

information and

assist

you in

providing

it in the required format.

Setup of a web store,

including changes

in shipping, payments, taxes, and currencies.

Products

Import.

Up to 1,000 of your products

will be imported

(without options, attributes, and combinations)

General website configuration. Their team set up a contact form,

maps

and

directions,

and social

media

links,

among other things.

On-page SEO. We'll optimize up to 6 pages for SEO, analyze competitors in your niche, study semantics, and

build

a strategy for your web store's

future

development (available in English,

Ukrainian, German, and Russian languages).

Anti-hacking and anti-spam protection. The service includes Captcha/Recaptcha integration as well as security enhancements to improve your website's overall speed.

Copywriting services

are available. They

can add

up to 1800 words of extra SEO copywriting to your website to

help

it rank

better. Make contact

with your

particular

project manager to

go over

all

of the

details.

Set of the best images. When you acquire the service, you will also receive a set of 15 high-resolution images that you can use on your website. You are welcome to use these in place of the default images that come with your site theme. DepositPhotos was used to create the images.

Configuration

of the

menu and permalinks.

According to your specific requirements, their team will add a personalized

appearance

and feel to the main menu and categories of your website.

CCPA and GDPR suite. Your website will follow all applicable laws regarding the storage and use of personal data from customers, allowing you to target clients in Western Europe and Western America. According to the laws in your country, they will put cookies and privacy policy guidelines and banners on your website.

Set up an email subscription form and a social

media

feed.

Keep your clients informed,

using

the most effective marketing channels

.

You'll

be able

to manage marketing email campaigns and

advertise

your products more

successfully

with the Mailchimp setup. We'll also add up to

two

feeds from your social media

profiles

on Facebook, Instagram, Twitter,

and

Linkedin to help your site

collect data

from all of your marketing channels.

Google Analytics code integration.

20 hours of development.

You can use 20 hours of web development services for any

further customizations

that are not included in the list of services.
All-in-One Store Setup Price
You have to choose a platform from the drop-down that includes Magento, Prestashop, Opencart, Shopify, and WooCommerce. For quick package costs 599$, For classic package costs 899$, and for premium package cost 1199$.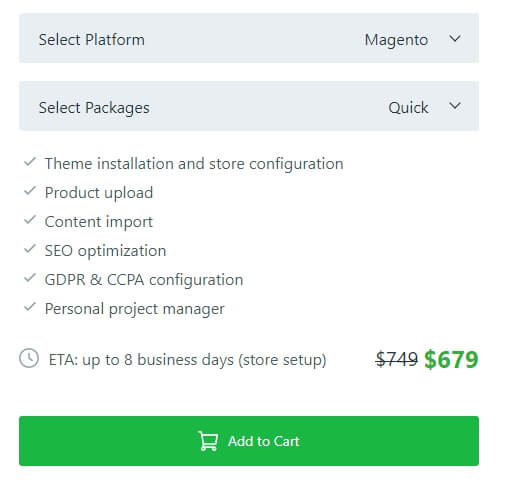 Frequently Asked Questions
How long will it take to complete the All-in-One Store Setup service?
Installing and configuring your store with the website template customization services can take up to 6 to 12 business days (depending on the package). To reach the project deadline, you must provide clear content positioning guidelines for your content and products. Two free revisions are offered after the service is completed. Additional changes may affect the time when your site will be launched. The sooner you tell us what changes you'd like us to make, the sooner they can make them.
Can you deliver All-in-One Store Setup Service faster?
Yes, for an extra charge, they can launch your store faster. Please open a discussion on their site and let us know when you need your store up and running, as well as the template you'd like to use.
Their customer service team will inform you of your options (depending on their workload).
Will you install a template on my hosting?
Yes, a template can be installed on existing hosting; all you need to do is give us the proper login information. Keep in mind that the chosen theme must be compatible with the hosting.
If you do not have a hosting account, they may assist you with selecting and registering a new hosting account that fits your needs.
Is it possible to order the All-in-One Store Setup without having all of the content and products ready?
Yes, you can send your content and products to their staff at your time. There are no time limits on gathering words and pictures.
However, they will begin adding content to your site only after they have received all of the essential information. All of these aspects will be discussed with your project manager.
What happens if I don't like the final result?
You will have two free revisions after the project is completed to verify that the installation and customization fulfill your expectations.
Can you deliver template installation and content integration faster?
We can deliver template installation and content integration faster if you need it. Our team is experienced in working quickly and efficiently to get your project done as soon as possible.
Do I have to check that my hosting is compatible with a template?
No, you don't have to check that your hosting is compatible with a template. However, if you want to use a specific template or plugin, you may need to check with your hosting provider to see if they support it.
How long will it take to complete the All-in-One Store Setup service?
It will take approximately two weeks to complete the All-in-One Store Setup service.
How many products and content pages do we add with the All-in-One Store Setup service?
At least 10 products and content pages are added with the All-in-One Store Setup service.
Conclusion
Template Monster provides many more services like Website Creation from Scratch, maintenance service, ultimate website launch, all-in-one store setup, and more. Feel free to contact them if you want to place an order. What are your thoughts about this service? I'd love to hear about it in the comments section below! If you like this article please give us a like and share this on social media.