Do you need to "Convert Website to WordPress"? Or professional services like website creation from Scratch, maintenance service, ultimate eCommerce launch, ultimate website launch, all-in-one store setup, and All-in-One Ready-to-Use? Do you require high-quality templates? And you want to modify your website or blog? It's a time-consuming procedure.
You may come across lots of themes, plugins, and e-commerce stores when searching for the greatest tools on the internet.
Which one do you think I should go with? Do they come at a reasonable price? Can I count on them to provide good service? What if you could obtain everything you need in one place?
You don't have to worry about getting tangled up anymore. By combining certain features and functionalities, TemplateMonster has come up with a solution to satisfy all of your business demands.
TemplateMonster is a fantastic platform with a lot of features such as templates, plugins, graphics design, HD themes, website builders, SEO, e-commerce stores, and marketing tools to help you grow your online business. It has been providing outstanding services to clients at affordable costs since its beginning in 2002.
You can also use the Template Monster tools without difficulty. To make things easier for you, I conducted research on several marketplaces, reviews, ratings, and customer feedback. In this article, I discuss TemplateMonster's Convert Website to WordPress service. Let's get started!
What's Included in Convert Website To WordPress
Converting template pages to WordPress

Adding sample text and images

Blog pages creation

Elementor integration

Template installation and sample data import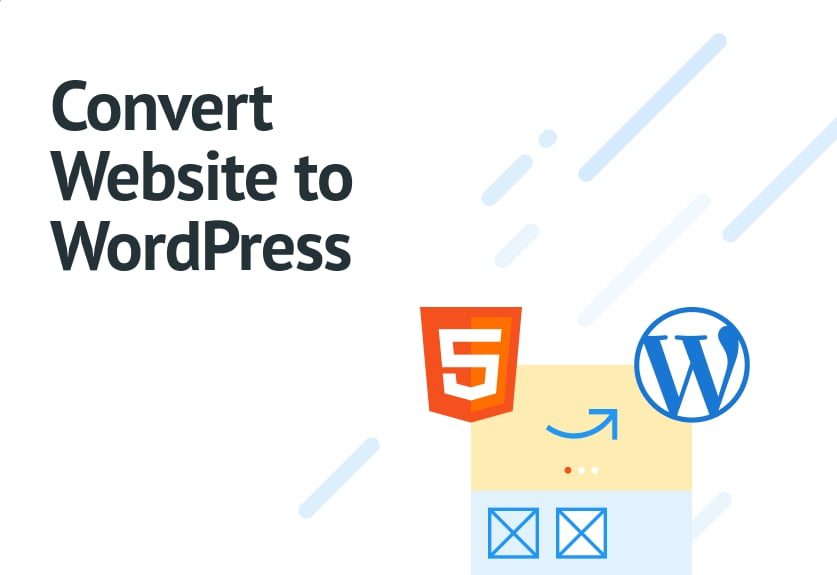 How to Convert Website Template to WordPress – TemplateMonster
Getting Project Details
After you make the payment, their team will contact you via email to get the essential information. if you do not have to host yet, your project manager will assist you with selecting and registering a compatible hosting plan with your desired domain name.
Converting Website to WordPress
After their team receives the access information, they'll convert a template to WordPress. Their team will convert 5 basic pages from your template to WordPress in a professional way. They'll also include the Elementor Page Builder to give you the best visual drag-and-drop site functionality possible. Your project manager will be able to update you on the status of your project at any period.
Website Reviews and Results
After they complete the conversion and install the template on your hosting you will be able to verify and approve the results. You have two free revisions if anything needs to be updated or fixed. You will be given login and passwords to the site's admin panel once the project has been approved and completed. You may now begin managing your website and making any changes.
To Convert the Website to WordPress They Need
FTP and MySQL access

(alternatively) cPanel access
Top Reasons to TryConvert Website to WordPress Service
Do you have a favorite template that you can't apply to WordPress? Do you wish to use all of the features of the most popularly used website platform? they're here to assist you. Their skilled team will convert a website to WordPress based on your requirements.
Their customization team will convert 5 of your template's basic pages (Home, About Us, Services, Gallery, and Contacts) to WordPress. In addition, they will include some content and photographs on your website. Then, they'll add a blog (with listing and single post pages).
When they convert a template to WordPress, they ensure that you get the most functionalities out of it. All new pages will be customized using a visual drag-and-drop page builder in a user-friendly WordPress backend (admin panel). If you've never worked with WordPress before, this page builder will make editing and managing your site a lot easier and save you time.
When they convert a website to WordPress, they ensure sure the converted template is compatible with the most recent stable WordPress version. As a result, you'll be able to use third-party extensions to add new functionality. For example, Installing additional plugins can help you optimize your site for search engines and improve your Google ranking. It will also be possible to install plugins and set up an online store to sell your services, and products.
They will install the template on your hosting and offer you a username and password to access the admin panel after their professionals finish converting a website to WordPress. You don't need to know how to use cPanel, MySQL, or FTP to make changes to your site: simply log in and get started right away. In addition, They will give an archive including the theme files, sample data, and database dump file, as well as manual installation instructions. If you don't already have a hosting account, They'll assist you in registering a completely compatible one-year hosting account at a discount price.
Please Keep in Mind
The service does not

involve

adding

additional features

to the original template that

needs

backend

programming

(i.e., advanced search, online store, booking, etc.).

The service is a one-time offer,

with

additional customization and support

available

for a

price.

Due to the default WordPress functionality, there

may

be

small

design

changes

between the original and converted templates.
Price
You have to choose a platform from the drop-down that includes HTML Website, Joomla, and MotoCMS 3. It costs 569$.
Frequently Asked Questions
Will You Install a Template on My Hosting?
Yes, on your current hosting, a template will be installed. All you need to do is provide us with the proper access information (FTP/MySQL and cPanel credentials).
If you don't already have a hosting account, They'll be able to offer you a discount on a completely compatible hosting account.
Will My Hosting Be Compatible With a Template?
Because every hosting provider is different (some utilize Linux, while others offer Windows-based accounts), you must verify that your hosting account meets WordPress's criteria and is compatible with this platform. If you require any assistance y their provider's support team will be able to assist you.
What Functionality and Features Will Be Saved When You Convert a Source Template to WordPress?
Please take a look at the following templates, which were created using the same technologies as the conversion process (WordPress plus Elementor Page Builder):
Financial Advisor Theme

by

Provice.

Business Theme

by

Innomerce.

Consulting Theme

by ITIideas.
Your converted template will have the same functionality and features as the original template, but with a design that matches the source theme.
What if I Need More Pages to Be Converted, or Request Any Additional Customizations?
All of this can be done for an additional charge. Please start a live chat on their website, and one of their experts will be pleased to assist you with pricing and timeframes.
Can You Deliver the Converted Template Faster?
Yes, but only for a charge. Please start a chat on their site and let us know when you need your website ready and which template you like. They'll let you know what choices are available.
Conclusion
Their "Convert Website To WordPress" service makes it easy to convert your website to WordPress- one of the most popular platforms available. You don't need to know any code or waste any time, just give them a try!
Template Monster provides many more services like Website Creation from Scratch, maintenance service, ultimate website launch, all-in-one store setup, and more. Feel free to contact them if you want to place an order. What are your thoughts about this service? I'd love to hear about it in the comments section below! If you like this article please give us a like and share this on social media.